Hirugami Onsen - Southern Shinshu's Popular Hot Spring Resort Spot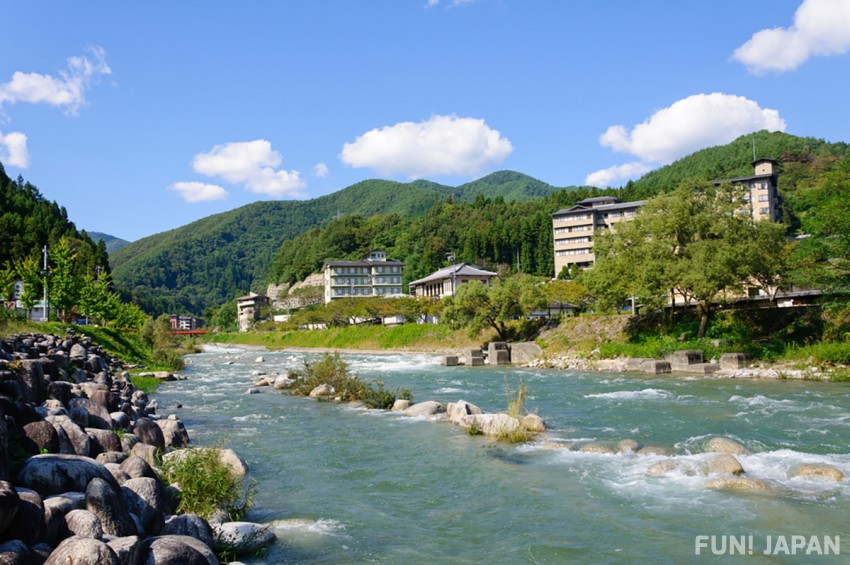 Hiruhami Onsen can be found in Achimura, Nagano, which is known for having the prettiest starry sky in the whole of Japan. There are many hot spring resorts that can be found here all surrounded by the clear stream Achi River, with Hirugami's water recognized and highly regarded as what is known as "Bijin-no-Yu" or "Water of Beauty", here, you can see the beautiful starry night sky, as well as many different faces throughout each season of the year making it a very popular hot spring resort.

About Hirugami Onsen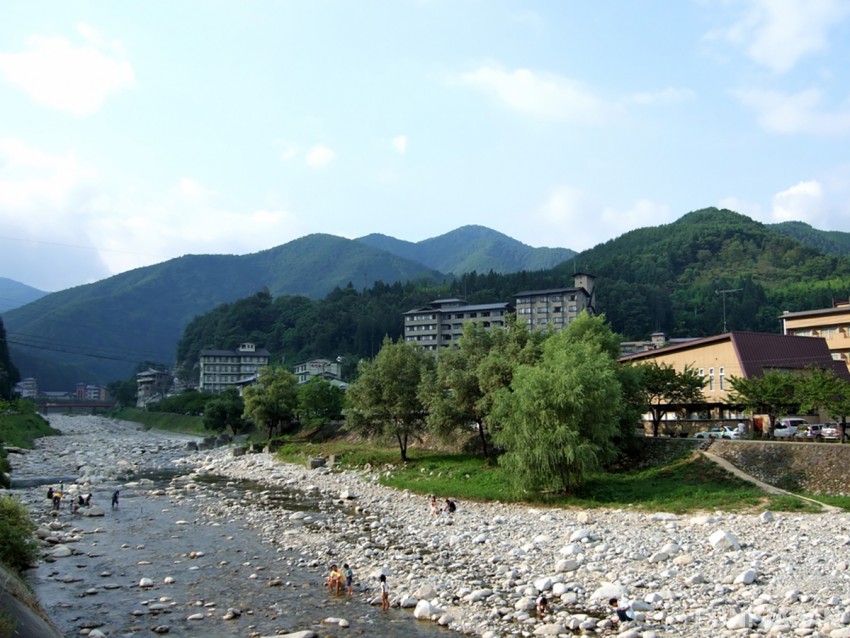 There is a large hot spring that can be found 3 and a half hours from Tokyo and Osaka within the southern shinshu area. The surrounding area consists of large mountains and 20 hot spring lodgings all of which are found alongside the Achi River.

One of Hirugami Onsen's most characteristic points is that you can get your fill of nature while you stay here. In spring you will find over 5,000 different red, white, and pink flowers, and at night, a pitch-black sky filled with countless stars for you to gaze up to.
Relax with the "Bihada-no-Yu" (hot spring (or bath) which is good for the skin)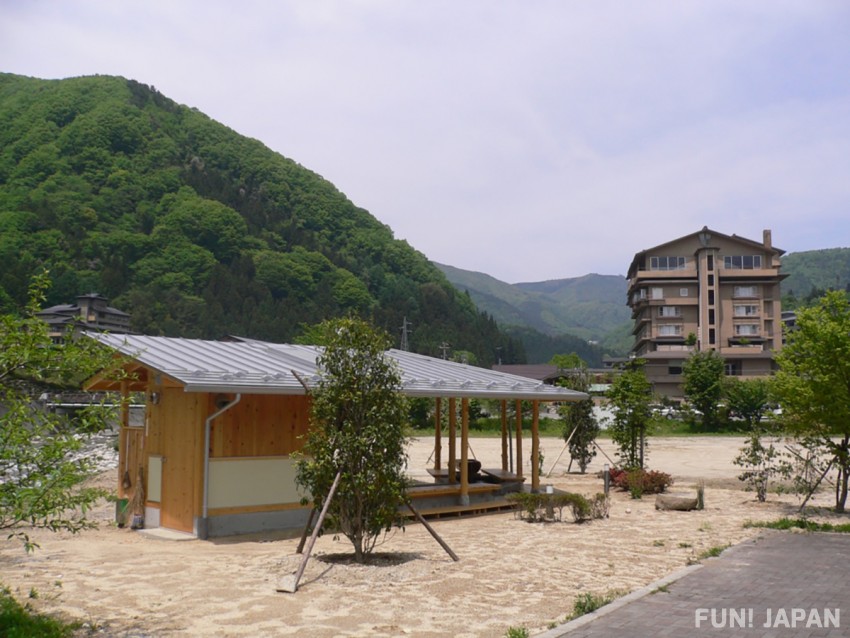 Hirugami Onsen's water is also known as "Bihada-no-Yu" which means water that is good for the skin. The alkalines within the spring water take the old collagen from your skin and make it more smooth and new. Furthermore, sodium ions help with the retention of heat, and there is a lot of chlorine within the water, which helps your skin feel gentle after getting out of the water. Within the Hirugami Onsen area, there are over 20 natural hot spring resorts you can visit.
We also Recommend the Day Trip Hot Spring
Within Hirugami Onsen there is a day trip institution available called "Yuttari~na Hirugami". This includes open-air baths, large public baths, saunas, waterfall showers, seated baths, lie-down baths, and much more such as a 20m pool or walking pool, and jacuzzi. There are also relaxation rooms where you can try some of Shinshu's local cuisine, it's a spot that will allow for a great day-trip out.

We recommend this to anyone who wants a more casual hot spring experience.
Also, if you're just wanting to visit when exploring Achi River, there is a free foot bath available. There are 2 different foot baths available "Fureai-no-Yu" and "Ahiru-no-Yu", both of which will heat up your whole body while you listen to the sounds of the river flowing near you.
Experience Something Unique in Every Season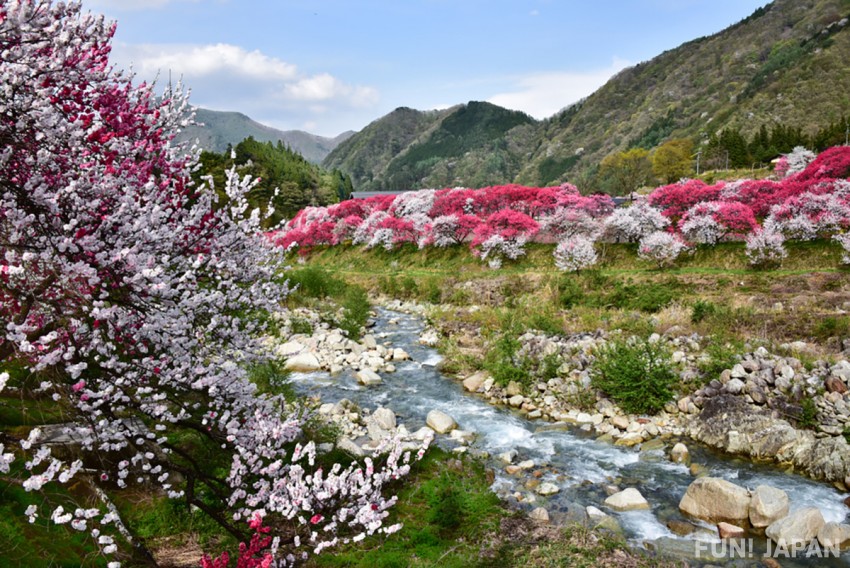 This peaceful village is surrounded by nature and has a different face every season, all of which represent Japan beautifully. Listen to the streams of the Achi River flowing down from the mountain, and soak yourself in the various waters available at the hot springs, all of which are sure to relax you completely in both body and mind. 

Starry Sky
Achimura, which is found in the Hirugami Onsen area is famous for its night-sky view. It was previously recognized as the best place to see the starry night sky in Japan. Relax, see the stars and constellations, listen to the flow of the river, and experience something new in every season, all of which are sure to both heal and relax your body, mind, and heart.
Flowers
Aichimura is also known for its peach blossoms. If you take a walk around the 1km course, during spring you can see over 3,000 blooming peach blossoms.
Buy Local Specialties at the Morning Market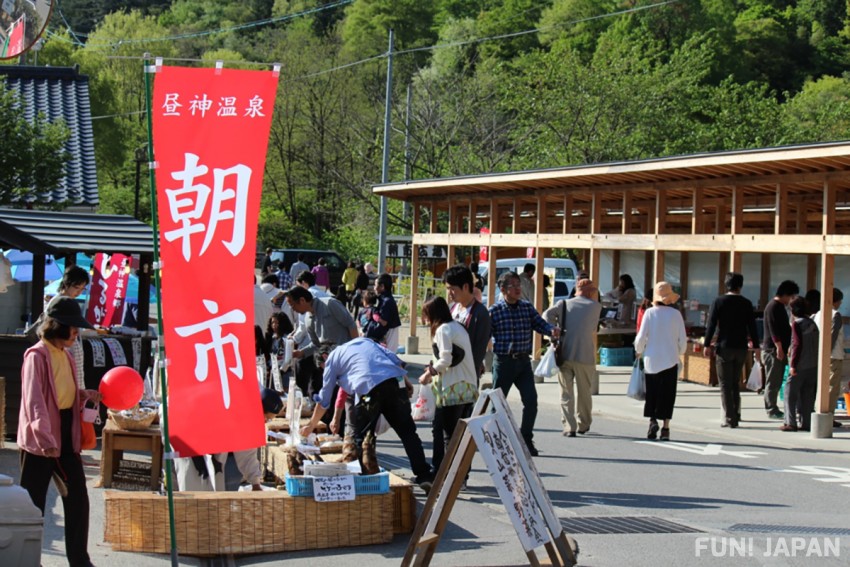 Within the center of the hot spring area, you will find a "Fureai Morning Market" which happens every single day of the year. Here, you can find various products from apples, to peaches, and other agricultural produce as well as Japanese pickled vegetables or Tsukudani (preserved food boiled in soy), folk craft, mizubiki-saiku (string works), bread, sweets, and much more. You can sample a lot of these foods, so it's a great experience if you're going out for a walk.

Business Hours:April~October 6:00~8:00 / November~March 6:30~8:00
How to Get to Hirugami Onsen
From Tokyo, you can go from the "Shinjuku Expressway Bus Terminal", from Osaka, "Hankyu Sanbangai", both of which will take you there via high-speed bus. Both take around 3 and a half hours to reach your destination.
[Survey] Traveling to Japan
Recommend