Check Out & Enjoy Everything Tohoku - From Popular Sightseeing Spots to Culture!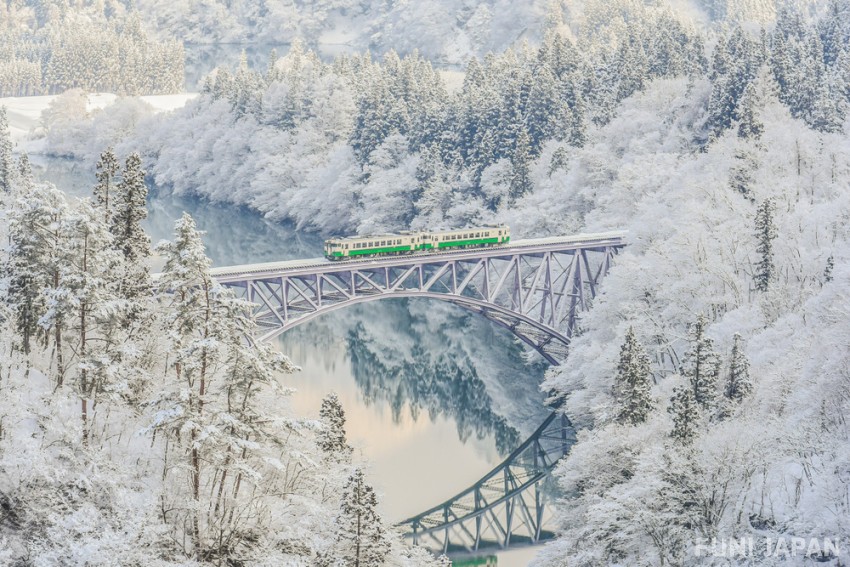 Tohoku, a region where no matter the season you travel there, there are many attractions. It's easy to access from Kanto and has many amazing sightseeing spots. In this article, we are going to be introducing the art, culture, and various seasons of 6 prefectures from Tohoku; Aomori, Akita, Iwate, Miyagi, Yamagata, and Fukushima! We hope you enjoy reading and getting your fill of just some of Tohoku's attractions ♪

[Art] Enjoy Tohoku's Art and Design
We have lots of recommended art-related spots in Tohoku, ones that both adults and children can enjoy. In the contemporary art museum of Towada, Aomori, you can find various amazing exhibitions both inside and outside the institution. Furthermore, the traditional Kokeshi doll was actually born in Tohoku. This wooden toy is popular with people of all ages and has become quite the popular item with tourists in recent years.

[City] Enjoy Tohoku's Entertainment
The cities within Tohoku are quite different to the large cities of Tokyo and Osaka, they are more compact with fewer people. Furthermore, you can visit the hot-springs town "Ginza Onsen", see snow-topped mountains, be close to the sea, and try out some fresh seafood. There are many other things to try and see, including Sendai's Zuihōden and world-heritage site temple, all of which hold years upon years of history.

 [Cuisine] Enjoy Tohoku's Food & Drink
Tohoku's food ranges from fresh fish such as sea urchins, Japanese scallops, oysters, to things such as soba noodles and even delicious fruits such as peaches and grapes. Moreover, Tohoku has a lot of regions which can grow very high quality rice meaning high quality Japanese sake can be found across the region. Sendai's beef tongue and Akita's Kiritanpo Hotpot are especially famous.

 [Nature] Enjoy Tohoku's Abundant Nature
The most famous and magnificent nature-filled spots in Tohoku include rivers and waterfalls, an amazing hot springs resort, and it's large coast. Once winter rolls around the mountains become topped with snow, and the frost-covered trees are a sight you will never forget. In spring the cherry blossoms will bloom and of course lots of the trees will begin to change colors from a luscious green to a magnificent orange & brown.

[Outdoor] Enjoy Tohoku's Outdoor Activities
In Tohoku there are an abundance of outdoor activities including walking down the riverside path which is lined with cherry blossoms, taking a canoe downstream among many more. Some of the more popular activities include fishing on the river, relaxing in the hot springs surrounded by nature, and trekking in the wetlands. During the colder months you can also enjoy some winter sports such as skiing and snowboarding.

[Relaxation] Enjoy Staying at Tohoku's Hotels & Inns
Tohoku has many hot spring resorts, from hotels, to traditional Japanese inns holding lots of history, as well as many more interesting lodging facilities. Your daily stress and tiredness will be taken away as you sit in the hot spring water whilst looking out towards the rivers and snow-topped mountains. Also, different flowers bloom during each of the four seasons so make sure to take a nice stroll to see some of the different nature Tohoku has to offer and refresh yourself.

[Tradition] Enjoy Tohoku's Traditional Culture & Historical Buildings
In Tohoku there are lots of traditional Japanese-style houses, shrines and temples still standing. You have a bank that was built in 1911 in Iwate Prefecture (No longer operating but open to the public) and Kumano Shrine which holds over 1,200 years of history in Yamagata Prefecture. In Akita Prefecture, there is even an event where people dress up as oni (demons) and visit various houses, this event is called "Namahage".

Spring in Tohoku
Tohoku's spring starts a little later than Tokyo in the middle of April towards the end of May. Some of the more famous sights include Miyagi Prefecture's Shiroishi River 1000 sakura blossom tunnel as well as one of the top 3 of Japan's largest collection of the Cerasus spachiana species of Sakura tree, Miharu Takizakura, found in Fukushima Prefecture. Finally, there is Akita Prefecture's rapeseed flower road cherry blossom trees and many more. During the cherry blossom festival season the trees are lit up in the evening creating an even more mystical sight different to what you would see during the afternoon.

Summer in Tohoku
During Tohoku's summer, once the snow begins to melt, the scenery will turn an emerald green. The sunflowers and sacred lotus flowers will begin to bloom creating a perfect atmosphere for summer. Furthermore, during this period, there are lots of festivals that will take place across Tohoku, especially famous are Sendai's Star Festival, Aomori's Nebuta Festival, Akita's Kanto Festival, and the many amazing firework festivals which are famous nationwide.

Autumn in Tohoku
Tohoku is abundant in mountains meaning when autumn comes around there are many amazing spots to visit. The flowers become a vibrant red, yellow, and orange making them amazing to look at. Furthermore, in Japan, there is something called the "season of good appetite" in autumn, where you can enjoy many fresh seafood and mountain-based food products.

Winter in Tohoku
If we're talking about Tohoku's winter then you should think of a pure white blanket of snow. Both the city, sea, and mountains are covered in snow. Also, there are many skiers that aim to visit when the snow beings to fall. As for food, you have things such as delicious hot-pots which are very popular with Japanese people and for good reason, they go so well with the cold winter months.

[Survey] Traveling to Japan
Recommend