One of Japan's Three Major Sacred Mountains: Osorezan in Aomori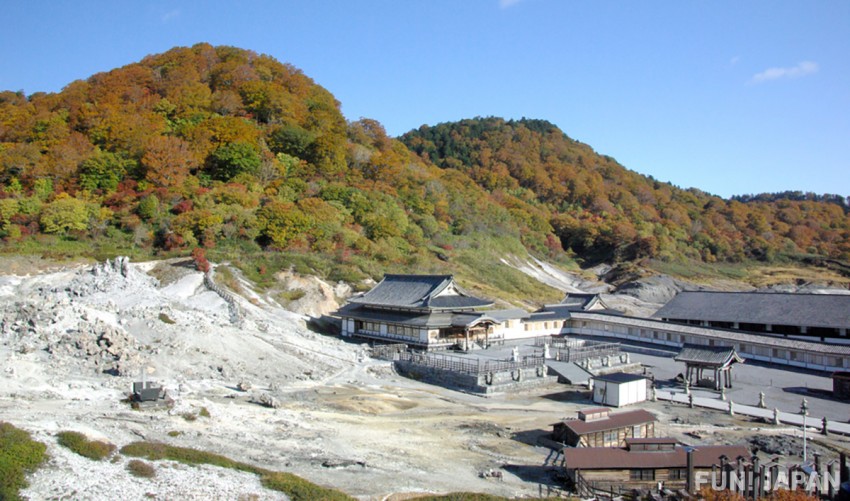 Osorezan is a mountain in the center of Mutsu City in Aomori Prefecture. It has a history that local residents prayed there as a sacred place for the dead. There are various experiences such as viewing spots, hot springs, and lodging at Osorezan.

About Osorezan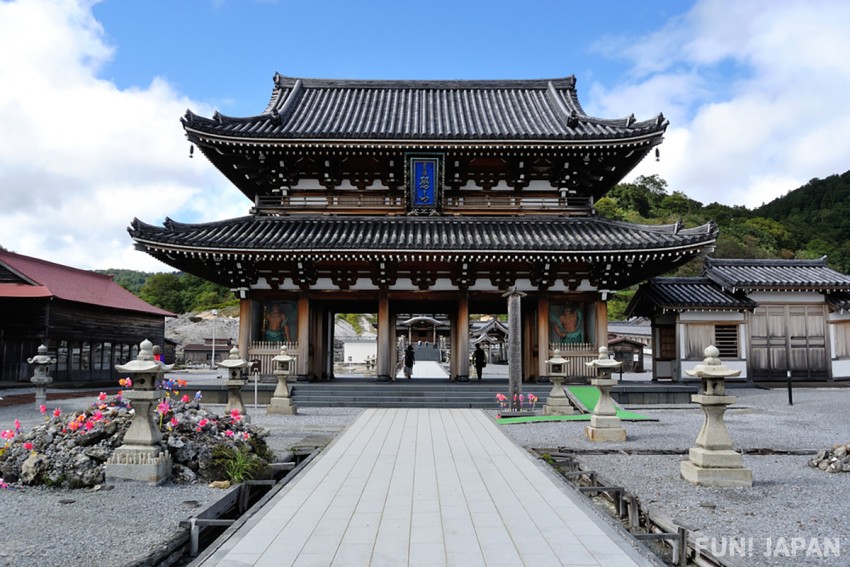 Osorezan is counted as one of the three most sacred mountains in Japan, along with Hieizan in Shiga Prefecture and Koyasan in Wakayama Prefecture. It is not a single mountain, but a collective term for eight outer ring mountains, such as Tsuruginoyama, Jizoyama, and Keitosan, and a basin surrounded by these mountains.
Osorezan is famous for "Itako" which refers to a psychic who has the ability to call upon the spirits of the dead through training. At the two major festivals held in summer and autumn, many Itako gather and perform "Kuchiyose" to gather the spirit of the dead.
Highlights and Things to do at Osorezan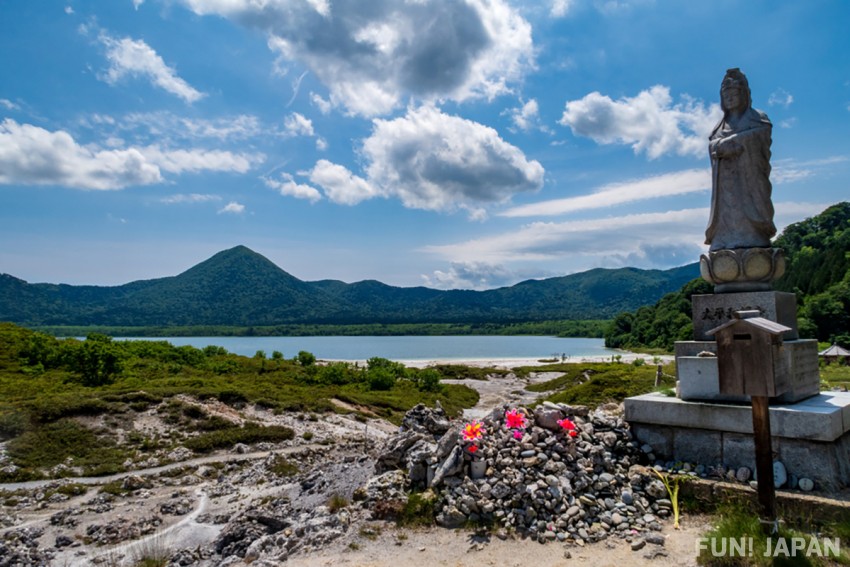 You can enjoy a unique view of the scenery around the center of Osorezan, such as the Osorezan Bodaiji Temple, where there are sulfur odors and rocks burned by sulfurous acid gas. You can also check out sights such as Jigoku Meguri, Gokurakuhama, and Reisen (spiritual springs).
Jigoku Meguri of 

Osorezan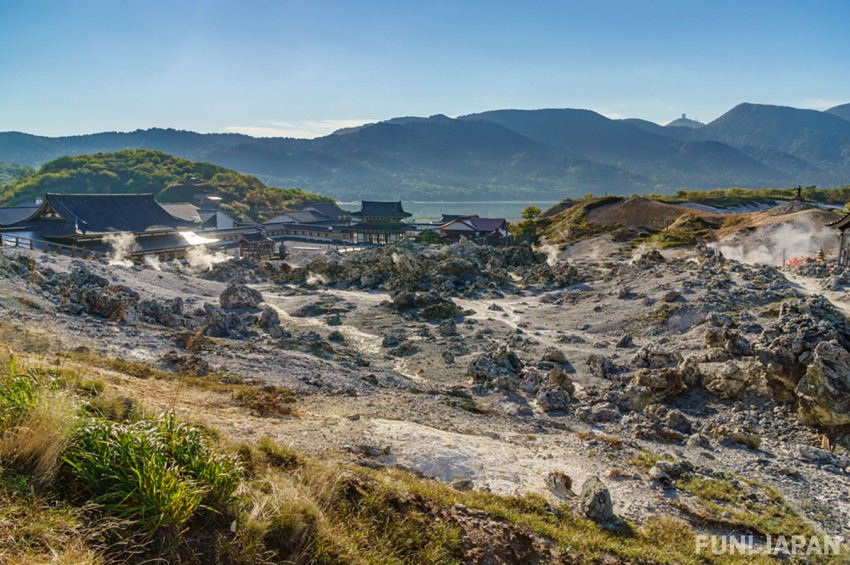 Jigoku Meguri is a classic sightseeing plan for Osorezan. It is dotted with spots such as blood pond hell, felony hell, hell valley, infinite hell, gold dig hell, and gambling hell. You can see a scene with an exposed rocky area and a bodhisattva standing in the pond.
Gokurakuhama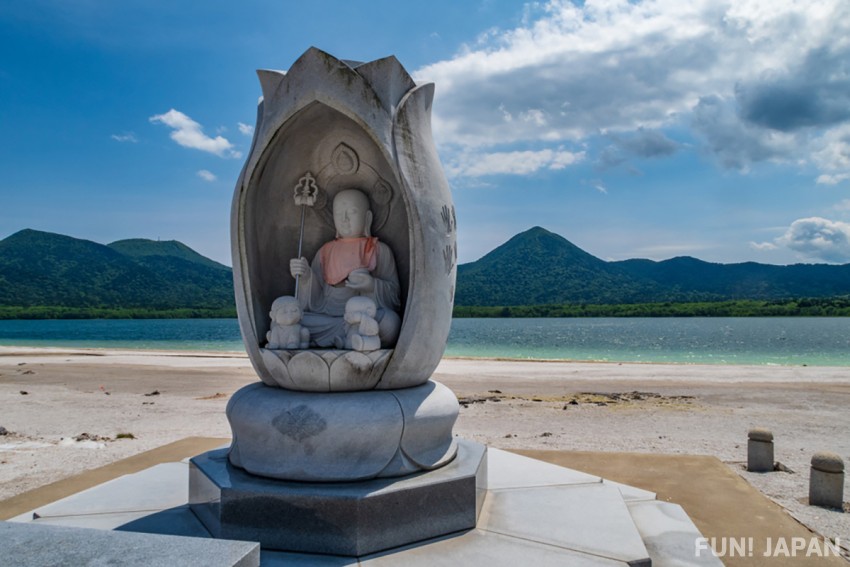 Gokurakuhama is a popular name for Usoriyamako, which was built in the Usori caldera. The emerald green water is beautiful and the white sandy beach reminiscent of paradise is mysterious. Although it is a very beautiful landscape, it is said that its beauty is rather eerie.

The Four Reisen
There are four hot springs in Osorezan Bodaiji Temple, which are said to be spiritual springs. In the past, visitors to this area had a history of visiting after cleansing themselves at the hot spring. The hot water is cloudy and has different functions. Anyone who enters the mountain can enter it.
Shukubo Experience in the Temple at Osorezan
Try the Shukubo experience when you come to Osorezan. Shukubo experience means staying at a temple and experiencing various things. The only facility where you can stay in Osorezan is the Osorezan Onsen Shukubo Kissyoukaku. You can soothe your body with vegetarian cuisine and hot springs. Because it is a shukubo, there are many rules such as meal rules and lights-out time, and in the morning, reading rituals, etc. are performed.

The room rate is about 12,000 yen per night with two meals. (As of September 2019)
Osorezan Business Hours and Entrance Fees
Osorezan is open from May to October. The opening hours vary depending on the season, from 6:00 to 18:00 from May to mid-October and from 6:00 to 17:00 from mid-October to the end of October.

The entrance fee is 500 yen per adult. (As of September 2019)
How to Get to Osorezan
If you want to go to Osorezan, first head to Shimokita Station. From Shimokita Station, take the bus called Osorezan Line and arrive at Osorezan in about 45 minutes.
Spot information
Spot name: Osorezan



Street address: 3-2 Usoriyama, Tanabu, Mutsu-shi, Aomori 035-0021
Access: Shimokita Station → [Osorezan Line Bus] 45 minutes → Osorezan
Wi-Fi: Unavailable
Language: Only Japanease
Credit cards: No credit cards accepted
[Survey] Traveling to Japan
Recommend