Amazing Sainokawara Park Onsen in Japan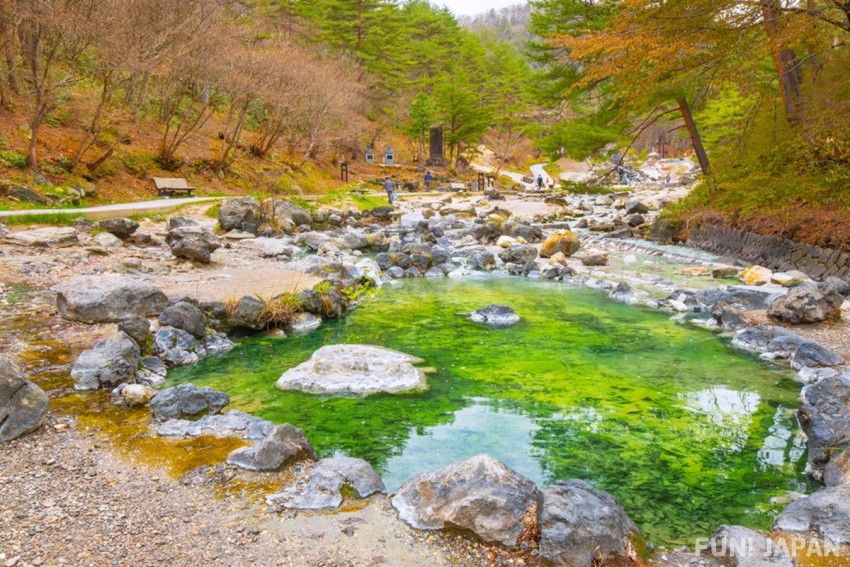 Kusatsu in Gunma is one of Japan's most famous hot spring resorts. In Sainokawara Park, which is on the west of Kusatsu, you can see the spectacle of hot spring steam rising everywhere. Here you can enjoy a hot bath bathe in a large open hot spa while taking in the seasonal sceneries.

Sainokawara Park Near Kusatsu Onsen in Japan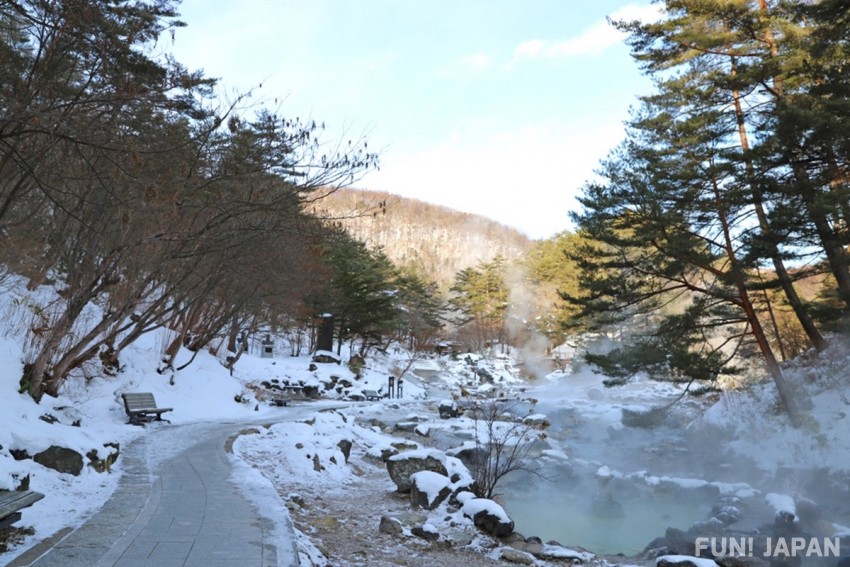 Sainokawara Park is located in the west of Kusatsu Hot Spring Resort in Gunma , Japan. The spot and its nearby areas is designated as a special zone of the national park. This is a sightseeing spot where you can stroll along the hot spring steam. 1,400 litres of hot water bubbling up throughout the park in every single minute. You can enjoy the fascinating view of "Yunokawa (rivers of hot water)" formed by the hot spring water coming out from the underground. The hot spring and the seasonal scenery are undoubtedly breathtaking. You can have a stroll in this warm and relaxing area around the hot spring.

The Highlight of Sainokawara Park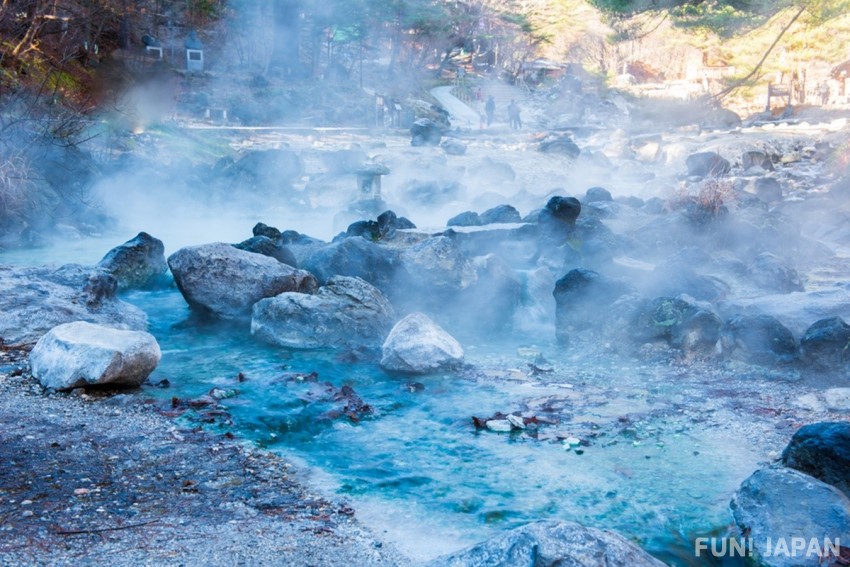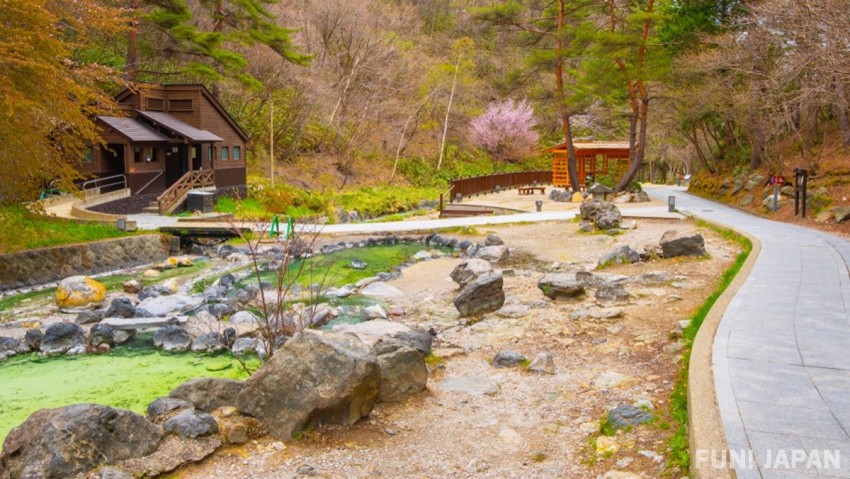 The onsen pools bubbling up in the park was once a typical hot spring in Sainokawara, where the hot water was blown out with tea kettle sound. Along the onsen there is a monument with demon carving; you can also see monuments of celebrities related to Kusatsu Onsen. Shrines and Jizo are also enshrined here, and you can take a walk around. The panoramic open-air onsen surrounded by the forest is highly recommended.

How to Enjoy Sainokawara Park Onsen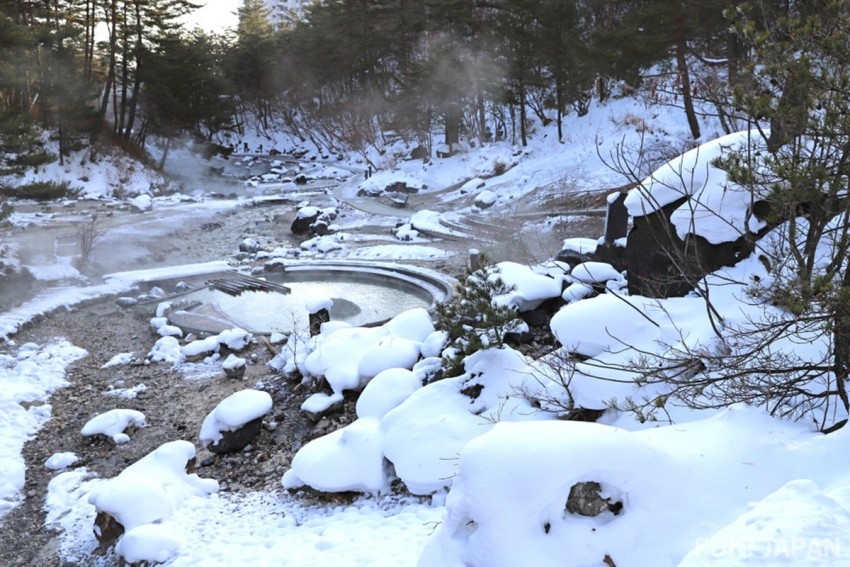 Sainokawara Park has one of the largest open hot springs in Japan. It includes a male and a female bath, measured 500 square meters in where visitors can enjoy a relaxing hot bath while taking in the splendid views of the seasons, like red leaves in autumn and snow in winter.
Business hours of the open-air onsen
From 1st April to 30th November: 7:00 am to 8:00 pm (last admission at 07:30pm)
From 1st December to 31st March: 9:00 am to 08:00 pm (last admission at 07:30 pm)
Admission fee of the Open Hot Spring
600 yen for adults, and 300 yen for children
Hot Spring Facilities
The hot spring is fully equipped with sperate toilets and changing rooms for male and female users. . Towels are available for sale. The lockers for valuables are available for free, and there are coin lockers at 100 yen once.
Notes for users
There are no restaurants serving foods, and be mindful that external foods and drink are not allowed neither.

How to Get to Sainokawara Park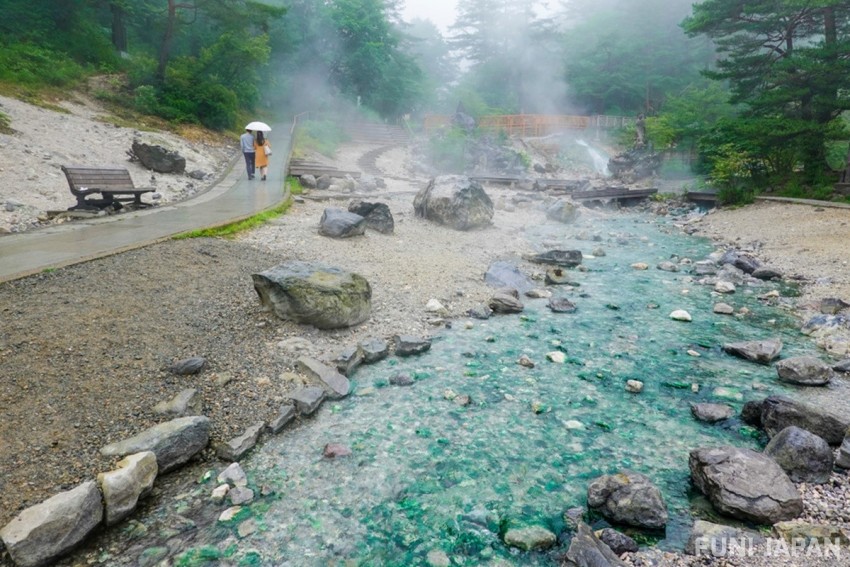 To get to Sainokawara Park from Tokyo, take the Nagano Shinkansen from Tokyo Station (1 hour 10 minutes) and get off at Karuizawa Station. Take the bus from Karuizawa Station (about 1 hour 18-55 minutes). Get off at "Kusatsu".

Spot Information
Spot name: Sainokawara Park
Street Address: 521-3, Kusatsu, Kusatsu-machi, Agatsuma-gun, Gunma
Access: Tokyo Station → [Shinkansen] 1 hour 10 minutes → Karuizawa Station → [Bus] 1 hour 18-55 minutes → Kusatsu
Wi-Fi: Unavailable
Language: Japanese Only
Ticket: Ticket window
Credit card(s): No credit cards accepted
[Survey] Traveling to Japan
Recommend