Kusatsu, One of Japan's Three Best "Onsen", Famous Hot Springs Town in Gunma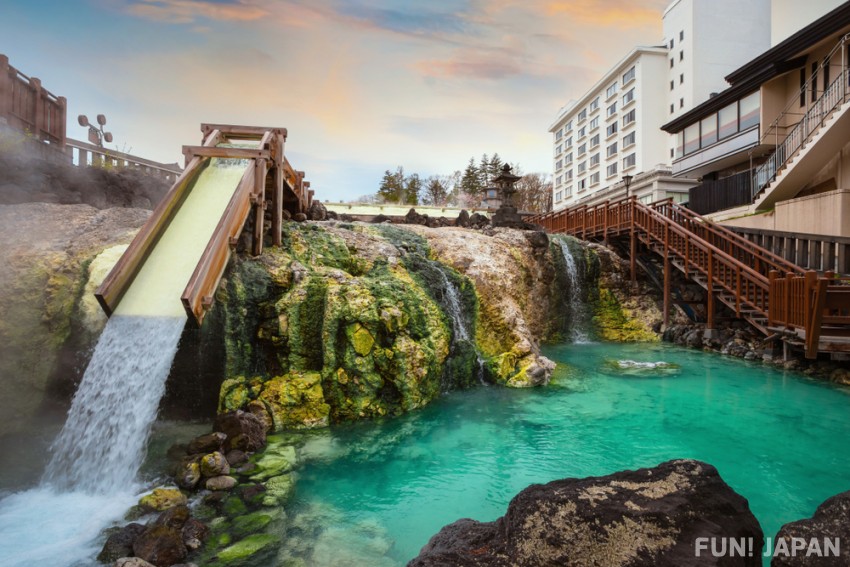 Do you have somewhere where you visited once and yearned to live there?
Here in Kusatsu, a hot springs town which is located in Gunma Prefecture, we're sure you will leave wanting to come back again and again. If you visit here, you will be exposed to Japanese culture and experience satisfaction for the Japanese style of living.

About Kusatsu Onsen, the famous hot spring town in Gunma
Kusatsu has been successively awarded as one of the best hot springs town in Japan. The hot water gushing out from Kusatsu town is efficacious against diabetes, burns, fatigue, muscle stiffness and much more. There are countless benefits you can obtain from bathing the hot spring.
The Attractiveness of Kusatsu Onsen
Yukata Experience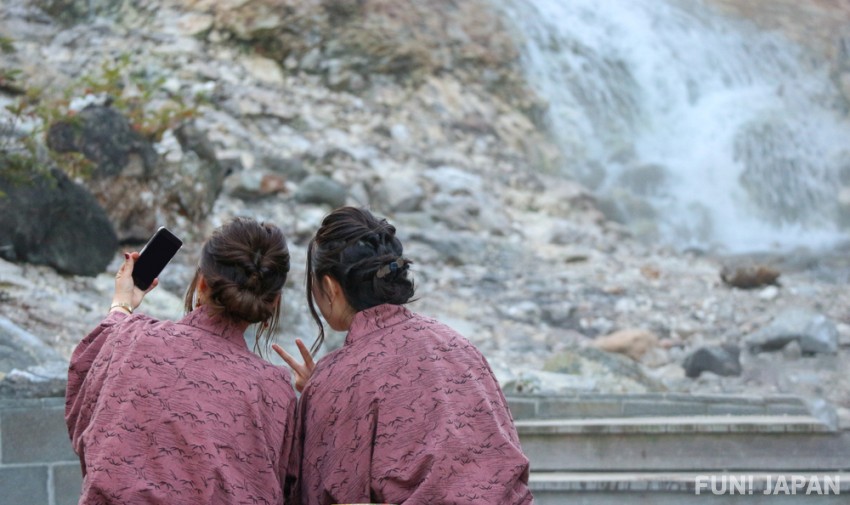 The whole town is quite small meaning you are able to explore it all in a single night. Since Kusatsu's scenery is protected by strict regulations to preserve the authenticity of the town, every single building has it's own unique character and attractiveness.
If you choose to wear the traditional Japanese yukata, you yourself can become part of the beautiful scenery in Kusatsu. In Kusatsu, most of tourists wear yukata, local hotels offer rental services and encourage tourists to dress in them. There are a surprising amount of tourists, both Japanese and foreigners wearing yukata during their stay and visit in Kusatsu. So don't be shy and try wearing a yukata for yourself.

Foot-bath cafe in Kusatsu
Since there are a lot of hot-springs in Kusatsu, tourists often visit more than two hot-springs. However, if you're reluctant to go in many times, instead, it's always good to stop by at a foot-bath cafe. (Though you might feel a little strange, you can drink some tea or coffee whilst bathing your feet.)
The fantasy Kusatsu Night View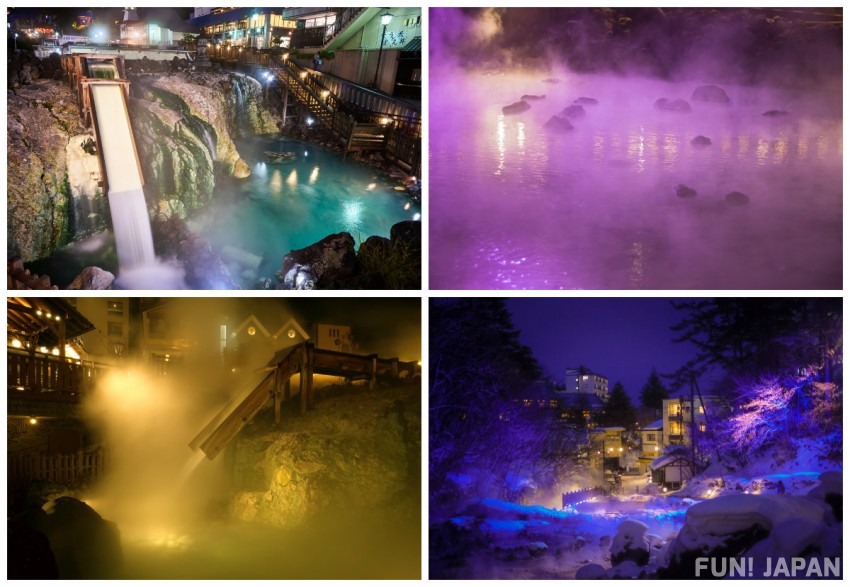 After seeing all there is around town, enjoy a new experience as the evening draws close, see the buildings lit up with steam from the yubatake creating a euphoric and breathtaking view!

The Interesting amusement in Kusatsu 
Contrary to the central part of the town, there are some towns just outside of the center which have incorporated some more modern culture and fashion, they include various different kinds of amusement facilities. You should definitely check these out if you get the chance!
Yubatake, a symbol of Kusatsu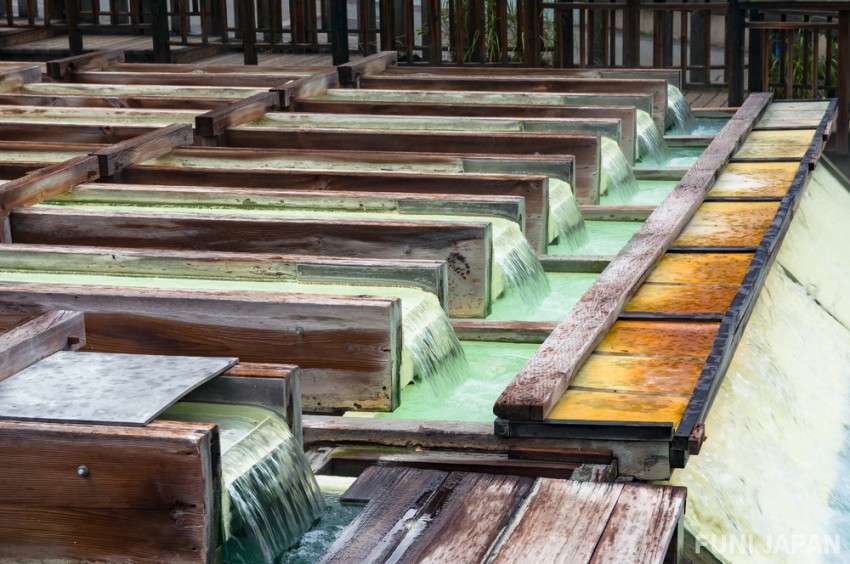 "Yubatake", the literal translation is "spring water field", which is the hot springs area where mineral deposits are harvested. Kusatsu could not exist without these. The town's hot springs are formed around a Yubatake.
Traditional "Yumomi Show"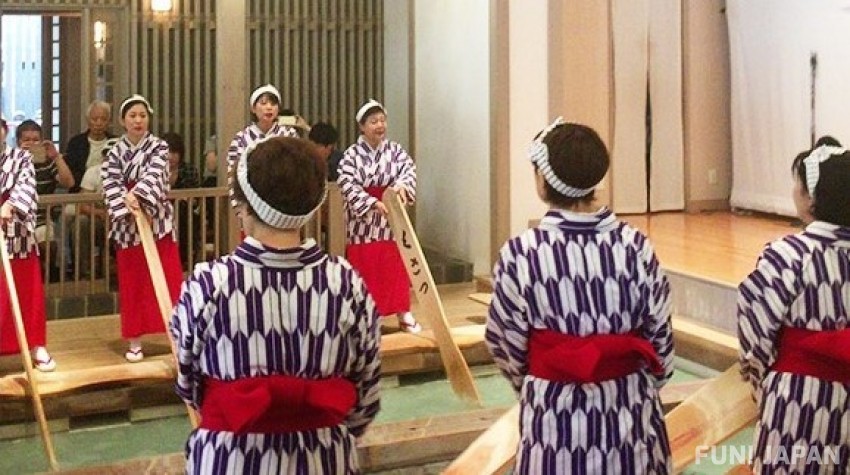 "Yumomi" which is to stir spring water up with wooden stick in order to get water temperature cooler. This is a traditional event performed in public. I recommend going to see a "Yumomi Show", not only can you witness the mechanism of the yumomi, you can also try it yourself.
These introductions are just few fragments of Kusatsu's attractiveness. It is not too far from Tokyo, so if you have an opportunity, I'd highly recommend you visit Kusatsu!
Spot Information
Spot name: Kusatsu Onsen
Address: 28 Kusatsu, Kusatsu-machi, Agatsuma-gun, Gunma 377-1711
Access: 

Ueno Station → [limited express] approx. 150 min → Naganohara Kusatsu-guchi station → [bus]approx.30 min → Kusatsu Onsen
Tokyo Station → [Shinkansen]approx.60min → Karuizawa station → [bus]approx.80 min → Kusatsu Onsen
Shinjuku Nishi-guchi Bus Terminal → [expressway bus] 250 min → Kusatsu Onsen
[Survey] Traveling to Japan
Recommend