Atami: One of Japan's 3 Popular Hot Spring and Tourism Areas!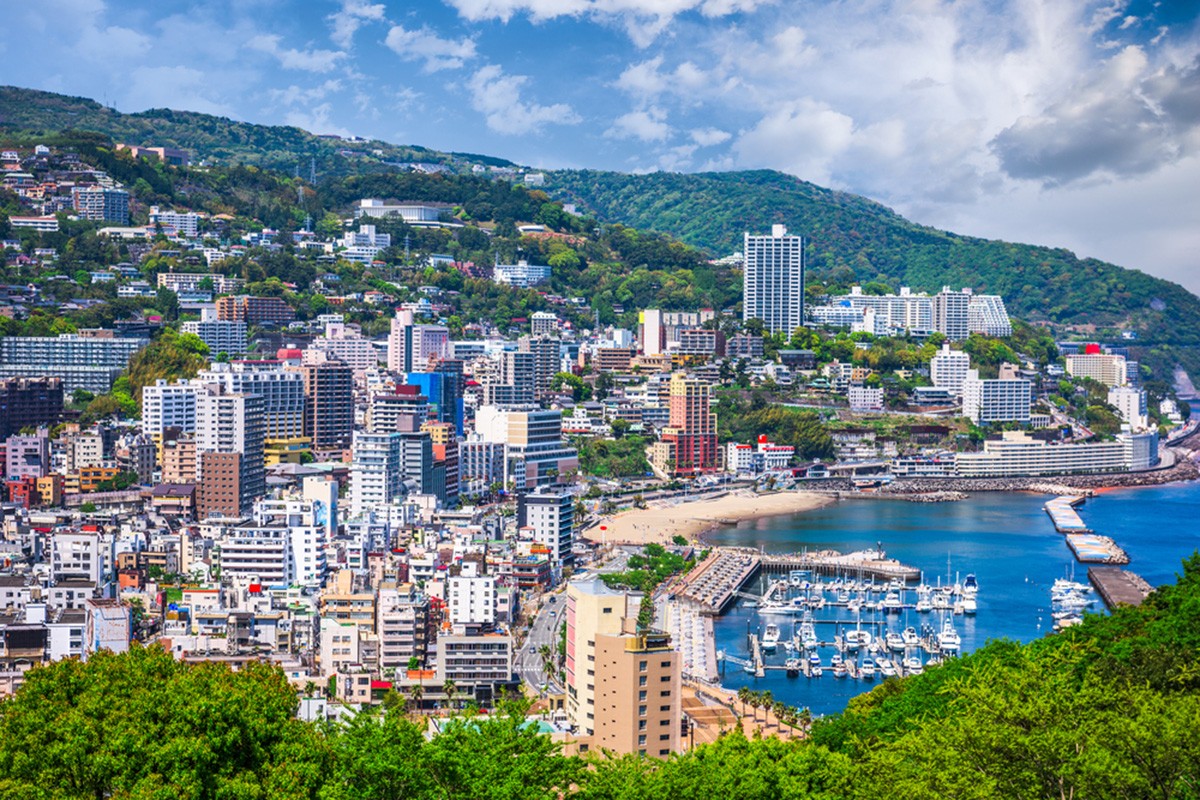 Atami is a resort city located on the northern coast of the Izu Peninsula in Shizuoka Prefecture that is blessed with the natural environment of the sea, mountains, and hot springs. In addition to various sightseeing spots, there are also many festivals and events such as the "Atami Sea Fireworks Festival", held at least 10 times every year.
About Atami in Shizuoka Prefecture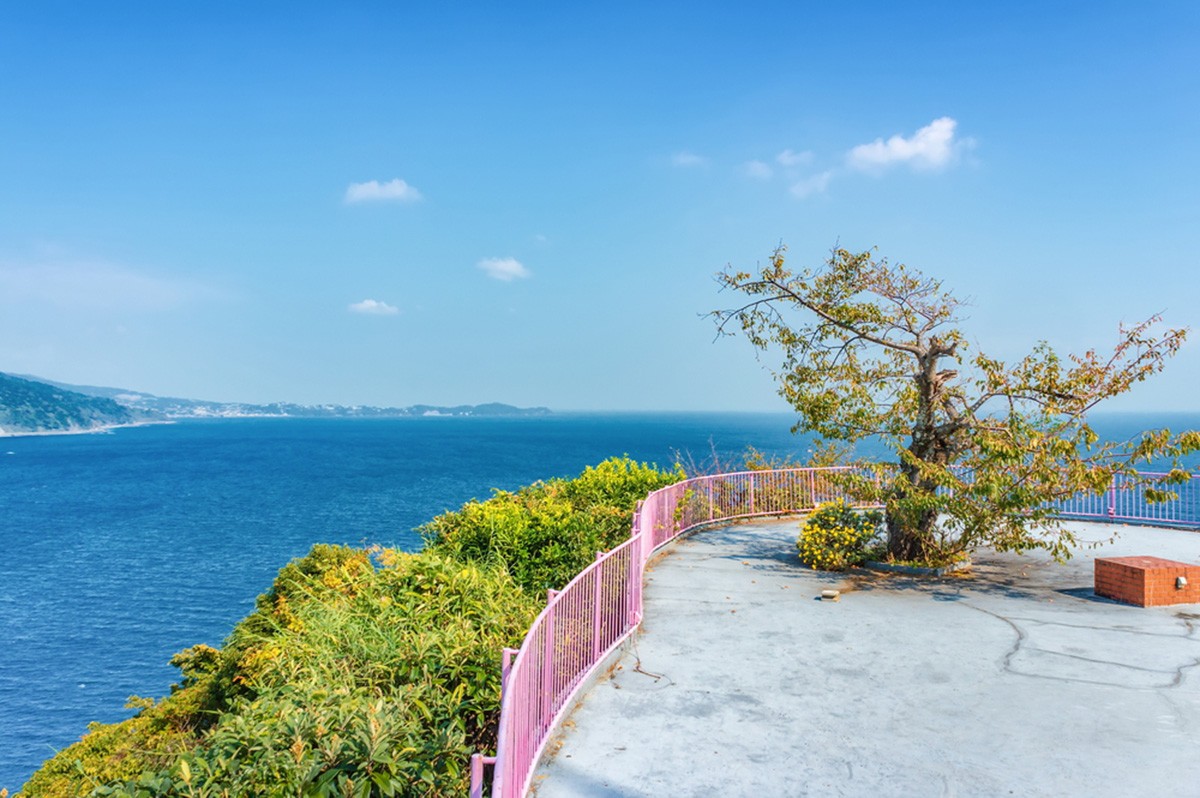 Atami is a city built on a steep slope formed by the erosion of the Taga-Kazan volcano. There is an abundance of hot springs that are the blessings that come with volcanoes, and the area has flourished as a hot spring resort for a very long time.

Hatsushima, which is about 10km offshore, is also popular as a resort.
Atami Weather and Tourism Seasons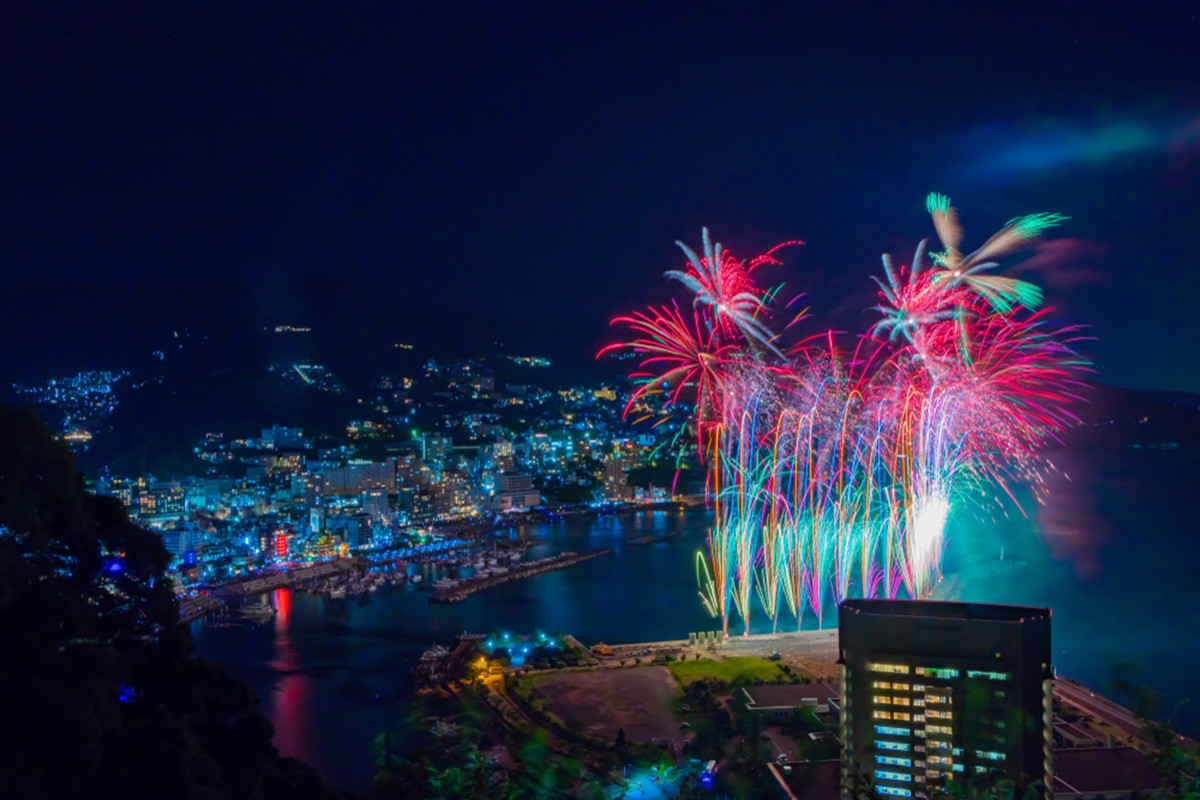 Atami is cool in the summer, warm in the winter, and has relatively little rain, making it easy to visit year-round. Furthermore, there are lots of things to do and see in every season, such as seasonal flower spots, festivals, events, and more.

Especially in the summer, there are many firework festivals and various other festivals, as well as plenty of activities in and around the sea, such as swimming or playing in a huge athletic course that's floating on the sea. We highly recommend coming during the summer to have a more diverse experience.
Things to Do and See in Atami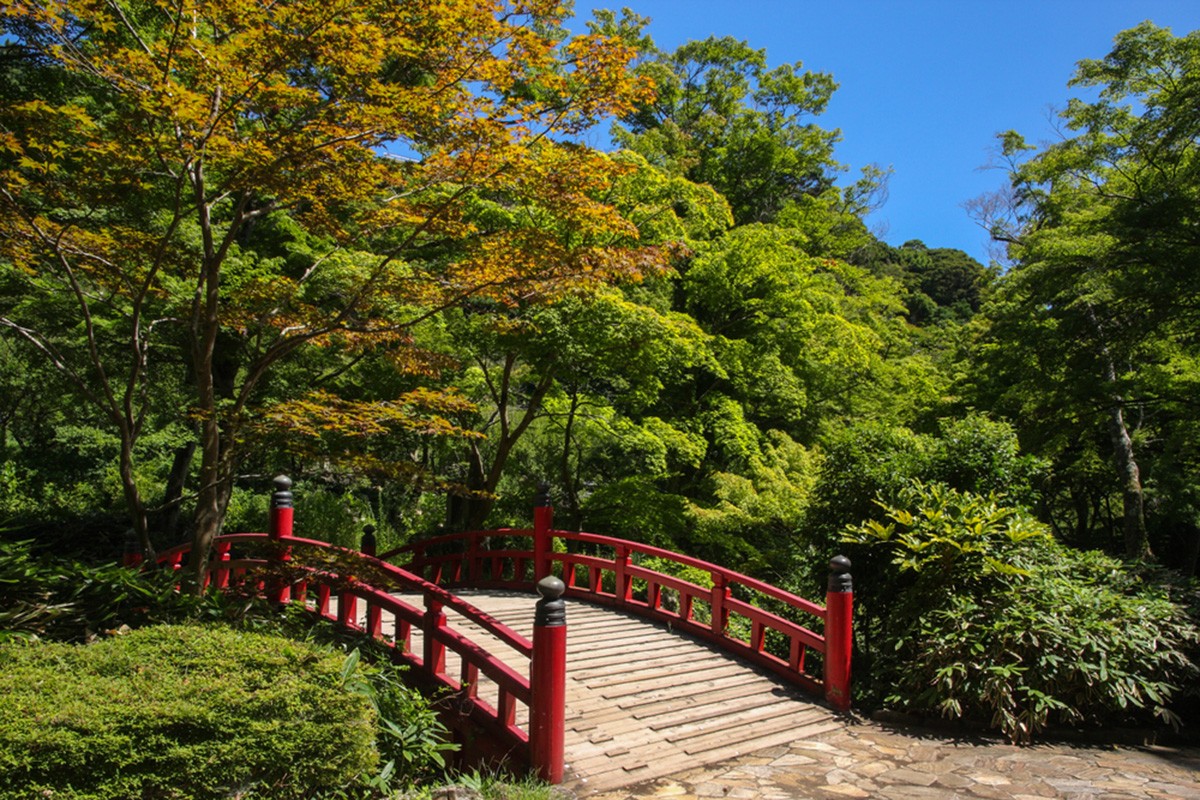 Within Atami, there are many places where you can try out the hot springs, such as "Marin Spa Atami" where you can wear your swimsuits in the hot springs and pool. There's also "Ieyasu no Yu", a foot-bath. In addition to hot springs, there are numerous other sightseeing spots you can check out.

 Atami Plum Garden, Sun Beach, and Other Beautiful Natural Spots
There are also many scenic spots such as flower gardens like the Atami Plum Garden, Akao Herb & Rose Garden, and Nishikigaura, where you can see beautiful cliffs.

Among them, Sun Beach is a beautiful spot with a view of the blue sea, white sand beach, and palm trees on the coastline. In the evening, you can take a stroll along the beach as it is lit up a pale blue, almost like you are in a fantasy world.
The MOA Museum of Art, Geisha Shows, and Other Traditional Cultural Experiences in Atami
In Atami, there are plenty of places where you can appreciate the arts, such as the Atami Trick Art Museum and the MOA Museum of Art, where you can see oriental paintings, ceramics, Buddhist sculptures, etc.
At the 'Atami Geigi Kenban Kabu Renjo', you can enjoy the elegant dances of geisha dressed in gorgeous kimonos every Saturday and Sunday.
Atami Castle, Kinomiya Shrine, and Other Historical Sites
We also recommend that you visit some historical sites, such as Atami Castle at the summit of Mt. Kingaura and Kinomiya Shrine, where you'll find the 2,000-year-old "god tree".

Among them, Atami Castle is a must-see. Inside the 6-story castle tower, there is an exhibition floor with displays of weapons and ukiyoe paintings, a spot where you can try on feudal lord and princess costumes, and a foot-bath. In addition to that, the view overlooking the sea and the Izu Peninsula that can be seen from the observation deck on the 6th floor is stunningly beautiful.
Atami Restaurants and Food
Atami is famous for seafood dishes such as seafood rice bowls, boiled fish, and dried mackerel. Other specialties include Western food such as omelet rice as well as Japanese and Western sweets named after Atami.

Restaurants and sweet shops are plentiful in the coastal urban area around Atami Station.
Sushi Made with Fish from Atami
Various fish, such as horse mackerel, tuna, and amberjack are caught at the nearby Atami and Ajiro Port. Many sushi restaurants in the city offer sushi using these fresh fish, so please try some!

Dishes Using Atami's "Daidai"
The citrus fruit called "daidai" is characterized by a refreshing scent and strong acidity and is used in meat and fish dishes as well as Japanese and Western sweets. Various restaurants and sweet shops offer items that use daidai, so look for them around the tourist spots!

Atami Hotels and Inns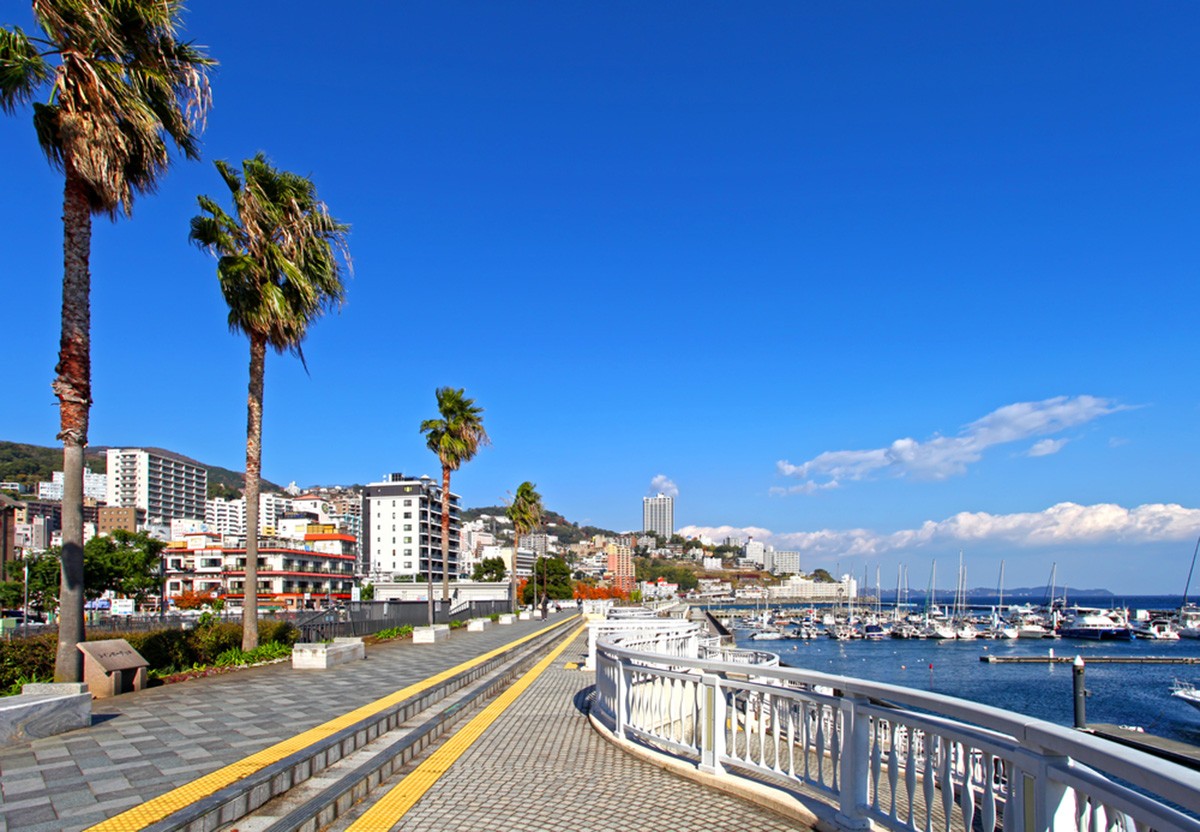 Accommodations in Atami are scattered around the coastal areas of the city. Many inns offer entry to the hot springs and views overlooking the sea. The average price is about 10,000-20,000 yen. There are also many reasonably priced inns around 5,000-10,000 yen around JR Atami Station.

Access to Atami from Tokyo
If you are headed from Tokyo to Atami, aim for JR Atami Station, as it is a tourist base. From JR Tokyo Station to JR Atami Station, it takes about 35 minutes by the high-speed Hikari on the Tokaido Shinkansen or about 50 minutes by the slower Kodama train.

To get to each sightseeing spot from JR Atami Station, use the train or the "Yu-Yu-Bus" and other local bus services.
Spot information
Spot name:Atami (JR Atami Station)
Street address:11-11 Tawara-honcho, Atami City, Shizuoka Prefecture 413-0011
Access: Tokyo Station → [Tokaido Shinkansen] about 35-50 minutes → Atami Station
Wi-Fi: Available(Free Wi-Fi ATAMI)
Language: English, Chinese
Credit cards: VISA, MasterCard, JCB, AMERICAN EXPRESS, Diners Club International
[Survey] Traveling to Japan
Recommend