7 selection of Orient Star self-winding wristwatch made by craftsmen with proficiency skill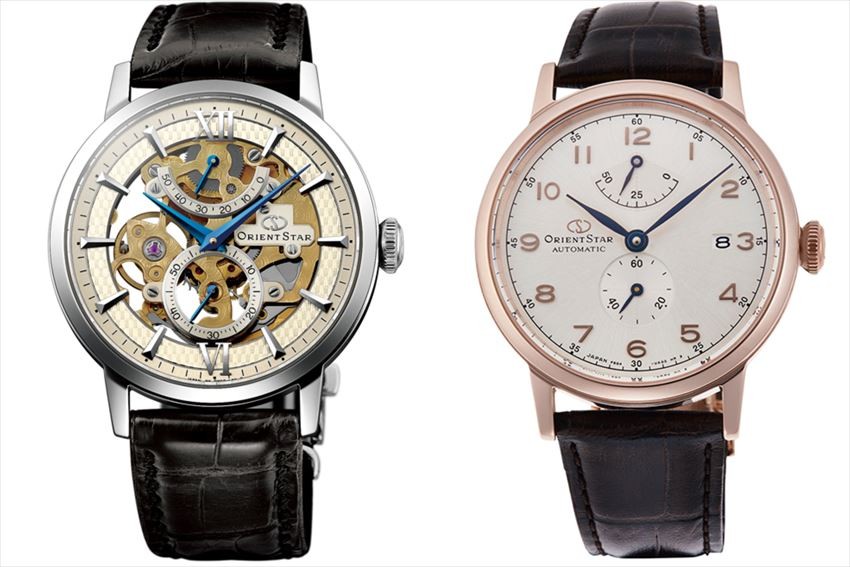 Orient Star, which is established in 1951, is loved for a long time and widely known not only in Japan but also overseas as a full-fledged mechanical watch without the need for batteries. In the 1970s and 1980s, there were times when they were hidden by the shadows where quartz watches powered by batteries reached the heyday, but the attractiveness of mechanical watches has been drawing attention again.
Orient Star's factory is currently located in Akita prefecture and many skilled craftsmen produce through fine processing. This time we will introduce four recommended series from among "Orient Star" watch brand that Japan should be proud of!
Feel the warmth through tradition – Heritage Gothic
RK-AW0002S 84,000 Yen(Exclude tax)(Left)

RK-AW0003S 84,000 Yen(Exclude tax)(Right)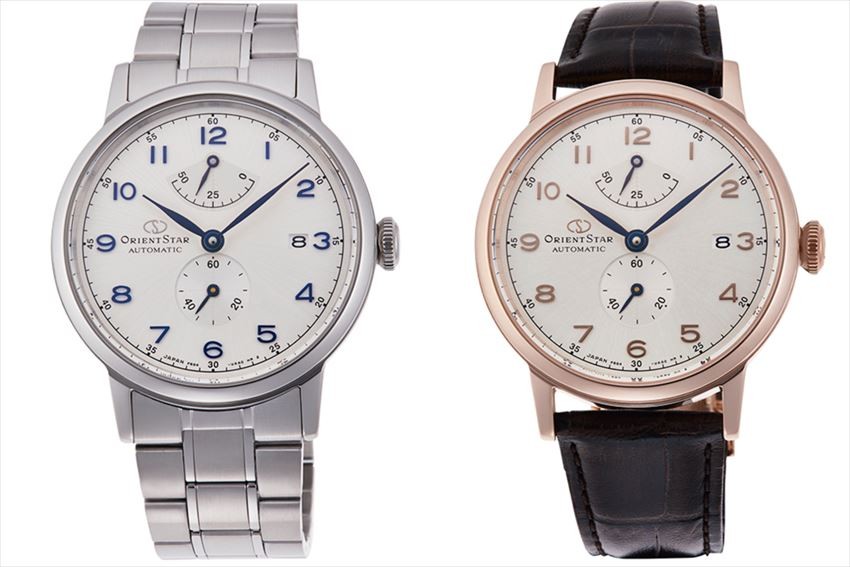 Heritage Gothic, released on 23 July 2018, design concept is feel the warmth through tradition. The font is carefully typeset and revised into contemporary style which spreads slightly sideway, inherited from the successor which has been handed down from time to time. In addition, the duration of automatic winding (manual winding) has improved from conventional 40 hours to 50 hours, both spherical glasses are subjected to "anti-reflective coating on the back" to improve the visibility of the dial.
For the band, the picture on the left, RK-AW0002S is stainless steel while on the right, RK-AW0003S is leather. Both are easily removable using 'tri fold with push button clasp', a combination of practical use. We recommend purchasing it in pairs as you can use it regardless of gender.
"Slim skeleton" which combines slim and dressy design and functional beauty of mechanical watches
RK-HJ0002L 150,000 yen (without tax) (left)

RK-HJ0001S 150,000 yen (without tax) (right)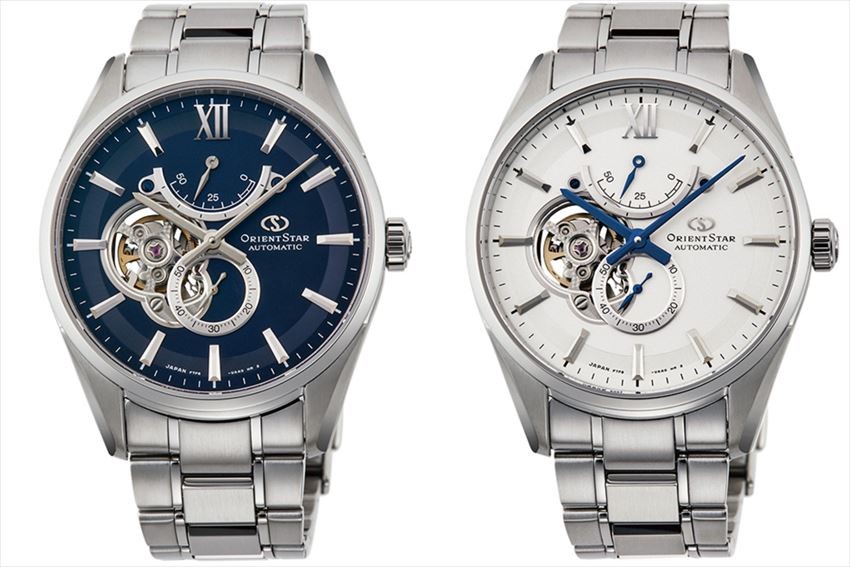 It is a series which you can view into the mechanism of this mechanical watch by making it skeleton from 9 o'clock position to 6 o'clock position. The back side is also see-through so you can enjoy the movement of the clock. In addition, it also has a 'Power reserve indicator' at 12 o'clock position which can grasp the remaining duration. The band adopts stainless steel SUS316L which is difficult to corrode, sapphire crystal for back cover glass and anti-reflective coating on both sides to improve time visibility. For the lineup, there are black dials in addition to navy (left) and white (right).
Oriental Star's first model with age of the moon display function – Mechanical Moon Phase
RK-AM0001S 170,000 yen (without tax) (left)

RK-AM0003S 170,000 yen (without tax) (right) (prestige shop limited model)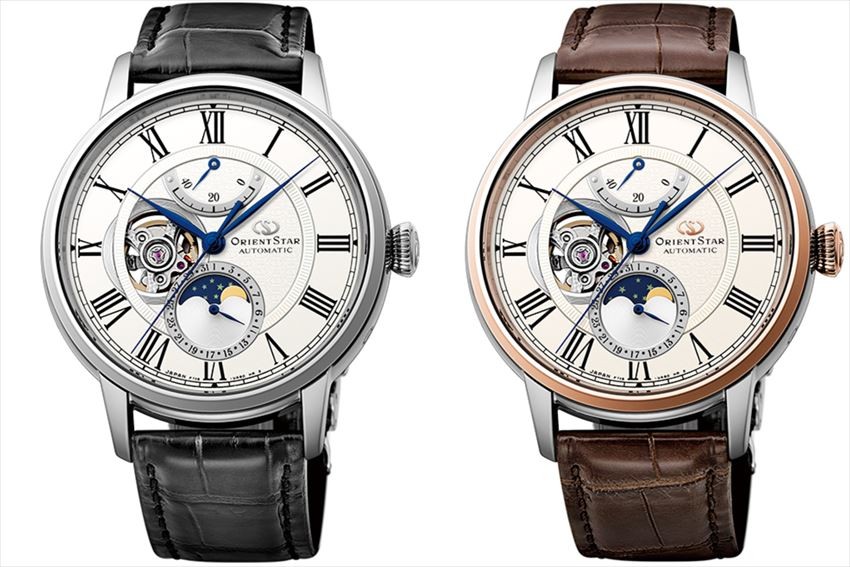 It is the first model of Orient Star which equipped with age of the moon function, characterized by the presence of an in-dial (small dial placed in the dial) indicating 'day' from 1st to 31st at 6 o'clock position. A night sky, stars and moon which gives out a gentle light are drawn for the background, rotates at the period of 29.5 days and shows from new moon to full moon.
Another thing to pay attention for is a slight curve on the tip of the minute hand. It seems that a curve has been applied to the tip of the minute hand by manual work of a craftsman so that the minute hand can be shown until just before the minute mark.
High quality genuine crocodile leather is used for the band. The right picture is plated with pink gold color, making its impression more gorgeous. There are blue dials too.
A masterpiece filled with epitome of mechanical watches! Skeleton
WZ0041DX 240,000 Yen (tax excluded)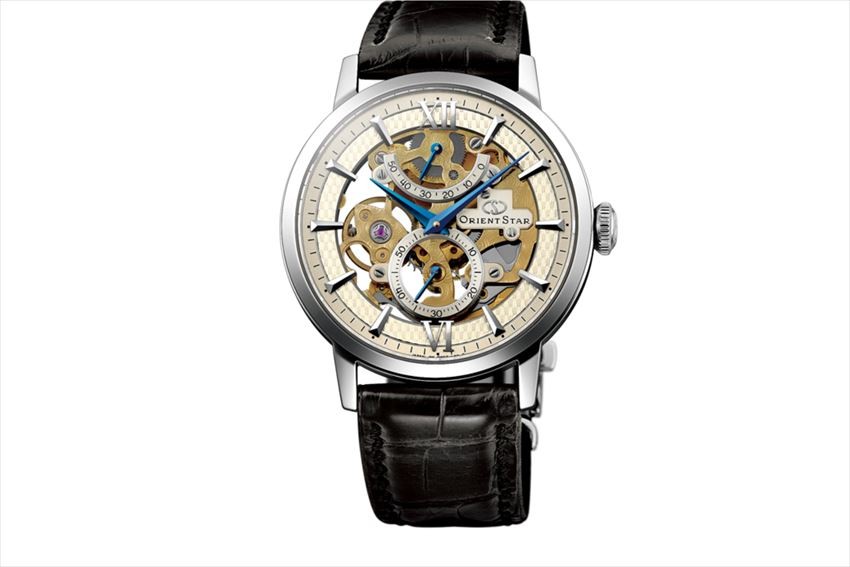 It is a full skeleton type, in which the interior of the watch can be seen, and it is possible to enjoy the ticking and moving of each parts which incorporated in complexity and wonderful combination. Each golden part is given a wave/ vortex eye pattern by craftsmen, receiving an art work like impression.
In addition, the band uses crocodile leather, and it is less likely to fray as it is hand-sewn needle by needle, and it is sewn while adjusting to make it closer to the shape of the arm. There is in-dial of second display at 6 o'clock position and power reserve indicator at 12 o'clock position which shows the remaining duration.
[Survey] Traveling to Japan
Recommend