The Best 10 Attractions in Ehime, Japan
Ehime Prefecture (愛媛県) sits on the island of Shikoku (四国) and its capital city is the leafy town of Matsuyama (松山). The prefecture is known for its pretty castles and temples, but its real claim to fame is found in its hot springs. Dogo Onsen (Dogo Hot Spring, 道後温泉) is the oldest onsen of its kind in Japan and members of royalty have bathed here for centuries, so it is worth the trip to Ehime alone just for the chance to soak in these sacred waters.
As well as its famous onsen, Ehime is also blessed with a number of scenic towns and cities which make a great change of pace to busier and more modern locations like Tokyo. Many visitors enter Ehime through its capital Matsuyama which has a laid back charm and a number of great attractions, as well as smaller areas like Ozu which will give you a glimpse of this part of Japan in the days of old.

There are things like this to see dotted around from the north to the south. It would be difficult to fully see everything in one trip, so this time we will introduce the highlights of the Ehime prefecture.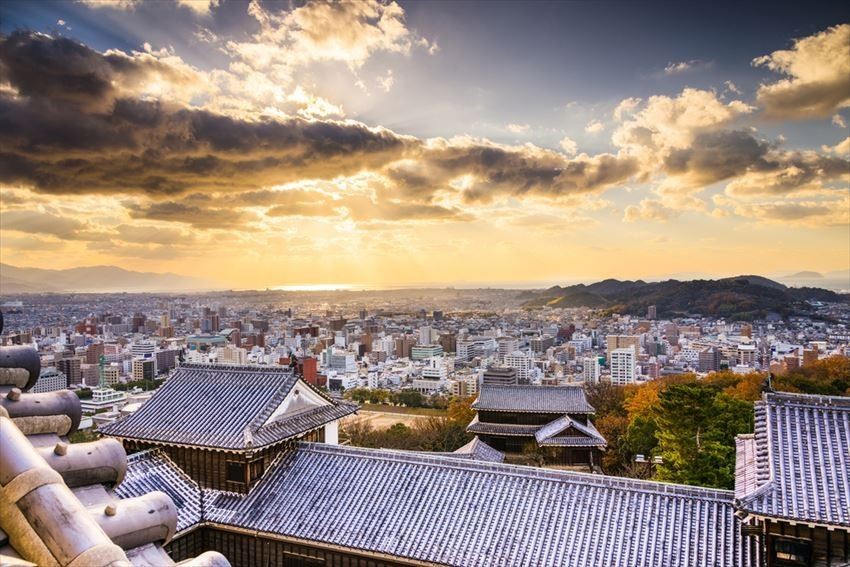 10 Suggested Tourist Attractions in Ehime Prefecture
We will start in the north of Ehime and move to the south. 
1. Shimanami Kaido (Imabari City)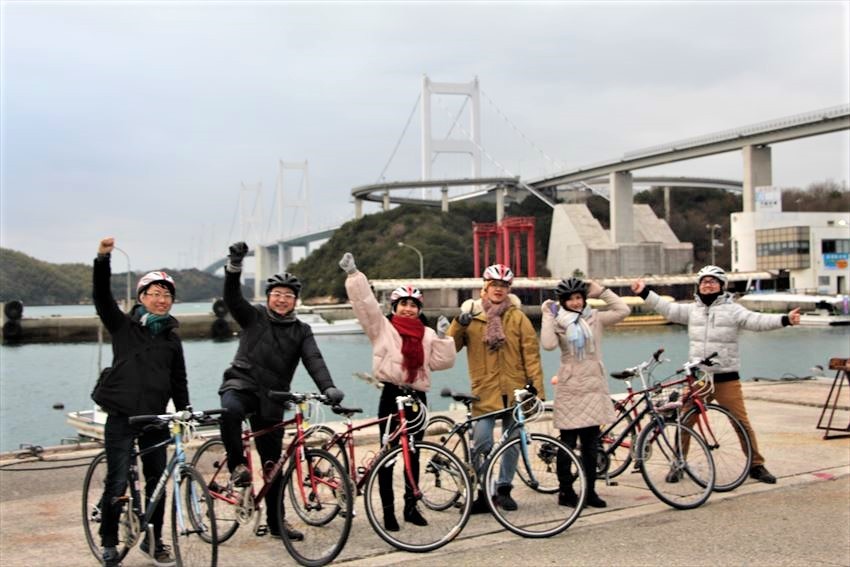 From Onomichi city in Hiroshima prefecture to Imbari city in Ehime prefecture, there are 10 various sized bridges connecting Nishiseto Expressway called by its nickname Shimanami Kaidō. It is also famous as a cycling road. There are a lot of tourists who experience cycling on the road for about an hour with rental bicycles.

The famous dish of this area is Yakibuta Tamago Meshi (Fried pork and Egg Rice). It's a simple Donburi (rice with topping) dish that consists of rice with fried pork, egg and special sauce on top. The rich flavour is satisfying for your tired body after walking or cycling. 

2. Matsuyama Castle (Matsuyama city)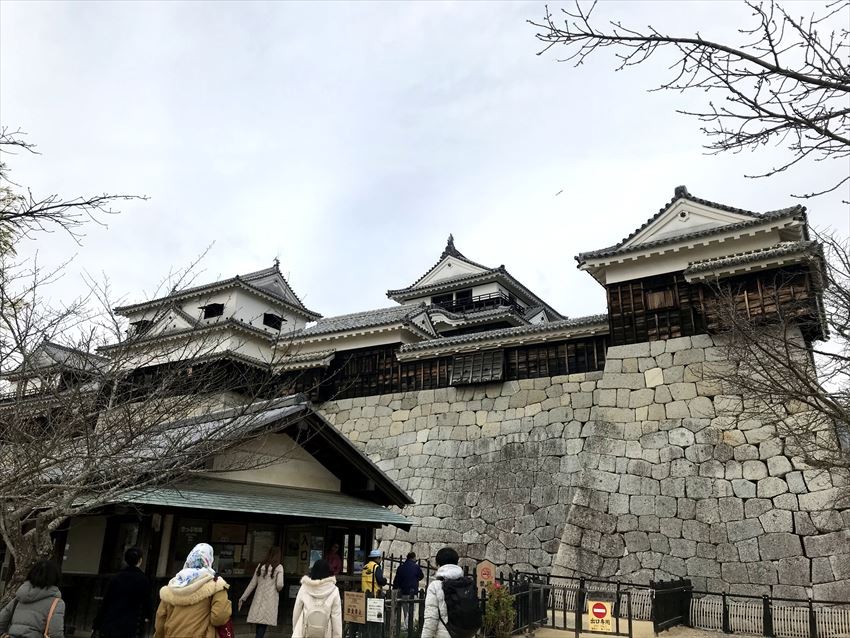 Matsuyama Castle is one of the 12 castle keeps left in Japan (12 existing castle keeps). Previously, it was designated as one of the "100 Famous Castles of Japan" and "100 Beautiful Japanese Historical Features", so if you like castles, this is a piece of architecture that should not be missed. Furthermore, it is interesting to actually walk around inside the castle.

3. Botchan Train and Mandarin Orange Juice from the Tap (Matsuyama City)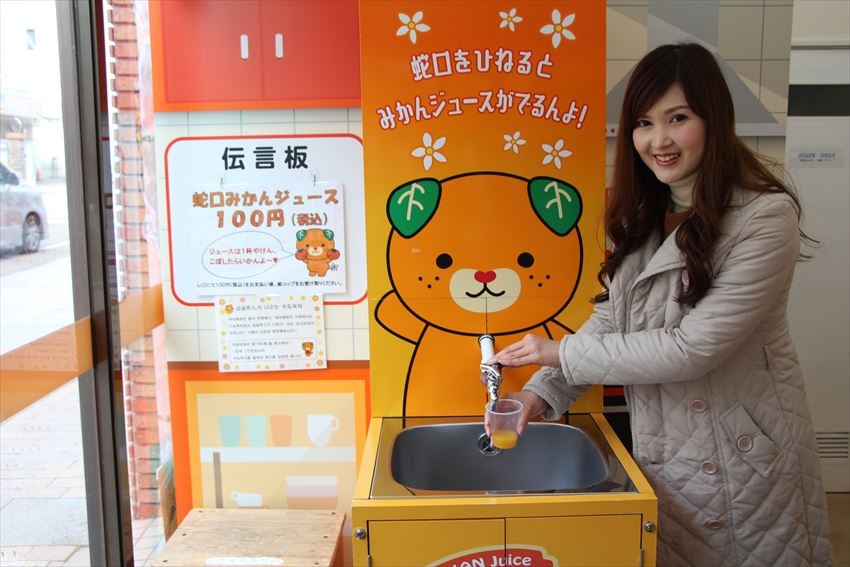 Botchan Train is a train that operates around Matsuyama city. It is the train design that existed at the time when Sōseki Natsume moved to Matsuyama city to work.The one thing that particularly interests tourists, is watching people physically move the train when it is time for the train to reverse course. 

Moreover, in tourist areas there are some taps that serve Mandarin orange juice, so look out for them while walking around. You can spot them in Matsuyama airport and souvenir stores around the city. Citrus fruits are a famous product of Ehime prefecture, so we would recommend you to try this freshly squeezed juice. 
4. Dogo Hot Springs (Matsuyama city)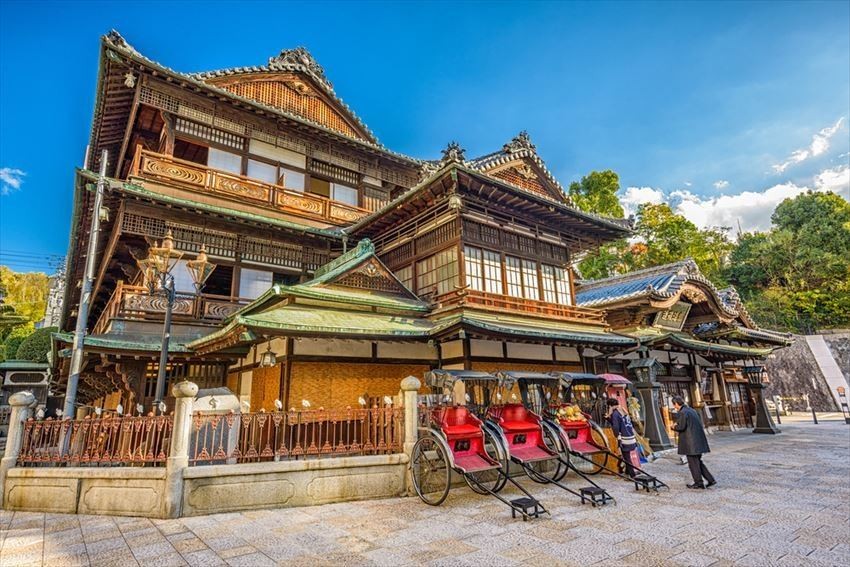 Dogo Hot Springs has a history of over 3,000 years and is the oldest hot spring in Japan. You may particularly want to drop by the 3-story, wooden building "Dogo Hot Springs", even if you don't actually want to go in the hot spring water itself. This building itself has a history of about 120 years.

Get the most recent information here: Visit Dogo Onsen in Ehime Prefecture to Feel the Japanese Traditional Atmosphere 
5. Shimonada Station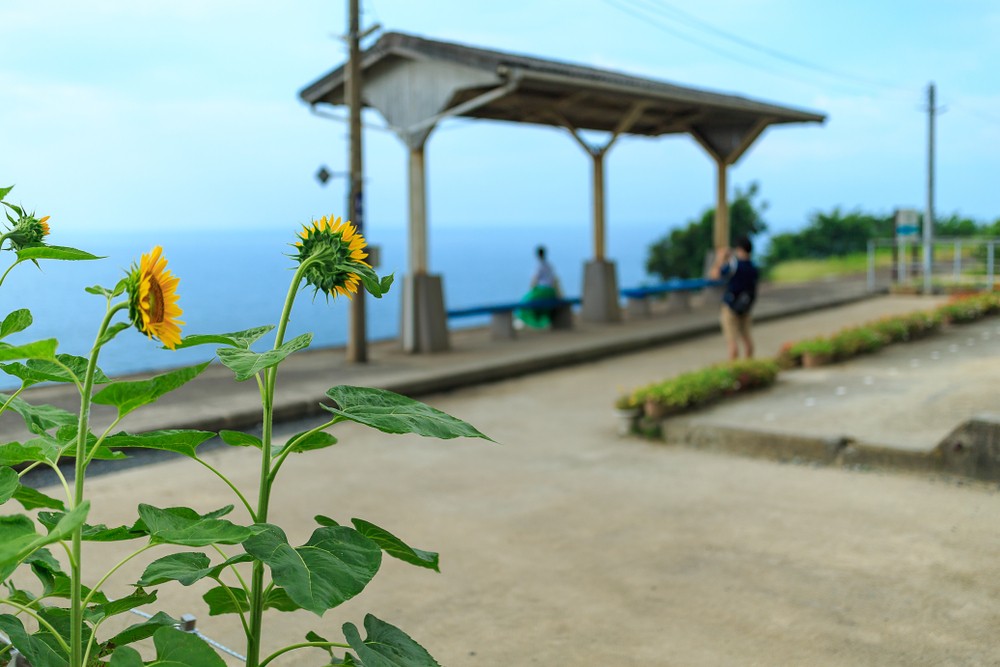 It is one of the stations on the JR Shikoku Yosan line that operates between Takamatsu station in Kagawa Prefecture to Uwashima station in Ehime prefecture. It has been used as a shooting location for many movies and dramas, so many tourists get off and rush around taking photos. It's characteristics include its simple and quiet scenery with only the ocean and station building. 

6. Besshi Copper Mine (Nihama City)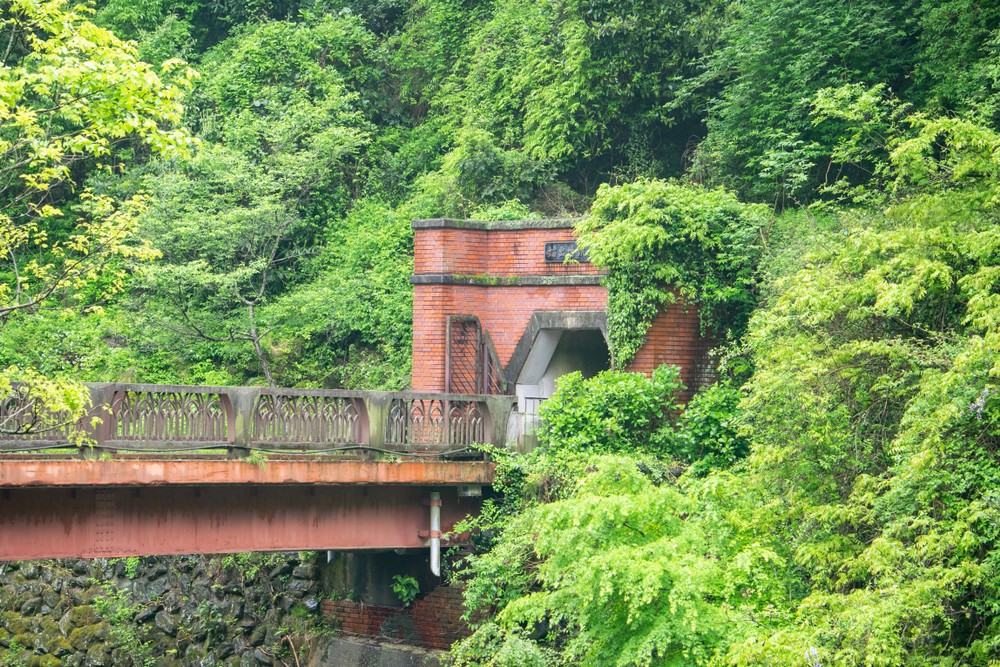 Besshi copper mine was the world's best copper mine for 400 years from the Edo period until the Shōwa period. Previously, there were 10,000 people living in the town and there were even hospitals, schools and amusement facilities. Now it is being preciously conserved as present day industry heritage left behind in the middle of nature. In the Tonaru area, scenery called "The Oriental Machu Pichu" can be seen. 

7. Japan's Bluest Clear Stream where Niyodo Blue was Born - Omogo Gorge (Kumakogen Town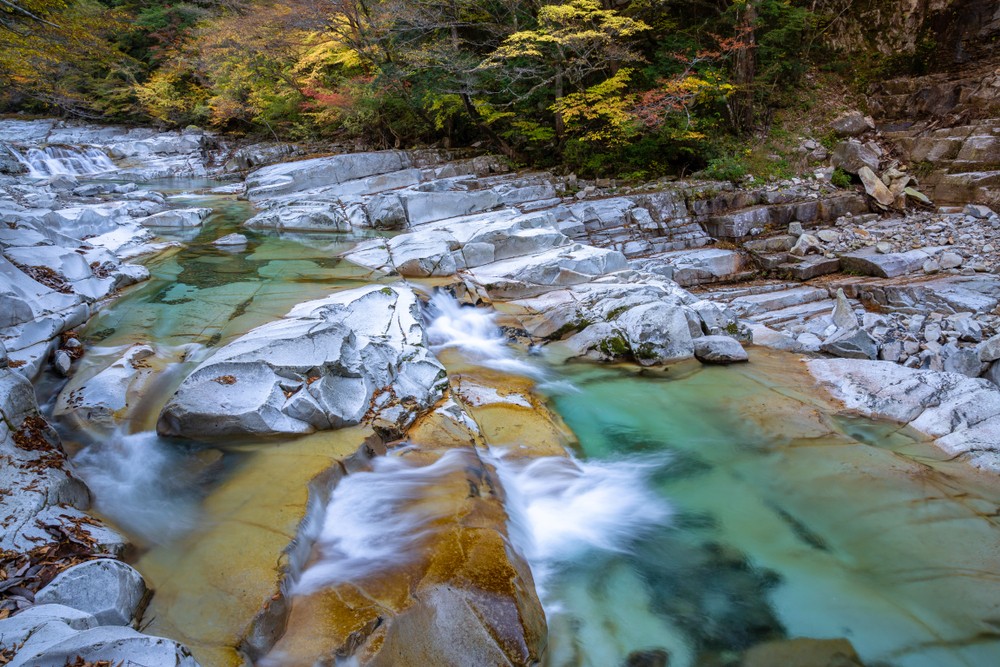 Niyodo river has clear, blue water. Upstream at Omogo Gorge, you can see the beautiful blueness. 

8. Sadamisaki Peninsula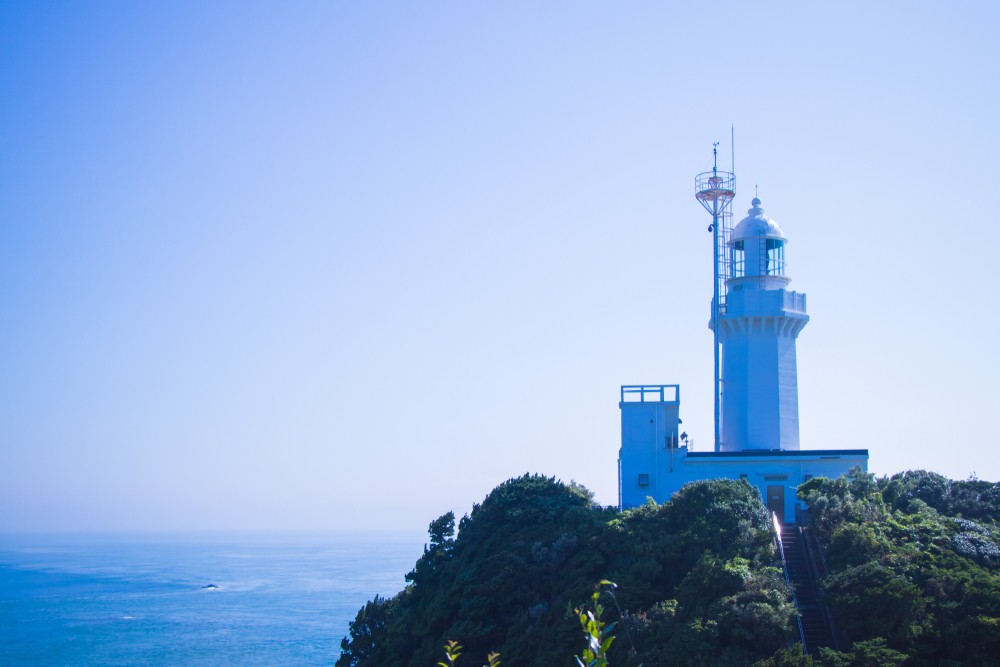 Sadamisaki peninsula is famous as having the strongest wind and being slimmest in Japan. There are even wind power stations using that wind in the area.

The nearby national highway 197 known as "Sadamisaki Melody Line (佐田岬メロディーライン)" is perfect for those who like taking a drive. You can see the spectacular ocean view from the road that runs along the mountain ridges around 200m above sea water. 
9. Uchikocho, Kita district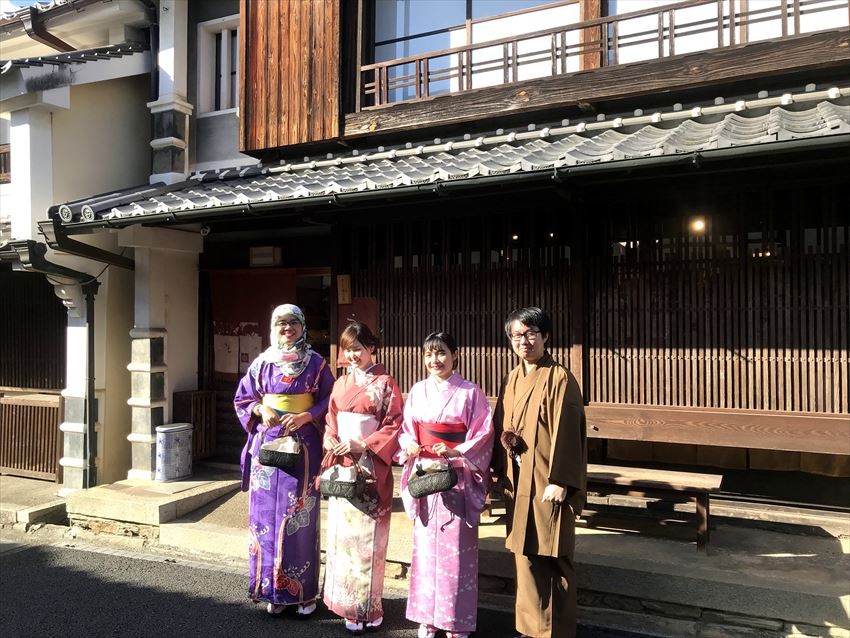 The traditional style town houses and wealthy merchants' mansions have been left as they at the time when they were built. It is a town where you can capture old Japan on film. The best place to see in the area is the Japanese wax museum "Kamihagatei (上芳我邸)". You will be blown away by the splendidness of the luxuriously built buildings of the wealthy merchants of that time. There is a kimono rental shop, so you can wear a kimono while walking around the town. 

10. Ozu
The nationally spread Sukuhikona shrine (少彦名神社). In the Ozu area, the legend of Sukuhikona and related land largely remains. Especially, Ozu Sukuhikona shrine faces Hijikawa river, and around the foot of the mountain the main gate, the prayer room, the front shrine, the middle shrine and the main shrine and laid out. 

Shopping in Ehime Prefecture and Duty Free Shops
Dogo Onsen Shopping Street:
The Dogo Onsen Shopping Corridor around Dogo Onsen is a great place to come if you are looking for some souvenirs of your trip in Ehime. This shopping area is known for its handicrafts and you will find items like Iyo Kasuri cloth which is a kind of woven fabric that is traditionally dyed with indigo. In modern times this fabric is used to make a variety of goods such as clothes and toys and is a great pick if you want to buy handicrafts in Ehime. Other items to look out for include Tobe pottery which was first produced some 220 years ago.
Takashimaya
Takashimaya is a Japanese department store with a difference and if you are looking for an unforgettable shopping experience in Matsuyama then this is not to be missed. Takashimaya is essentially a large mall area with a range of different sections selling men's and women's fashions, accessories, and home ware, but it is also topped with a large Ferris Wheel that lets you take in the views across the city.
Getting to Ehime:
By plane:
The main airport in Ehime is Matsuyama Airport. You can fly here from Tokyo Haneda as well as Nagoya Komaki, Osaka Itami, Fukuoka and Okinawa. There are also some international flights from Shanghai and Seoul. There is a direct bus from the airport to Matsuyama Station which costs ¥300 or to Dogo Onsen which costs ¥450.
By train:
Matsuyama is located on the JR Yosan Line. You can take the San'yo Shinkansen via Okayama to Matsuyama which will take around 3 hours and cost ¥6,630. Another way to get to Ehime is to take the Sunrise Seto from Tokyo which is an overnight service that goes to Sakaide where you will need to change to the Ishizuchi Express to Matsuyama.
By bus:
Buses run from Matsuyama all over Shikoku using the JR Shikoku Bus service. There is also a Botchan Express bus which travels from Takamatsu to Matsuyama at a cost of ¥3,900 and takes around 3 hours. You can also get the Nangoku Express from Kochi which also takes around 3 hours and costs ¥3,500 as well as the Yoshinogawa Express from Tokushuma which takes a little over 3 hours at a cost of ¥4,300. Another option is to take the Madonna Express from Okayama at a cost of ¥4,300 which also takes around 3 hours.
Visitors traveling from Tokyo can take the Dream Takamatsu-Matsuyama service which takes 10 hours and has tickets between ¥12,000 and ¥14,300 depending on the class you choose.
[Survey] Traveling to Japan
Recommend