5 Must-Experience Things in Matsuyama City Filled with Japanese Good Old Days' Atmosphere
Have you heard of Dogo Hot Spring? You've probably occasionally seen a photo of it if you've been reading Japan travel guides. However, do you know where it is? It's in the Ehime prefecture in the Shikoku area. In fact, there are not only hot springs in Matsuyama city, but there are other things overflowing with Japanese-like appeal, such as castles, trams, and local food. Even, there are places where Mandarin orange juice comes out from the tap! ? Let me introduce five charms of Matsuyama.

Japan's Oldest Hot Spring, Dogo Onsen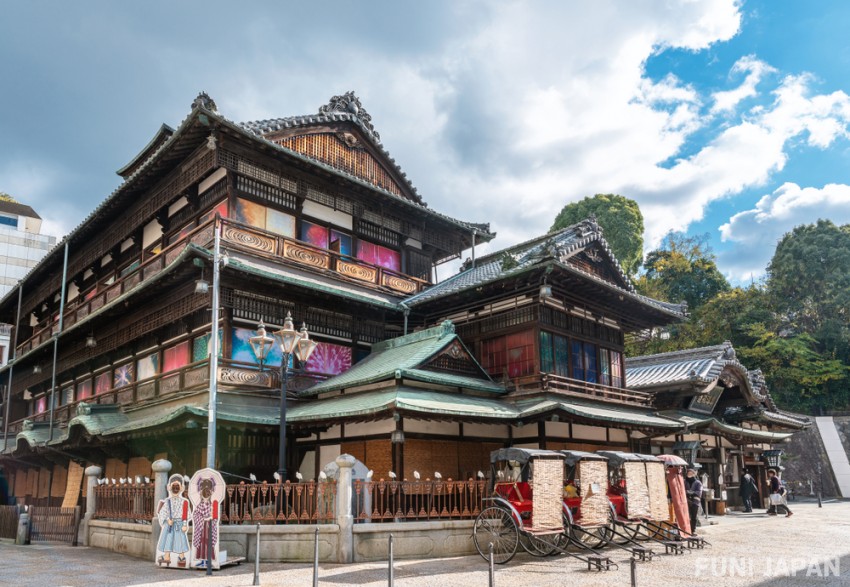 This photo that is often spotted is the main building of Dogo Hot Spring. It is said that it is one of the hot springs that was used as a reference in the Ghibli movie "Spirited Away". It started out as a wooden three-story building, and they kept adding onto it until it became the form it is now. In 1994, it started as a public bath and was designated as an Important Cultural Asset. 

Spot Information
Name: Dogo Onsen (Hot Springs Main Building)

Address: 5-6, Dogo Yunomachi, Matsuyama City, Ehime Prefecture

Access: 5 minutes on foot from Iyo Railway "Dogo Onsen Station"
Change of Course with Man Power!? Botchan City Tram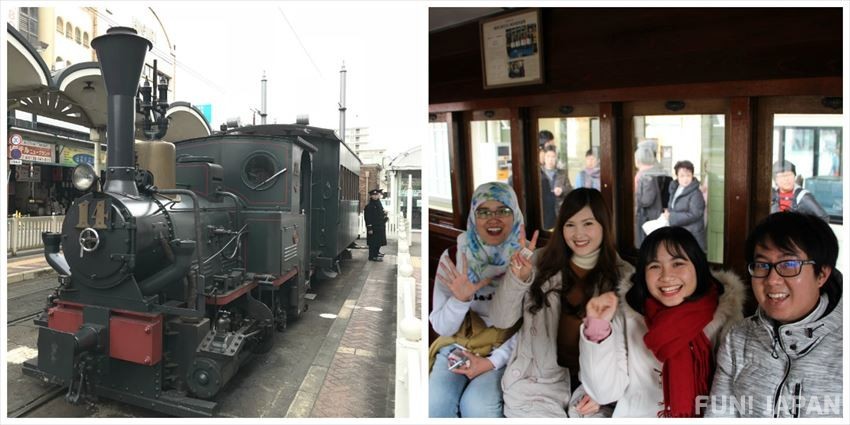 Matsuyama is the set for Sōseki Natsume's novel "Botchan", there are lots of Botchan motif designs around the town, Botchan related facilities and souvenir shops. Among these the most popular is the Botchan City Tram itself. There are two routes, one between Iyo Railway Matsuyama-Shi station and Dogo Onsen, and the second goes between Furumachi, JR Matsuyama Eki-Mae and Dogo Onsen. It is said that the highlight is that in order to change course at JR Matsuyama Eki-Mae station, the manpower of 4 people is required. If you get a ticket in advance from Dogo Hot Springs, you will definitely be able to ride it. 
Spot Information
Name: Botchan 

City Tram

Access: Dogo hot springs station 
Matsuyama Castle can be viewed from in the Castle too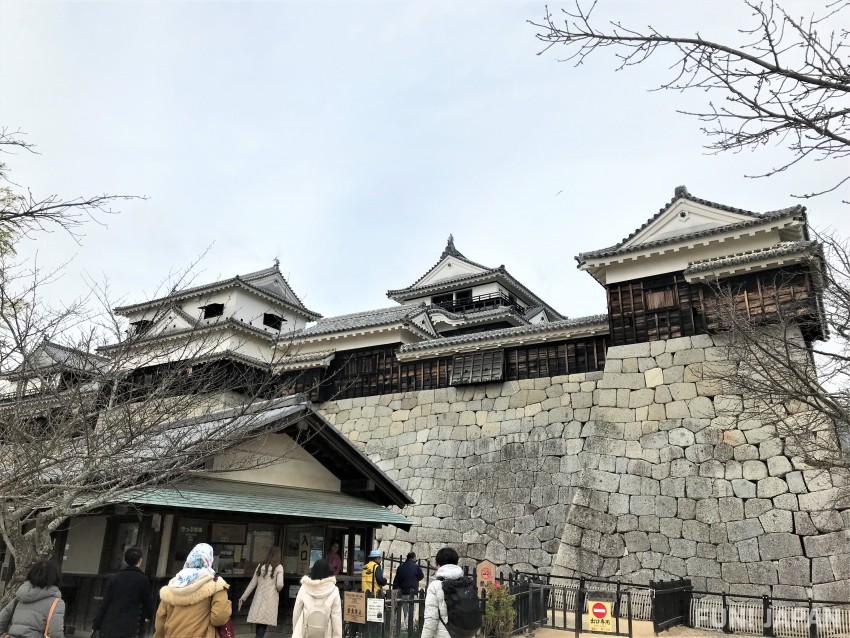 Matsuyama Castle is one of the 12 existing castle keeps in Japan. It is located on the top of a 132-metre high mountain, but you can get to the top quickly if you ride the ropeway. You can look around the castle leisurely, and you can also try on a Japanese helmet and armour and take photos. 

Spot Information
Name: Matsuyama Castle




Address: 1 Marunouchi, Matsuyama City, Ehime Prefecture




Access: About 3 minutes by Matsuyama Castle Ropeway
Mandarin juice from the tap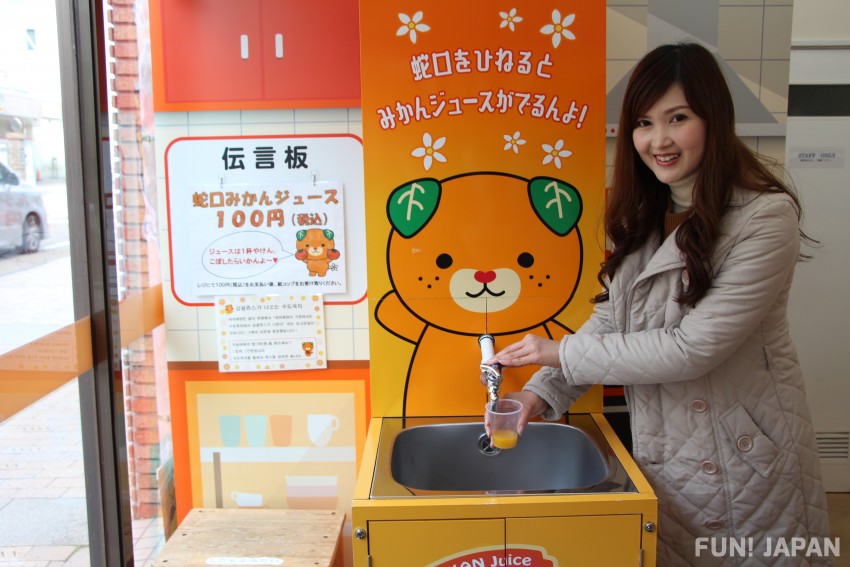 There is a local legend which says that mandarin juice comes out of the taps in houses in Ehime Prefecture, famous for producing mandarin oranges. Of course, that is just a legend. However, these taps have become reality and can actually be experienced in various places in Matsuyama city, such as Matsuyama airport. If you want to drop by while traveling, you should head for " Ehime Egao Tourist Commercial Museum (えひめ愛顔の観光物産館)" near Matsuyama Castle Ropeway Station. You can drink a cup for 100 yen. 

Spot Information
Name: 

Ehime Egao Tourist Commercial Museum (えひめ愛顔の観光物産館)
Address: 1F Okazaki industrial building, 3-6-1 Okaido, Matsuyama city

Access: 5 minutes on foot from Iyo Railway Okaido Station
Instagrammable food, Goshiki Soumen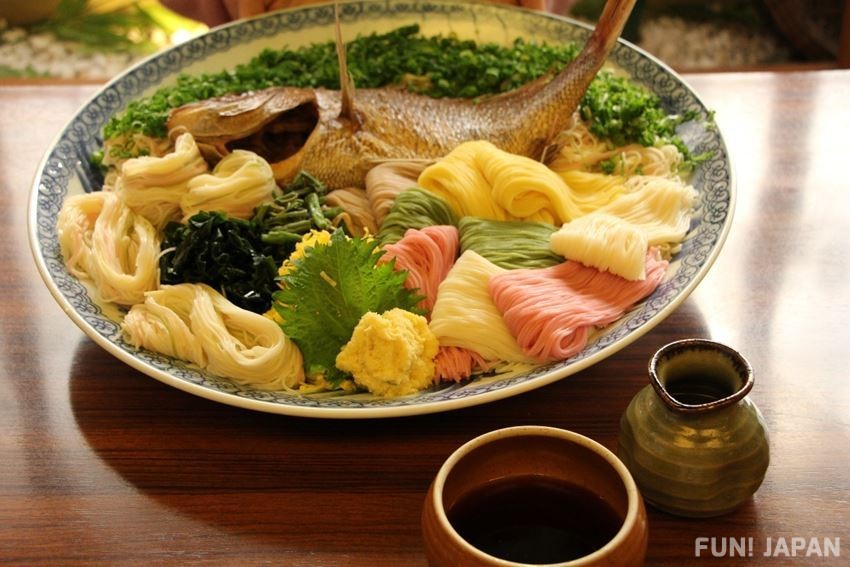 Goshiki soumen or five coloured soumen is a luxurious dish. The noodles are coloured in pink (ume plum), green (matcha), yellow (egg), grey (buckwheat) and natural colouring. Not just that, a grilled sea bream is on it. The photo above shows the amount of 4 people.

[Survey] Traveling to Japan
Recommend