Tokushima prefecture is located on the island of Shikoku. The prefecture is mainly known for its agriculture, forestry, and fisheries. In fact, much of Tokushima's land is used for rice fields and vegetables. Tokushima is also the only producer of Japanese indigo.
Tokushima City (徳島市)
Tokushima's capital is best known as the location of Awa Odori (阿波おどり). This dance festival takes place during the Obon season. Between August 12th and 15th, thousands of dancers and tourists come to the city. Tickets to see the main performances, which are located on closed-off streets in the middle of the city, can be bought at the tourist information center in front of Tokushima Station or at convenience stores either ahead of time or on the same day. The price can be between 900 and 2200 yen for one session, which lasts two hours. There are two nightly sessions, taking place at 18:00 to 20:00 or 20:30 to 22:30.
The Awa Odori Kaikan is recommended for those who do not plan to visit Tokushima City during the festival. It is a museum which explains the history of the festival as well as holds performances in their dance hall every day.
Mount Bizan (眉山)
Mount Bizan is considered the symbol of Tokushima City. Thanks to its central location, the mountain presents visitors with a 360-degree panoramic view of the city from its summit. It is a popular location for hanami during the cherry blossom season in Spring. The nighttime view is considered one of Japan's most beautiful. There is also a Burmese pagoda on the mountainside, built to honor fallen soldiers from WWII.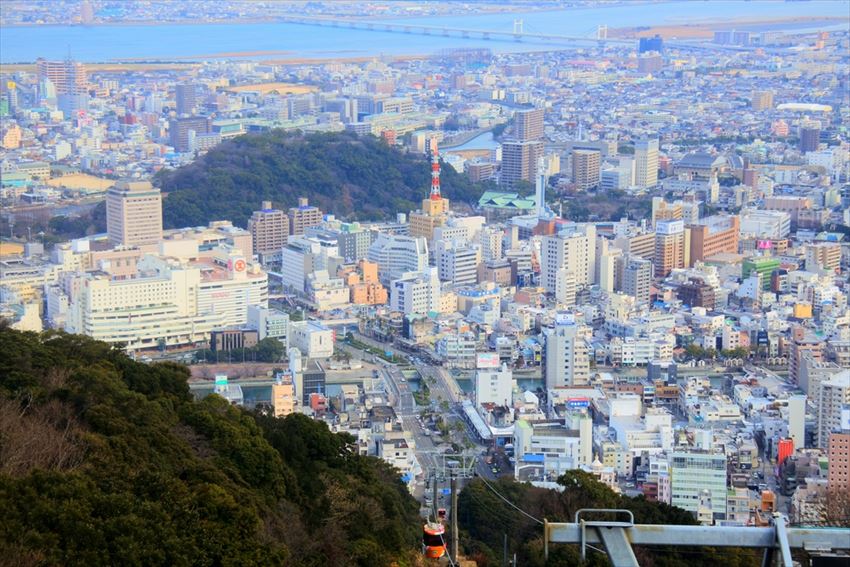 To get to the top of the mountain, take the Bizan Ropeway whose entrance is located at the above-mentioned Awa Odori Kaikan. The round-trip journey costs 1020 yen for adults, and half that for children.

Ai no Yakata
Nowhere else in Japan can one find authentically produced indigo but in Tokushima. In fact, the traditional techniques used in the dyeing process have been officially designated one of the Prefecture's cultural assets. The Ai no Yakata allows visitors to try dyeing cloth for themselves using these methods. At the museum, one can make various items, such as handkerchiefs, towels, and scarves.
To get to the Ai no Yakata, take bus number 29 from Tokushima Station, getting off at Higashi Nakatomi bus stop about 40 minutes away.
Getting Here
By train: From Tokyo or Osaka, take the Tokaido or Sanyo Shinkansen to Okayama. From Okayama, switch to a rapid train to Takamatsu. From there, most local and limited express trains continue onwards to Tokushima.
By bus: From Tokyo, there are direct night buses to Tokushima departing from the Shinagawa Bus Terminal. The overnight ride takes about 10 hours.
From Osaka, highway buses regularly depart from Osaka Station and Nankai Bus Terminal. The trip takes two and a half hours.
Where to Stay
Tokushima is a fairly modern city, with not many traditional options available. The JR Hotel Clement Tokushima (Terashimahonchoni-shi 1-61) is a high-quality option located a minute's walk from Tokushima Station.

Naruto City (鳴門市)
Naruto, not to be confused with the animated ninja of the same name, is located on the Northeastern-most point of Shikoku. Naruto's two claims to fame are its whirlpools and Ryozenji Temple. Generally, the city is fairly quiet. Both attractions are located outside the center: the whirlpools are 6 kilometers north of the city, and the temple is about 10 kilometers west. Both can be reached either by public transportation or by renting a car.
Whirlpools (鳴門の渦潮)
The whirlpools range in size as well as appear at different times of day. They can be up to 20 meters in diameter. They occur approximately every six hours, though the best times to view them are an hour in the morning and one in the afternoon. The summer and spring bring with them larger and more intense whirlpools, though they can be viewed any time of year.
There are two popular ways to view the whirlpools, which take place on the Strait of Naruto. One is to take a cruise, which sails right up to the edge of the whirlpools. The other is by entering the Onaruto Bridge, which traverses the Strait and links Tokushima and Awaji Island. On this bridge there are transparent floors which serve as viewing platforms.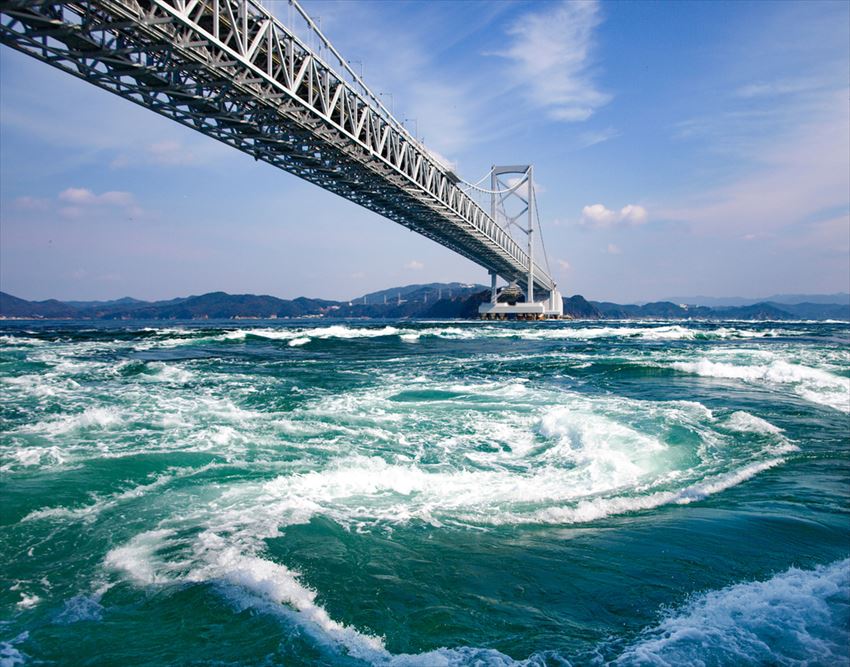 Ryozenji Temple (霊山寺)
Ryozenji is the first stop for those ambitiously attempting to complete the Shikoku Pilgrimage, a two-month journey which consists of visits to 88 temples along the perimeter of Shikoku. The nearby Koya Mountain is a holy site associated with Kobo Daishi, the founder of Shingon Buddhism. Since Ryozenji is the closest temple of those included in the pilgrimage, it is the starting point of this trek.
The temple can be reached either by taking a train from Naruto Station to Ikenotani Station, then with a transfer to Bando Station. From there, Ryozenji can be reached in ten minutes by foot. A more direct, though less frequent route, is available by bus. Take the Oasa Line bus from Naruto Station to the Ryozenji-mae bus stop.
Getting Here
From Osaka: Take a highway bus in the direction of Tokushima Station. Get off at either Naruto Park or the Kosoku Naruto bus stop. From there, local buses connect the Kosoku Naruto bus stop, which is located next to a highway, with Naruto Park and Naruto Station.
Those who fly into Tokushima Airport can board a bus which goes to Naruto Station.
Where to Stay
Naruto is a modern city, so there are many hotel options available. For those seeking a Japanese-style ryokan, there is the Ryokan Koen Mizuno. For a regular hotel which still retains a somewhat traditional, yet exclusive-looking appearance, there is the Naruto Grand Hotel 
Iya Valley (祖谷渓)
Travelers who enjoy the outdoors should consider a trip to the Iya Valley. This valley is surrounded by rocky gorges and steep mountain cliffs, making this remote location suitable both for hikes as well as peaceful reflection. Many years ago, the valley had been the site of 13 vine bridges. Now only three of them remain, and they are constructed with hidden steel cables for safety. Two of the bridges are known as the Husband and Wife Bridges. They are located relatively close to each other.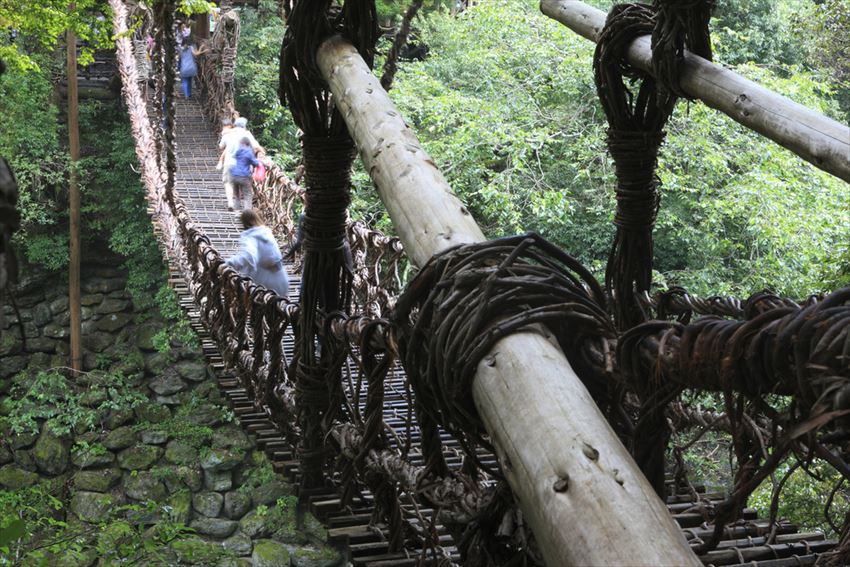 In this mountainous area, public transportation is not available, making a rental car recommended for exploring the valley. Companies renting out cars can be found near Awa-Ikeda, Oboke, and Tokushima Stations.
Getting Here
By Train: The JR Nambu train takes travelers to the Iya Valley, as do all other lines which pass between Okayama and Kochi. Get off at either the Awa-Ikeda or Oboke Stations.
By Bus: From Osaka, buses depart Hankyu Umeda Station and go directly to Awa-Ikeda Bus Terminal. The trip takes about four hours.
Where to Stay
There are a couple of ryokan, traditional Japanese-style inns, available near or within the valley. After getting to Oboke Station, one can reach Iya Valley Hot Springs Hotel Hikyō-no-yu  by taxi.
[Survey] Traveling to Japan