【2023 Edition】A must-see when traveling to Tokyo! Guide to the recommended souvenirs you can buy at Haneda Airport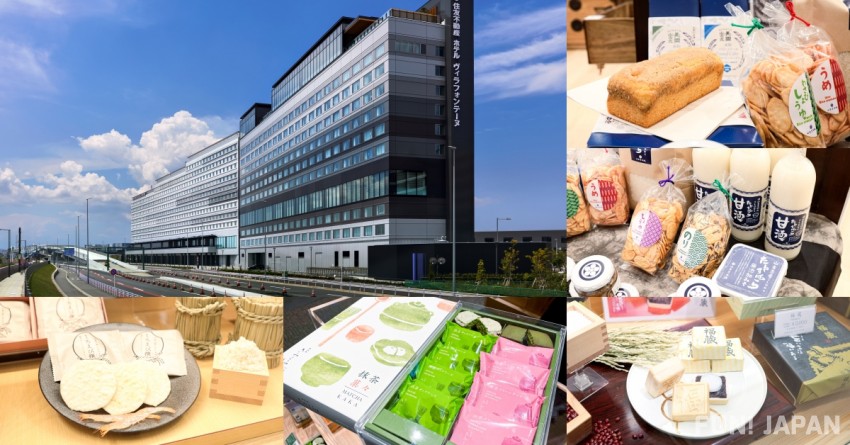 Choosing souvenirs is always one of the pleasures of traveling to Japan, but it is often difficult to decide which ones to pick.

Therefore, in this souvenir series, following the Kyoto edition, we will introduce recommended snacks and sweets that you can buy at Haneda Airport. Use this Tokyo souvenir article (2023 edition) as a reference for your trip to Japan!
*All products and prices (including tax) appearing in this article are as of February 2023. The contents may have changed, so please check the official website of each store for details.

From Haneda Airport to Haneda Airport Garden, where a lot of rare Japanese souvenirs await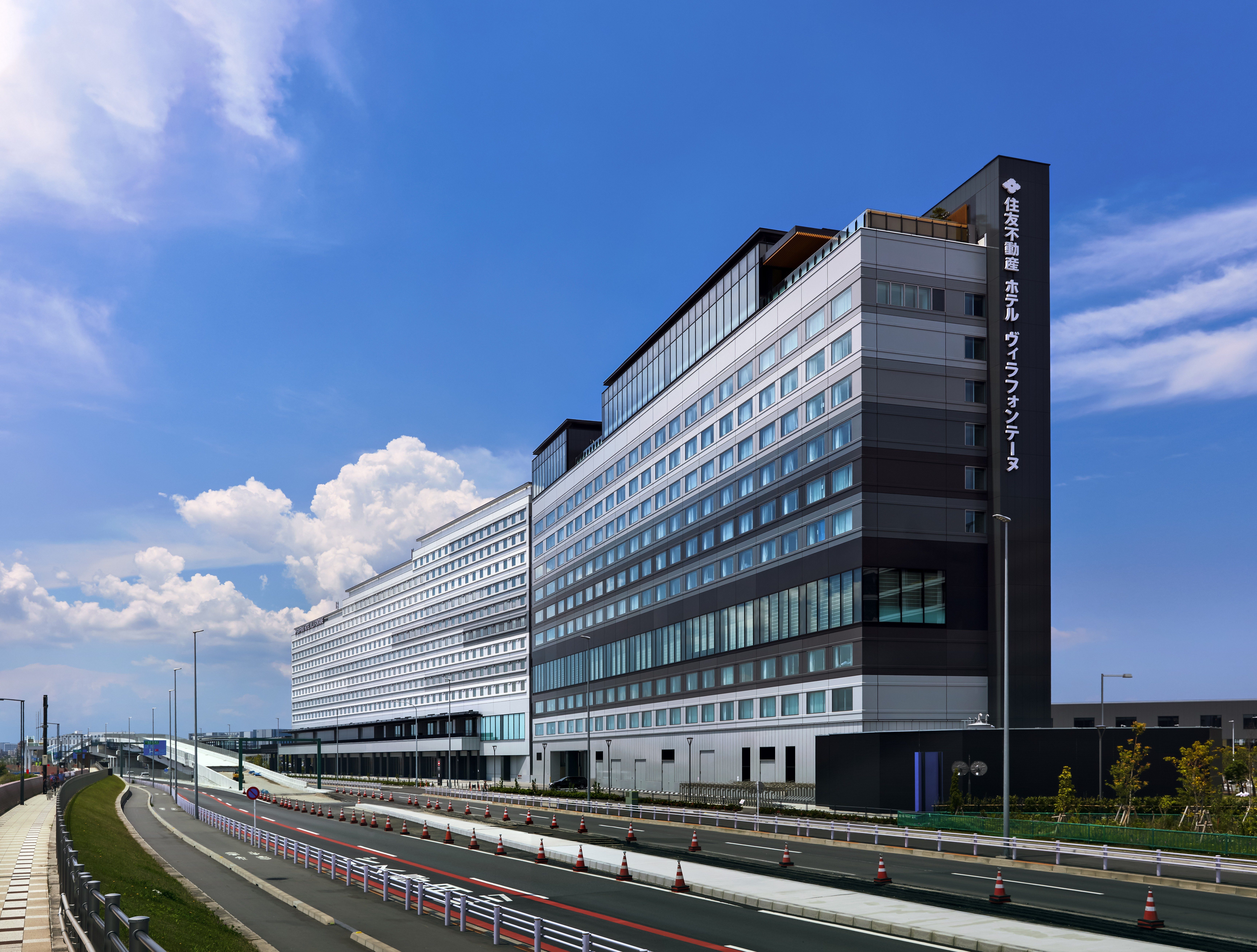 If you're shopping for souvenirs at the airport, especially if you're using Haneda Airport, you should definitely check out "Haneda Airport Garden", a large complex directly connected to Terminal 3!

It is only 1 minute walk from the arrival lobby on the 2nd floor. Fully opened in January 2023, this facility is a new tourist spot in Tokyo that has multiple functions in addition to retail stores such as hotels, a natural hot spring facility, and a bus terminal. Not only can you use it for day trips, but you can also make effective use of the waiting time before and after your flight or until your connecting flight.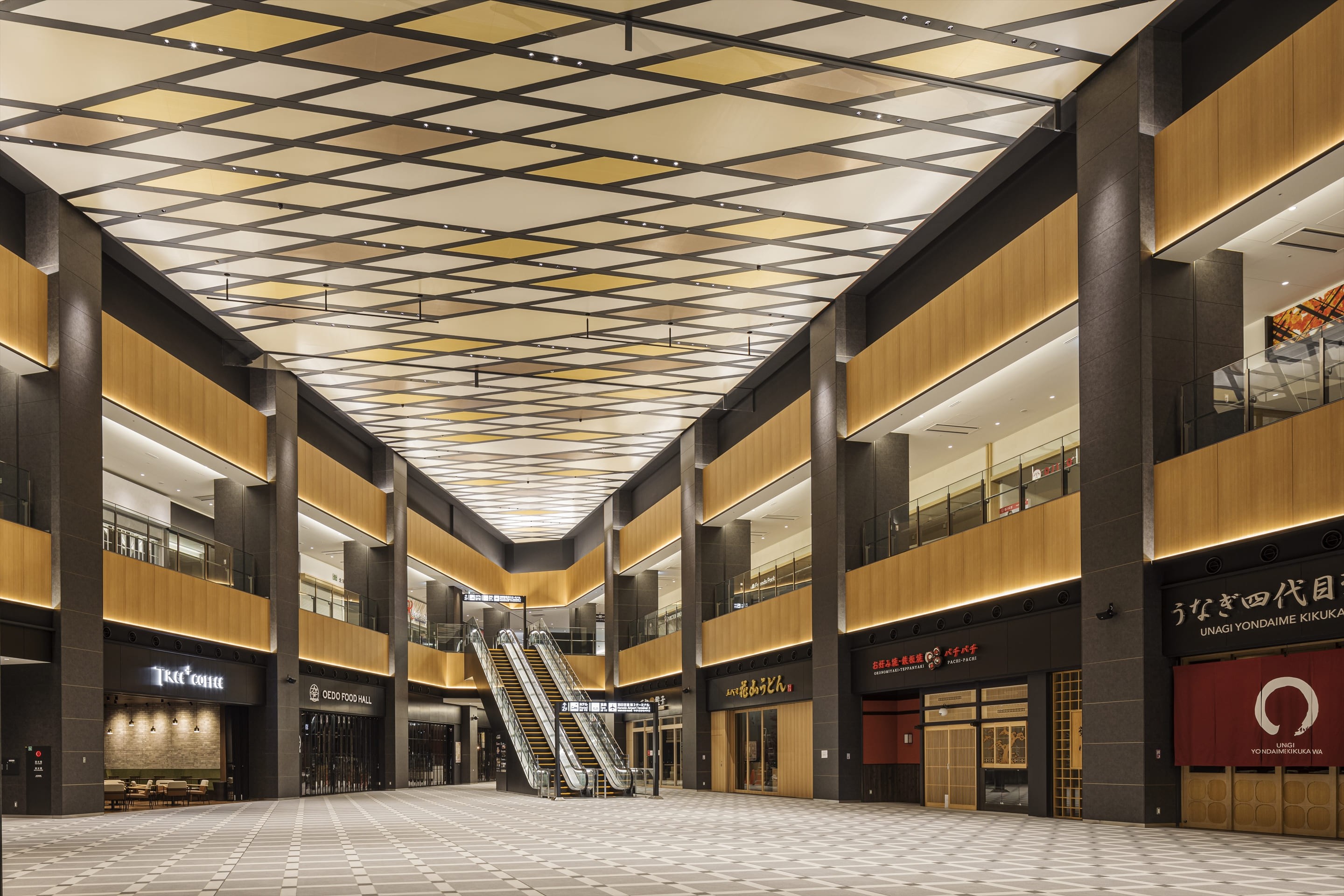 Many of the shops that sell souvenirs are concentrated in shopping zones such as the 2nd floor "Japan Promenade" and "Haneda Sando", where you can purchase specialties from all over Japan, including products only available at Haneda Airport. From here, we will introduce 5 must-buy food souvenirs that we spotted when we went to "Haneda Airport Garden" for our onsite report.

Haneda Airport Recommended Souvenirs 2023 ①: Rice Flour Pound Cake @ Yamakoshi Honpo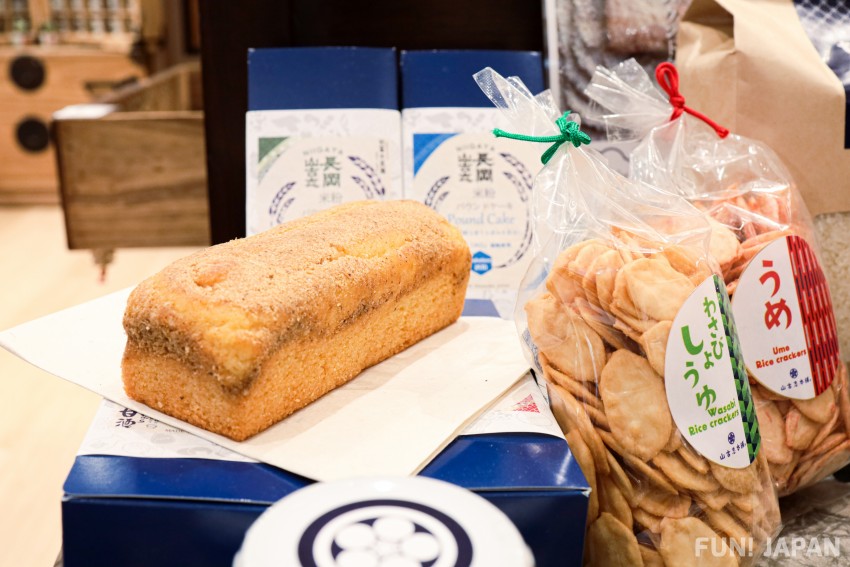 Rice flour pound cake (various types) / 2,000 yen

The first is Yamakoshi Honpo's flagship product, the "Rice Flour Pound Cake" (米粉のパウンドケーキ / Komeko no Pound Cake), which uses "Tanesuhara Rice" from the Yamakoshi district of Nagaoka City, Niigata Prefecture.

Made with rice flour (米粉 / komeko) from the rice grown in mineral-rich spring water from melted snow, which is known for its strong sweetness and stickiness. It's a product that takes advantage of the chewy texture and sweetness of rice. Even though it doesn't use as much sugar as possible, it's slightly sweet when you put it in your mouth!
It's quite filling volume, but once you start eating it, it's so delicious that you will finish it all in no time! Rice bran, sake lees, green tea, chocolate, and other flavors are available - you would want to keep them all for the afternoon teatime!

In addition to their flagship pound cake, they also offer miso, rice crackers (senbei), and amazake made from "Tanesuhara Rice". Yamakoshi Honpo's original Japanese sake made by craftsmen is also available.


Yamakoshi Honpo (山古志本舗)
Location: Haneda Airport Airport Garden 2F (in Haneda Sando)
Haneda Airport Recommended Souvenirs 2023 ②: Shiroebi Sen @ Sasaraya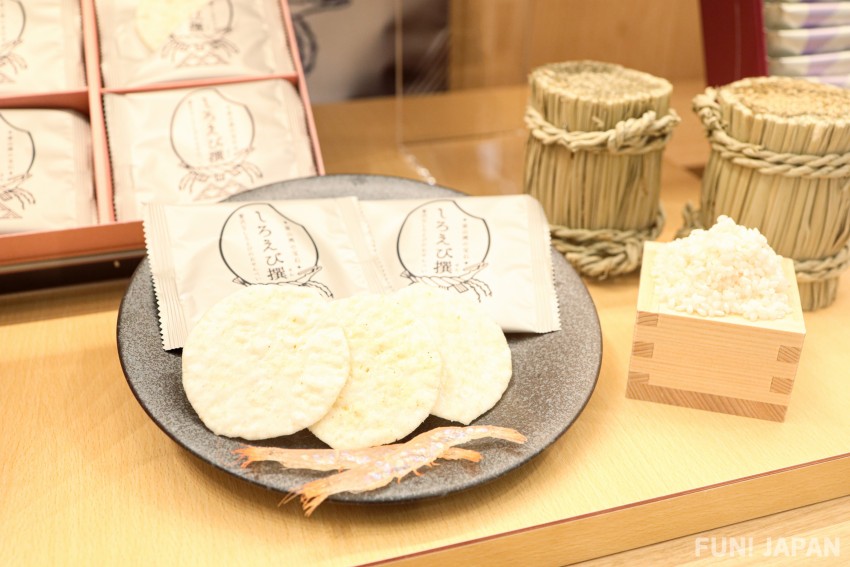 Shiroebi Senbei Premium - Shiroebi Sen / 6 pieces (432 yen), 10 pieces (594 yen), 18 pieces (1,188 yen), etc.
Toyama Prefecture in the Hokuriku region is one of the prefectures blessed with good quality water and food. Among such food, Toyama Bay is famous for being the only place in the world where shiroebi (しろえび - broad velvet shrimp), known as the "Jewels of Toyama Bay", are caught. A souvenir that uses Toyama's "fabled ingredients" is the "Shiroebi Senbei Premium - Shiroebi Sen" (しろえびせんべいプレミアム しろえび撰).

The thinly baked senbei dough is made from 100% non-glutinous rice 'Tentakaku' grown in Toyama Prefecture. Meanwhile, the main character, white shrimp, also has a strong presence in the senbei. The fragrance spreads in your mouth as if live broad velvet shrimps were dancing right in your mouth. The salty seasoning and crispy texture are the marvelous!

Shiroebi Sen Premium is wrapped in Japanesque cosmetic boxes made of Japanese washi paper. There are many variations of the number of senbei pieces to choose from, making them the perfect gifts for colleagues or relatives!

Sasaraya (ささら屋)
Location: Haneda Airport Airport Garden 2F (in Haneda Sando)
Haneda Airport Recommended Souvenirs 2023 ③: Matcha Kaka @ Japanese Tea Kimikura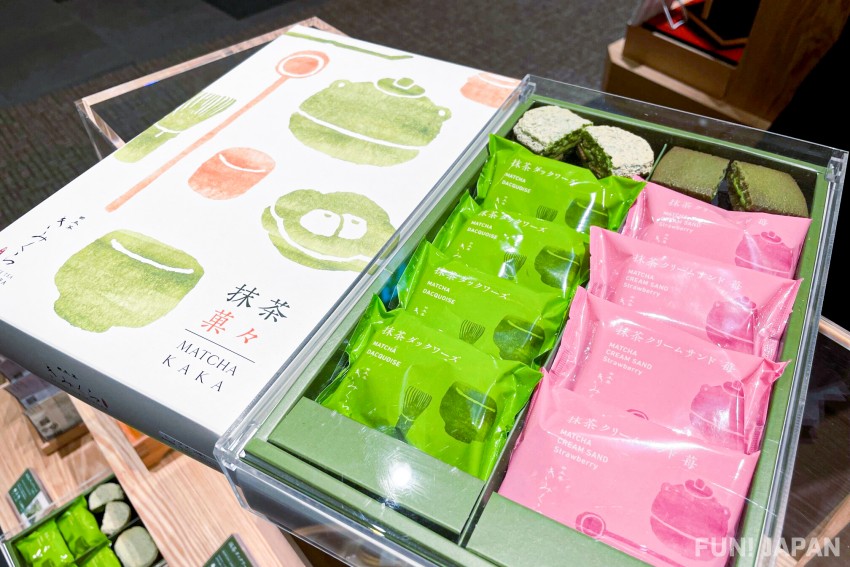 Matcha Kaka (Matcha Dacquoise (5 pieces) & Matcha Cream Sandwich (5 pieces)) / 2,480 yen
When it comes to souvenirs for a Japan trip, you can't miss matcha sweets! "Japanese Tea Kimikura", a Japanese tea specialty store headquartered in Shizuoka Prefecture, Japan's largest tea-producing area, has a lineup of matcha baked sweets made with homemade matcha and premium tea leaves from tea-producing areas all over the country. It also handles special tea utensils and matcha bowls made by artists.

If you can't decide what to buy as a souvenir, go straight to Matcha Kaka, an assortment of two standard western sweets. Matcha dacquoise is characterized by its crispy outside and fluffy inside, whereas the matcha cream sandwich has a blissful sweetness of rich matcha cream and dried strawberries. All of them are gems that matcha lovers can't resist.

To-go "Matcha latte (650 yen)" using carefully selected tea leaves is available at the annexed cafe stand. It's a popular menu that sells over 200 cups a day on weekends. Treat yourself one while choosing souvenirs at the shop!

Japanese Tea Kimikura (日本茶きみくら)
Location: Haneda Airport Airport Garden 2F (in Japan Promenade)
Haneda Airport Recommended Souvenirs 2023 ④: Fukugura @ Kuradukuri Honpo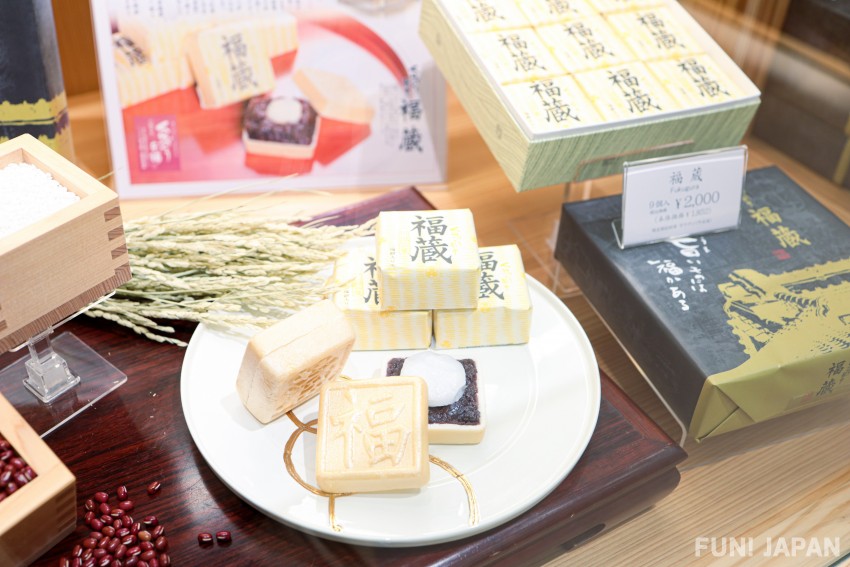 Fukugura / 600 yen for 3 pieces, 1,400 yen for 6 pieces, 2,000 yen for 9 pieces, etc.
With the opening of Haneda Airport Garden, there are several well-known stores that opened their first stores in Tokyo. One that deserves special attention is "Kuradukuri Honpo" (くらづくり本舗), which was founded in 1887.

From a long-established Japanese confectionery store with its main store in Kawagoe City, Saitama Prefecture, "Fukugura" (福蔵), a super long-selling product that sells 3.5 million pieces a year for over 40 years, is now available in a Haneda limited edition. Fukugura is a confectionery made by putting freshly pounded fukumochi into 'an' bean paste made from 100% Tokachi red beans and wrapping it in fragrant monaka.
You can enjoy the harmony of the flavors of adzuki beans, glutinous rice, and rice. A pack of 3 is sets you back at a reasonable price of 600 yen.

Haneda Airport limited edition is newly released along with the opening of Haneda store. It is a package with a classic taste, printed with a storehouse (kura) that symbolizes Kawagoe City, the "town of storehouses".


Kuradukurihonpo  (
くらづくり本舗)
Location: Haneda Airport Airport Garden 2F (in Japan Promenade)
Haneda Airport Recommended Souvenirs 2023 ⑤: Tokyo National Museum Almond Chocolate @ TOBI・BITO SWEETS TOKYO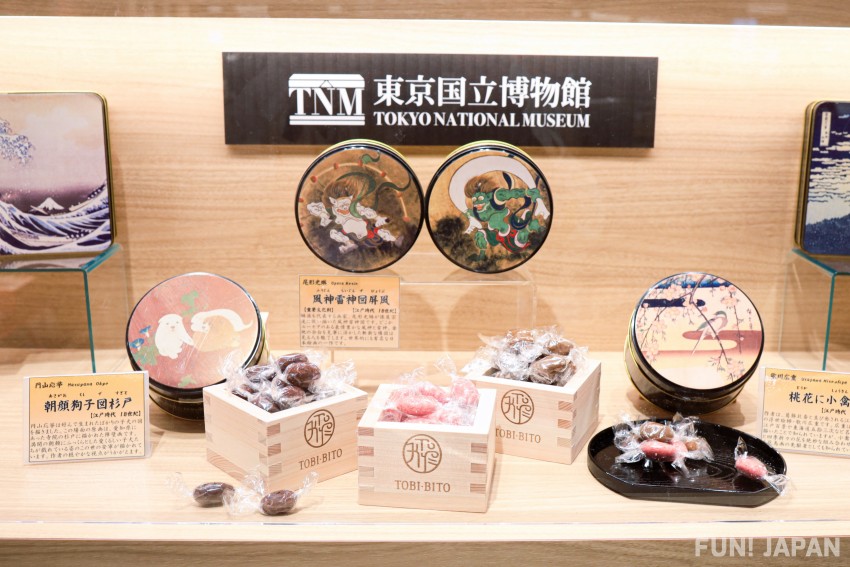 Tohaku Almond Chocolate (Coffee, Matcha, Tiramisu) / 2,160 yen
If you are looking for a rare souvenir unique to Tokyo, then definitely check out the official items of the "Tokyo National Museum" that use Japanese paintings on their packages.

You can purchase these at "TOBI・BITO SWEETS TOKYO", Tokyo National Museum's first store in Japan.
At the sales section named "Tokyo National Museum", you will find a wide range of products, from Japanese sweets made in collaboration with the museum to picture postcards. All of them have gorgeous designs that make you want to buy a package, such as shrimp rice crackers printed with ukiyoe prints, or sweet bean jelly with a case design of Thirty-six Views of Mount Fuji. In addition, the walls of the store are filled with "Hi-chew" and "KitKat"! How about buying them in bulk?

(Left) Shrimp Cheese Sandwich (Thirty-six Views of Mount Fuji) / 1,080 yen
(Right) Tokyo National Museum picture postcard (various) / 165 yen
The products that offer both "viewing art" and "eating or giving art" are 100% Japanese in style and can only be obtained here, making them even more special and unique, particularly at Haneda Airport.


TOBI・BITO SWEETS TOKYO
Location: Haneda Airport Airport Garden 2F
We have so far introduced our 5 favourite souvenirs and shops. Did you find anything that caught your attention? The souvenirs that we picked this time are just a small part of the souvenirs that can be purchased at Haneda Airport Garden. Be sure to stop by and discover more when you use Haneda Airport next time!
Haneda Airport Garden
Address: 2-7-1 Haneda Airport, Ota-ku, Tokyo
Business hours:

【Shopping & Service】08:00-21:00
【Restaurant & Cafe】08:00-23:00
*Some stores have different business hours.
*Business hours are changed for the time being. Please check the official website for the latest information.

Access: Directly connected walkway from Haneda Airport Terminal 3 Station on the Tokyo Monorail or Keikyu Main Line
Official website: https://www.shopping-sumitomo-rd.com/haneda/shopping/
Related article
[Survey] Traveling to Japan