Budget-friendly and duty-free! Let's buy souvenirs at "Niki no Kashi" in Ameyoko, Tokyo!
Offering numerous large-capacity snacks/sweets and duty-free services, Niki no Kashi (二木の菓子) is the perfect place to get souvenirs from Japan!

This shop is a must-visit not only for those who are looking for famous Japanese snacks, but also for those who wants to take home some unusual gifts to wow their friends and family! The FUN! JAPAN editorial department has already gathered our favorite picks for you - now you really have no excuse to go home empty-handed
What is Niki no Kashi?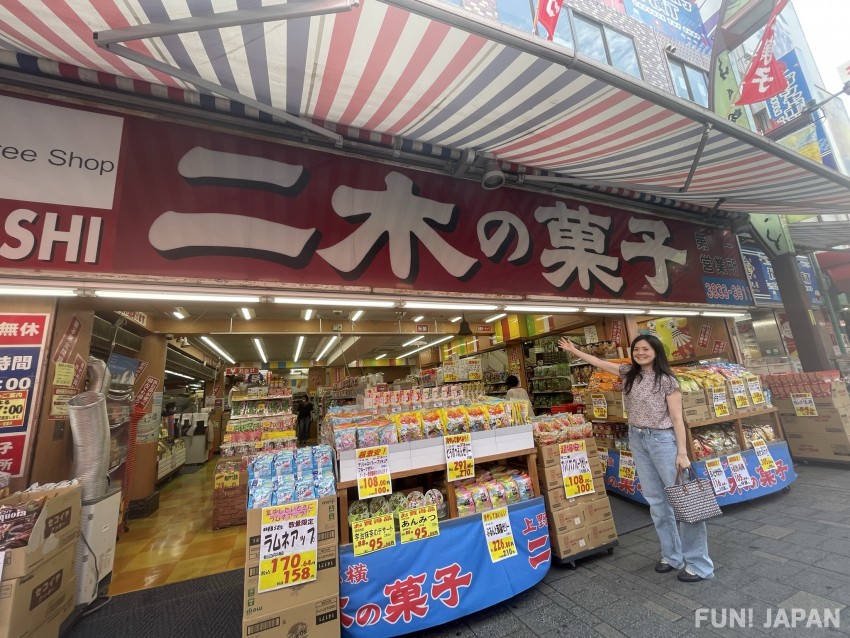 Niki no Kashi is a confectionery wholesaler and retailer founded in 1947. In addition to being able to buy snacks at a reasonable price, there are plenty of large-capacity products that are not sold at ordinary supermarkets in Japan.

There are stores in Tokyo Metropolis, Saitama Prefecture, and Chiba Prefecture with some stores offering duty-free services, including ones in the shopping district "Ameya Yokocho" (Ameyoko) in Ueno, Tokyo.
You won't get bored even if you b

rowse for 2 hours!? Let's take a look at the huge selection of snacks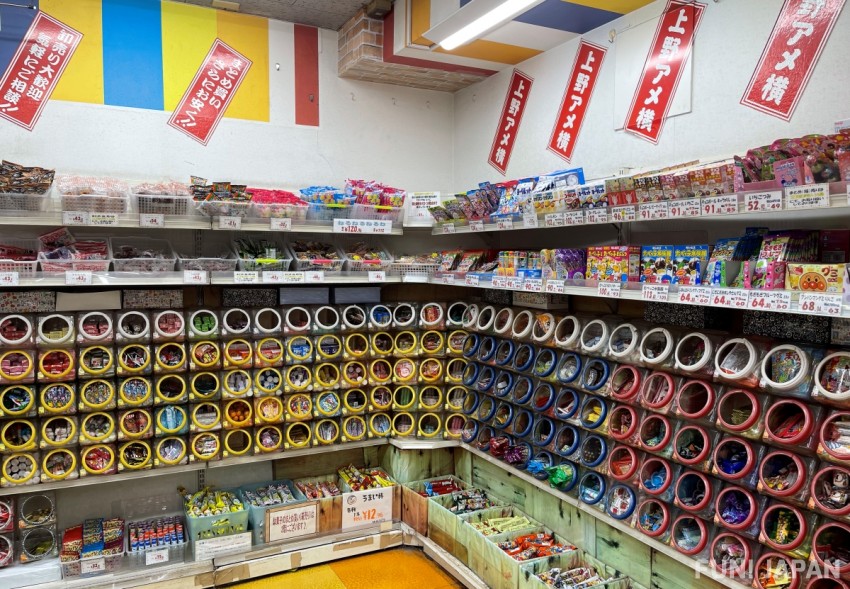 There are two Niki no Kashi stores in Ameyoko. First, let's start with the first branch of Niki no Kashi, the Daiichi Eigyo-sho (第一営業所 - meaning 'first sales office').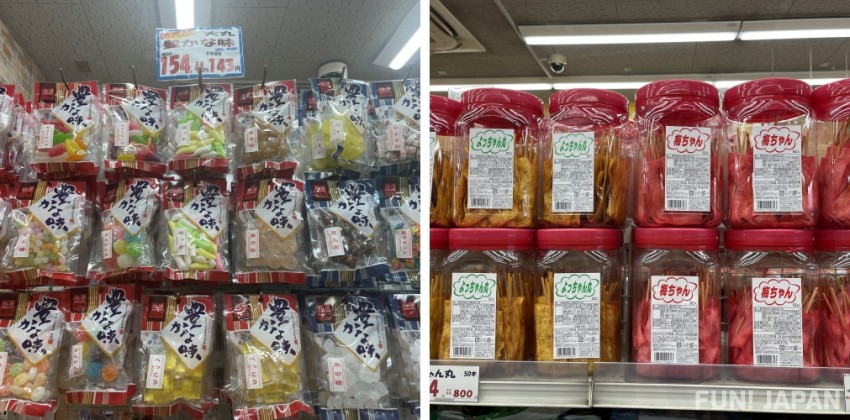 The Daiichi Eigyo-sho which consists of two floors sells about 5,000 kinds of snacks, from classic sweets such as candy and chocolate to popular delicacies (dried processed seafood such as squid) that would go perfect with alcohol.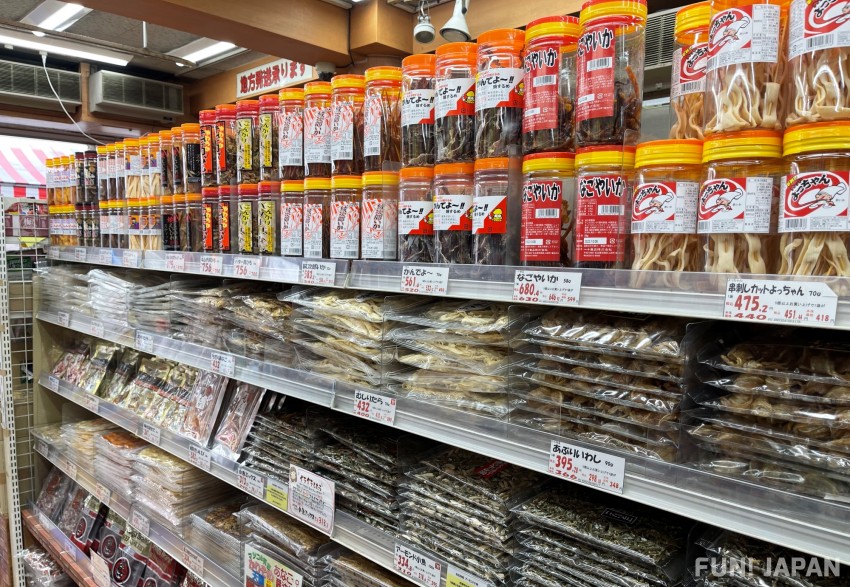 The staff at Niki no Kashi taste more than 1,000 kinds of products every month and sell only the ones that are satisfying enough.

A lot of recommended snacks for souvenirs!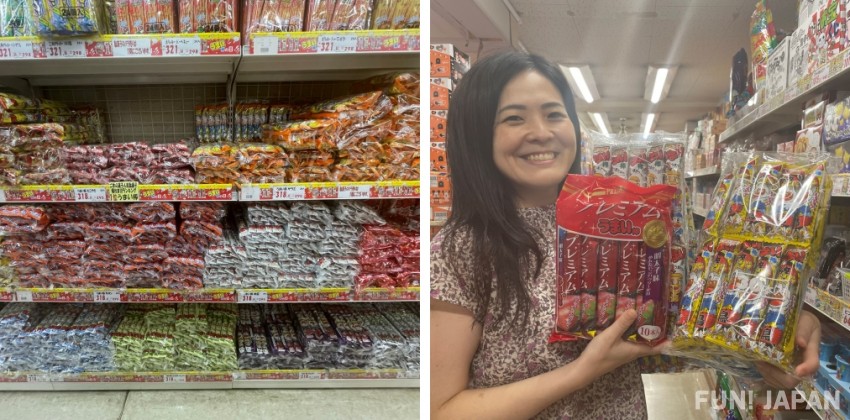 Stacked on these shelves are the "Umaibo" (うまい棒) that have been loved in Japan for over 40 years. If you're looking for Umaibo in bulk, Niki no Kashi is the perfect place as you can also meet unusual flavors such as natto and 'gyu-tan' beef tongue. The price is 318 yen for 30 pieces.
The "Premium Umaibo", which are slightly more expensive than the regular Umaibo, cost 194 yen for 10 pieces. They come in flavors such as mentaiko and Japanese-style steak.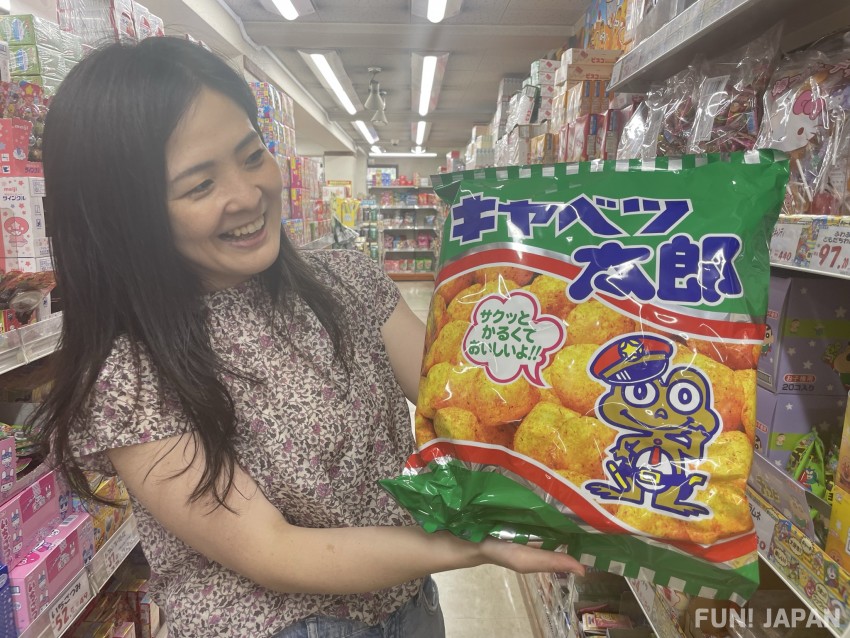 This huge bag contains many small packages of snacks called "Cabbage Taro" (キャベツ太郎 / Kyabbetsu-taro).

This corn snack was named "Cabbage Taro" because it has a round shape which looks like a cabbage.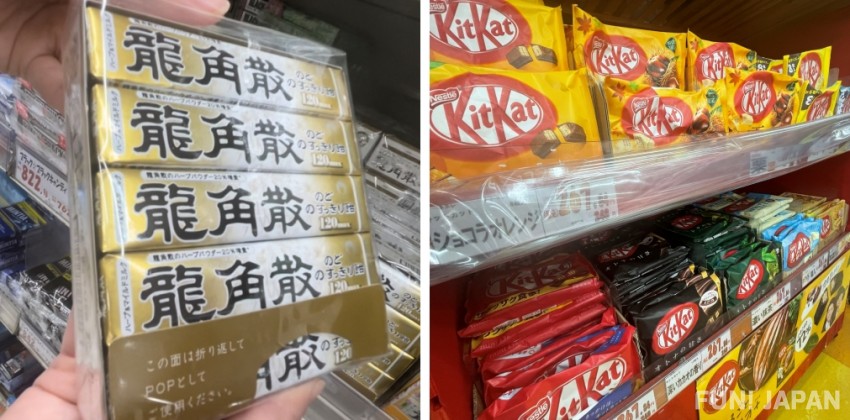 Photo left: Ryukakusan (龍角散) candy, which is well-known overseas, is 1,080 yen (tax included) for 10 packs of 10 pieces in each.
Photo right: There are many kinds of KitKat, which are already popular around the world. On the day we visited, in addition to the popular matcha flavor, there were rare varieties such as chestnuts and salt & lemon.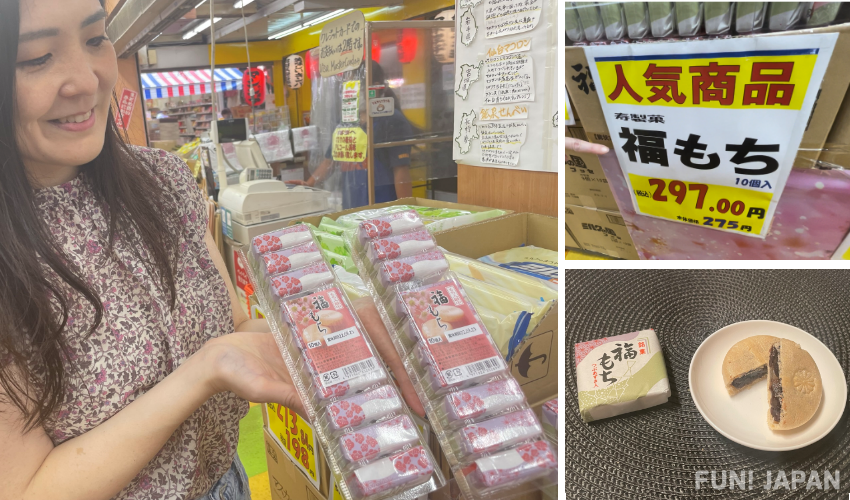 The popular item of the shop is "Fukumochi" (福もち). It is a Japanese confectionery with mochi and red bean paste inside the monaka dough. Surprisingly cheap at 297 yen for 10 pieces!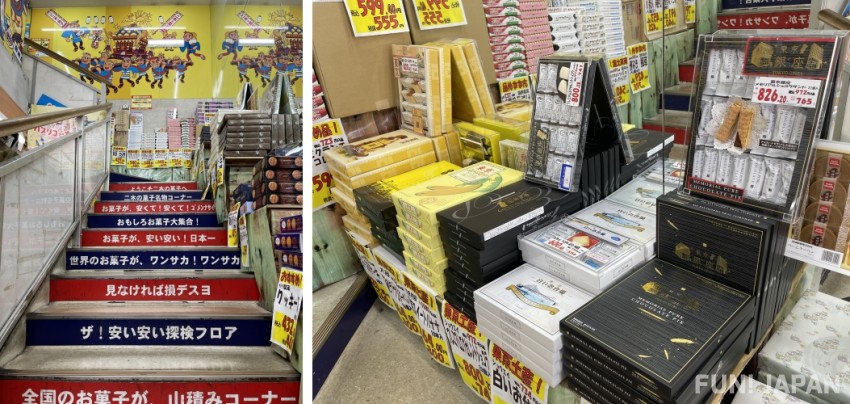 On the stairs leading to the 2nd floor, there are souvenir sweets sold in various parts of Tokyo such as Asakusa and Odaiba. Even if you forgot to buy souvenirs in Odaiba, Niki no Kashi has got you covered.

The more you buy, the more you save!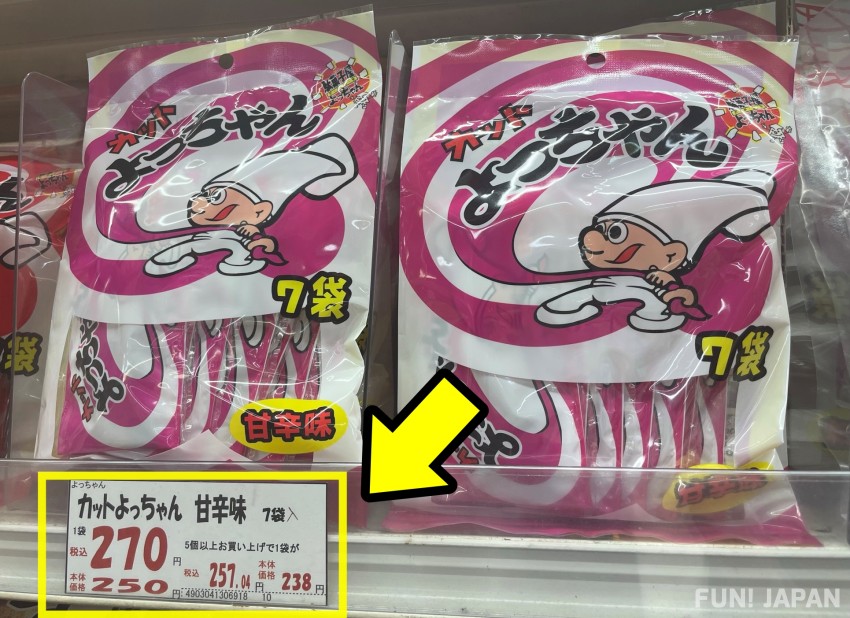 Be sure to pay extra attention to the price tags at Niki no Kashi. In the case of the product in the picture above, if you buy one, it costs 270 yen. But if you buy 5 or more, it costs 257 yen per piece. This means that the more you buy, the more you save!

Take advantage of duty-free shopping and save even more!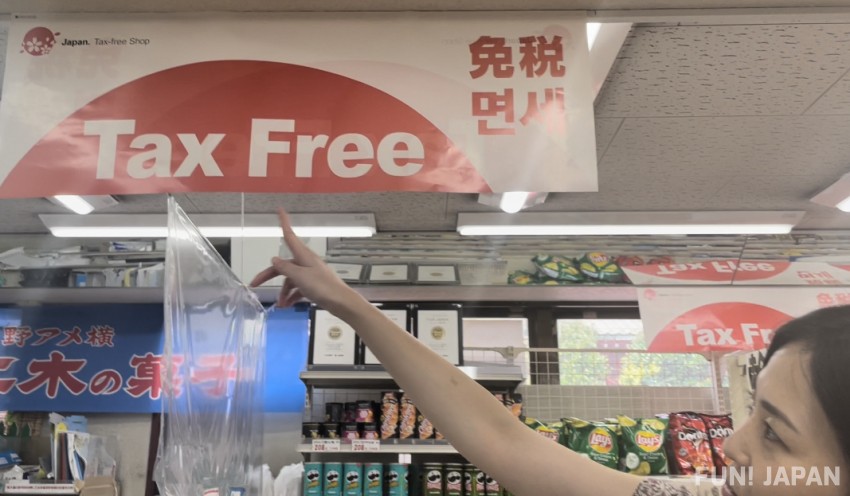 The tax-free counter is on the 2nd floor. Tax exemption is available for any purchase of 5,400 yen (tax included) or more. Payment can be made by cash, VISA, Master Card, UnionPay, and etc.
Discover the original brand of Niki no Kashi!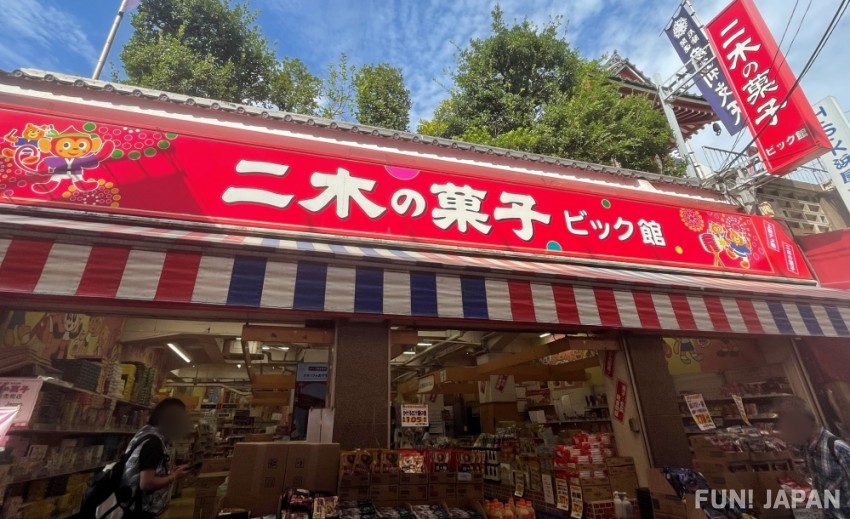 Next, we would like to introduce the "Bic-kan" (ビック館 - Bic building) just across from the Daiichi Eigyo-sho. This store also has a wide variety of foods other than snacks, such as seasonings, canned foods, and ramen.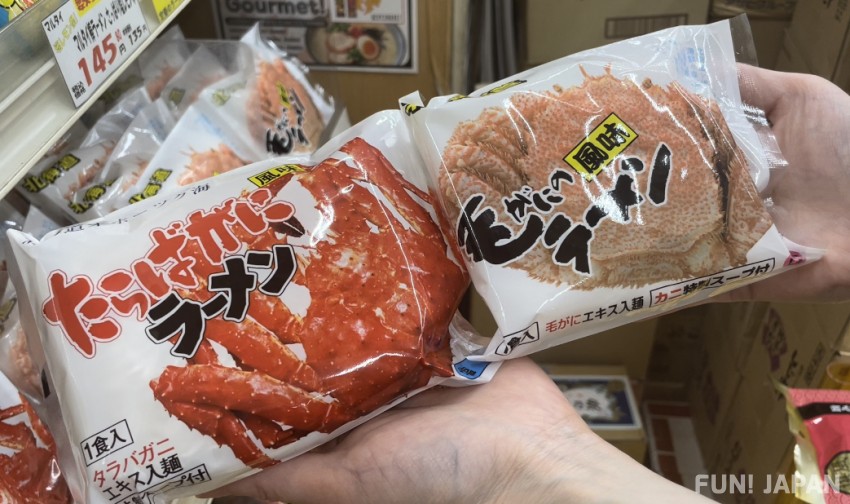 What we have spotted here is the ramen with crab extract kneaded into the noodles. It's produced by a food manufacturer in Hokkaido, and it's pretty rare to see it in Tokyo! Chances are that you'll come across rare products in Niki no Kashi anytime.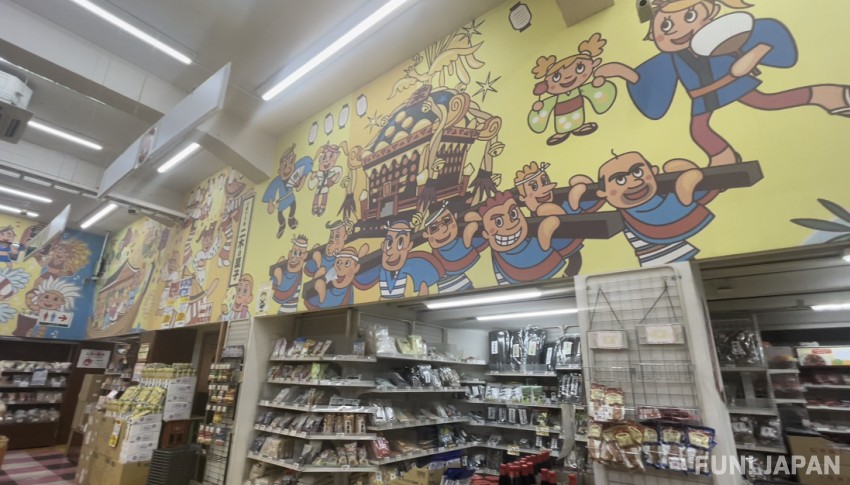 The walls of the store are decorated with illustrations typical of Tokyo's downtown area♪
A collection of local snacks from all over Japan!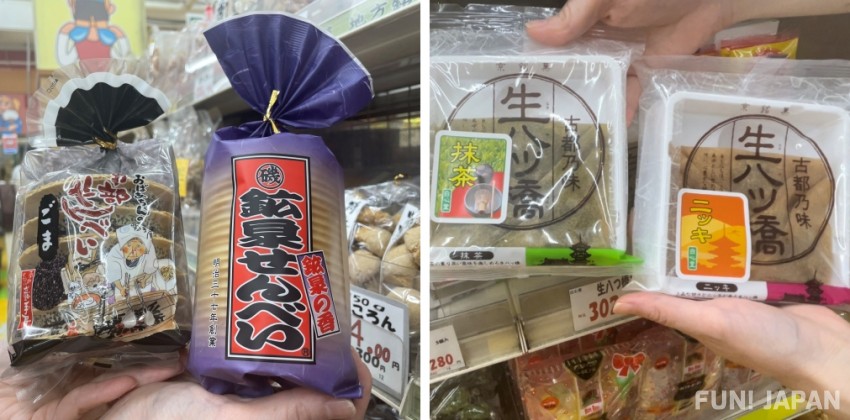 In the Bic-kan, there is a corner that gathers snacks and sweets from all over Japan. You can easily purchase local brands from all over the country without ever leaving Tokyo.

Photo left (left-hand side): "Nanbu Senbei" (南部せんべい), crackers with baked dough made from wheat flour, salt and water. Local snacks from Aomori and Iwate.
Photo left (right-hand side): Nagano's snacks, "Kosen Senbei" (鉱泉せんべい - Kosen means mineral spring). It is a salty snack made from wheat flour and mineral spring water (naturally gushing underground water containing minerals).
Photo right - both items: You can also buy 'Yatsuhashi' (八ツ橋), a classic sweet of Kyoto.
An original brand that focuses on taste and quality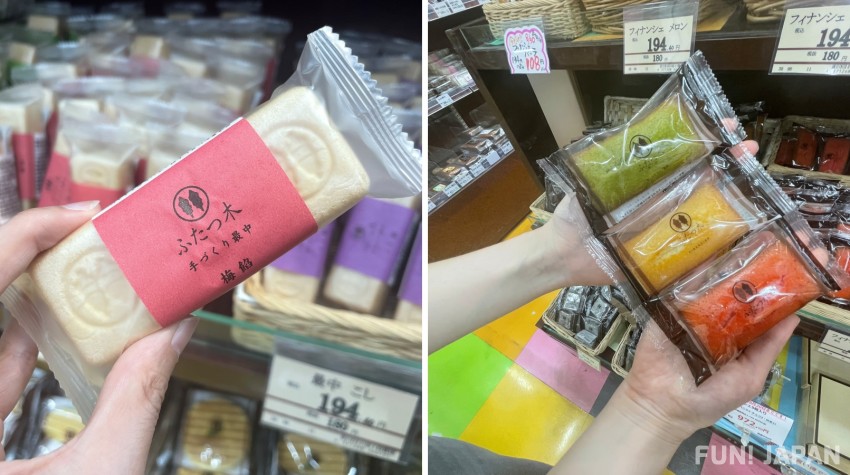 Another highlight of the Bic-kan is "Futatsugi" (ふたつ木) which is the original brand by Niki no Kashi. Products including monaka, financier, and kintsuba are developed in cooperation with manufacturers who are particular about taste and quality.
What do you think of Niki no Kashi, the stores where you can meet various snacks from standard to unusual? If you've visited Niki no Kashi before, let us know in the comments what have you bought!
Spot Information
Niki no Kashi: Daiichi Eigyo-sho (二木の菓子 第一営業所)
Address: 1-4-8 Ueno, Taito-ku, Tokyo
Business hours: 10:00 am to 7:00 pm

Niki no Kashi: Big-kan (二木の菓子 ビック館)
Address: 4-6-1 Ueno, Taito-ku, Tokyo
Business hours: 10:00 am to 7:00 pm
Access
1 minute walk from JR Okachimachi Station, or 5 minutes walk from JR Ueno Station or Tokyo Metro Ueno Station
[Survey] Traveling to Japan