Nature in the Chubu Region: Enjoy Activities! Enjoy Rare Experiences Unique to Chubu (Part 1)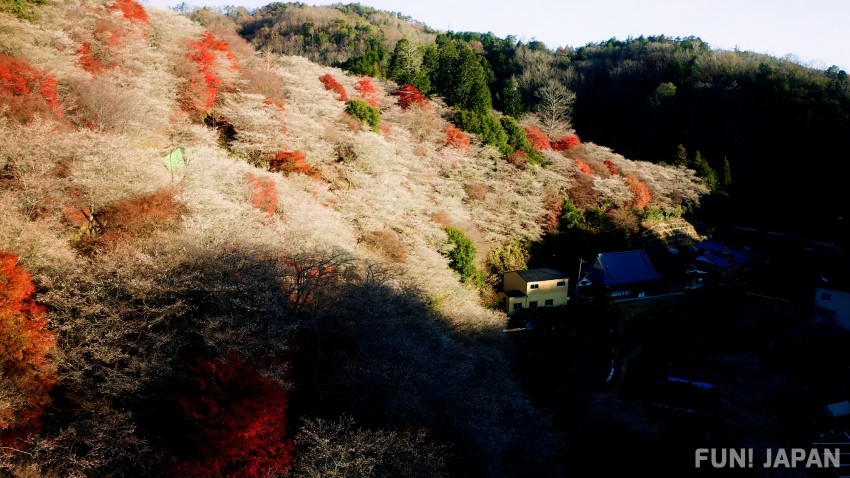 If you visit Japan, you'll find an abundance of nature and superb views throughout the 4 seasons. While there are many places to visit and see these things in Japan, the Chūbu Region is among one of the most popular locations for people wanting that traditional and nostalgic Japanese feel.
In this article, we're going to be looking into a 3-night and 4-day trip from one of our FUN! JAPAN staff members visiting Gifu and Aichi Prefecture! We'll also be using what we learned during their trip to form a recommended travel guide to ensure you get to see everything without wasting a single second. Each spot has its own unique locations and traits, so make sure to set aside some time during your next trip to Japan to check them out!
A Model Course for Nature and Activities in the Chūbu Region of Japan
Day 1: Sakushima Island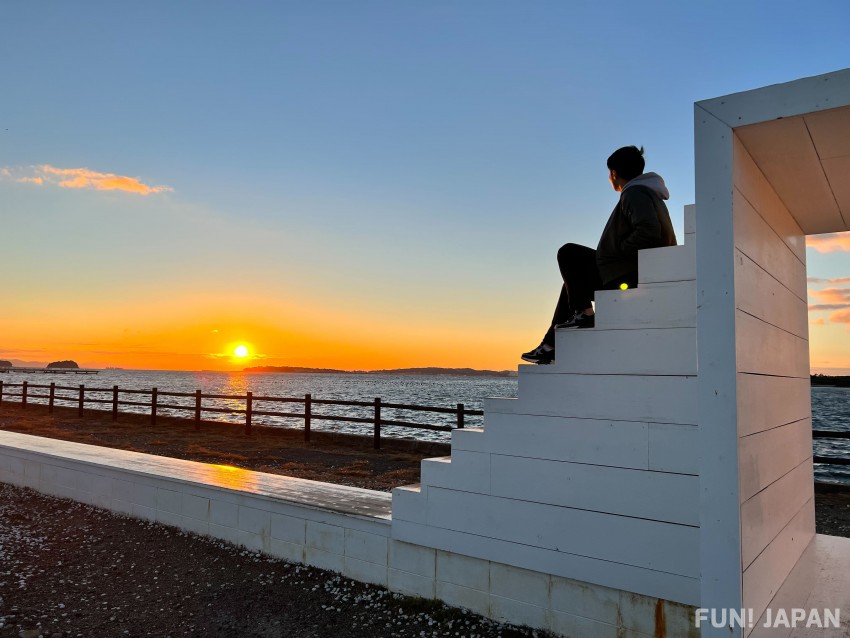 Where do you think are the most Instagrammable spots in the Aichi Prefecture? That's right, if you want to take photos to post on social media, then by all means head to Sakushima Island in Nishio City! To get to Sakushima Island, take a train from Nagoya Station to Nishio Station, then transfer to a bus and then take a ferry from Isshiki Port, which will get you there in around 20 minutes. Called the island of healing and art, Sakushima Island not only has beautiful nature, but also artwork created by various artists dotted around the island, waiting for travellers to stop by.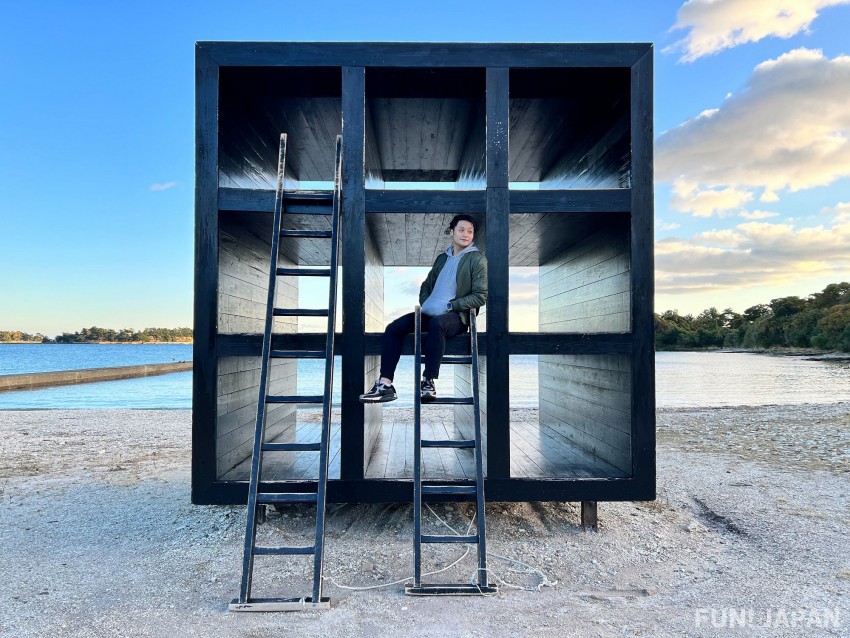 Particularly famous is the piece of art called "Ohirune House" situated on the beach. With the ocean right in front of me, it was so relaxing to watch the sunset from the house while listening to the sound of the waves from the sea breeze. The "Seagull Parking Lot" is a piece of art that creates a visual of the invisible shape of the wind through the direction of the seagulls. It is also a viral topic on social media! Sakushima is a remote island with a population of 252 people, and the islanders live a simple, self-sufficient lifestyle. We only spent half a day on the island, but I was extremely envious of the relaxing time they spend there! If you just would like to do a half-day tour of the island, be aware of the boat times, or your half-day tour could turn into a full day and two nights if you are not careful! 

Day 1: Gamagori Orange Park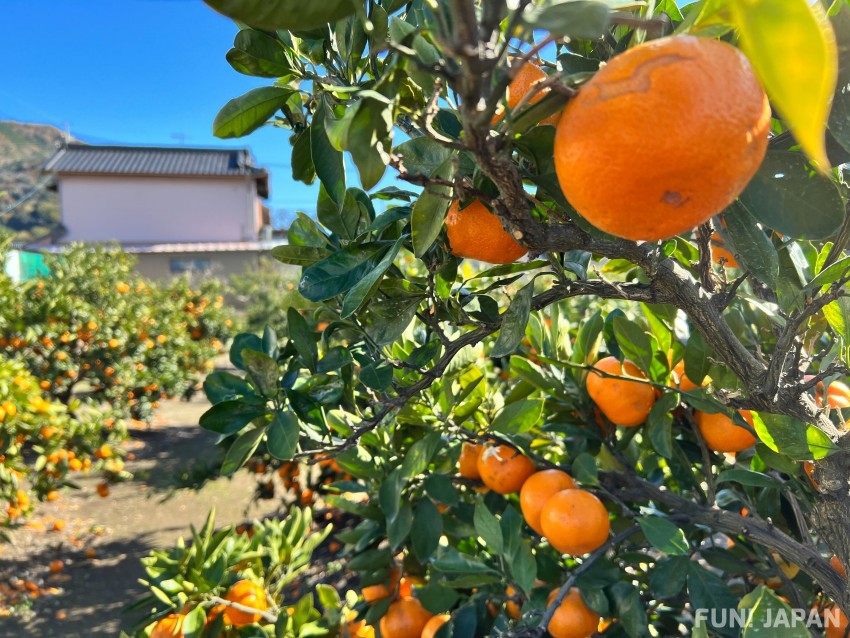 Gamagori mandarin oranges are a local specialty of Gamagori in Aichi Prefecture. The Gamagori Orange Park is a place where fruit picking can be enjoyed year round. Gamagori oranges can be picked from October to December, strawberries from January to early May, and melons from late May to late September. There are also grapes from mid-June to mid-September.
The picked fruits can be eaten there and then, and the peels of the oranges can be left under the trees, which will apparently become natural fertilizer. Not only can the oranges be eaten there, but a kilo of oranges can also be taken home as a souvenir. When picking the oranges, hold the oranges lightly and if you rotate them they'll come off, so don't pull them down too hard! 

Day 1: Toyokawa Inari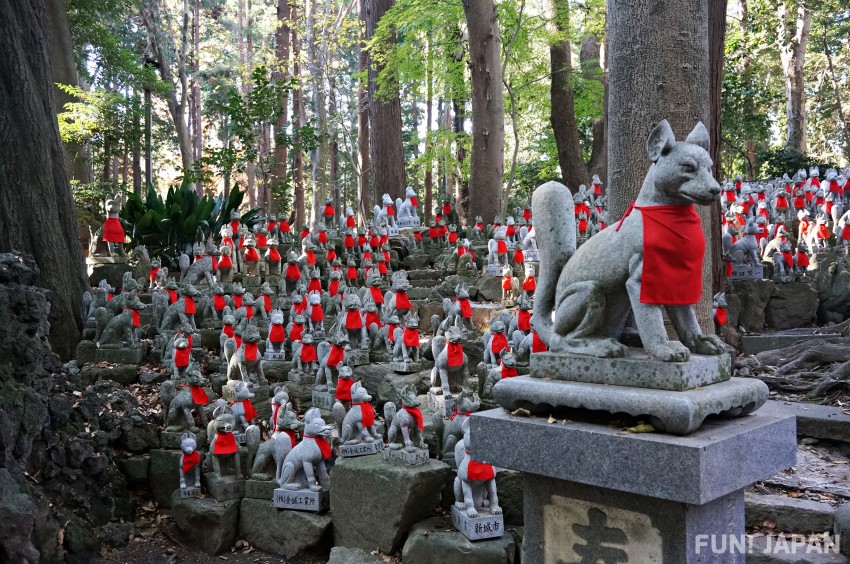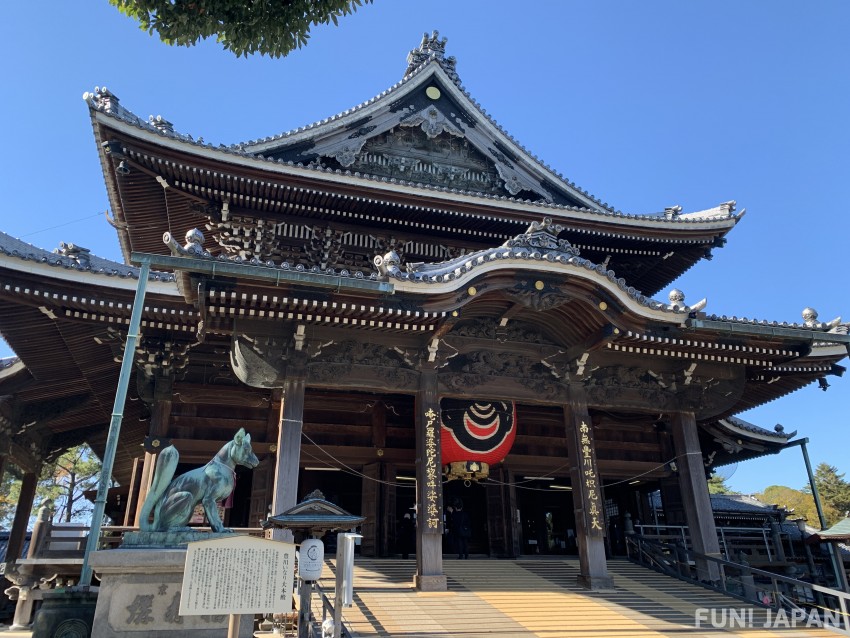 The next stop was a temple called Toyokawa Inari in Toyokawa, Aichi Prefecture, which is famous as one of the three largest Inari shrines in Japan. Approximately 5 million people visit the shrine annually. There are many things to see in the spacious shrine precincts, but one of the most spectacular was the Reikozuka, a collection of more than 1,000 fox statues lined up. In Japan, the fox is said to be an animal of good luck, so going to meet one will bring you a lot of good luck.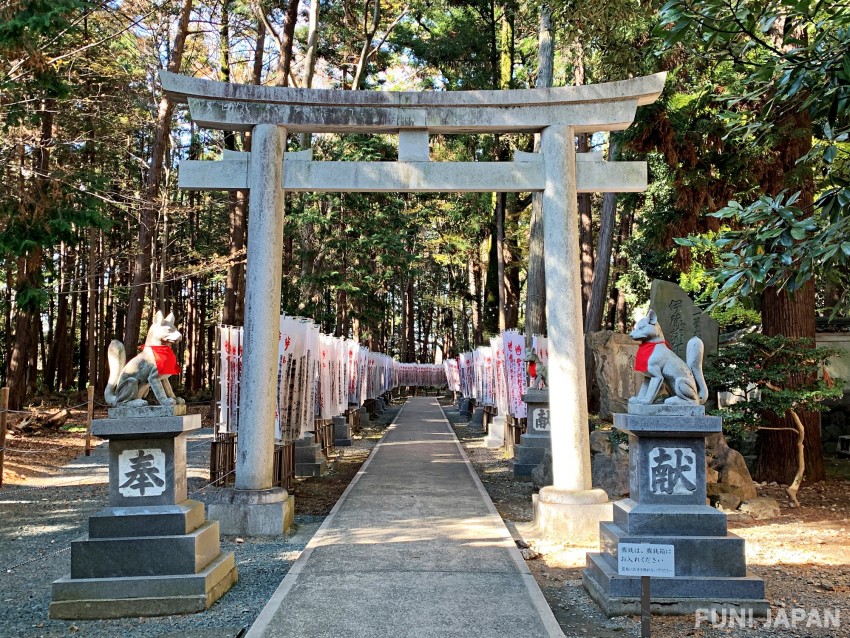 The shrine approach leading to the Reikozuka. The sprawling spiritual world is breathtaking! Guided by the divinity, I wrote a prayer for my health on an ema tablet. May the wish come true!
Day 1: Asuke Townscape (Important Preservation Districts for Groups of Traditional Buildings)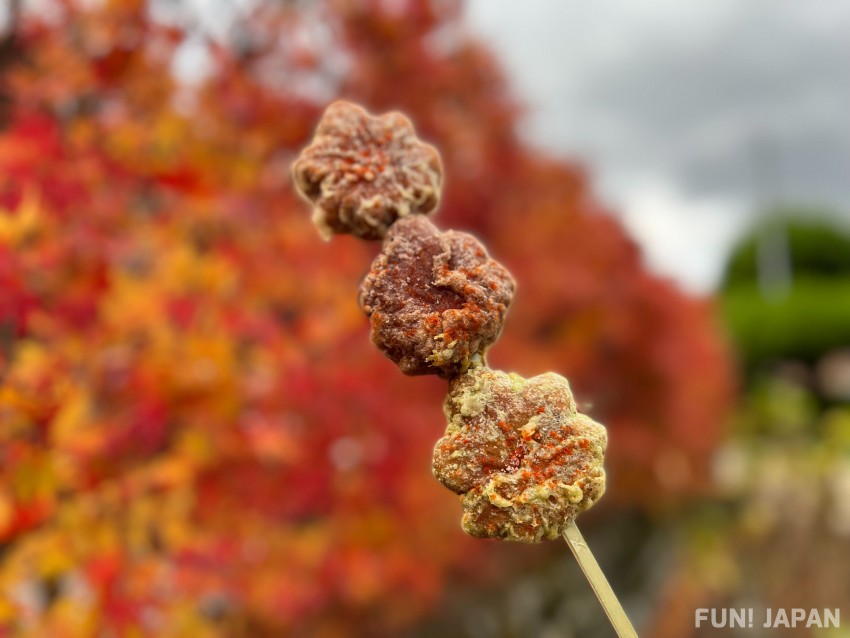 If you like old Japanese streets, you should definitely take a stroll through the Asuke Traditional Buildings Preservation District. Asuke is located in the city of Toyota, and its charming streets still retain the atmosphere of the early Edo period.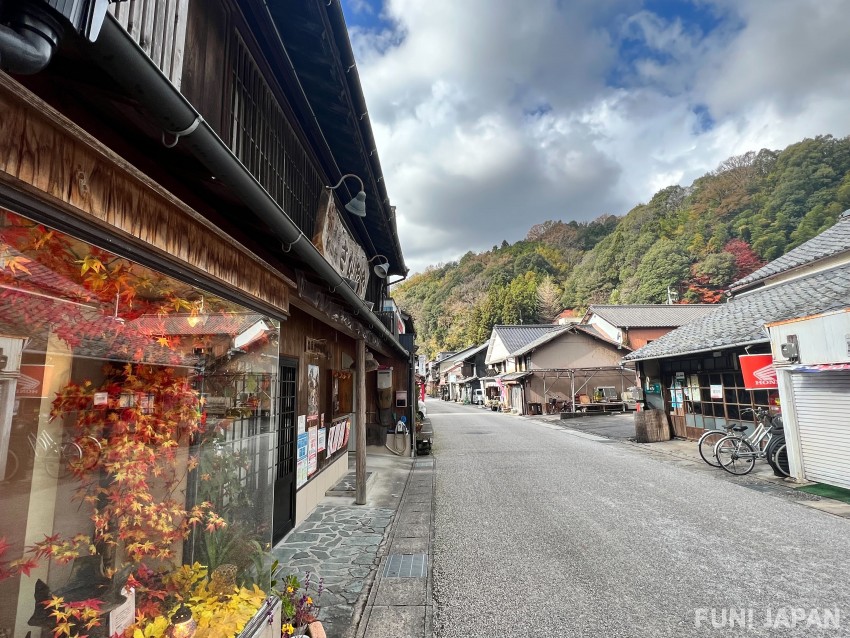 Strolling through the streets of Asuke, which has been selected as an Important Preservation District for Groups of Traditional Buildings, feels like stepping back in time. Also, if you wear a kimono and eat Gohei Mochi (a local food consisting of rice cakes and mashed rice that have been skewered and baked with miso sauce) as you stroll around, you are sure to feel like you are in a historical play! The alleyways of Asuke Town have a traditional and elegant Japanese atmosphere, and the alley "Manrin Komichi" to the side of the bookstore Manrin Shoten was particularly beautiful! Additionally, speaking of Asuke, isn't "Korankei" known as a sightseeing attraction? The beautiful scenery of the four seasons can be enjoyed year round, but lots of tourists who visit are taken in by the picturesque world of the autumn leaves season when the leaves of the plants turn red, orange, and yellow. 

Day 2: Obara Shikizakura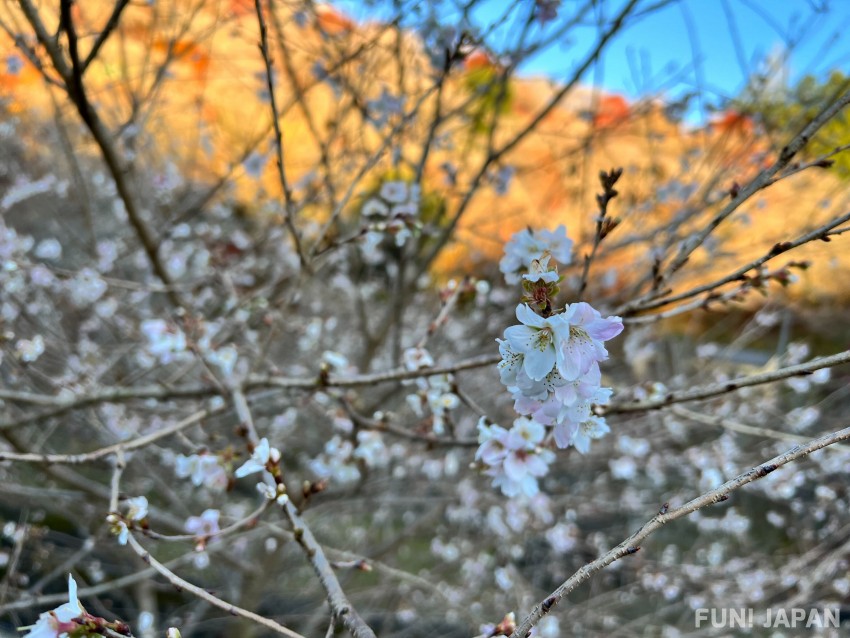 When it comes to activities in Japan where the spectacular scenery of the four seasons can be enjoyed, cherry blossom viewing in the spring and autumn leaves viewing in the autumn are the most popular. There is a spot in the city of Toyota where both cherry blossom viewing and autumn foliage viewing can be enjoyed at the same time. This spot is the town of Obara. This was one of the most impressive spots that we visited this time. The special variety of cherry blossoms here, called Shikizakura, bloom twice a year, once in spring and once in autumn and winter. They also bloom during the autumn leaves season from the end of November to the beginning of December every year, so if you time your trip right, you can enjoy the rare sight of both cherry blossoms and autumn leaves at the same time! The white and pink cherry blossoms you see in the cold air have a completely different atmosphere from those that you see in the warm spring season. With the autumn leaves in the background, the cherry blossoms look as beautiful as snow falling on the autumn leaves. I never thought I would be able to see autumn leaves and cherry blossoms together, which can only be seen in Japan with its four seasons! On social media, this was a spot that had been a viral topic and the photos made many people wish to go, so I was very happy to actually be here. Surrounded by beautiful nature, it was a moment that filled me with "happiness"! If you are planning a trip, try to go during the autumn season when the Shikizakura cherry blossoms are in bloom.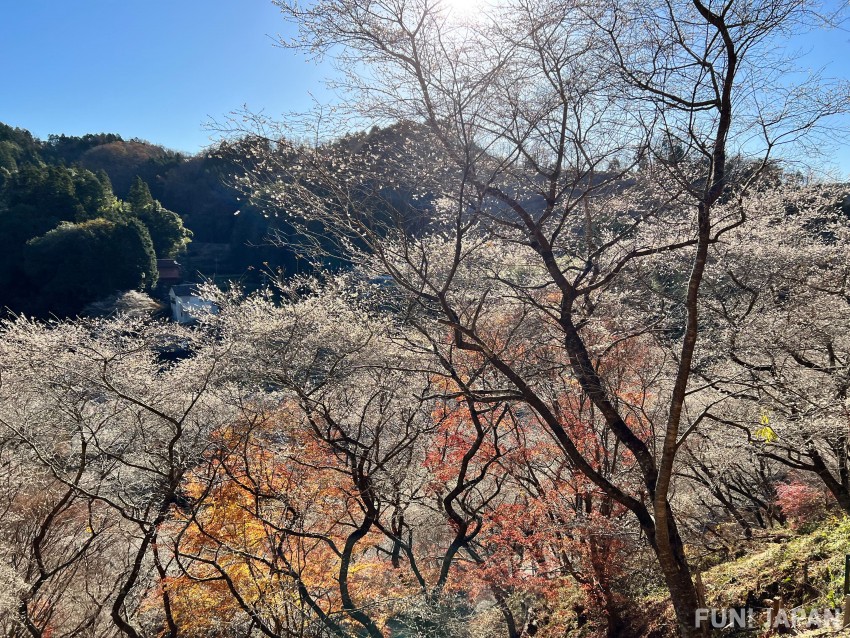 Day 2: Nakasendo Highway Magome-Juku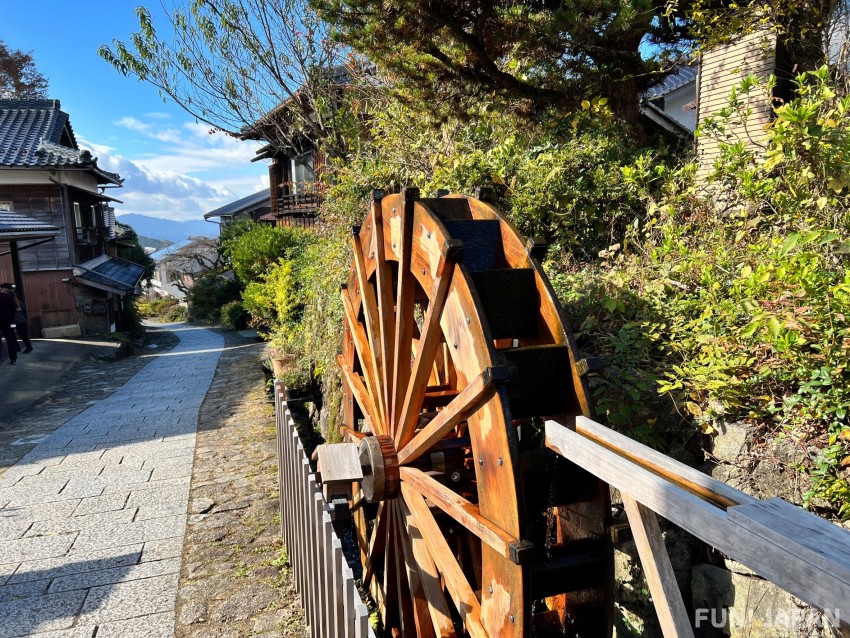 Magome-juku on the Nakasendo Highway in the Gifu Prefecture is a charming place with old streets that retain the atmosphere of Edo. It is a place where you can get away from your usual life, listen to the murmuring of the water and the tweeting of birds, and leisurely admire the old-fashioned buildings. The scenery is picturesque when photographed on a sunny day, and on the day we went to gather materials, we were blessed with beautiful weather, which made it easy to take photogenic pictures.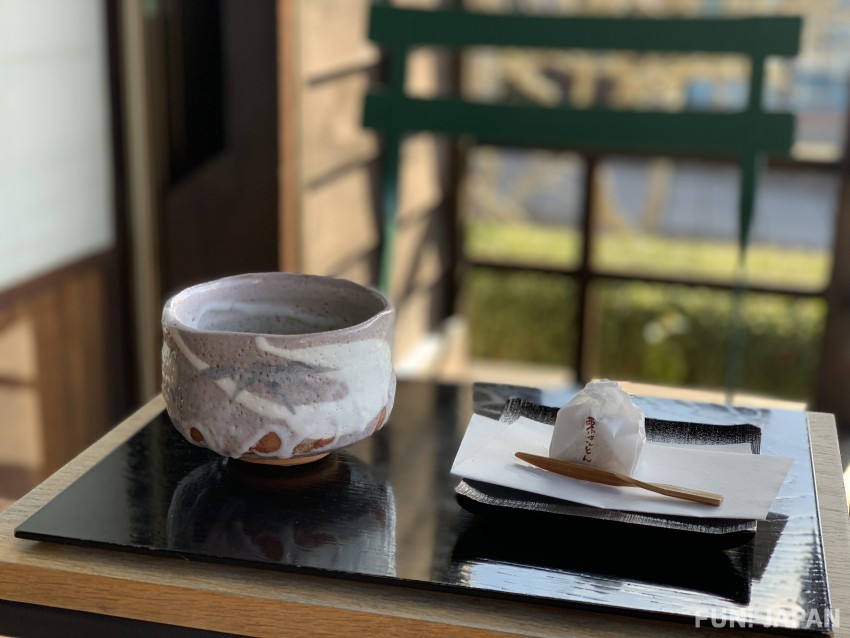 Having tea at a retro cafe or shopping at a roadside souvenir shop is recommended!
Related Links
■Want to read about day 3 and 4? Click here!
Nature in the Chubu Region: Enjoy Activities! Enjoy Rare Experiences Unique to Chubu (Part 2) 
https://www.fun-japan.jp/en/articles/12961

■Want to know more about the Chūbu Region of Japan? Click here!
https://make-nostalgic-experience-gifu-aichi.jp/