Iwate Farming: Fruit Picking Experiences to Remember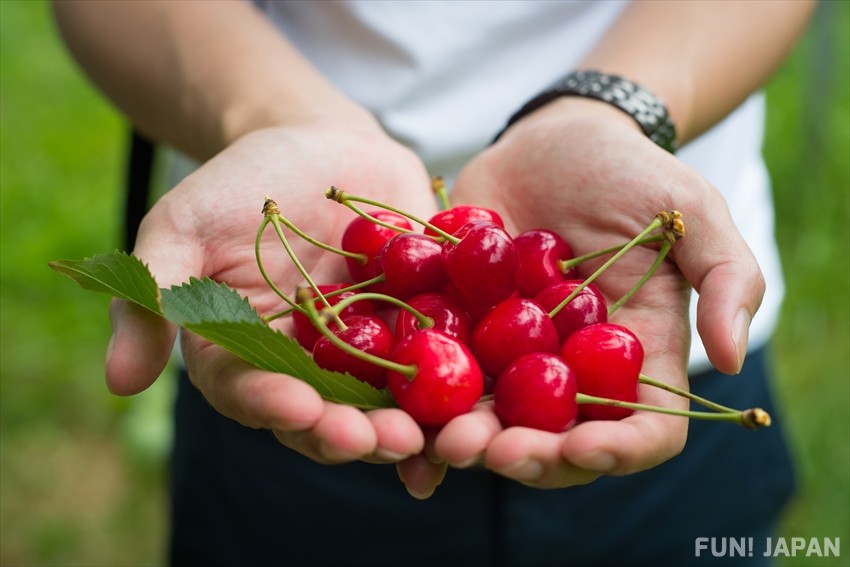 Fruit picking is a popular pastime in Japan, with plenty of home-grown crops carefully cared for throughout the year. Visitors to Japan may have noticed the high price of fruits in department stores, with delicately-packaged fruits costing thousands of yen. While there is plenty of reasonably-priced fruit, picking your own is a great outdoor activity and a chance to try the freshest fruit possible.

Iwate's Regional and Seasonal Specialities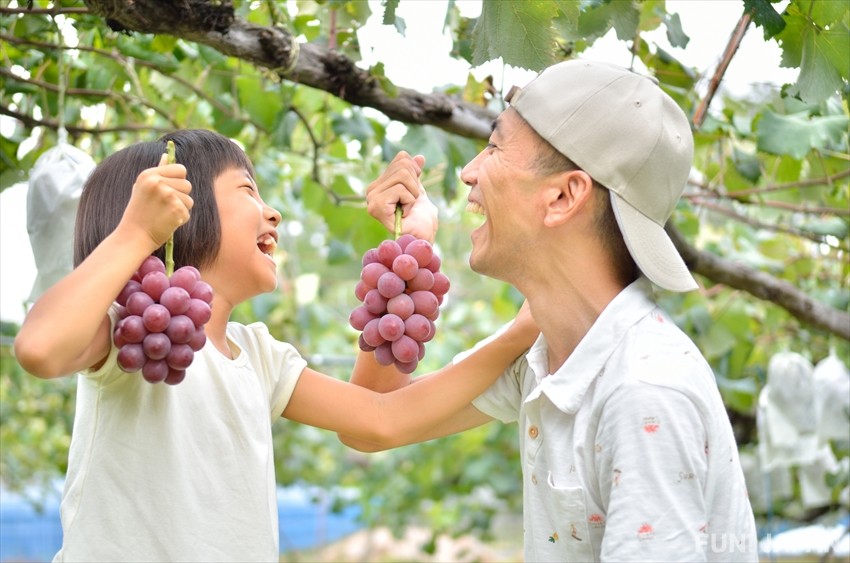 Iwate is known especially for crisp, brightly colored apples, but also has a wide range of delicious crops. Whenever you visit, there is a fruit in season, with many farms offering all-you-can-eat or pick-your-own experiences.
Strawberries: From January to June
Cherries: From mid-June to mid-July
Blueberries: July - mid-August
Grapes: July - December depending on the variety
Apples: From September to November
Strawberry Picking at Saikaen, Hachimantai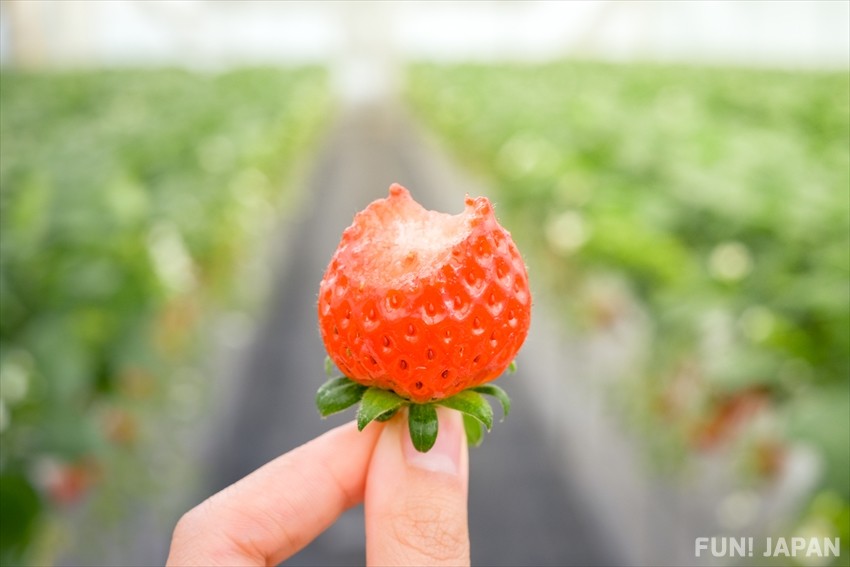 Up in the Hachimantai region of Iwate, Saikaen is one of the most popular spots for strawberry picking. They have five varieties to choose from, one of which is the unusual white type, which is sweet despite not having the deep red color visitors may expect. Strawberries are ready for picking from January to the end of June, depending on the variety. Picking costs 1,980 yen for adults, 1,750 yen for junior high students and older, 1,100 yen for pre-school children and is all-you-can-eat for one hour.
Spot Information
Name: Saikaen (彩花園)
Address: 31-111-3, Obuke, Hachimantai, Iwate
Location: The farm is located just outside Obuke, to the north of Morioka.
Access: The farm is a five-minute drive or a 30-minute walk from Obuke Station on the JR Hanawa Line.
Hours: 09:00 - 15:00
Cherry Picking at Sun Farm, Morioka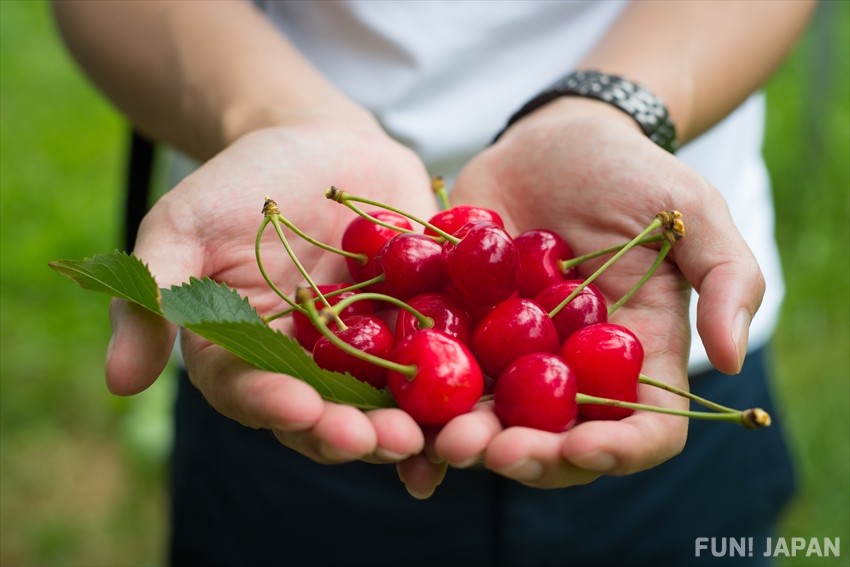 Sun farm has a long history of fruit production, handed down over three hundred years and through eleven generations of farmers. They have used their time to perfect fruit growing and harvesting, with 10 varieties of cherry available to try, from early to late-ripening kinds. The cherry-picking experience is all-you-can-eat for 30-minutes, costing 1,500 yen for adults, 1,000 yen for elementary school students and younger and free for those under three. Cherry punnets are available to take from 500 yen.
Spot Information
Name: Sun Farm (有限会社サンファーム)
Address: 14 Nakazawa, Kitazawa, Shiwa, Iwate
Location: The farm is in the Tonan district of Morioka,
Access: The farm is an 8-minute drive from the Morioka Minami Interchange
Hours: 10:00 - 17:30
Blueberry Picking at Daiwa Blueberry Orchard, Hanamaki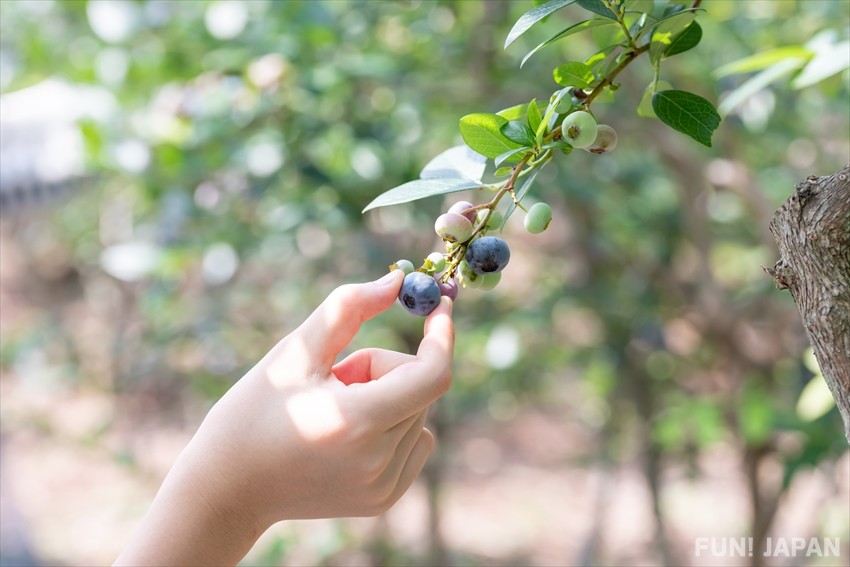 A celebration of blueberries, Daiwa Fruit Park is home to over 30 varieties of blueberry. There are two farms - a slightly larger one in Hanamaki and a second in Rikuzentaka, with prices and selection slightly lower at the latter. Visitors can sample a variety while picking (although it is not all-you-can-eat), as well as taking home a 200g pack, costing 1,200 per person in Hanamaki and 1,500 yen in Rikuzentaka. The season runs from early July to mid-August.
Spot Information
Name: Daiwa Blueberry Orchard (だいわブルーベリー園)
Address: 7-Jimori, Nabekura, Hanamaki, Iwate
Location: The orchards are located just outside Hanamaki City,
Access: The orchard is a 5-minute drive from Hanmaki Station and is close to the Hanamaki-Minami IC.
Grape Picking at Shiwa Fruits Park, Shiwa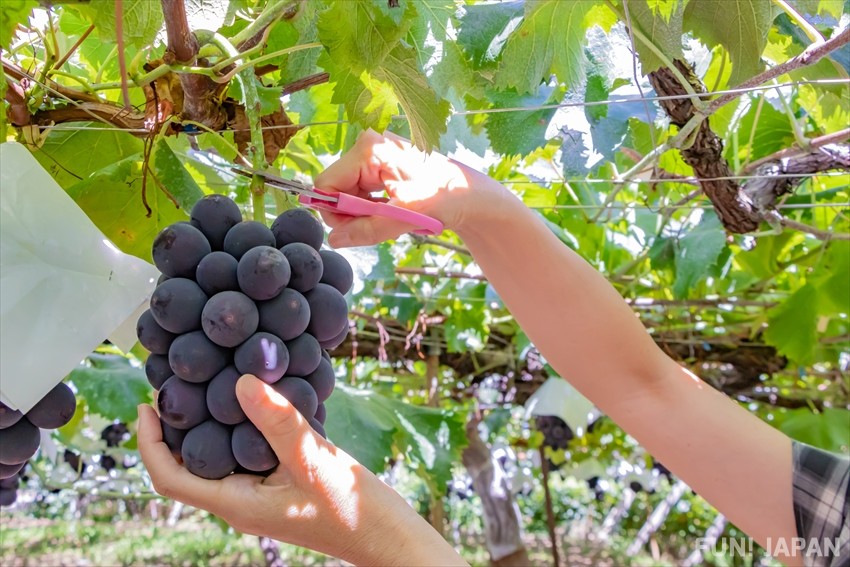 Grape picking experiences are available in September at Shiwa Fruits Park which is also a winery and therefore has a selection of high-quality grapes available. Fuji-Minoru, Aki Queen and Rosary Bianco are all available to try, with stunning views of Mt. Iwate in the background. Grape picking is an all-you-can-eat experience and is available during September, from 9:00 - 12:00 and 13:00 - 16:00, costing 1,500 yen per person.
Spot Information
Name: Shiwa Fruits Park (紫波フルーツパーク)
Location: The farm is located to the south of Morioka City in the north of the prefecture.
Address: Matsubara 1-11, Toyama, Shiwa, Iwate
Access: The farm is a 10-minute drive from Shiwachuo Station on the JR Tohoku Line.
Apple Picking at Asashima Kanko Ringoen, Morioka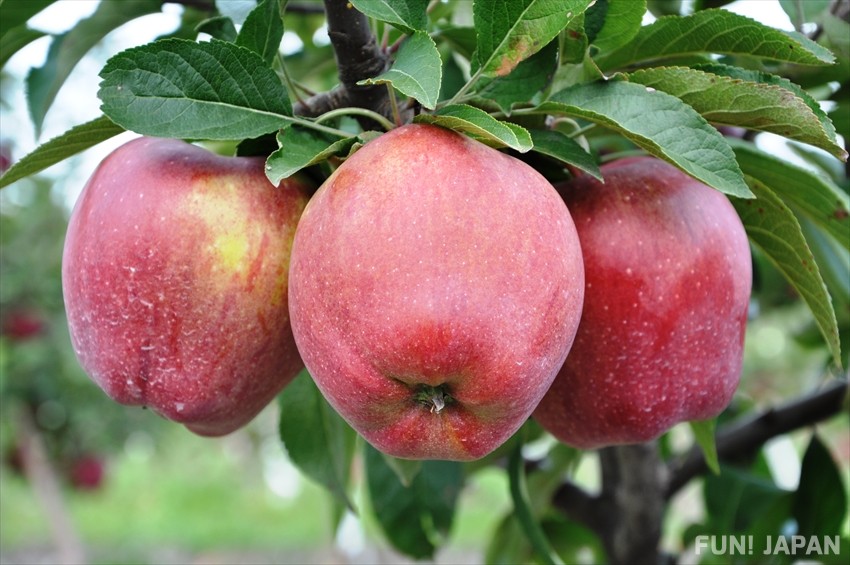 In the Ogayu are of Morioka, visitors can pick apples to their heart's content. The farm has a selection of Apple varieties to choose from. Iwate's apples are known for being crisp, beautifully colored and the perfect balance of sweet and tart, so visitors can enjoy a thoroughly satisfying apple-picking experience, strolling through the farm's orchards. Apple picking is available until 4pm and costs 540 yen per kg taken home.
Spot Information
Name: Asashima Kanko Ringoen
Address: 27 Chiwari-54-11 Ogayu, Morioka, Iwate
Location: The farm is located to the southeast of Morioka City, in the Ogayu area.
Access: The farm is best accessed by car as it is not close to any train stations. It is a 25-minute drive from Morioka center.
Season: Mid September - Early November
[Survey] Traveling to Japan