Time to Relax: Wakayama's Onsen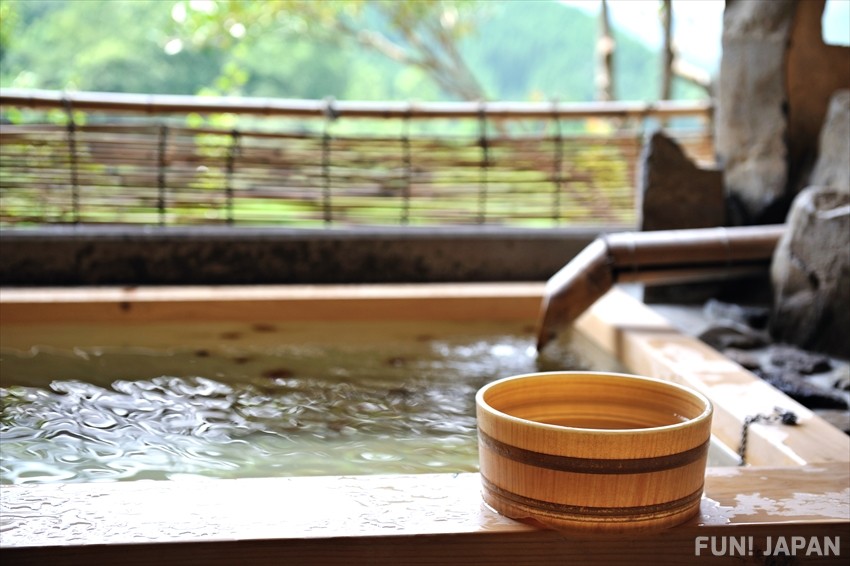 Hot springs are a staple of daily life in Japan, and while many regions have unusual baths, Wakayama may well be home to the most unusual collection. From baths in ocean-side caves to the world's oldest hot spring, there are countless unique ways to enjoy a soak in a hot spring. Whether you're deep in the Kii Mountain Range or relaxing by the sea in Shirahama, there's a hot spring nearby.

Nanki Katsuura Onsen: Onsen by the Sea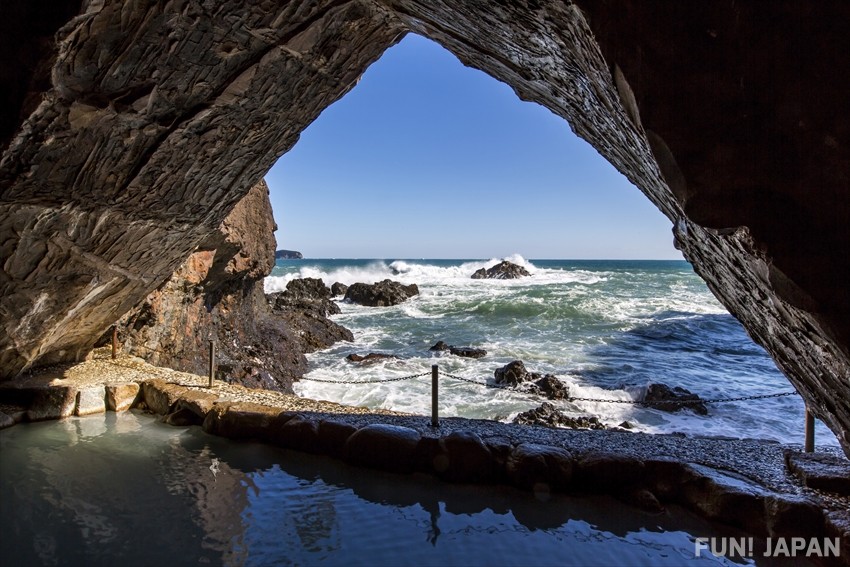 Close to the popular Nachi Taisha and falls, Katsuura onsen is a well-known spot among hot-spring aficionados. To avoid confusion with another town named Katsuura in the Kanto region, they assed Kii to the town's name. With many visitors about to begin or just finishing long hikes through the Kii mountains, the onsen of Katsuura are the perfect place to relax. There are free footbaths dotted around the town as well as hot spring baths in the town's hotels.
For a unique experience, however, you'll want to head to the town's ferry port and catch the shuttle boat to Hotel Urashima. On a small peninsula extending into the bay, the hotel has traditional baths on the 33rd floor as well as the impressive Boki-do baths set into naturally-eroded beach caves. The baths are open to guests and day-visitors, with
The waters here are rich in sulphur, meaning that familiar egg-like smell. They are good for blood circulation, skin conditions and internal disorders.
Nearby Accommodation Options
Staying at Hotel Urashima is the most popular choice for those wishing to make the most of the hot springs in Katsuura. Rooms with sea views are sought after but those without are more affordable. Catching the ferry shuttle makes the experience feel excitingly remote, and is not much of an inconvenience. For those looking for a more relaxed option, Kodo Backpacker's Hostel is in a great location and has affordable options if you don't mind sharing a room.
Spot Information
Name: Nanki Katsuura Onsen (勝浦)
Address: Nachikatsuura, Wakayama
Location: Katsuura is located on the south-east coast of Wakayama, about 20 minutes south of Shingu.
Access: Katsuura can be reached by train from Shin-Osaka using the JR Kuroshio Limited Express service, which takes approximately four hours and costs just over 6,000 yen per person. It is only 20 minutes from Shingu on the local service, costing 240 yen.
Cost: 300 to 1000 yen depending on the facilities.
Shirahama Onsen: Japan's Oldest Onsen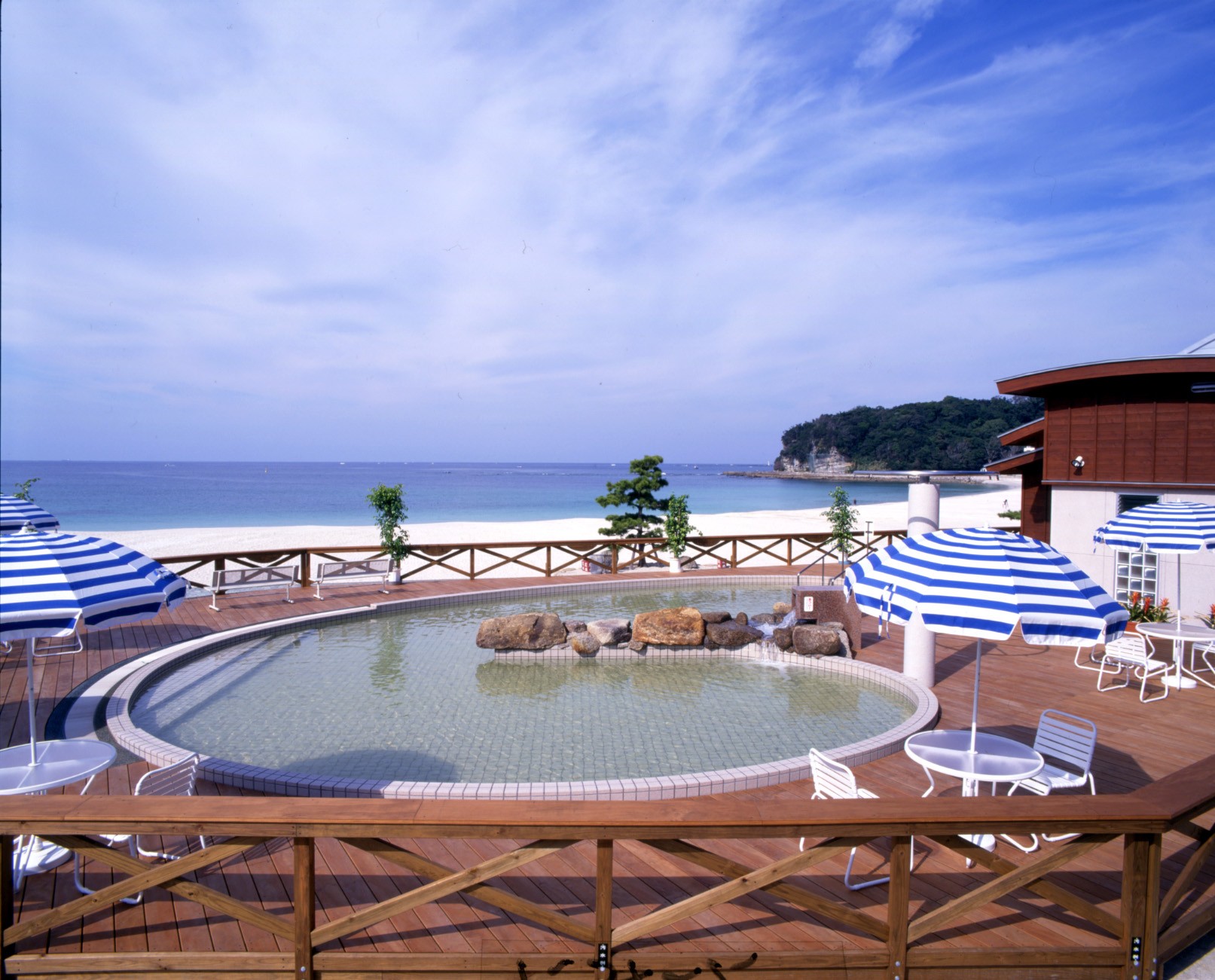 Known primarily for its white beach, Shirahama is actually one of Japan's three oldest hot spring towns. Records dating back to the 7th and 8th centuries mention the healing properties of the waters and their proximity to the sea make them a refreshing experience even today. The town has six public baths and numerous free footbaths dotted along Ashi-no-yu Alley in its onsen quarter. The most famous bath, however, is Saki-no-yu, which claims to be the oldest bath in Japan, dating back thousands of years. The bath looks out across the ocean and is open to the public, costing just 500 yen per person. It is open from 8am to 5pm (with longer hours in summer) but is closed on Wednesdays. For those not wanting to brave public baths in the nude, Shirahama has Shirasuna, a bath for over 100 people which requires swimsuits as it's open to public view.
Nearby Accommodation Options
There are a broad selection of resort hotels, minshuku and ryokan in Shirahama, with prices and styles to suit everyone including couples and families. The Shiraso Grand Hotel has outdoor baths, sea-view rooms and the option to reserve private hot springs. Yado Musashi is a traditional Japanese ryokan with beautiful oceanside views, large baths and a choice of western and Japanese style rooms.
Spot Information
Name: Shirahama Onsen (白浜町)
Address: Nishimuro, Shirahama, Wakayama
Location: Shirahama is on the south coast of Wakayama on the Kii Peninsula, around 100km from Osaka.
Access: Shirahama is one hour by train from Wakayama city and two hours and twenty minutes from Osaka by Limited Express train.
Ryujin Onsen: Overlooking the River
Perched above the Hidaka river, Ryujin onsen is possibly one of the most scenic onsen in Japan. The isolated setting leaves you a million miles away from everyday life, with nothing but nature to distract you. It is believed that Kobo Daishi, founder of the Shingon sect of Buddhism discovered the hot spring after having a dream from the god of the sea, Nada-ryu-o, leading him to its source. The water is believed to have beautifying effects and is one of Japan's three 'Bijin-no-yu' or 'beautiful women hot springs'. This is due to the high levels of sodium bicarbonate in the waters.
Nearby Accommodation Options
There are a number of small hotels and minshuku in the Ryujin area. Minshuku-Ryokan Sasayuri is a more homely option, while Bijin-tei is a larger onsen hotel with communal baths. Ryujin-Onsen Shimogoten has a traditional feel with private balcony baths, large communal baths and a great riverside location.
Spot Information
Name: Ryujin Onsen (龍神温泉)
Address: Ryujinmura Ryujin, Tanabe, Wakayama
Location: Ryujin is in the center of the Kii peninsula between Koya-san and Tanabe.
Access: Buses run between Ryujin and Koyasan from Tanabe stopping in Ryujin from April through to November.
Yunomine Onsen: The Only UNESCO Onsen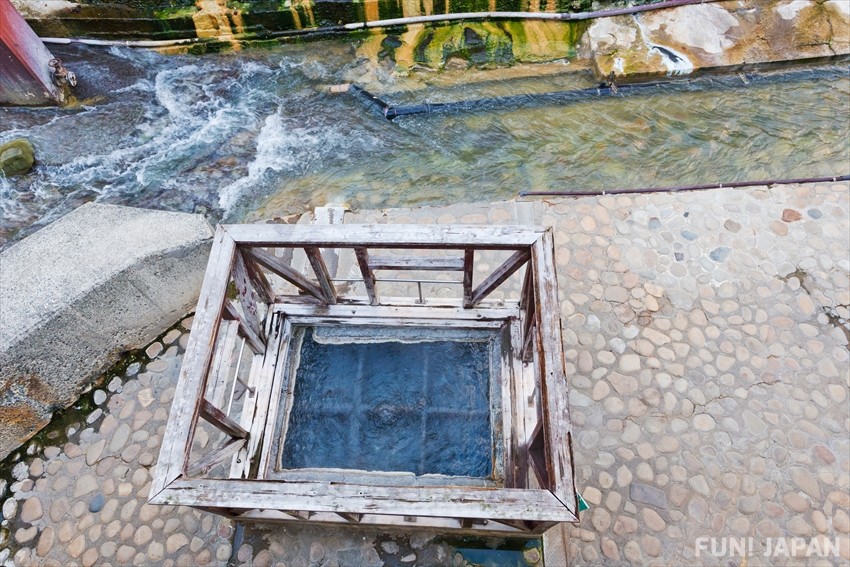 Yunomine Onsen town is a small, traditional onsen town deep in the Kii Mountain range. The hot springs have long been a favoured stop on the Kumano Kodo Pilgrimage Route and are the only UNESCO World Heritage Site hot springs in the world. While there are public baths available, there is also Tsubo-yu, a small cabin-covered, two-person bath located in the town's central river. Legend has it a 15th century prince was healed here. You can reserve a place ahead of time and enjoy cooking eggs in the onsen water nearby as you wait. The waters in the small bath are said to change colour up to seven times a day, and relaxing in the waters with the river water rushing by is an unusual experience.
The waters here contain sulfur and hydrogen carbonate and are believed to be good for neuralgia, rheumatism, skin disease and diabetes.
Nearby Accommodation Options
One of the most popular options for those on a budget is J-hoppers Kumano Yunomine which offers friendly accommodation and is a great way to meet other travellers in Japan. Ryokan Adumaya offers a traditional Japanese stay in the heart of the town with hot springs and meals included. Nearby, Minshuku Kuraya is a welcoming spot with river views and meals available.
Spot Information
Name: Yunomine Onsen (湯の峰温泉)
Address: 110 Yunomine, Hongu-cho, Tanabe-shi, Wakayama
Location: Yunomine Onsen is near Kumano Hongu Taisha, in the central region of Wakayama, along the Kumano Kodo Pilgrimage route.
Access: You can catch a one-hour bus to Yunomine Onsen from Shingu Station or take the bus for Hongu Taisha from JR Kii-Tanabe and alight at Yunomine en route.
Cost: 750 yen per adult for a 30 minute time slot in Tsubo-yu 
[Survey] Traveling to Japan
Recommend