A Brand New Campaign! Everyone Gets an E-gift + a Chance at 10,000 JPY!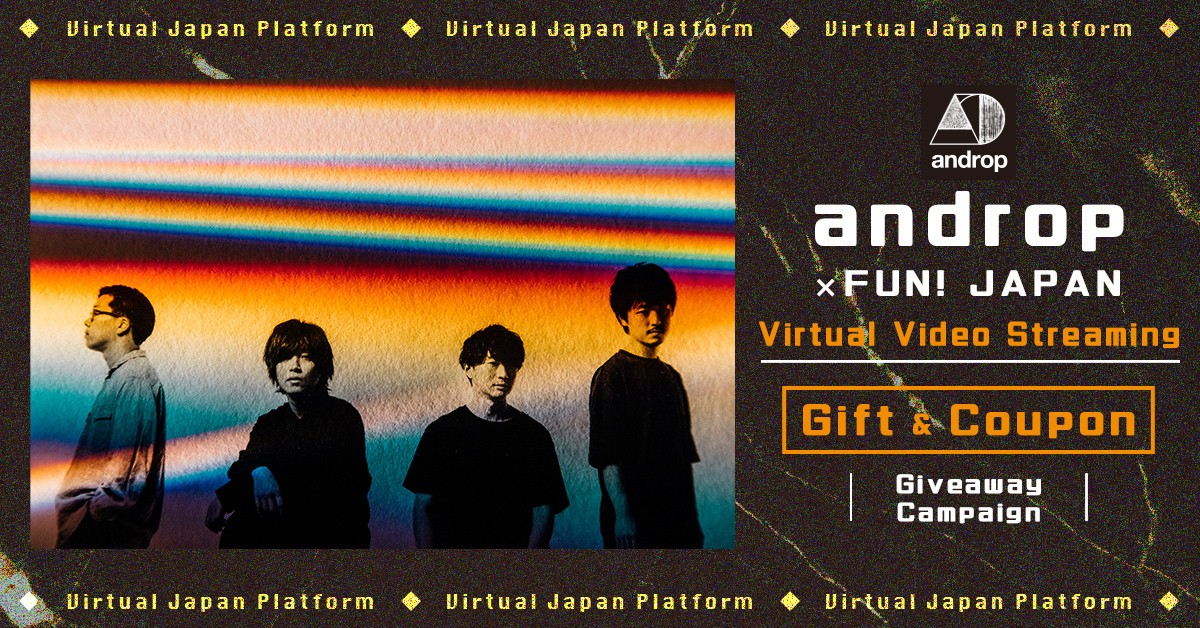 We're hosting a brand new campaign where participants can watch our virtual live show and get some great rewards to use on FUN! JAPAN. There are 2 types of rewards everyone can get, and a lottery for some big prizes! Make sure to participate and invite your family and friends!
Lottery Prizes!
1st Prize - 3 People
FUN! JAPAN Select Shop 10,000 JPY (around USD 90) e-Gift
2nd Prize - 10 People
Amazon Japan 3,000 JPY (around USD 27) e-Gift
Prizes for All!
Through participating in the "androp Video Streaming 2021 on Virtual Japan Platform" you can choose 1 of 3 prizes to receive! You're able to pick which during registration.

①100 JPY Amazon Japan e-Gift
②3,000 FUN! JAPAN Points
③1,000 JPY FUN! JAPAN Select Shop e-Gift
Registration Requirements
Participate in the live video streaming event on 09/17 on the Virtual Japan Platform.
You must enter this space through your browser on either your computer or smartphone.
Depending on your device or network, there may be events in which you are unable to enter the live event.
Please read the following article for more details on the live event.
https://www.fun-japan.jp/en/articles/12742 
Registration Period
09/01/21 (Wed) - 09/14/21 (Tue) 12:00 JST
From Registration to Prize Redemption
An email with instructions on how to register to the Virtual Japan Platform will be sent, please ensure to use these instructions to register on the platform and participate in the live event.
Information regarding your live participation of the event will be confirmed using your login information.
After confirmation has been made, your prizes will be sent to you via email during October.
Furthermore, people who won the lottery will also be contacted via email.
★Registration Method★
All you need to do is register using the event & campaign form and ensure to read, understand, and accept all of the cautions given!