Hokuriku Region's Top 5 Must-Ride Tourist Trains!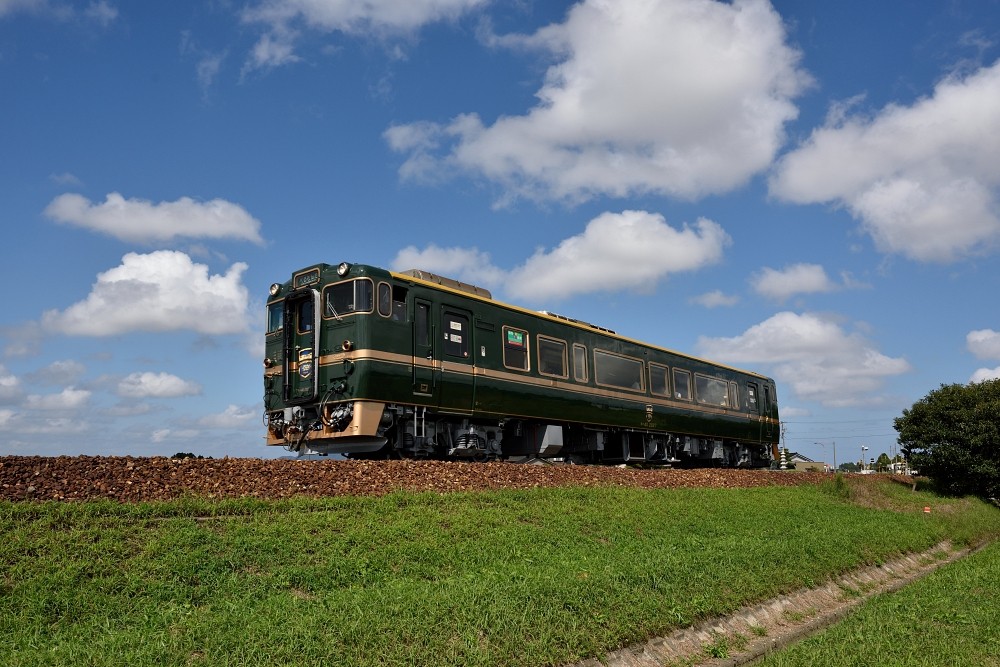 Hokuriku is a special place where you'll sometimes forget you're riding on a train because you'll get caught up checking out all of the beautiful scenery that surrounds you. Depending on the location you can find delicious foods, beautiful scenery, and amazing trains! In this article, we're going to introduce the top 5 tourist trains that go through some amazing tourist areas.

※To help in the prevention of the spread of COVID-19, certain trains within this article may have schedules different from those stated within this article. For accurate information, please ensure to check each train line's official homepage.
1. Hanayome Noren <West Japan Railway Company>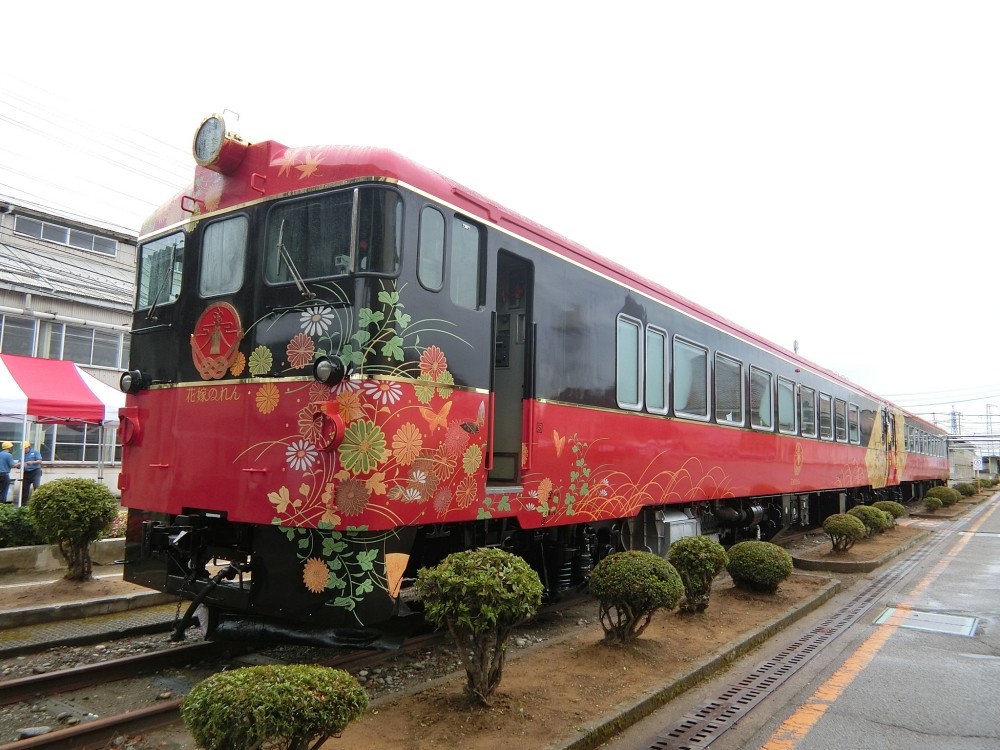 This is an elegant tourist train with the concept of "Hospitality of Japan and Beauty" and has its interior design created in the image of traditional handicrafts. Hanayome Noren refers to a local tradition where you send Noren curtains to pray for the happiness of a newlywed bride. There are days on this train where events occur in which you can purchase traditional local goods and see presentations. There are multiple types of seats for you to choose from including counter and table seats, and even a half-private room. If you book your meals in advance you can enjoy delicious food during your journey.


Information
Route:Kanazawa Station-Wakuraonsen Station
Required Time:One-way approx. 1 hour 20 mins
Schedule:All-year-round mainly Fri/Sat/Sun/Public Holidays 2 round-trips per day
Fee:(One-way) Adult 1,410 Ticket + Reserved Seat Express 1,390 JPY / Child 700+690 JPY
https://www.westjr.co.jp/global/en/train/hanayomenoren/
2. Belles Montagnes et Mer <West Japan Railway Company>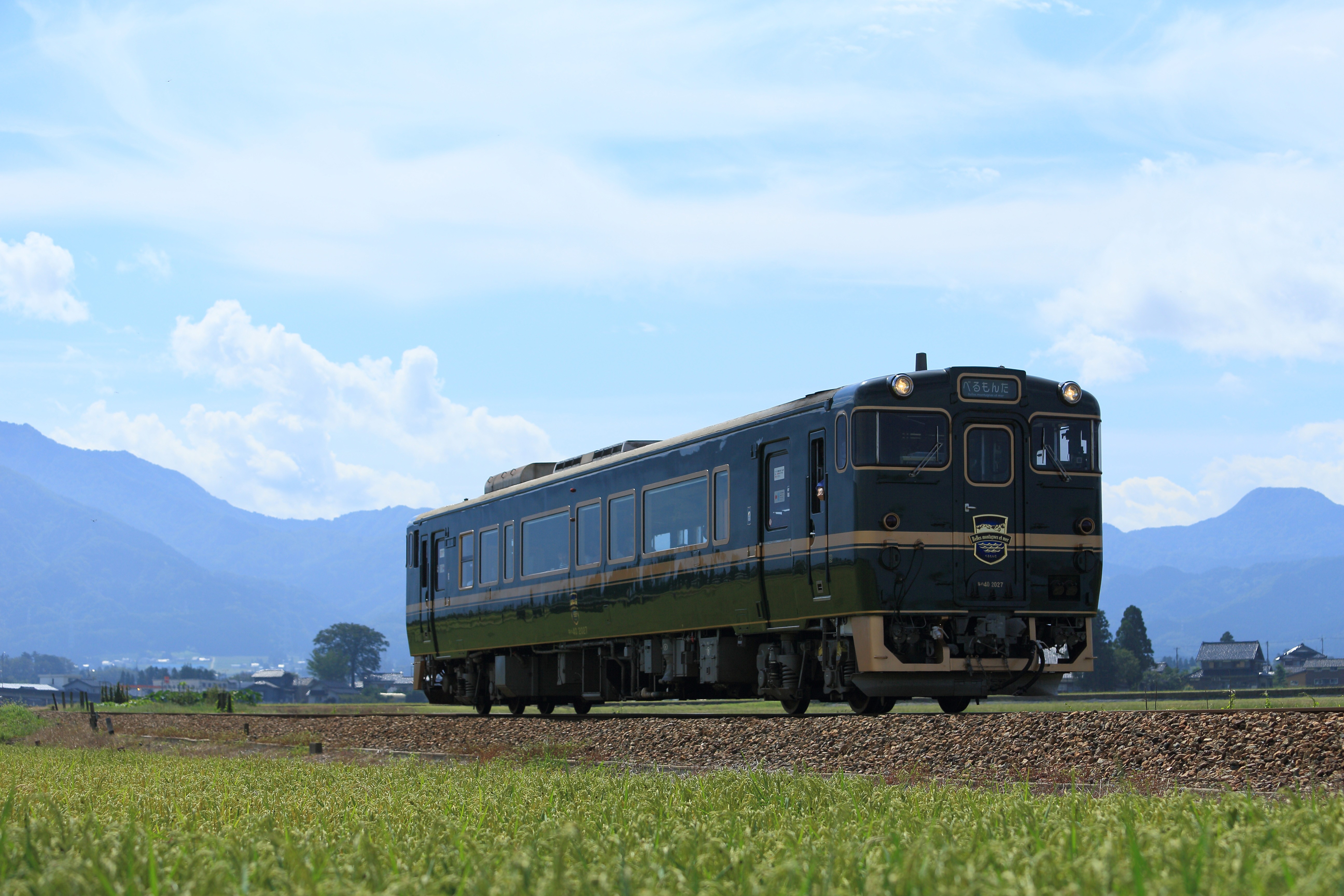 Belles Montagnes et Mer means "beautiful mountains and sea" in french. It's a train from which you can see the beautiful coastline and luscious nature. The starting point of this journey begins in the western section of Fukuyama Prefecture at Takaoka Station on Saturday and heads towards the sea, depending on the current season you're able to see many unique sights.

The cars are chic moss green with a golden ribbon going around. The interior is a must-see created using traditional craft methods. On the side facing Tateyama Renpō there are counter seats and on the opposite side a 4-person boxcar. Whilst riding the train you're able to try Toyama Bay sushi and seafood items whilst enjoying the views out of your window. Meal reservations can be made 3 days in advance on the "VISIT TOYAMA PREFECTURE" website.


Information
Route:

Saturday:Takaoka Station-Jōhana Station
Sunday:Shin-Takaoka Station-Himi Station

Required Time:

Saturday:One-way approx. 50 mins
Sunday:One-way approx 65 mins

Schedule:Runs all-year-round on Sat+Sun 2 round trips per day
Fee:(One-way) Adult Ticket 590 + Reserved Seat 530 JPY / Children Half Price
https://www.westjr.co.jp/global/en/train/berumonta/
3. Noto Satoyama Satoumi <Nototetsu Tourist Train>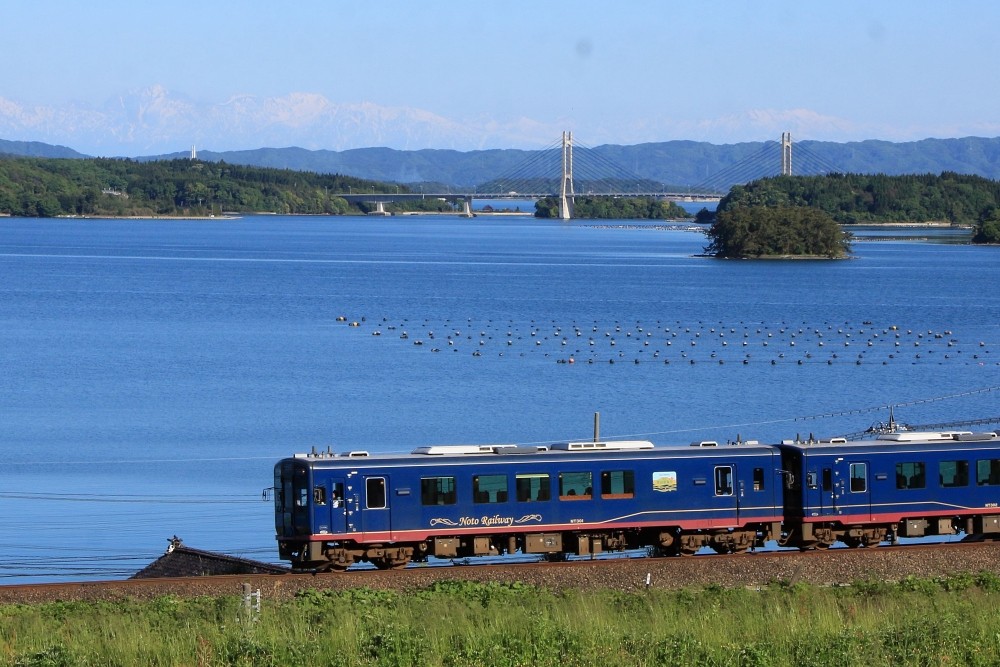 This is a tourist train that runs along the coastline of the Noto Peninsula. From your window, you're able to see the woodlands and beautiful coastline. You'll pass much rural landscape and be able to see part of Nanao gulf, you are even able to see some villages and settlements which have been around for a very long time including the world heritage site Noto's Satoyama and Satoumi. There are both seats that face the window as well as boxcars for groups of people so you can enjoy the experience together. There is also a gallery space where you can check out some traditional artwork and even purchase alcohol and coffee at the service counter. We highly recommend reserving your meal plan beforehand! (Only on weekends + public holidays)


Information
Route:Nanao Station-Onamizu Station
Required Time:One-way approx. 60 minutes
Schedule:All-year-round on Sat/Sun/Public Holdays 3 Trips per day from Nanao, 2 trips from Onamizu
Fee:(One-way) Adult Ticket 850 + Boarding Fee 500 JPY / Children 430 + 500 JPY (Food Plan: Sweets Set 1,530, Sushi Set 2,550 JPY)
http://satoyama-satoumi-go.net
https://www.ishikawatravel.jp/en/spots/noto-satoyama-satoumi-sightseeing-train/
4. The Story of 13000 Feet <Fukuyama Prefecture Ainokaze Toyama Railway>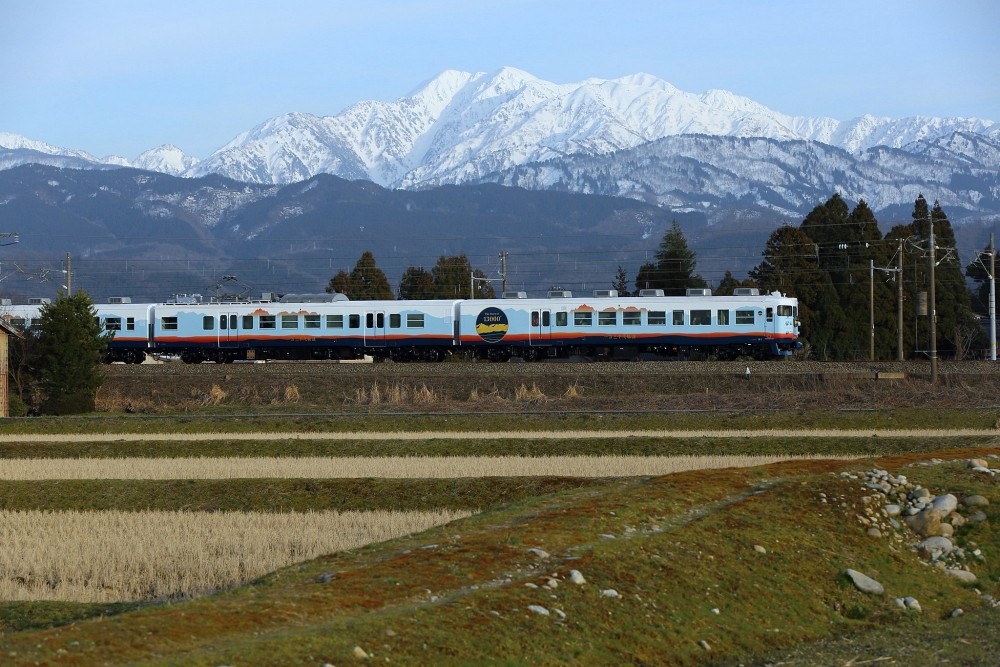 The Tateyama Mountain Range sits at an elevation of 3,000m, and the Toyama Bay sea has a depth of 1,000m. This is a dining train where you can fully enjoy both delicious foods and beautiful sights in perfect harmony known as "The Story of 13000 Feet". The interior of the train is made from warm-feeling wood, and the side facing the mountain range has large windows to look through. There are 2 unique routes available for this journey. The first starts at Toyama Station and ends at Tomari Station before returning to Toyama Station, during this journey you're able to eat an original sushi set. Route 2 starts at Toyama Station, heads to Takaoka Station, then Kurobe Station before returning to Toyama Station, and offers a "Traditional Japanese Meal Course".


Information
Route:

1:Toyama Station-Tomari Station-Toyama Station

2:Toyama Station-Takaoka Station-Kurobe Station-Toyama Station

Required Time:Approx. 2 hours 10 minutes - 2 hours 30 minutes
Schedule:All-year-round Sat/Sun/Public Holidays
Fee:Typical Plan 13,000 JPY, Sourvenirs Inc. Plan 15,000 JPY (Tax inc. / Adults + Children Same Price) *Both routes are priced the same.
https://www.13000story.com/en/
5. Alps Express  <Toyama Chihō Railway>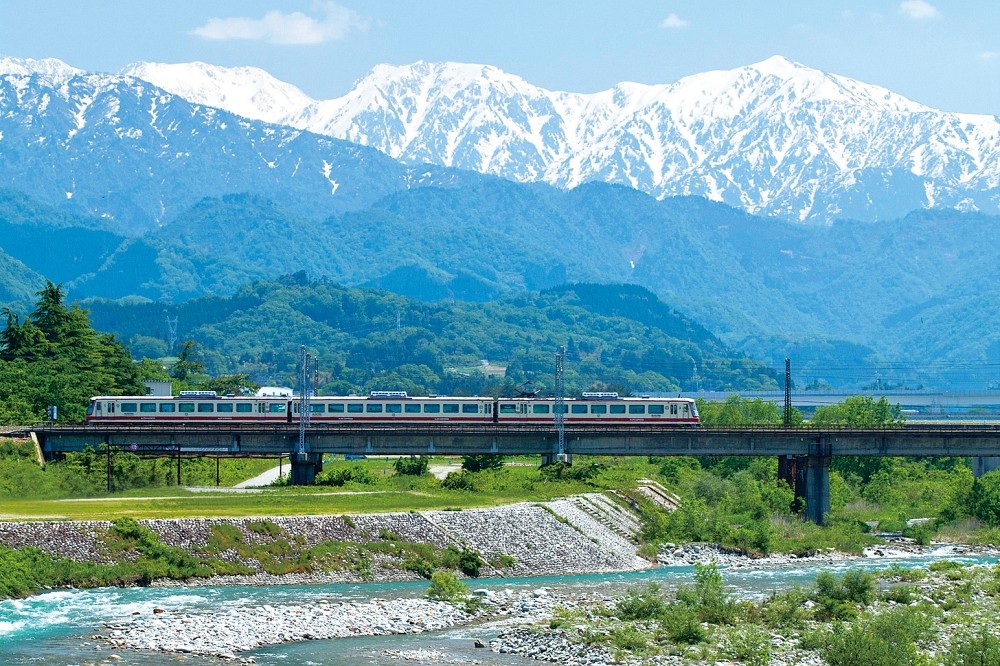 Vast open fields, extensive mountain ranges, deep blue bays, this is a tourist train that takes you through it all. The interior is made from beautiful wood that has a feeling of warmth and luxury. The scenes you will see looking out of your counter seat window are almost like a painted picture, and there are many ways available for you to experience it! At the service corner, you're able to purchase local sake, beer, and other drinks, as well as some exclusive goods!


Information
Route:Toyama Station-Unazukionsen Station、Tateyama Station-Tateyama Station
Required Time: (One-way) approx. 1 hour - 1 hour 40 mins
Schedule:All-year-round Sat/Sun/Public Holidays 5 Trips Daily
Fee:

Normal and Express:Ticket Max Price 1,830 JPY / Children 940 JPY / Infants Go Free
Express:Ticket + Express Fee 210 JPY (Infants Go Free)
Express Route 2:Ticket Max Price + Express Fee 210 + Seat Reservations 220 JPY (Infants Go Free)
https://www.chitetsu.co.jp/?page_id=3838
https://foreign.info-toyama.com/en/spot/?spot_id=87&ret_list_p=1
[Survey] Traveling to Japan
Recommend