Visiting the Hometown of Fujiko Fujio in Takaoka City, Toyama

Most tourists going to Japan would usually like to visit places such as Tokyo, Osaka, or Kyoto which are all famous for traditional Japanese townscape and atmosphere as well as being breathtakingly beautiful. However there are actually lots of spots which are not as well known, but are equally as beautiful as Kyoto or Kanazawa. One such place is Takaoka City located in Toyama Prefecture (Hokuriku region of Japan). 

Suggested Attractions of Takaoka City, Toyama
There are classical townscapes, elegant temples that embedded a long history and many more reasons you should visit Takaoka City. Here are some of our most recommended spots for you to travel to and see in Takaoka City, Toyama.

1. Zuiryu-ji Temple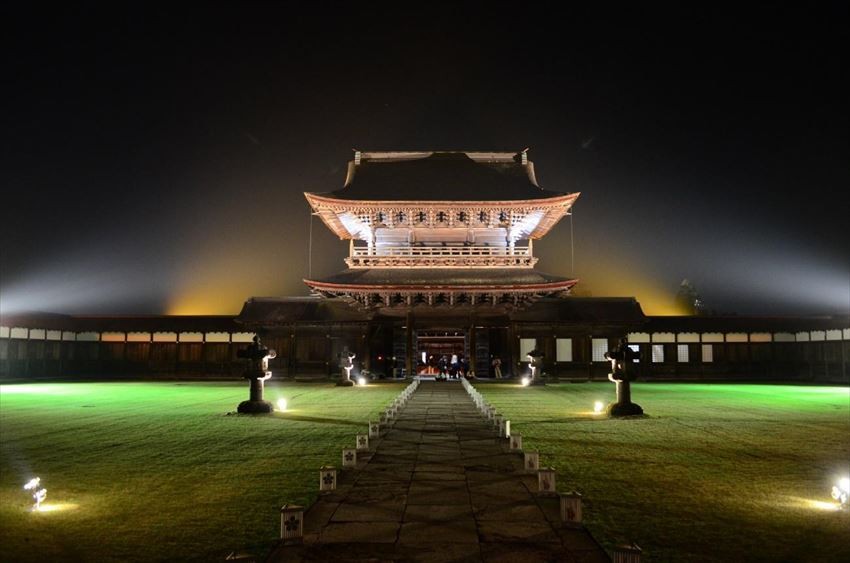 First, I'd like to show you all "Zuiryu temple" which was facilitated in the Edo era. This temple is registered as a national treasure. People visit to pray for the prosperity of their descendants as well as safety and success in school. You can experience a "Zazen" (坐禅, Zen Buddhism meditation) tour for which an appointment in advance is required. Why not try entering a tranquil state of mind and refreshing yourself? Another thing you should check before you visit here is the light show, which take place every season in a specific period. You should not miss-out on the special scenery at night at a Japanese Temple.
Spot Information
Spot name: Zuiryu-ji
ddress: 35 Sekihon-machi, Takaoka, Toyama 933-0863
Opening Hours: 09:00~16:30
Admission fee: 500 yen for adult
Access:

10 minute walk from Takaoka Station (Ainokaze Toyama Railway)
15 minute walk from JR Shin-Takaoka Station
2. The Great Buddha of Takaoka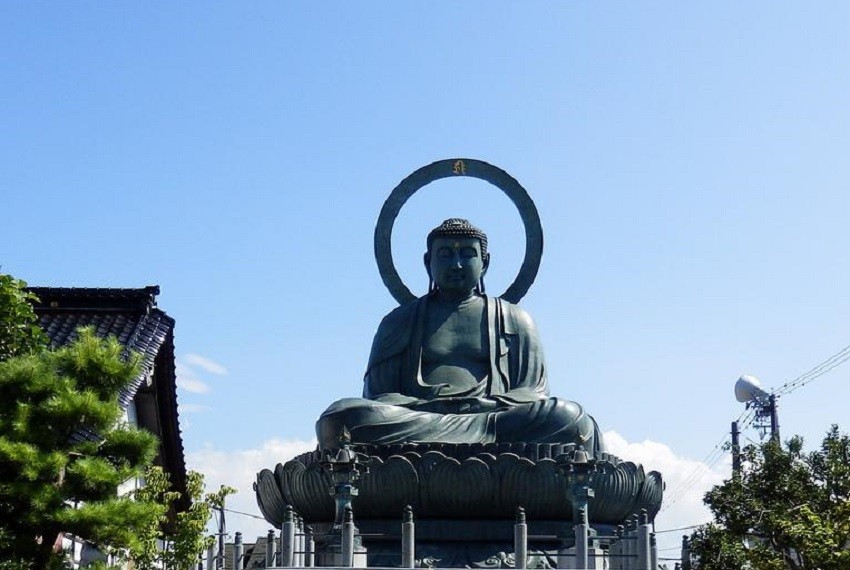 The Takaoka blond Buddha boasts 15.58 meters in height and was made in 1993. It is counted as one of the three great statues of Buddha in Japan. Near the Buddha, there is a castle remains park. Takaoka Castle was abandoned in 1615, because of the Edo era's law of one castle per province, however, the castle gardens and outer moat still remain in the park. In spring, the park is famous for cherry blossom viewing as well.

Spot Information
Spot name: The Great Buddha of Takaoka
Address: 11-29 Otemachi, Takaoka, Toyama, 933-2139
Opening Hours: 06:00 - 18:00
Access: 10 minutes walk from Ainokaze Toyama Railway Takaoka Station
3. Amaharashi Coast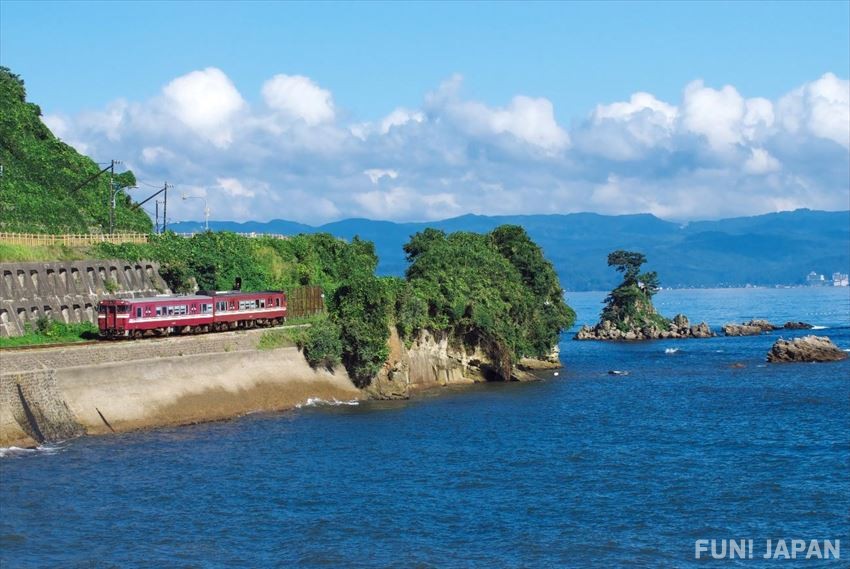 After you have walked around these attractive spots, why don't you take a rest at Amaharashi Coast. Here, you can look over sea to mountains as much as 3,000 meters high. There are many cafés and restaurants around the coast so you can enjoy your meal with the fascinating sea view! Since Takaoka city is a seaside town, the pride of the city is the harvest from the sea, so ensure you try some seafood whilst looking out into the ocean.

Spot Information
Spot name: Amaharashi Coast
Address: Ota Amaharashi Takaoka City, Toyama Prefecture
Access: 5 minutes walk from Amaharashi station of JR Himi line 
4. 

The Doraemon tram '

Manyo line' running 

in Takaoka city

The 'Manyo' tramcar is also named the "Doraemon Tram" because it is decorated with Doraemon artwork inside and outside the car. It is very famous for Doraemon fans and please do not miss out on the the Fujiko・F・Fujio Hometown Gallery in Takaoka City. In addition, the announcements of the tramcar is voiced by Rakugo-ka (a traditional Japanese comic storyteller) on every weekend, so do enjoy the experience in a traditional manner also.
Spot Information
Name: Manyo Line (Takaoka Station)
Address: 68 Ogino Kawa Nishi, 6 Shimozekimachi, Takaoka, Toyama Prefecture
5. The Traditional Street in Takaoka : Yamachosuji and Kanaya-Machi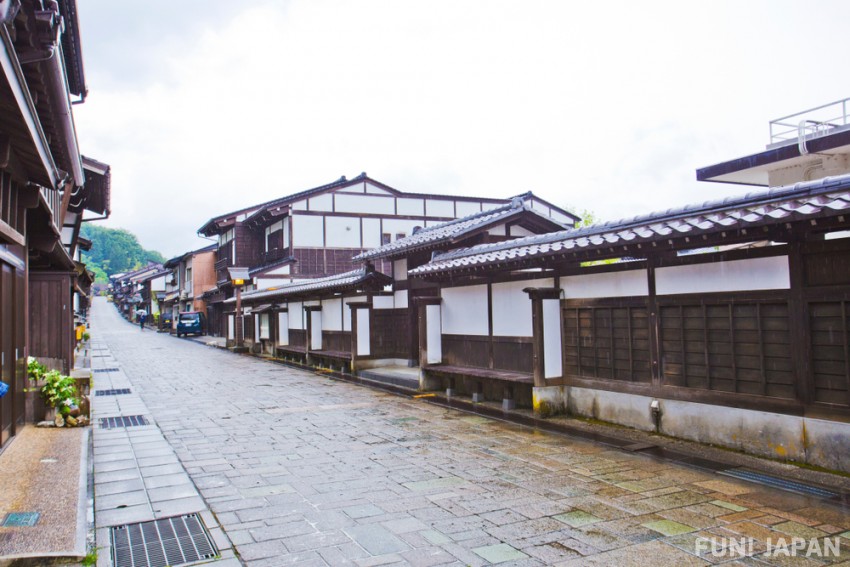 There are two famous old streets lined with traditional storehouses and latticed houses built around 400 years ago. Both of them have been designated as an area of Important for the Preservation District of Historic Buildings. You can enjoy the unique ambiance of the traditional Japanese culture when you're walking through the old street.

Spot Information
Name: Yamachosuji
Address: Takaoka, Toyama Prefecture Kanaya-Machi
Access: 10 minutes walk from JR Takaoka
Name: Kanaya-Machi
Address: Kanayama-machi Honcho, Takaoka, Toyama Prefecture
Access: 20 minutes walk from JR Takaoka 
Seafood Recommendations in Takaoka City


Masuzushi (Trout sushi) and Kamaboko (boiled fish paste) with a sweet flavor of fish are the specialties of Toyama. Masuzushi has a history of more than 200 years and the taste is different between the restaurants dotted around Toyama Prefecture. Please have a try when you visit Tokaoka city.

[Survey] Traveling to Japan
Recommend