【Work & Life in Japan Vol. 3】Published graphs of changes in the number of foreign workers in Japan!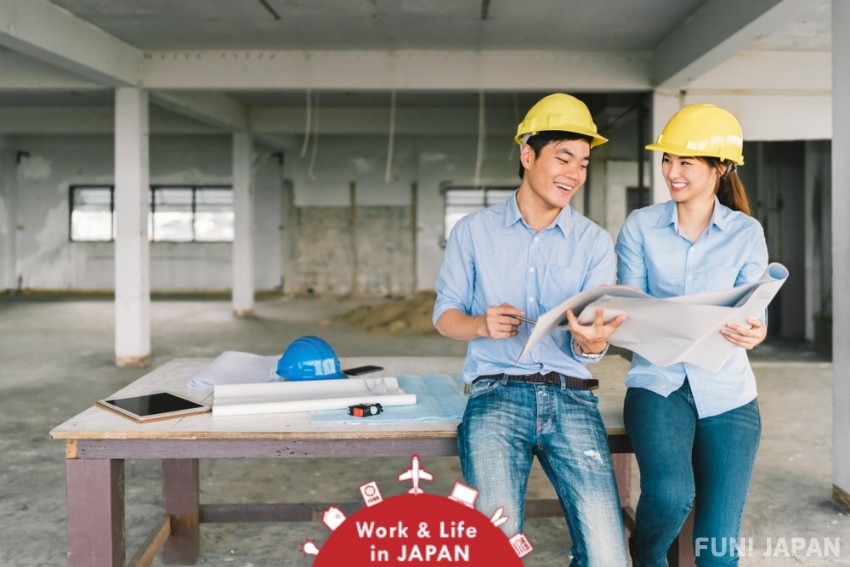 Lately, have you noticed something when you are traveling in Japan? Most of the staff at convenience stores and restaurants are foreigners. A conservative Japanese society is gradually forced to rely on the workforce of foreigners. This is the most prominent change in Japanese workplaces these days. Last time, the editorial department of FUN! JAPAN introduced everyone to the number of foreigners in Japan and the methods of how foreigners move to Japan. This time, let's talk about foreigners working in Japan while looking at the graphs showing changes in the number of workers by country, qualification, and industry.

Changes in the Number of Foreign Workers in Japan in Recent Years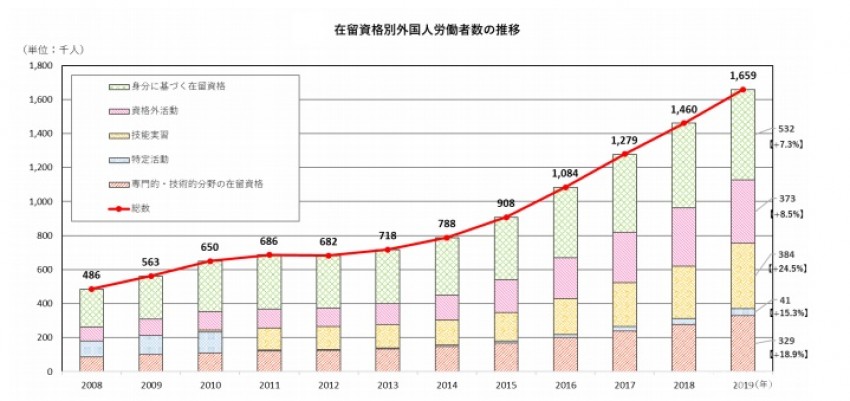 According to the "Foreign Employment Status" announced by the Japanese Ministry of Health, Labor and Welfare, as of the end of October 2019, the number of foreigners working in Japan increased by 13.6% from the previous year to about 1.66 million, the highest record for the past seven consecutive years. In recent years, the Japanese government has been actively accepting highly-skilled foreign human resources, the acceptance of technical intern trainees through the utilization of the technical internship systems, and the employment situation has been steadily improving. It is said that the number of foreign workers is continuing to increase due to the fact that those who have a residence status such as "permanent resident" and "Japanese spouse" are leaning toward working more and more.

Percentage of foreign workers by nationality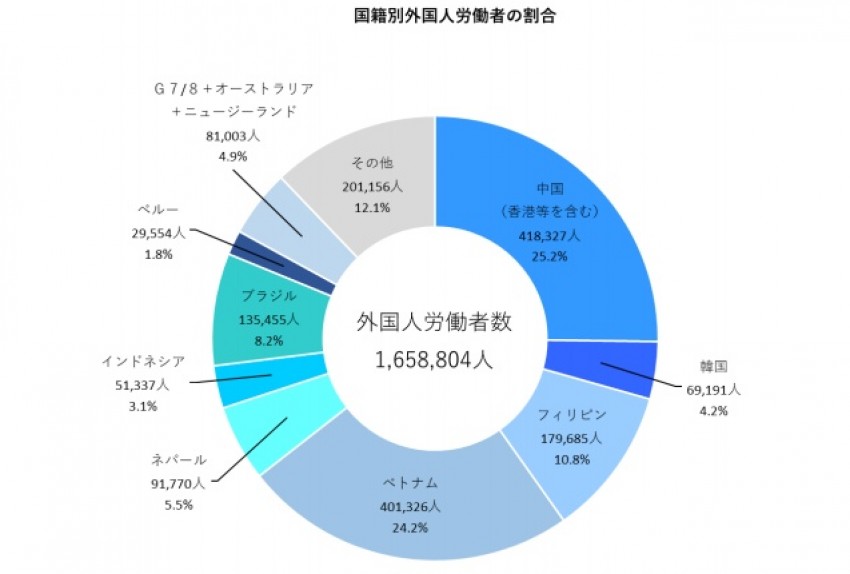 By nationality, China has 418,327 workers, accounting for 25.2% of the total. Next, Vietnam has 401,326 workers, accounting for 24.2% of the total. The top two countries alone exceeded 800,000, accounting for almost half. This is followed by about 180,000 from the Philippines and about 135,000 from Brazil. The top three countries with the highest year-on-year growth rate were Vietnam with an increase of 26.7%, Indonesia with 23.4% and Nepal with 12.5%.

Percentage of foreign workers by status of residence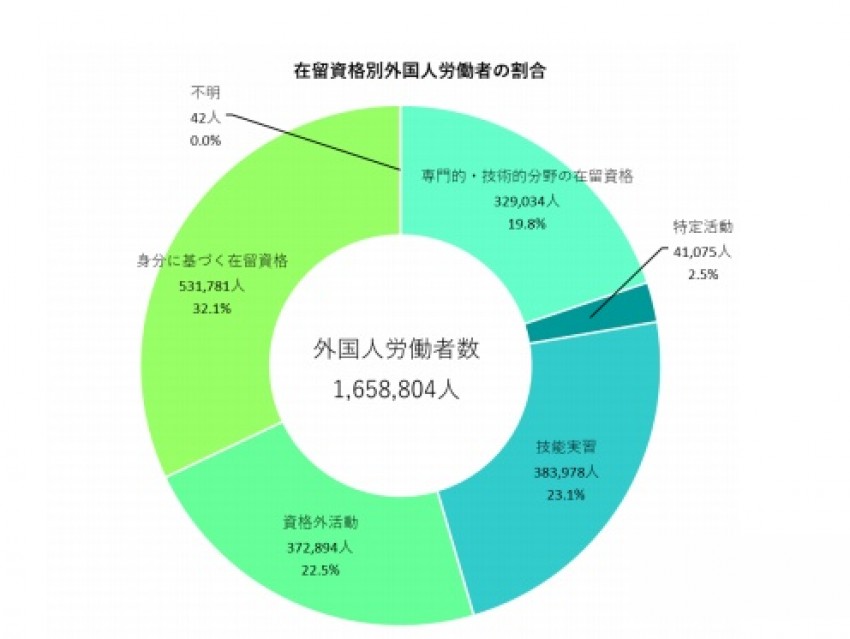 By status of residence, long-term residents holding "Residential status by family-related status and permanent resident" such as permanent residents, spouse or child of Japanese nationals, spouse or child of permanent residents, etc. account for 32.1% of the total number of foreign workers, and then "Technical Intern Training" was 23.1%, "Activities outside the qualifications" was 22.5%, and "Residential status in professional / technical fields*" was 19.8%. Among them, "Technical intern training" increased by 24.5% from the same period of the previous year, and "Residential status in professional / technical fields" also increased by 18.9% from the same period of the previous year.
*Residential status in professional / technical fields include "Professor", "Artist", "Religious Activities", "Journalist", "Highly Skilled Professionals 1 & 2", "Business Manager", and "Legal / Accounting Services". "Business", "Medical Services", "Researcher", "Instructor", "Engineer / Specialist in Humanities / Int'l Services", "Intra-Company Transferee", "Entertainer", "Care Worker", "Skilled Labor", "Designated Labor" .
Number of foreign workers by industry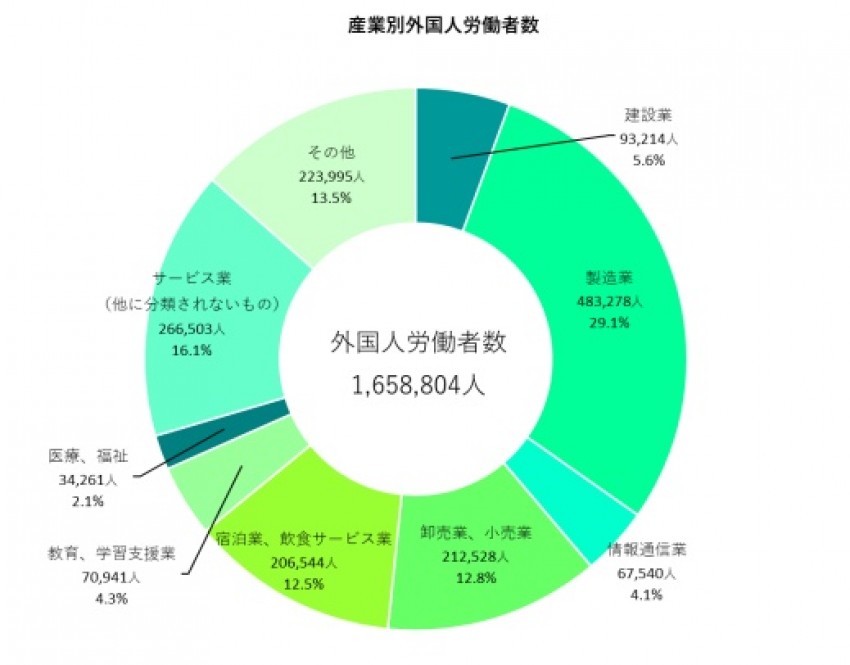 Lastly, if we look at the employment destinations of foreigners by industry, "Manufacturing Industry" was the most common with 483,000 people, accounting for 29.1% of the total, "Wholesale and Retail Trade" for 12.8%, and Accommodation Industry and Food Service Industry was as high as 12.5%.
The 3-hazard workplace (dangerous, dirty, harsh) where Japanese people prefer smokers over non-smokers is currently suffering from a labor shortage. Therefore, with such a high earning income, many foreigners have moved away from their home countries to work in these jobs in Japan. On the other hand, there are also people who like Japan and longed for it, and came to Japan with the fantasy of living in Japan. Next time, the FUN! JAPAN editorial department has made a survey asking the people living in Japan, and we will explain how they started learning Japanese and when have they became interested in Japan.

Related Articles
[Survey] Traveling to Japan