【Work & Life in Japan Vol.1】The figures of foreigners whose presence in Japanese society is increasing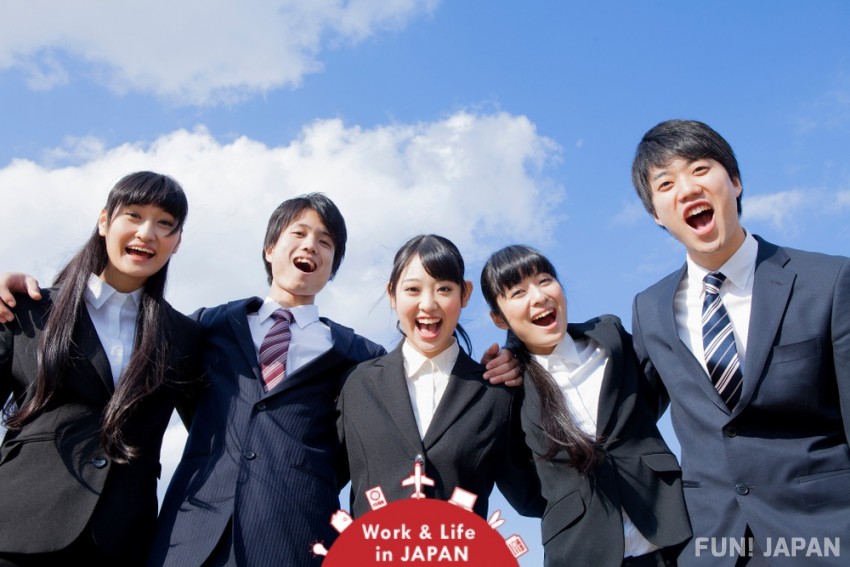 In the era where the world is becoming a global village, more and more people are leaving their own countries to broaden their horizons in foreign lands. As a result, exchanges between countries have become more active around the world. Some people, other than English-speaking countries, chose Japan. Have you ever wondered what kind of attraction Japan has in the eye of the foreigners? What made them choose Japan? What is it like to actually live and work in Japan? From now on, the FUN! JAPAN editorial department will analyze various perspectives and try to unveil "Japan" for you. Now, let's first look at how many foreigners there are in Japan.

Changes in foreign residents during recent years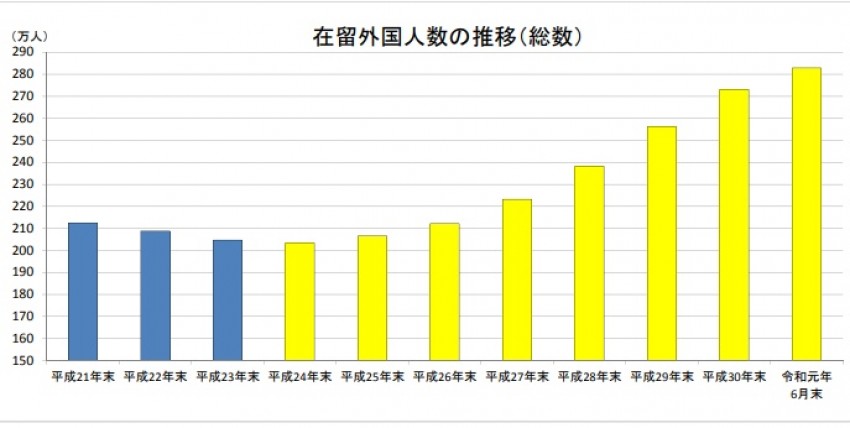 According to statistics released in October 2019 by the Immigration Bureau in the Ministry of Justice, the number of foreign residents at the end of June 2019 was approximately 2.83 million. It accounts for about 2.24% of the total population of Japan (about 126 million people). The total population of Japan is expected to decrease, and there are also issues of declining birthrates and an aging population. Among them, the number of foreign residents has increased for eight consecutive years, and the presence of foreigners in Japanese society is rising.

About foreign residents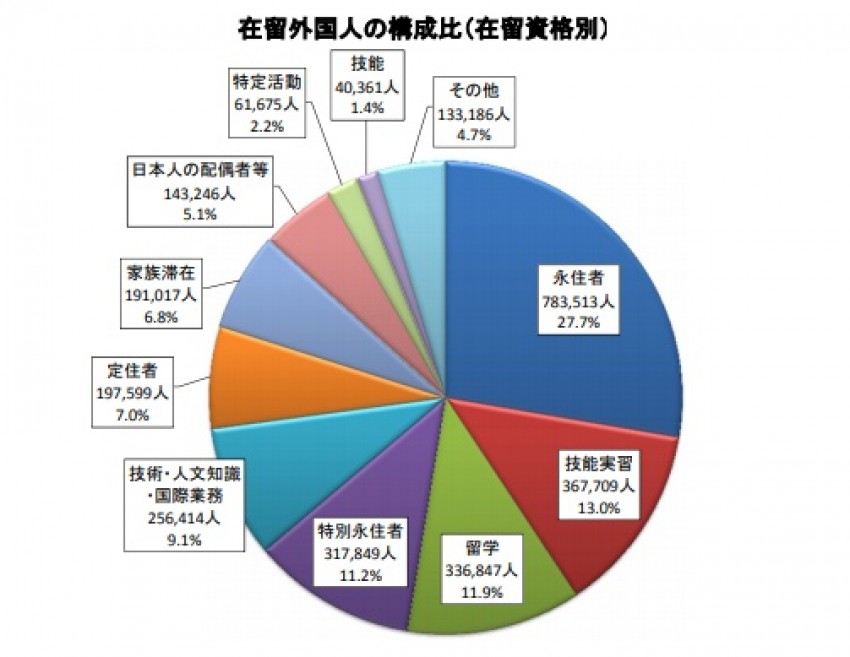 A foreign resident refers to a special permanent resident or a medium- to long-term resident. Furthermore, if we briefly distinguish middle- and long-term residents by the qualifications, there are permanent residents, study abroad, working, management, spouse, technical intern training, and many more. Among them, the number of permanent residents was the highest at about 780,000, followed by technical intern training at about 370,000 and study abroad at about 340,000. In addition, the number of foreigners entering and staying in Japan for the purpose of working holidays is increasing yearly, mainly among young people. However, only young people from countries and regions that have an agreement with Japan can apply. To do these activities, you need a visa for "specific activities", which is one of the breakdowns of medium- to long-term residents. (Information as of the end of June 2019)

Composition of foreign residents by nationality and region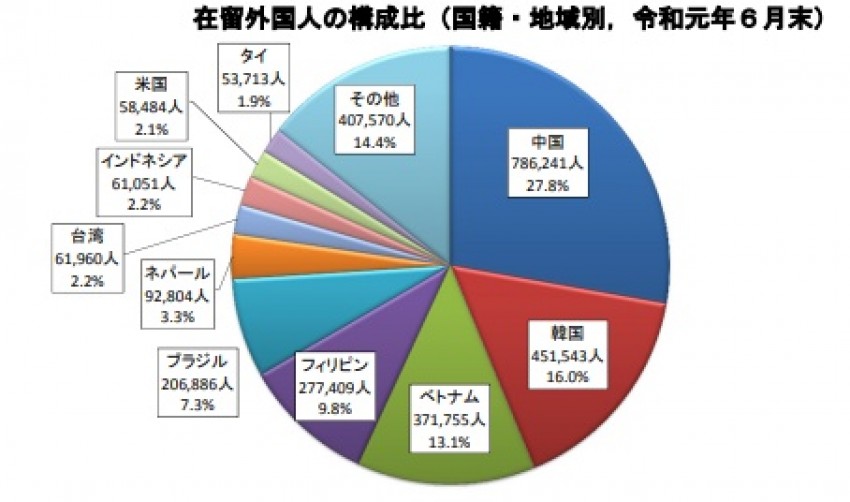 If observed by nationality and region, China was the largest with approximately 790,000, accounting for 27.8% of the total foreign residents. About 450,000 people are from Korea, followed by 370,000 people from Vietnam. Vietnam had the highest growth rate at 12.4%. In addition, the numbers of people from Taiwan and Indonesia are about the same, with 60,000 people respectively, and Thailand has about 50,000 people. (Information as of the end of June 2019)

Where do foreign residents live?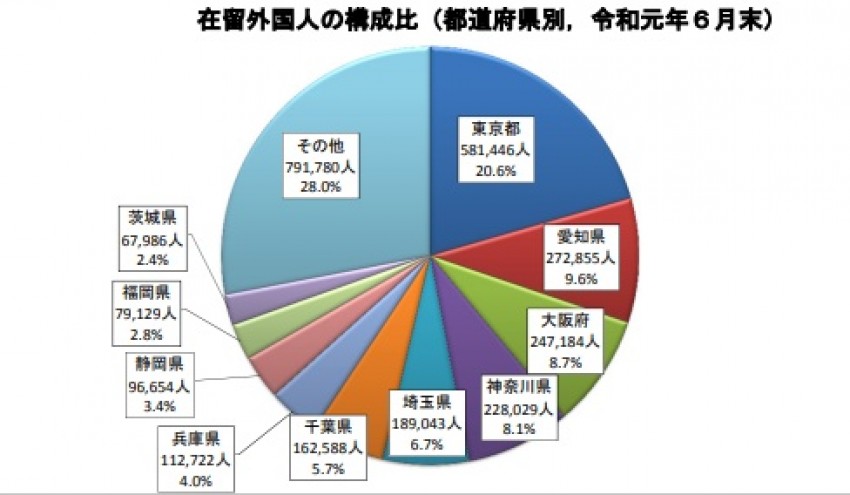 If observed by prefecture, the largest proportion of foreign residents are living in Tokyo, accounting for 20.6% of the total. Aichi prefecture had 9.6% and Osaka prefecture had 8.7%. Tokyo, Kanagawa, Saitama, Chiba, and Ibaraki prefectures, which together account for about 50% of the total number of Kanto regions. (Information as of June 30, 2019). Large cities tend to have high densities.

What do you think as you see these numbers? There are more foreigners in Japan than you expected? Do you want to know their purposes for living in Japan? Please look forward to seeing how and in which way the foreign residents stay and live in Japan.

[Survey] Traveling to Japan