Where is the Famous Cherry Blossom Spot in Japan? Kitakami in Iwate!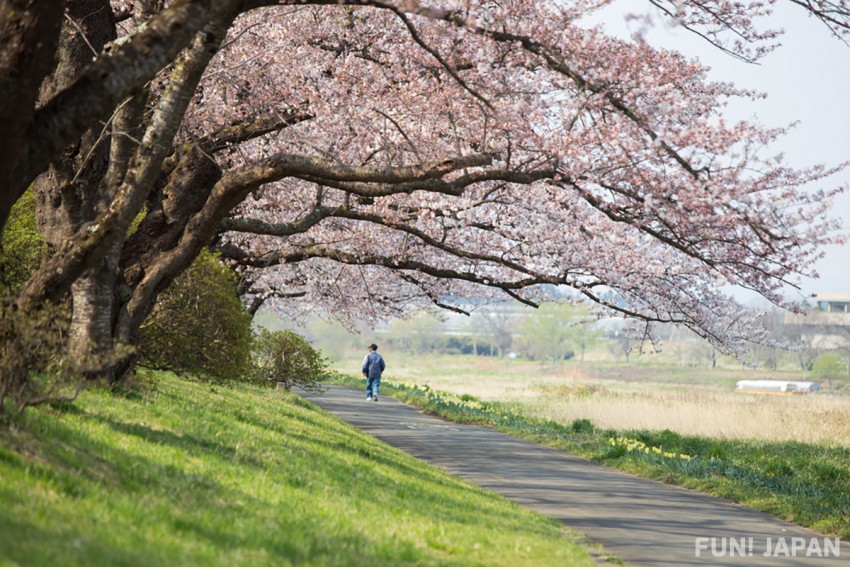 Kitakami which located in Iwate Prefecture in the Tohoku region of Japan is a city rich in nature. There are abundant natural scenic spots such as Waga no Matsushima with beautiful autumn leaves reflected in the exposed strata and lakes, and Kitakami Tenshochi, a famous cherry blossom spot. In addition to nature, you can also enjoy a folk performing art called Onikenbai and cultural appreciation at Michinoku Folkrore Village.
About Kitakami City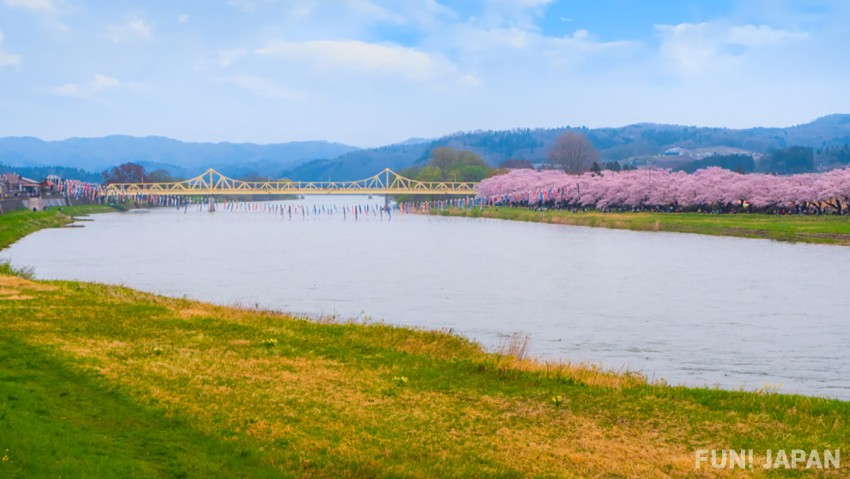 Kitakami City is located in the center of the Kitakami Plain between the mountains of the west and the east. The Kitakami Plain has the Kitakami River and the Waga River, and with its fields, you can see beautiful nature.
Annual Weather and Tourist Season of Kitakami
Kitakami city is considered as the top snowfall area in the prefecture, and there is a lot of snowfall in winter. The average annual temperature is 11-12 °C, which is relatively cool.

Considering avoiding snowfall, the best season for sightseeing in Kitakami is from spring to autumn. However, once a month, there is an event where you can appreciate the folk performing arts called Onikenbai. You should definitely visit during this event.
Highlights and Things to do at Kitakami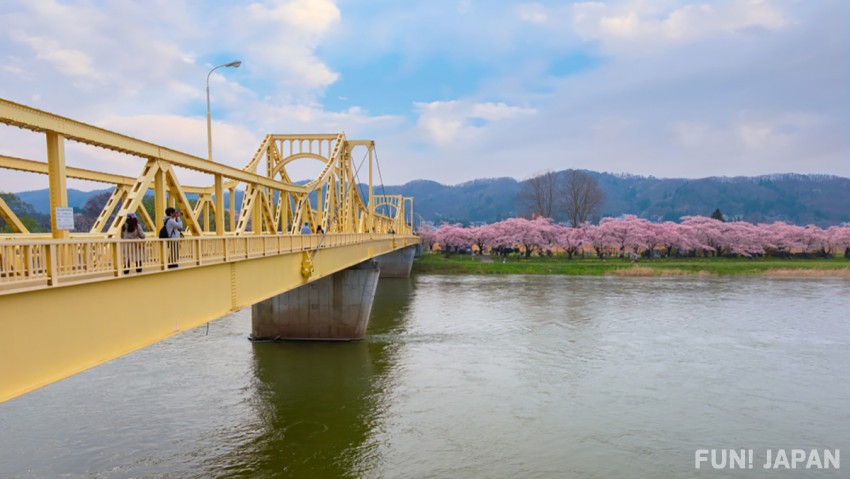 Kitakami City has various attractions from natural scenery to cultural facilities and events. Here are some of the spots that we recommend.

Natural Scenery such as Matsushima of Waga and Ubasugi of Sennin-toge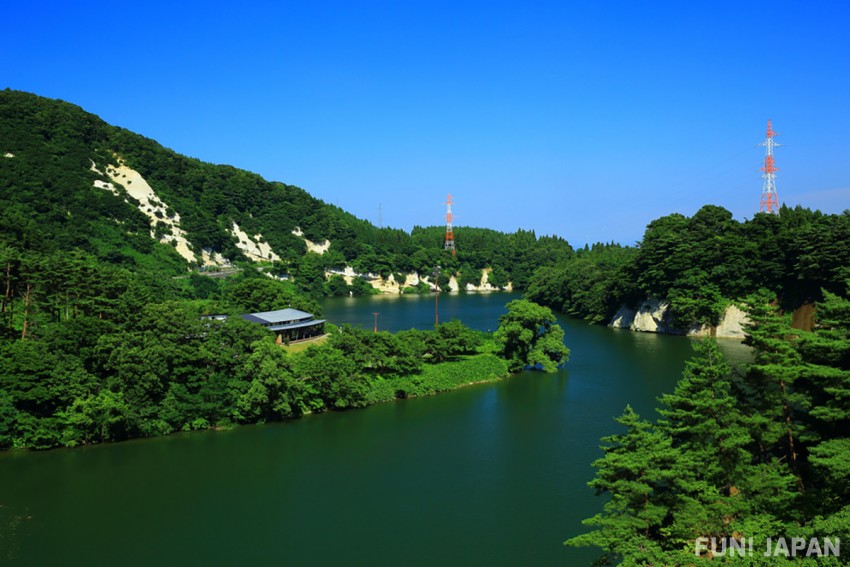 Kitakami City has many spots where you can see the natural scenery. For example, in Matsushima of Waga, you can see a beautiful lake, and if you visit in autumn, you can appreciate the autumn leaves of the trees around the lake. This scene is called Waga no Matsushima because it is reminiscent of the islands seen from Matsushima in Miyagi Prefecture, one of the three most beautiful views of Japan, and the spectacular view of the coast.

Ubasugi of Sennin-toge is a large cedar tree that is said to be over 900 years old. You will be overwhelmed by it, being about 30 meters in height and 11.5 meters in circumference at the base. In addition, it has been designated as a natural monument in Kitakami City, and has been selected as one of the Forestry Agency's 100 Forest Giants.
Cultural Facilities such as Michinoku Folkrore Village and Oni no Yakata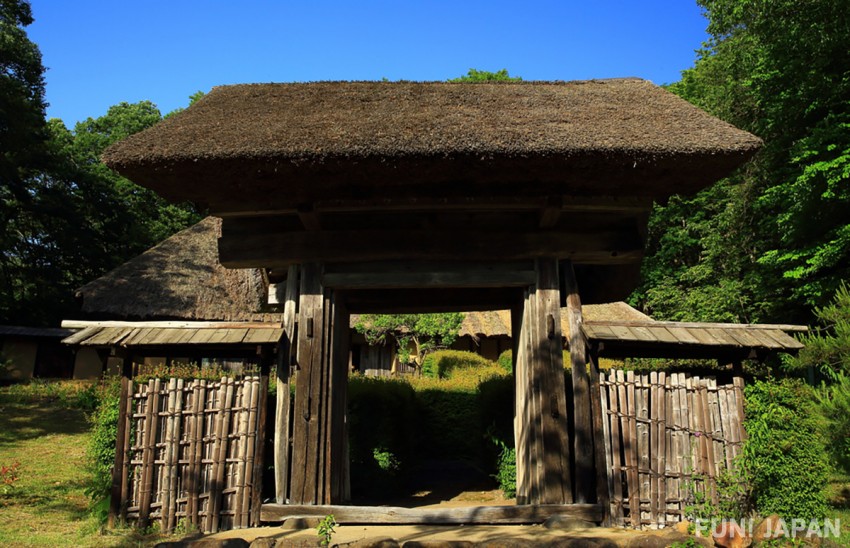 When coming to Kitakami City, you should visit various cultural facilities. For example, in the Michinoku Folkrore Village, you can appreciate the Kayabuki private house and girls' school building on about 7 hectares of land. This is a precious spot where you can get a glimpse of how you lived and looked about 100 years ago.

You can learn about Oni (a kind of ogre or troll in Japanese folklore) at Oni no Yakata from biographies and pictures from all over Japan.
Kitakami Michinoku Geino Festival and Kitakami Tenshochi Cherry Blossom Festival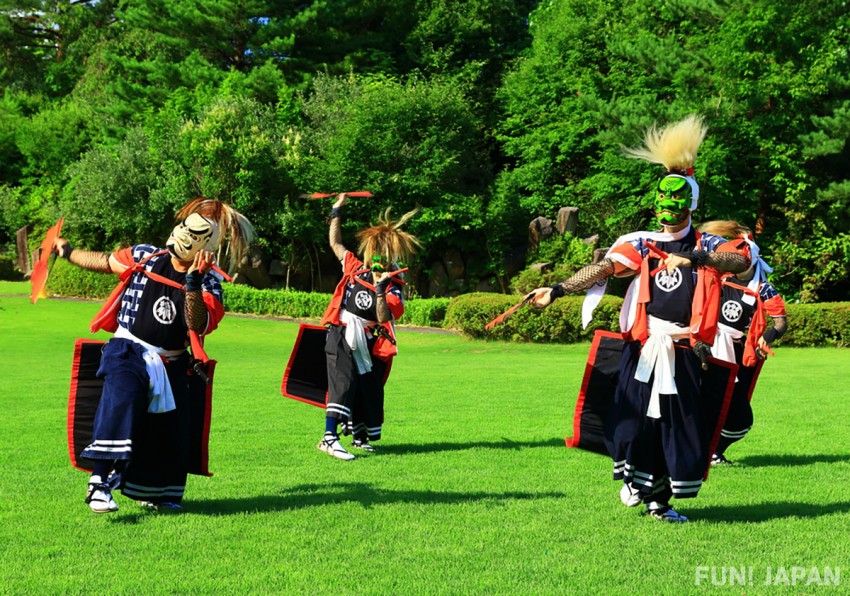 There are many large and attractive events in the north. Among them, Kitakami Michinoku Geino Festival and Kitakami Tenshochi Cherry Blossom Festival are recommended.

The Kitakami Michinoku Geino Festival has over 100 folk performing arts. It is a powerful event that has performances in various places over the course of three days. In particular, you can't miss the Onikenbai dance. The scene where 200 dancers dance in front of a bonfire is a masterpiece.
The Kitakami Tenshochi Cherry Blossom Festival is a festival where you can see cherry blossoms from mid-April to early May. Kitakami Tenshochi is one of the most famous cherry blossom spots in Tohoku and is called "100 famous cherry blossom spots" and "Michinoku three major cherry blossom spots". We want you to remember the beauty of the cherry blossoms as you walk along the road surrounded by around 150 different cherry trees, about 10,000 in the park.
Foods and Restaurants of Kitakami
In Kitakami, Kitakami croquette is famous. It uses white lily pork, which is Japanese black beef and pigs raised in Kitakami city, rich in vitamin B1.

Kitakami croquette is offered at many restaurants in the city. It is especially prominent around JR Kitakami Station and the Aoyagicho area.
Hotels and Ryokan of Kitayama
Accommodations in Kitakami vary depending on the city area, south area, and hot spring area.
First of all, the city area is centered on JR Kitakami Station. There are many hotels in this area. There are inns at around 4,000 yen per night, so check the city area if you want to keep the price down.
The south area is located on the south side of JR Kitakami Station. There are few inns, but the average price is about 5,000 yen or less.
The hot spring area is located in the southwestern part of Kitakami city. In particular, there are many hot spring ryokan in Wagacho. The room rate for hot spring ryokan is about 6,000 to 10,000 yen per night. (As of October 2019)
How to Get to Kitakami from Tokyo
If you are heading from Tokyo to Kitakami, aim for JR Kitakami Station on the Tohoku Shinkansen from JR Tokyo Station. The journey takes about 2 hours and 30 minutes. You can take a bus or train from JR Haneda Airport or Narita Airport to JR Tokyo Station.
Spot information
Spot name: Kitakami (JR Kitakami Station)



Street address: 1-1 Odori, Kitakami-shi, Iwate 024-0061
Access: Tokyo Station → [JR Tohoku Shinkansen] About 2 hours 30 minutes → Kitakami Station
Wi-Fi: Unavailable
Language: English, Chinese, Korean
Credit cards: No credit cards accepted
[Survey] Traveling to Japan