Enjoy a Exciting Boat Ride in Iwate Prefecture's Geibikei Gorge!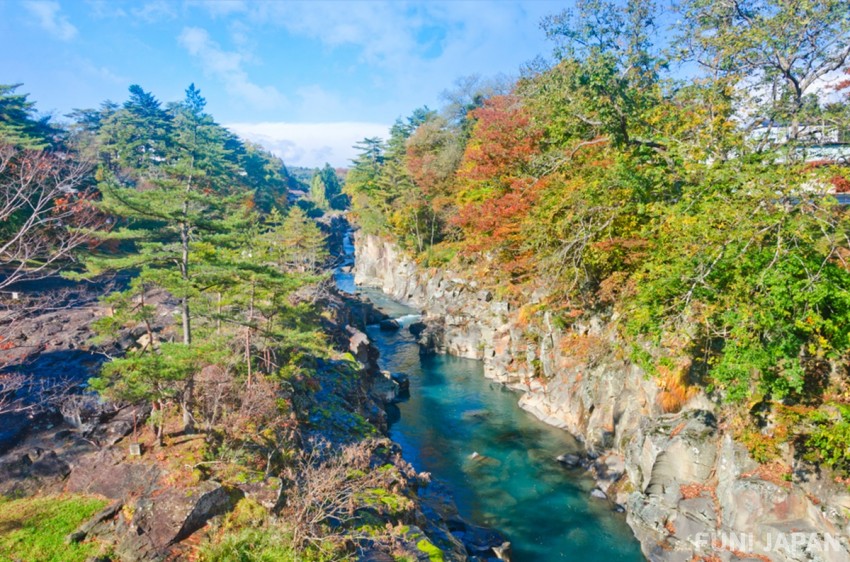 Geibikei Gorge in Iwate Prefecture, Japan, is a valley that stretches about 2km and was formed by erosion of the limestone by the Satetsu River. You can see various strangely shaped rocks in the high cliffs. We also recommend enjoying the beautiful scenery of each individual season. The best time to see the purple wisteria flowers on the cliffs is in spring. Why don't you take a boat and enjoy the scenery of the Geibikei Gorge?

Geibikei Gorge in Iwate Prefecture, Japan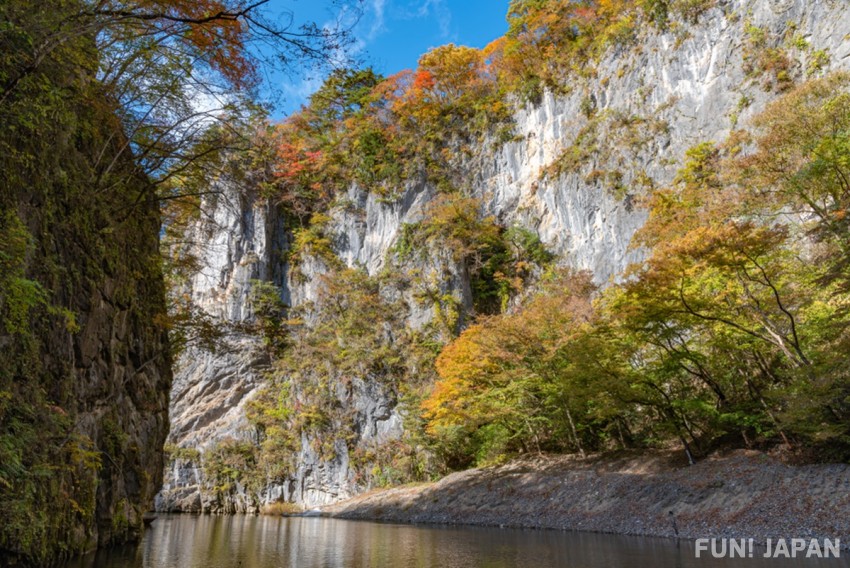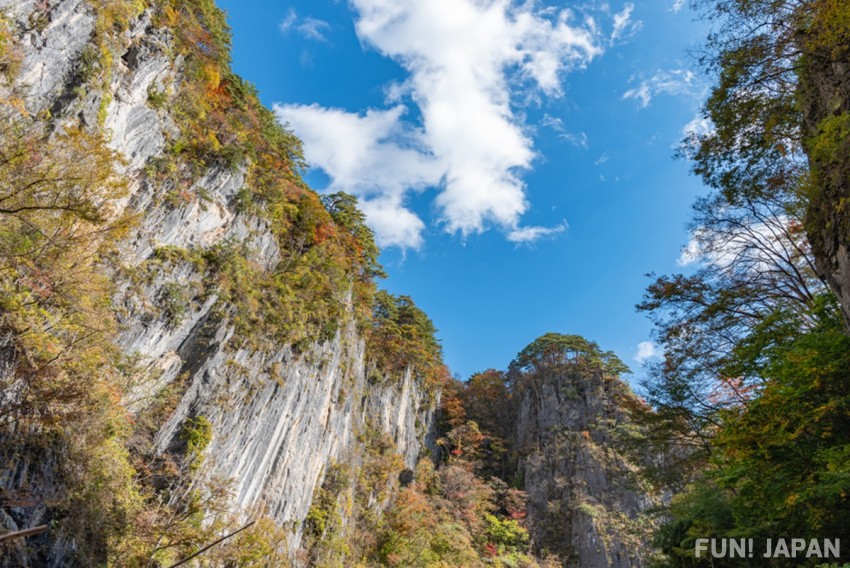 Geibikei Gorge is a valley in Iwate Prefecture, Japan. Located along the Sasetsu River, a tributary of the Kitakami River, the limestone cliffs are more than 50m high, and continue for about 2 km. Geibikei Gorge was once pretty unknown, but Sato Geigan, who was born and raised locally, invested with his father in building up the tourist areas. The name of Geibikei was chosen by the distinguished tourism developer, Sato Geigan, and local volunteers.

Highlights of Geibikei Gorge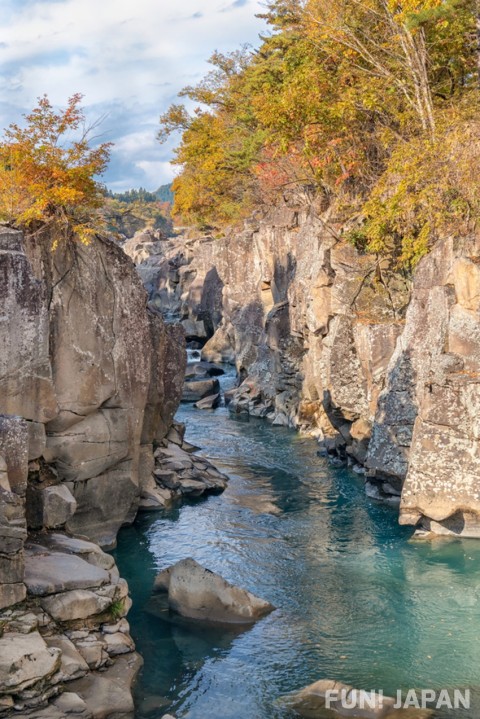 You can see various interesting rocks in the valley that was created by the power of nature alone. You can also enjoy the beautiful scenery of the seasons along with the powerful scenery of the rocks themselves. From April to May, fresh greenery and wisteria flowers color the landscape. The contrast between the bright flowers blooming on the wisteria trellis and the fresh greenery is awesome. In autumn, there are colorful autumn leaves, and in winter, the snowy atmosphere surrounds you. In addition, you can enjoy a cruise where the boatman skillfully steers the boat with a single pole on a tour through the valley. The boatman sings traditional songs as he propels you down the river, which is an interesting and unique experience.

Geibikei Gorge Boat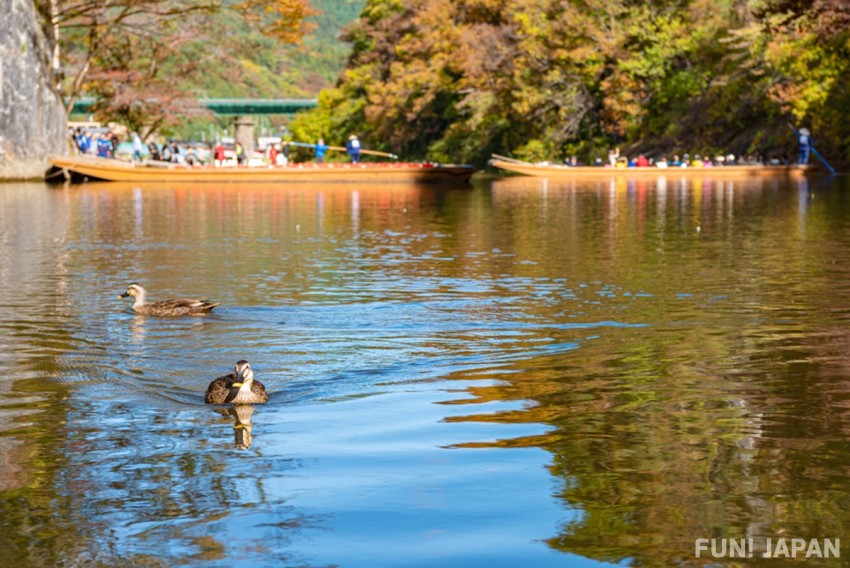 In order to enjoy the beautiful scenery of the Geibikei Gorge, we recommend using the gorge boat, on which you can enjoy a 90-minute boat trip. Seasonal events are held throughout the year, and there is also a course where you can dine at a Kotatsu (a traditional Japanese table with a heater under a blanket attached to the table) on the boat ride in winter.

Usage Guide for the Geibikei Gorge Boat
The boats run regularly 8 to 11 times a day at hourly intervals. General charges are 1,800 yen for adults, 900 yen for children, and 200 yen for preschoolers. It is a round trip only service. Rides are available without reservation (reservation required for more than 15 people). No regular holidays (may be canceled during stormy weather).

How to Get to Geibikei Gorge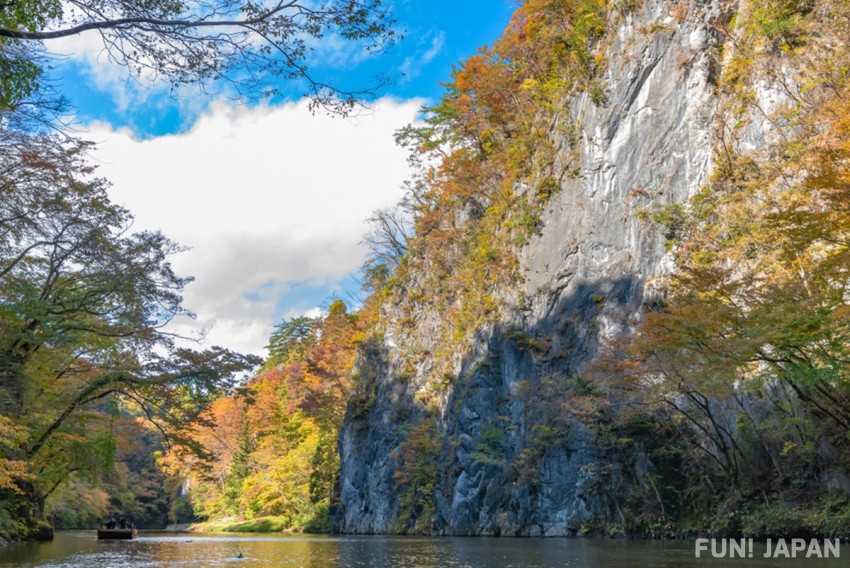 To get to Geibikei Gorge from within Tokyo, take the Shinkansen from Tokyo Station (about 2 hours) and get off at Ichinoseki Station. Transfer to JR at Ichinoseki Station (about 30 minutes). Get off at Geibikei Station and walk 5 minutes.
Spot Information
Spot name: Geibikei Gorge (猊鼻渓)
Street Address: 67 Machi, Nagasaka, Higashiyama-cho, Ichinoseki-shi, Iwate
Access: Tokyo Station → [Shinkansen] approx. 2 hours → Ichinoseki Station → [JR] approx. 30 min. → Geibikei Station... about a 5 minute walk
Wi-Fi: Unavailable
Language: Japanese only
Ticket: At ticket window
Credit cards: No credit cards accepted
[Survey] Traveling to Japan