Sado Island: the largest Island in the Sea of Japan
Sado Island is located about 45km west of Niigata city. The island has numerous attractions such as mountain scenery and seascapes, historical villages, temples and shrines.
In addition, thanks to its natural environment, there is an abundance of special products such as rice, fruit and seafood.
Sado Island overview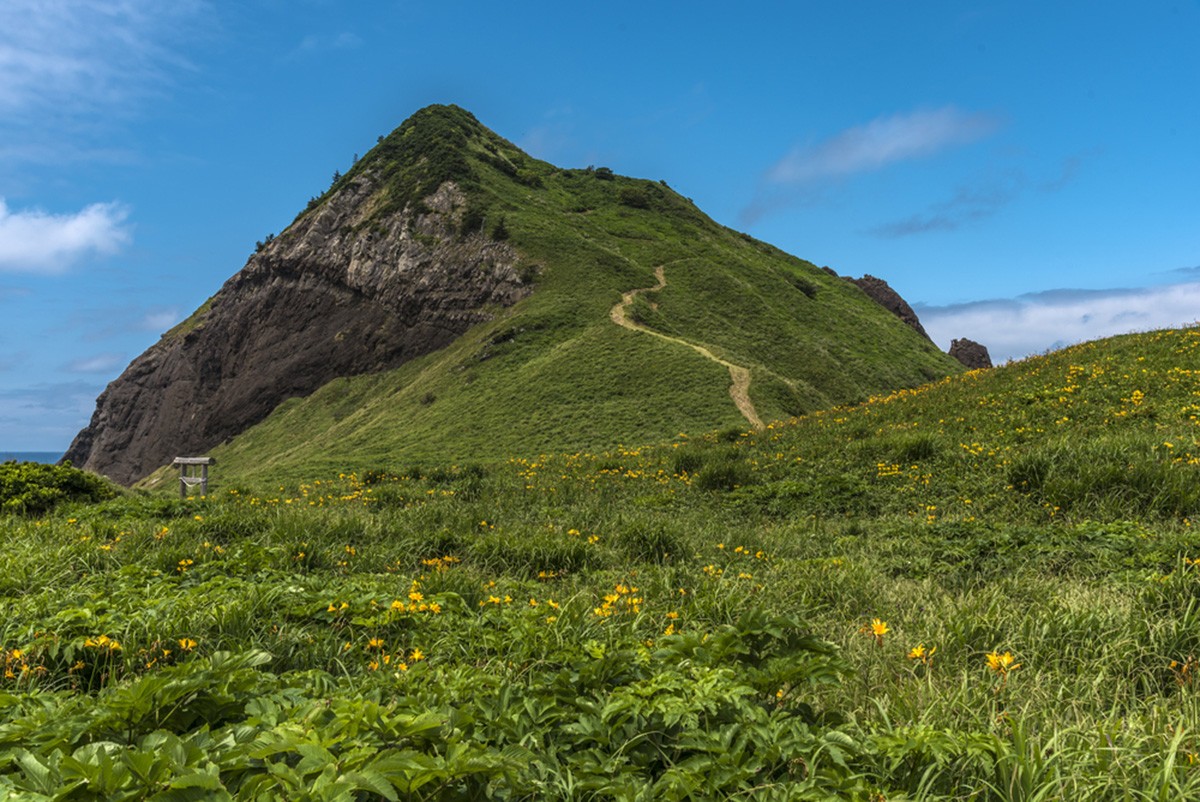 Sado Island is part of Niigata Prefecture and is a large island with a circumference of about 280km. It is shaped like the letter S. The Osado Mountains in the north and the Kosado Mountains in the south run roughly parallel, with a plain in between.
Sado Island has also long been known as "Kin no shima" ("the Golden Island"), a reference to its history of prosperous gold and silver mines.
Sado Island's Weather
Sado Island has a warm climate with an average temperature of about 25℃ in summer. In winter, it is relatively cold with an average temperature of about 5°C and but little snow. Winter is off season as there are shortened business hours and many tourist facilities and restaurants are closed. The best season for sightseeing is from spring to autumn.

What to do in Sado Island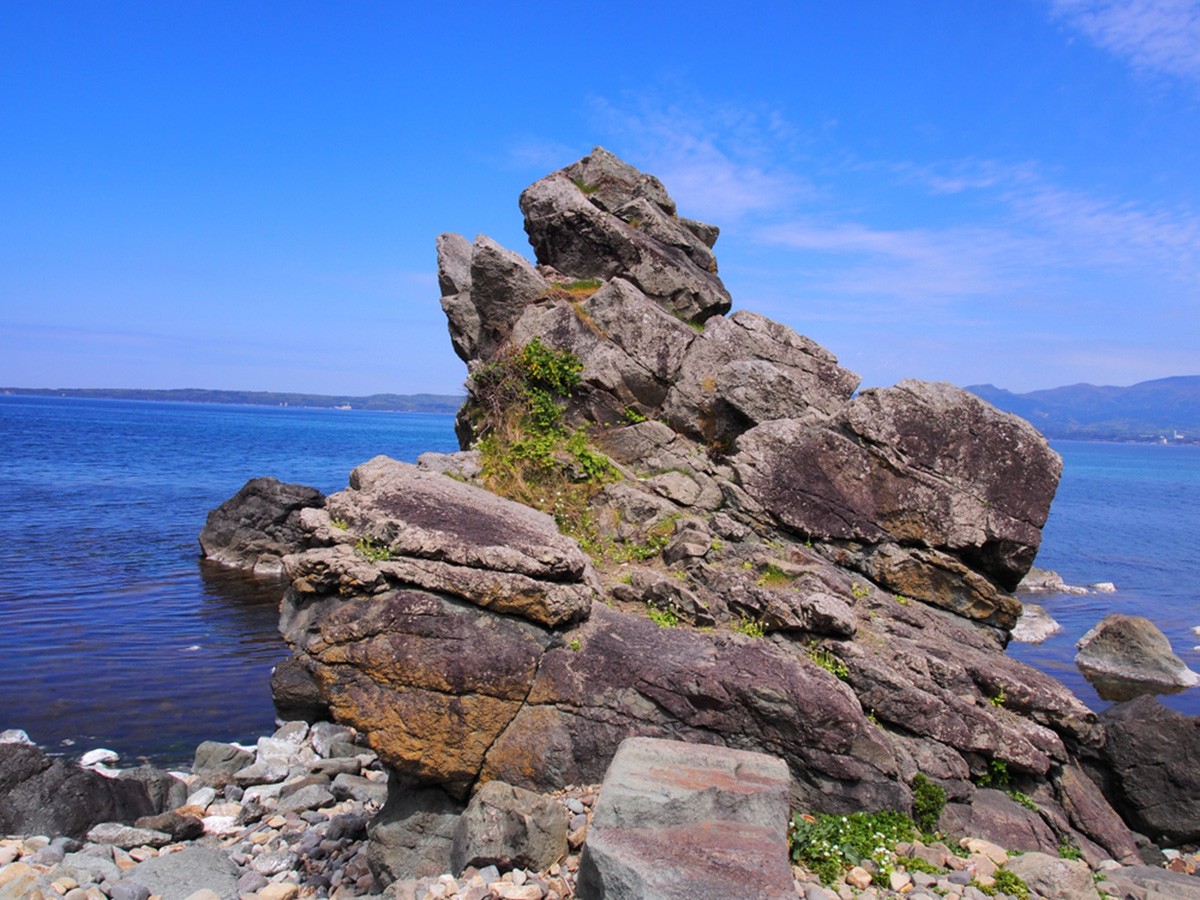 The touristic part of Sado Island is divided into four areas: Aikawa, Ryotsu, Kuninaka Maehama, and Minami Sado. Here is a brief rundown of the attractions and recommended sightseeing spots in each area.

Sado Kinzan and Senkakuwan Area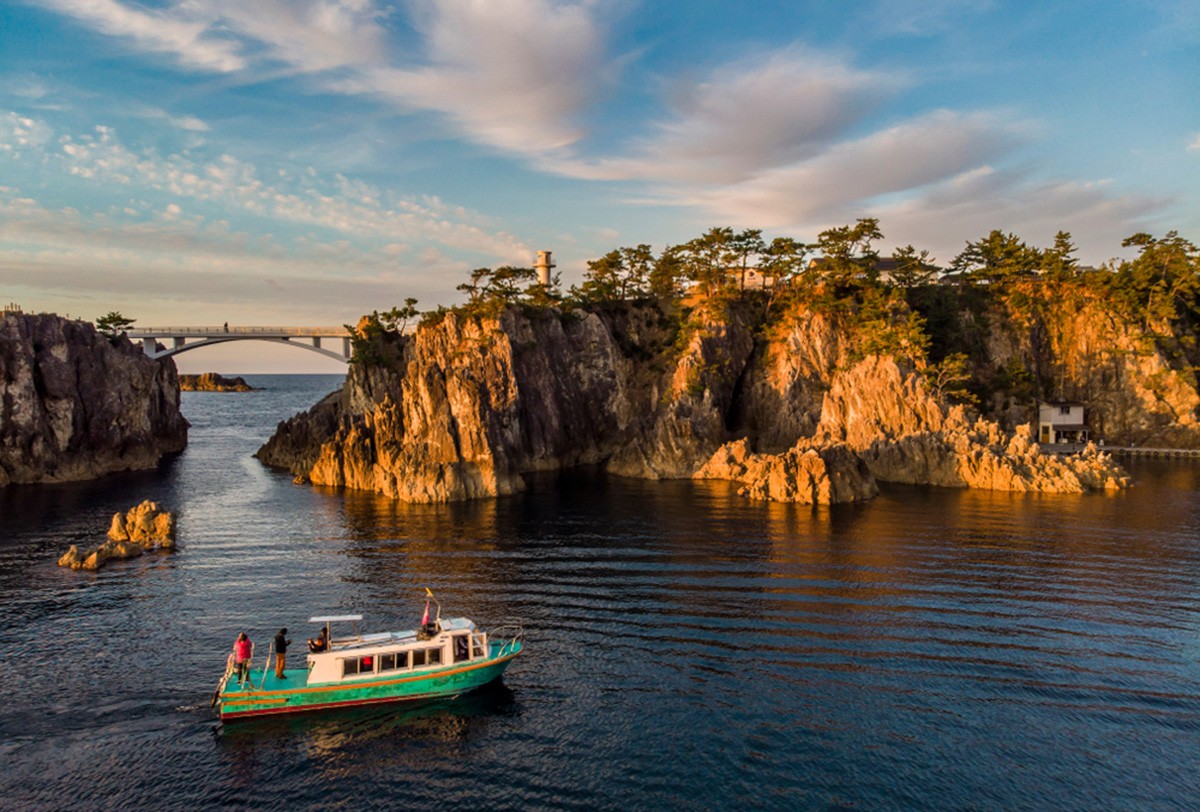 Sado Island's Aikawa area where tourist attractions such as Sado Kinzan and Senkakuwan are located.
In the Aikawa area, there are many tourist attractions such as Sado Kanayama, the ruins of Japan's large gold and silver mine, and scenic beaches such as Senkaku Bay and Nagata Misaki.
Sado Kanayama in particular, is a must-see. There are many historic sites such as mine tracks, mining facilities, and smelting facilities.
Senkaku Bay is one of the best scenic spots in Sado. The magnificent landscape that stretches for about 3km is dominated by the steep and rocky cliff about 30m high. The views can be enjoyed from an observation deck or pleasure boat.
Kamoko and Onokame Area
The Ryotsu area is rich in beautiful natural scenery such as lakes, mountains and the sea.
Lake Kamo is the largest lake in Niigata Prefecture. The beauty of the vast lake surface set against the background of a magnificent mountain range is stunning. The lake is also famous for oyster farming in its brackish waters.
Onokame ("kame" means turtle or tortoise) is a rocky monolith of imposing scale said to look like a turtle that rises about 167m from the Sea of Japan. It is home to a colony of wild Tobishima kanzo (Amur daylily), and the scenery when the yellow flowers bloom from late May to early June, is stunning. The Sado Kanzo Festival is held on the 2nd Sunday of June each year.
Toki no Mori park Sado island
 In the Kuninaka Maehama area, there are several spots unique to Sado, such as the Sado Museum, which introduces the history, folklore, and crafts of the island, and Myosenji. The temple has the only five-storied pagoda in Niigata Prefecture.
Among them, Toki no Mori Park is a popular spot where you can enjoy watching the rare Toki (crested ibis) up close. There are several facilities on the site. For example, "Toki Fureai Plaza" has a cage that simulates the natural environment and you can freely observe a variety of live events, such as flying toki and feeding.
Tarai Bune or Tarai Boat to Enjoy Sado Island Minami Area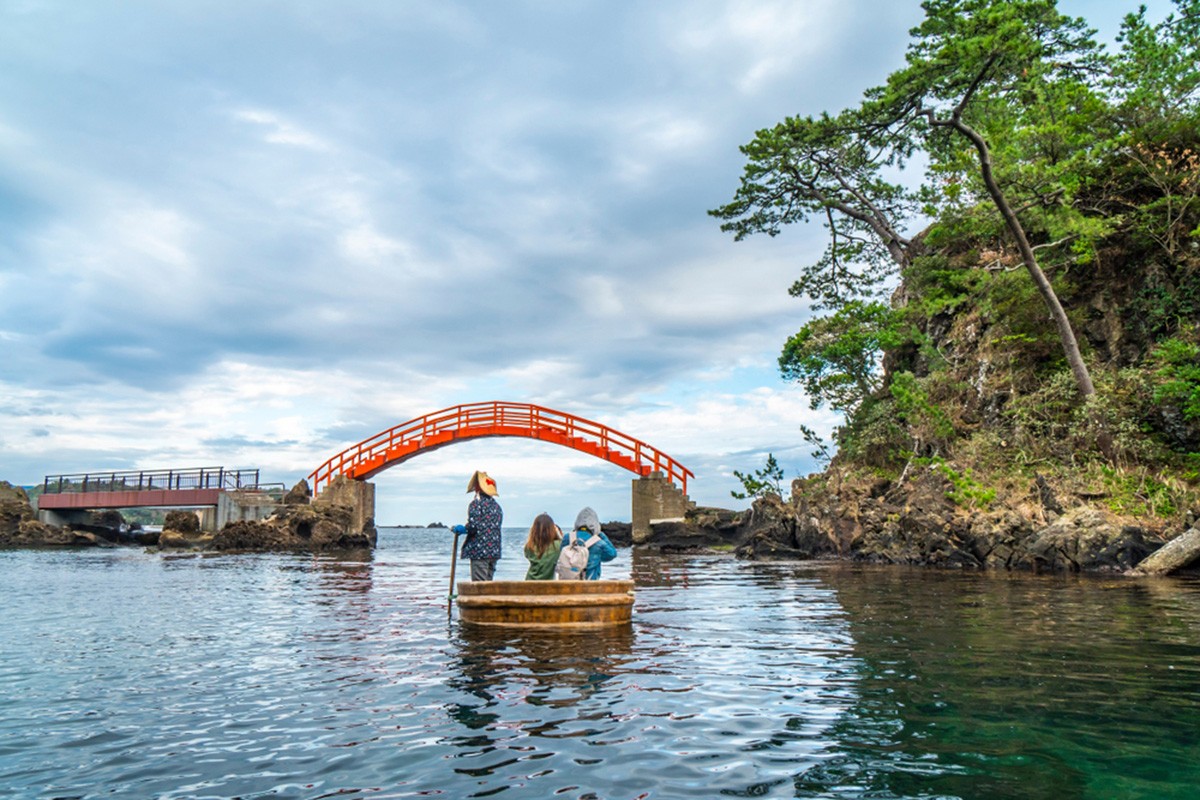 Also, you can take a ride on the Sado specialty which is a "Tarai Bune (or Tarai Boat)". It is a boat unique to Sado that is used for watching fishing and seaweed collection. The " "Tarai Bune (or Tarai Boat)" used for sightseeing is steered by a female boatman wearing a traditional costume. You can see beautiful scenery around the clear sea and small islands such as Yajima and Kyojima.

Food & Restaurants on Sado Island
On Sado Island, there are many restaurants where you can eat various seafood specialties such as sweet shrimp called "Nanban Shrimp", squid and snow crab. Among them, the "Sado Natural Burikatsudon" is famous for its local dish, made with Sado-caught yellowtail.

Accommodation on Sado Island
In Sado Island, the type and number of lodgings vary according to the area.
In Aikawa, there are many inns along the coast, many hotels and guesthouses overlooking the sea, and several youth hostels.
Ryotsu has many hotels and inns boasting hot springs around Ryotsu Port, and there are also many guest houses. It is easy to find pensions charging less than 5,000 yen per person per night.
Around Kuninaka, there is a wide variety of hotels, inns, pensions and guesthouses, but there are no inns in Maehama.
In the Minami-Sado area, most of the accommodation is around Ogi Port. 
How to get to Sado island from Niigata Station
Take the Niigata Kotsu Bus to Niigata Port from the bus stop located approximately 100m to the left of the Bandai exit at Niigata Station (10-15 minutes). From Niigata Port, take the Sado Kisen Jetfoil to Ryotsu Port (65 minutes). The car ferries take 2 hours 30 minutes.
On arrival, it is recommended to use the route buses because each tourist spot is far from Ryotsu Port.
Spot information
Name: Sado Island (Ryotsu Port)
Address: 353 Ryotsu, Sado City, Niigata Prefecture 952-0014
Access: Niigata Station → [Niigata Kotsu Bus] approx. 15 minutes → Niigata Port → [Sado Kisen Jet Foil] approx. 2 hours 30 minutes → Ryotsu Port ...
Wi-Fi: Available (Sado City Free WiFi)
Language : English, Chinese, Korean, Russian
Credit cards: VISA, MasterCard, JCB, AMERICAN EXPRESS, Diners Club International (by facility)
[Survey] Traveling to Japan
Recommend