Onioshidashi Volcanic Park in Karuizawa, Japan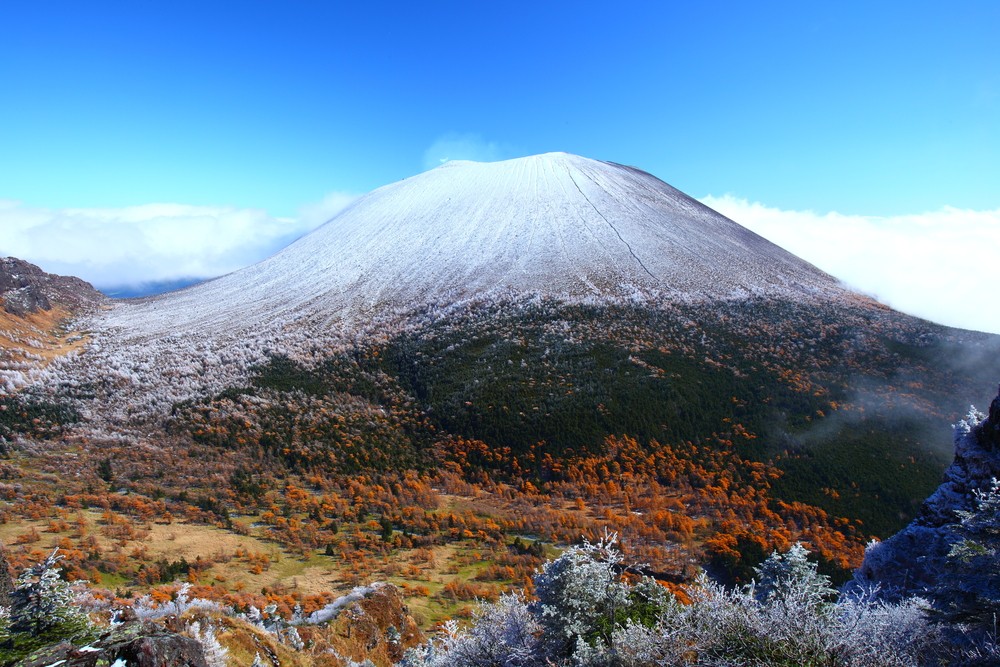 Onioshidashi in the Kitakaruizawa area is covered with a huge number of mysteriously shaped lava made by the great eruption. Mt. Asama is visible behind the lava mass. In this article, we will introduce the highlights of the Onioshidashi and how the lava was created.
About Onioshidashi Volcanic Park
Onioshidashi, which is a part of the Joshinetsu Kogen National Park (上信越高原国立公園), is a park where chilled and solidified lava spreads all over. The lava was drained from the eruption of Mt. Asama  in 1783. This eruption caused many people's death. Therefore, temples and statues of Kannon are enshrined to ease the souls.
Things to Do in Onioshidashi Park
To See the Lava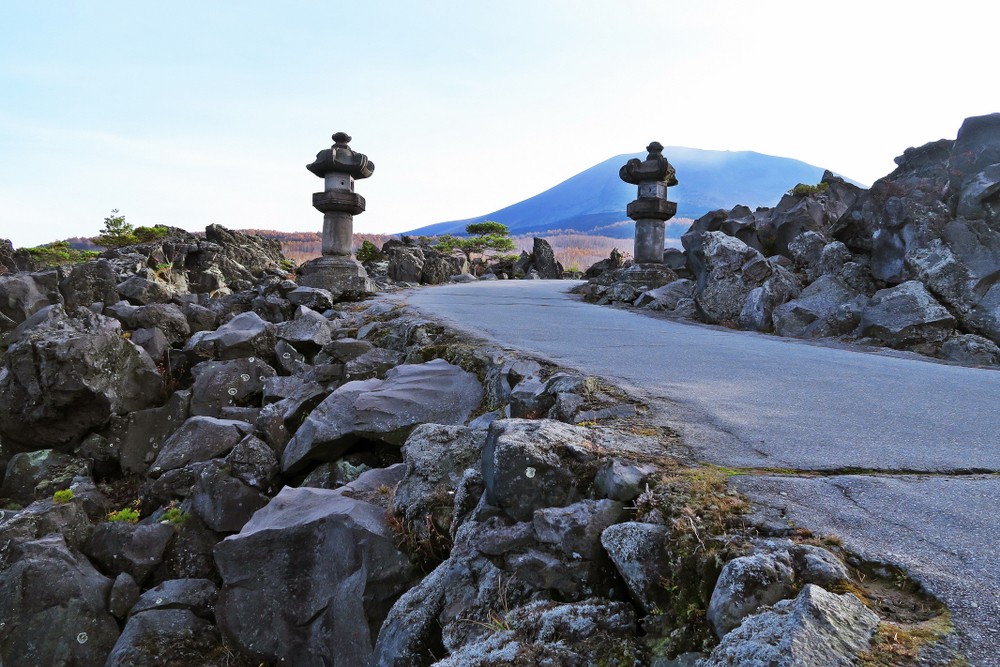 There are many lava that spreads in the park, and it is sloppy. This is due to the stickiness of lava. For example, in the case of lava, the surface becomes smooth. On the other hand, those with high viscosity will harden near the crater. If the viscosity is in the middle, it can be broken in a square shape when it cools like a lava of extrusion. You could call it an art created by Mt. Asama.
Ishiwari no Matsu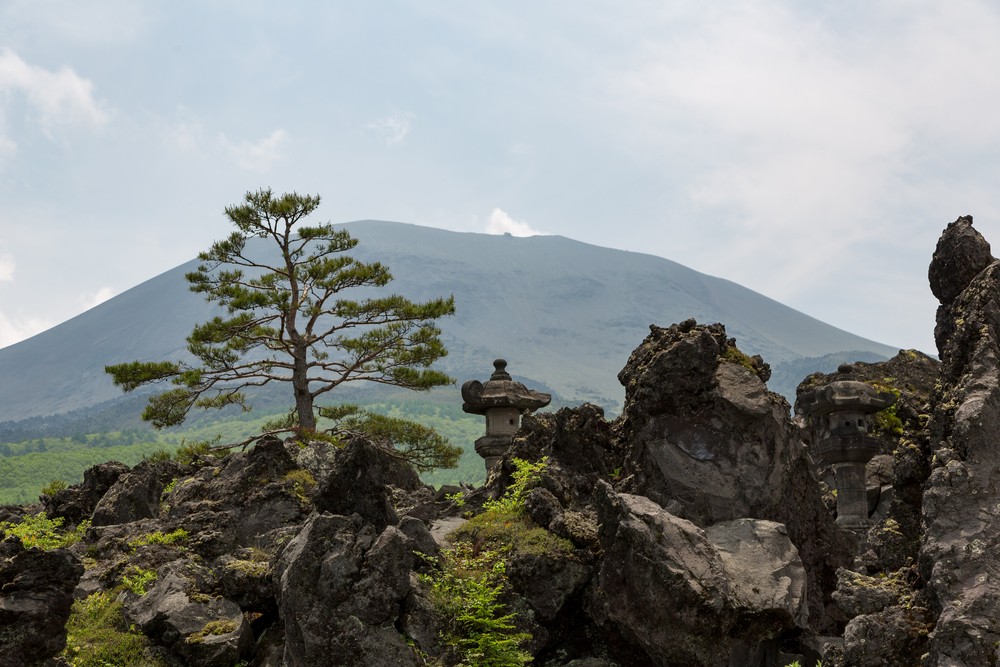 A large number of plants, including Akamatsu or red pines, are native to Onioshidashi park. Ishiwari no Matsu is a 100-year-old red pine that continues to grow vigorously while breaking lava. It penetrates the central part of the rock and continues to grow while spreading further. Besides, there are also trees that extend from the slight gap of the rock. The beauty of lively plants that color mineral lava is one of the attractions of this park.
Alpine Plants in the Park
The alpine plants that grow naturally in Onioshidashi park will bloom one after another from May to July. The appearance that lava is colored with a cluster of lizard azaleas,  rhododendron etc. is very beautiful. Besides, you can not miss the bright green moss that glows in dimly lit places such as caves. The park is a place where you can expect to meet plants.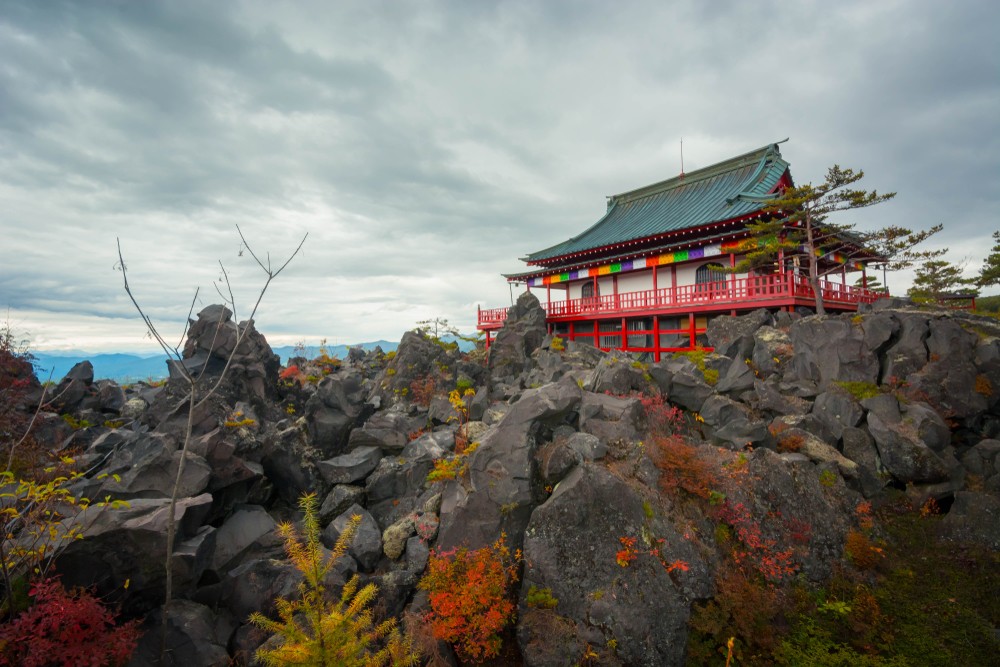 Asamayama Kannondo (浅間山観音堂)
Asamayama Kannondo is a shrine that is built in 1958 to pray for the victims of the Asama Volcano eruption, and is enshrined as a misery. In the surrounding area, you can clean your body in front of the shrine, Suibansha (水盤舎) or Jenroudo (鐘楼堂) with hanging bells, and Honoo Kannon (炎観音).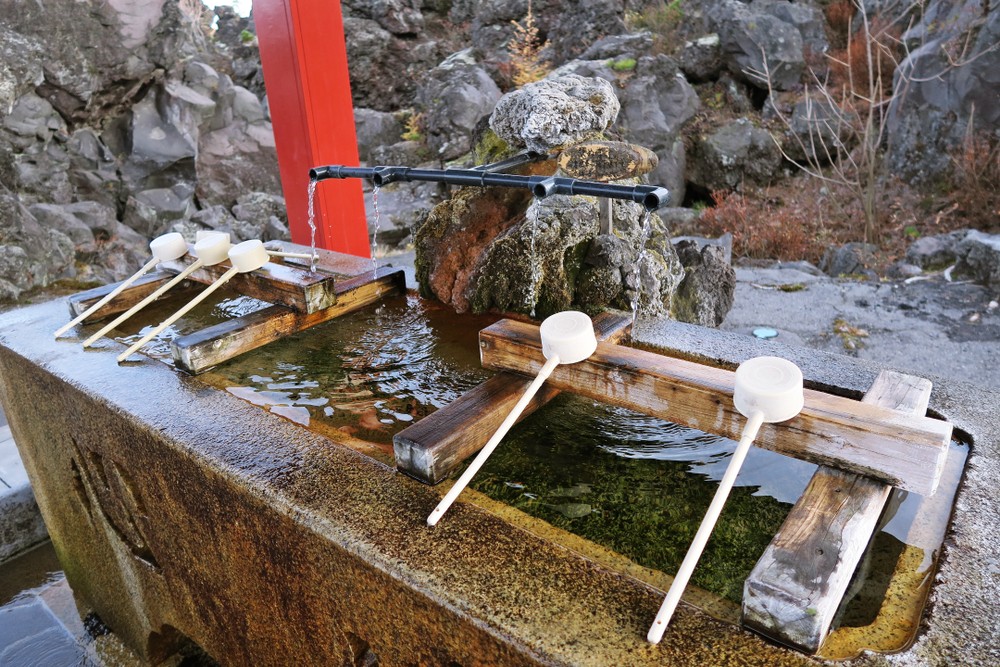 Access to Onioshidashi Park
Take a bus from Naka Karuizawa station. It takes about 40 minutes from Karuizawa station and about 30 minutes from Naka Karuizawa station.

Spot Information
Spot name: Onioshidashi Park
Street Address:1053 Kamahara, Tsumakoimura, Azumagun, Gunma prefecture 〒377-1593
Access: About 40 minutes from Karuizawa station or about 30 minutes from Naka Karuizawa station by bus
Opening hours: 8 a.m. to 5 p.m. (the last entry is 4:30 p.m.)
Entrance Fee: Adult (Above Junior high school students)  650 yen, Children 450 yen
[Survey] Traveling to Japan
Recommend