Competing and Traveling in Nara and Wakayama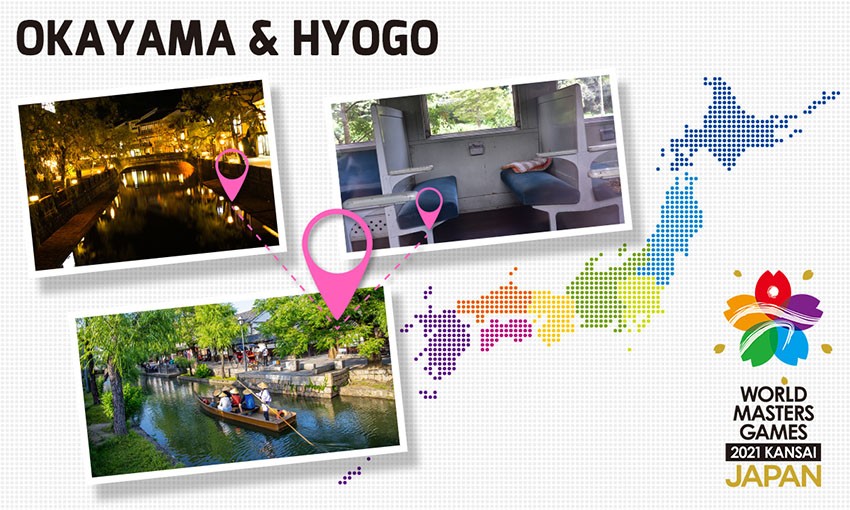 Traditional Japanese Walking Courses Along Waterways That Transform with the Time of Day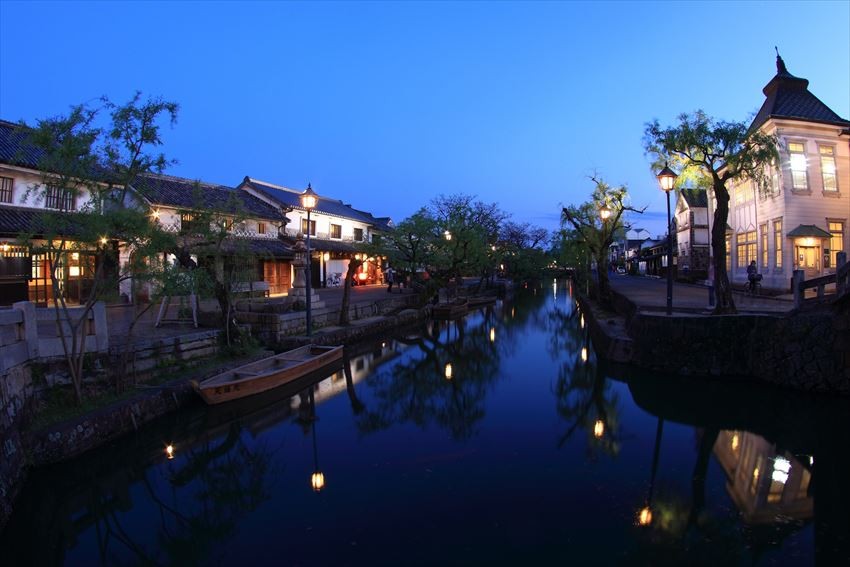 In Okayama and Hyogo, you'll find traditional Japanese towns with scenes that transform between night and day. Let's take a look at some of these towns and the competitions being held there.

About the World Masters Games 2021 Kansai
The Worlds Masters Games 2021 Kansai is an international sports competition that anyone over the age of 30 can take part in.
In 2021, it will be celebrating its tenth year, and will be held in the Kansai region of Japan. This is the first time the games are being held in Asia! This is a great opportunity to compete while also taking in Japan's great sights.
Here are the competitions being held in Okayama and Hyogo!
Okayama
・Okayama City: Shooting (Clay)
Hyogo
・Kobe: Swimming (Diving)
・Himeji: Tae Kwon Do
・Amagasaki: Swimming (Water Polo, Artistic Swimming)
・Miki and Kasai: Tennis
・Yabu, Kamikawa and Kami: Orienteering (Forest)
・Minamiawaji: Beach Volleyball
・Higashinada Ward: Track and Field (Racewalking)
・Nada Ward: Basketball
・Suma Ward: Baseball (Regulation), Basketball, Orienteering (Sprint), Table Tennis
・Kita Ward: Baseball (Regulation), Orienteering (Sprint)
・Chuo Ward: Basketball, Swimming (Competitive)
What competition are you interested in? Of course, you can always come watch!
Check the link for details ☞ https://www.wmg2021.jp/en
Getting to Okayama and Hyogo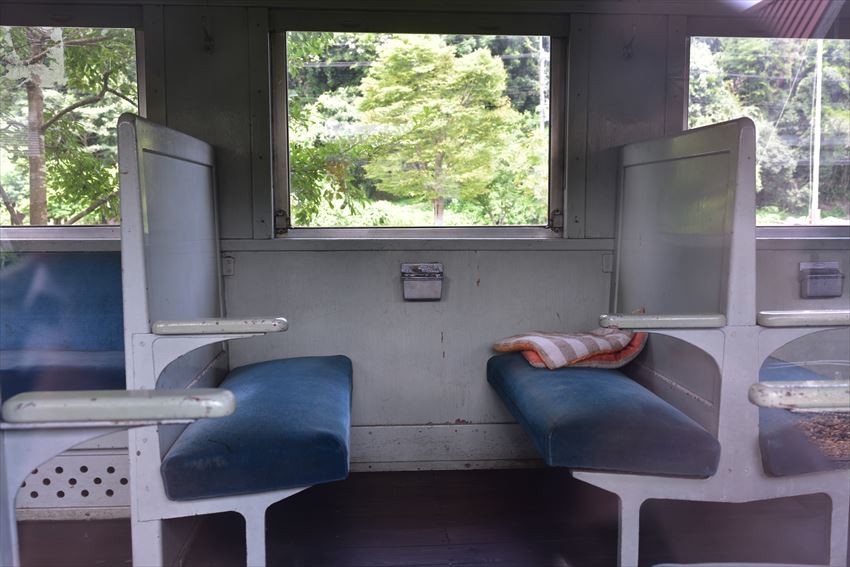 Did you know it's surprisingly easy to get to and from Okayama and Hyogo?

JR Tokaido Sanyo Line Rapid Express
You can get to locations in Hyogo and Okayama in approximately two hours via the Himeji-bound JR Tokaido Sanyo Line Rapid Express departing from Kobe. With just one transfer and an affordable fare of approximately 2,500 yen, this route is recommended for those with time to spare.
JR Sanyo Shinkansen
You can get to locations in Okayama and Hyogo in approximately one hour via the Sanyo Shinkansen Nozomi train, which departs from Okayama. While this route requires two transfers and the fare exceeds 5,000 yen, it's recommended for those who want to cut down on travel time.

Go Back in Time on Kurashiki Bikan Historical Quarter's Ancient Paths in Okayama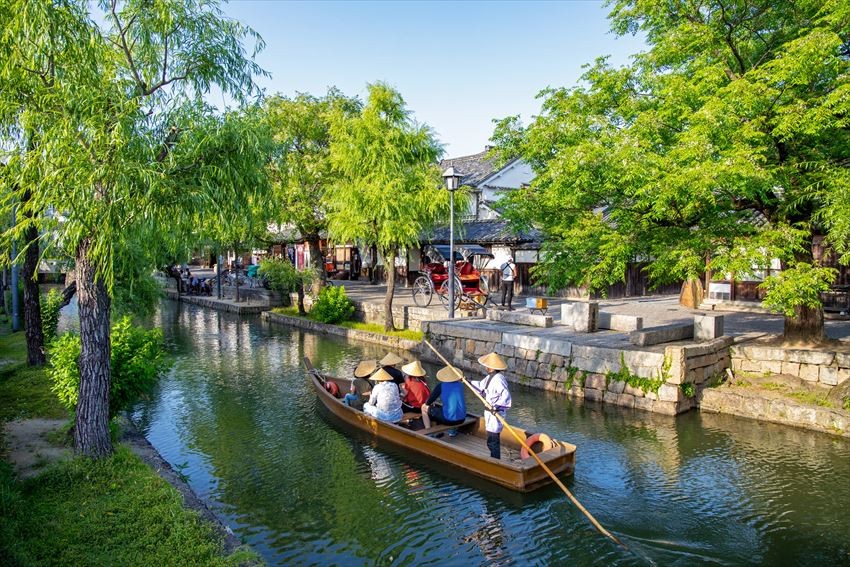 Impressive white walls and rows of trees in the Kurashiki Bikan Historical Quarter
Many boats used the rising tide to traverse the Kurashiki River. This river helped the district to develop and thrive as a center for transporting goods, becoming a lively hub for activity. You can still see rows of trees and white walled houses, a sight left unchanged for hundreds of years.

Traditional Night Illuminations Make for a Majestic Sight
Most visitors to the district come sightseeing during the day. However, the best views appear once the sun sets over the western horizon. The entire area is bathed in warm, evening lights. Taking in the majestic evening scenery will ought to help you relax after a tiring day of exercise.
Kinosaki Onsen in Hyogo is a Hidden Gem with Hot Springs and Scenery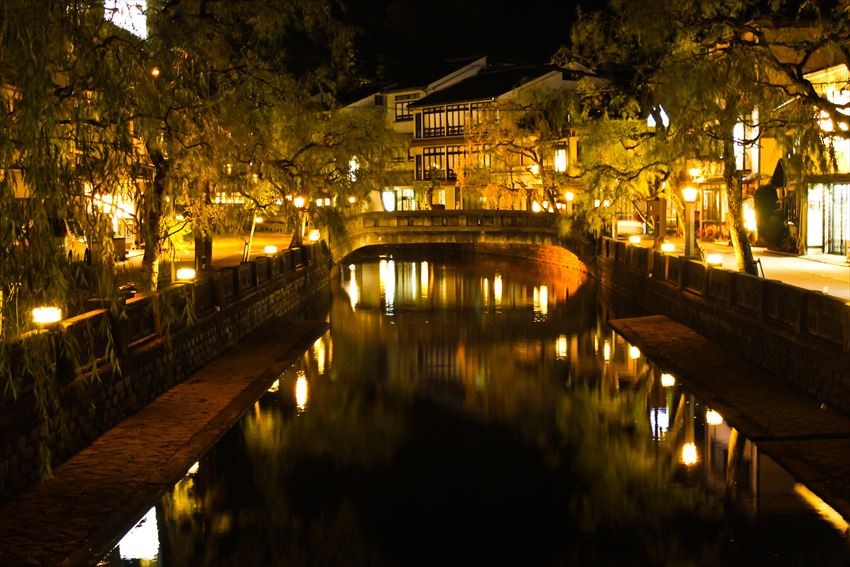 An Enchanting Riverside Path Lined with Bathhouses, Willows, and Cherry Trees
Kinosaki is considered one of the most famous onsen towns in Japan. The Otanigawa River flows through the center of the town. The river is lined with willow trees, with rows of cherry trees stretching upstream to the source of the hot spring. Take a nice, relaxing walk along this enchanting tree-lined path. It may give you an edge in competitions!

Take an Evening Bath Tour, Enjoying the Glistening Lantern Lights on the Water's Surface
Every year during cherry blossom season, Kinosaki Onsen is illuminated with paper lanterns. The water's surface reflects the light from the lanterns, bathing the area in a gentle glow. This is the most beautiful way to view the cherry blossoms. Take an evening tour to the baths illuminated by the soothing light. It's quite romantic!

A Quick Memo on the Competition and Sights Introduced
There are clay shooting competitions to enjoy in Okayama and Hyogo! We introduced various spots where you can enjoy traditional Japanese evening views. What scene left the biggest impression? Be sure to share your thoughts and any information with shares and comments!
Here are the spots we introduced!
See the links below for detailed information and direction.
・Kurashiki Bikan Historical Quarter https://www.kurashiki-tabi.jp/kurashiki-h1/
・Kinosaki Onsen http://www.kinosaki-spa.gr.jp/
Recommend