A popular Apple pie store, Granny Smith which everyday selling 1,000 pieces apple pie with plenty of happiness when eating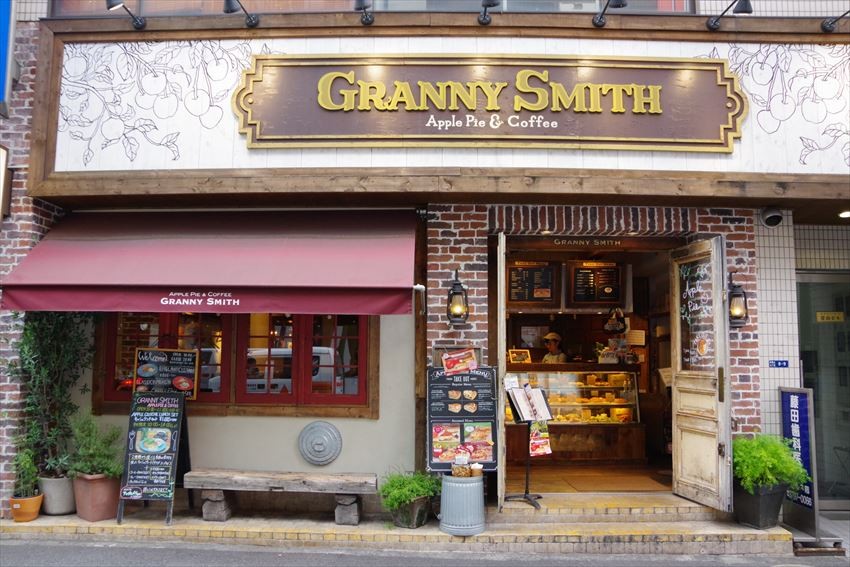 GRANNY SMITH APPLE PIE & COFFEE is an apple pie and coffee shop which opened in 2012 near to the quiet and relaxing place of Setagaya, instead of opening at crowded area such as Shinjuku and Ikebukuro. The shop has become one of the famous apple pie store with the plenty filling and fresh Japanese apples as the ingredient.
Due to the innovative taste and variety selections, the original dessert which sold at the shop are very popular. Currently, the shop also expanded their business to areas such as Aoyama, Yokohama, Ginza and Setagaya Park area which are also scattered with stylish cafes. In October 2018, the shop opened their first new branch in Nishinomiya, Kansai area, and successfully spread the taste of Granny Smith from the Kanto region to Kansai region in Japan. There are total of 7 stores in Japan.
Last time, FUN! JAPAN team has visited the headquarter store, "Mitsukushi store". This time we will bring you to the store in "Aoyama", which is different with "Mishuku Store" which is only available for take-out.
The store is available for both take-out and dine in, when you are tired of shopping you can even take an afternoon tea break at here.

Unlike the headquarter store, "Aoyama store" has a dine-in space for you to dine in instead of only take out. You can enjoy eating apple pie while drinking coffee together with friends and family at the store. It is also a good choice to have an elegant afternoon tea break at here. Besides apple pie, snacks such as Quiche and salad also served at here, so you can dine here for your meal instead of only dessert. The exterior look and interior of "Aoyama shop" is same with the headquarter store, which is with home like feel of American country. When entering the store, you can see there are approximately 8 kinds of apple pies lined up in the display case. The interior decoration of wood has made the whole store full with the warmth atmosphere.




Granny Smith's Original product, DUTCH CRUMBLE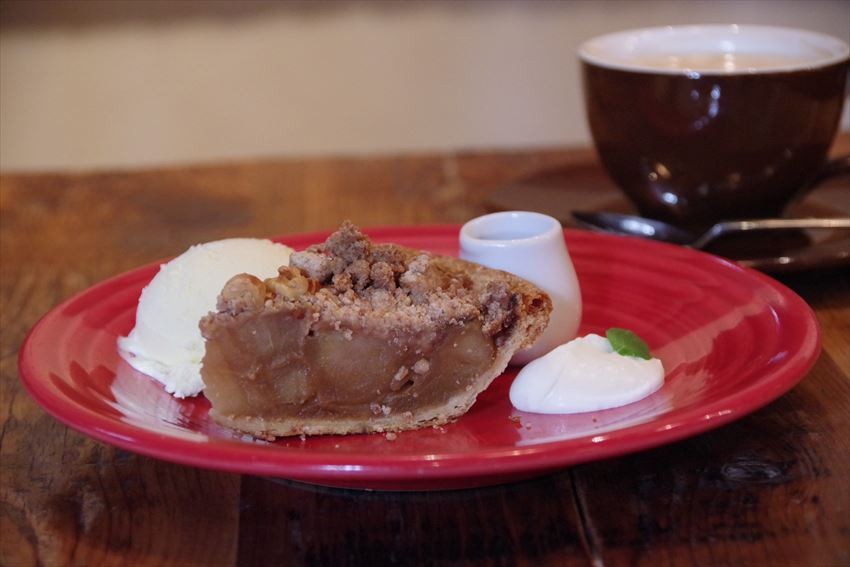 A simple product of DUTCH CRUMBLE is an original product of Granny Smith, and the texture is like eating crisp crackers. Molasses which is not so popular in Japan is used in this dish. Therefore, while enjoying the crispy texture, at the same time you can enjoy the sweet and sour apples and also enjoy a thick molasses taste. It will have a different taste if you dip the sauce which come together with the apple pie. You can choose total of 4 different sauce at the store. Caramel, raspberry and honey orange sauce are all homemade except maple syrup. The take out price is 400 yen for each cut excluding tax, while dine-in price will be 600 yen excluding tax.
Limited time apple pie which collaborated with drama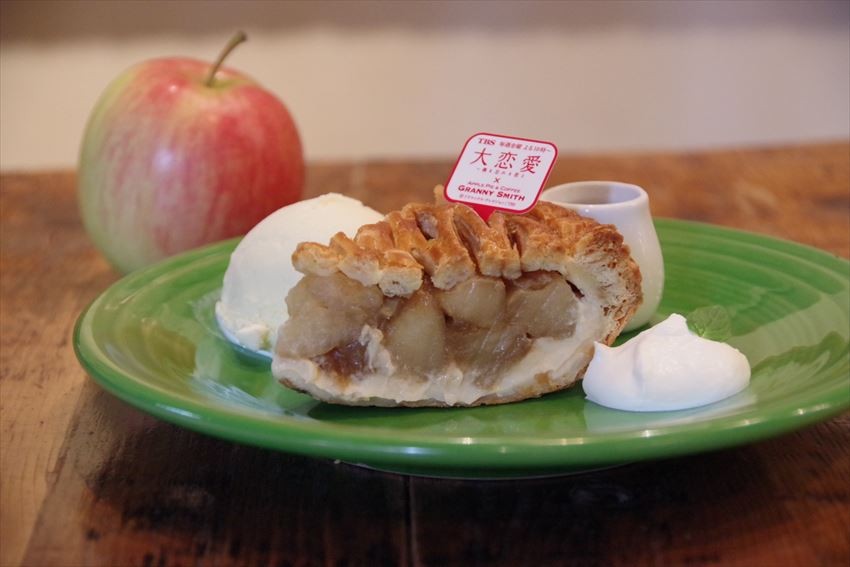 "Dairenai Apple Pie" is a collaboration product of "Granny Smith" and the drama "Dairenai ~ Boku wo wasureru kimi to" which starred by Toda Erika. It was on sale for a limited time only from 6th October 2018 until 14th December 2018, during the drama broadcast period. The nice scented black vinegar on top of honey milk cream which made with a gentle honey flavor is then baked with plenty of apple. Since it was actually appeared in the scene of the drama, so it became hot topic during that period for limited quantity and was always sold out.
Tiramisu and Apple pie which has overturned the impression of apple pie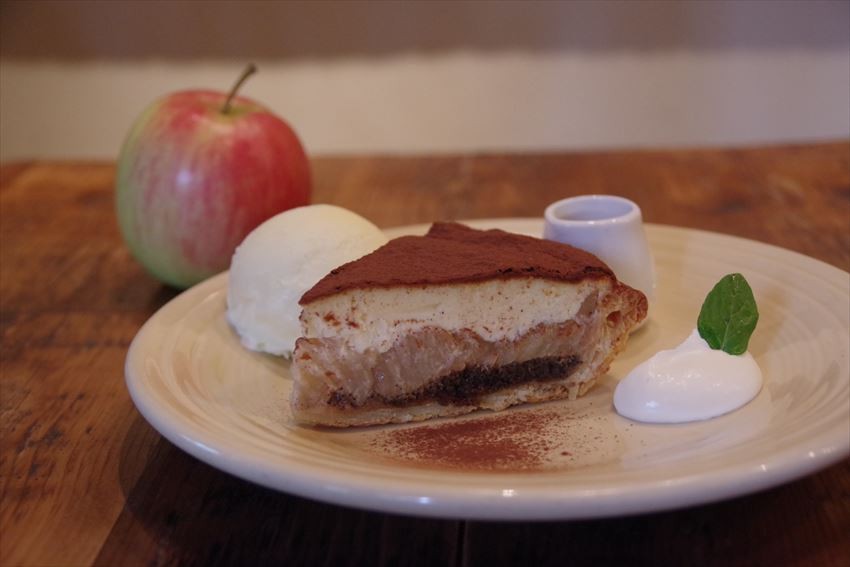 The scent of coffee is blended well with the taste of Mascarpone... Yes that is Tiramisu. However when you put it into your mouth. Wow?! Is taste of apple? This is Aoyama shop's store limited item "Tiramisu apple pie". You can enjoy both the tiramisu moist feeling and the refreshing mouth feeling of apple pie. It is also recommended to be eaten together with sauce and vanilla ice. It has totally overturned the impression of apple pie. The take out price is 450 yen for each cut excluding tax, while dine-in price will be 650 yen excluding tax.
Granny Smith Apple Pie by Granny Smith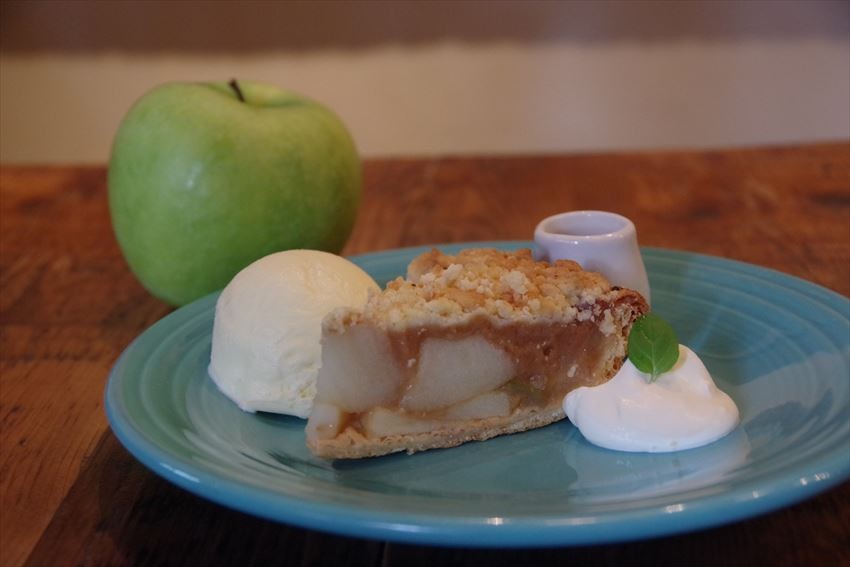 In Japan, "Granny Smith" apple pie which made with "Granny Smith" which is a type of rare apple is sold at all stores, but due to limited seasonal items, it is only be sold until spring season. With the plenty filling of Granny Smith, a refreshing acidity spread to the mouth which make you cannot stop your fork and will continue eating. Moreover, you get to eat the fresh and crispy apple when enjoying the apple pie. The take out price is 450 yen for each cut excluding tax, while dine-in price will be 650 yen excluding tax.

On the day when we FUN! JAPAN team visited for interview, we saw a lot of Christmas interior using apple since Christmas is getting near. If you look carefully, there are apples ornaments around everywhere in the store. When you have the opportunity to come to visit Japan, please visit Aoyama store or other store of GRANNY SMITH to enjoy the apple pie. Please check the information below for further details of the stores.
Store information
Store name: GRANNY SMITH APPLE PIE & COFFEE Aoyama Store
Address: 5-8-9 Minami Aoyama, Minato-ku, Tokyo
Business hours: 10:00-21:00
Access: 3 minutes on foot from Tokyo Metro "Omotesando" station, B1 or B3 exit
Check here for details of other stores:
https://grannysmith-pie.com/info.html
Recommend