[Campaign] Get a free bus tour by Hato Bus!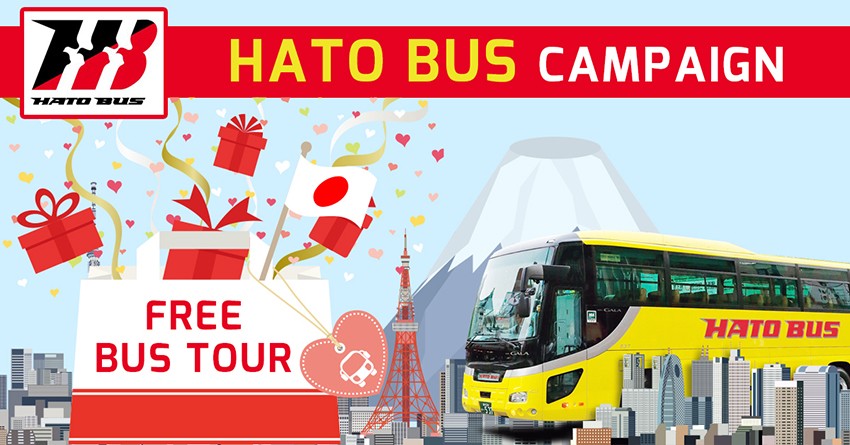 Hello friends of FUN! JAPAN!

Have you read the article 「The yellow bus you see running all over in the city of Tokyo. What bus is that? Let's check out the charm of Hato bus!」posted by FUN! JAPAN? If you haven't read it yet, please click on the link and check it out. This time, the sponsor of this article, Hato Bus will be giving out free bus tours for you to enjoy the autumn in Mt. Fuji, Nikko etc. in Japan.

Hato Bus is a company that offers one day bus tours in Tokyo and areas around Tokyo. Offering both a variety of tours and qualified interpreter guide who are well versed in Japanese history and culture giving English tours, even those who are traveling to Japan for the first time can easily enjoy sightseeing in Tokyo! In the recent years, bus tours are getting more and more popular among tourist, and the users of Hato Bus are increasing rapidly.

That's why you can't miss this chance to win the free Hato Bus tour!

■
Campaign Details
This campaign is giving away your choice of foreign languages bus tours departing from Tokyo within 1st November 2018 ~ 31st March 2019. The winners have the right to choose a bus tour from a list of selected tours. The details are written below. Want to enter this campaign? Press the "Join Now" button at the bottom of this article!

Let's share this article to friends who are planning to visit Japan soon too.
Prize
Free bus tour departing from Tokyo for 5 pairs 10 members

※Free tour will be given according to the winner's choices.
You can choose the tour you want here. https://www.hatobus.com/int/en/
Tour voucher deadlines
1st November 2018 ~ 30th March 2019
TERMS AND CONDITIONS
This campaign is open to public
[Participants]
Participants have to fulfil all conditions to apply to take part in this campaign

This campaign is open to public.

He/she should be a FUN! JAPAN website member

He/she should be Japan lovers with Malaysian nationality who live in Malaysia.

His/her age must be 20 years or older.
You can apply only once for the campaign

[Winners]
Winners of this campaign is 5 pairs 10 people

Winners will be notified via email address registered with FUN! JAPAN.

FUN! JAPAN will NOT cover expenses for flight tickets to and from Japan, insurance, shopping, accommodation before or after the trip.

The insurances will be private expenses.

He/she shall have at least one account of these social media: Facebook, Instagram, Google+, and willing to share great things about Hato bus's tour through that account.

Reconfirmation within the period stated in the notification email is required. If not, prize will be considered invalid.

Prizes are non-transferable.

When we have many participants, winners shall be selected with consideration to their comments in the survey.

Any person who is related to the campaign is not eligible to participate/win.

If there is weather trouble, natural disaster, war, riot, flight schedule change and other things that change drastically or cancel the trip, Fun! Japan shall not give any compensation.

FUN! JAPAN is not responsible for accident, food poising, theft and any other incidents that may occur during the trip.

[Campaign period]
11th September ~ 11th October 2018

[Winner announcement]
Email notification will be sent only to the winner through the email they used to register their membership.

Terms and conditions for bus tours will be sent after the campaign to the winner individually.

★ Find out for more tours ~ Hato bus official website
https://www.hatobus.com/int/en/
★ Also, click here to like our Official Facebook page
https://www.facebook.com/hatobustours/
This campaign is now finished.
Recommend