The Ultimate Guide to Convenience Store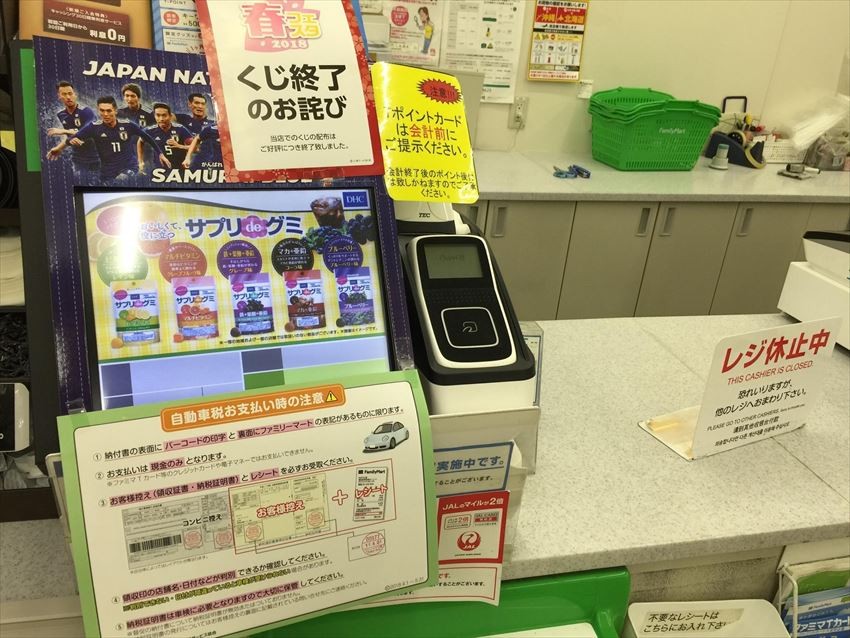 When you visit Japan, especially in Tokyo, you can definitely see that convenience stores are all over the places. Convenience stores turn out to be an essential thing in the Japanese people's lives, because you can literally do everything there such as paying your gas, water or phone bill, copying, and withdrawing money from the ATM. There is also a joke saying that if you work in a convenience store in Japan, you would need to learn so many things! In the following, I will tell you what you can do in convenience stores in Japan.
ATM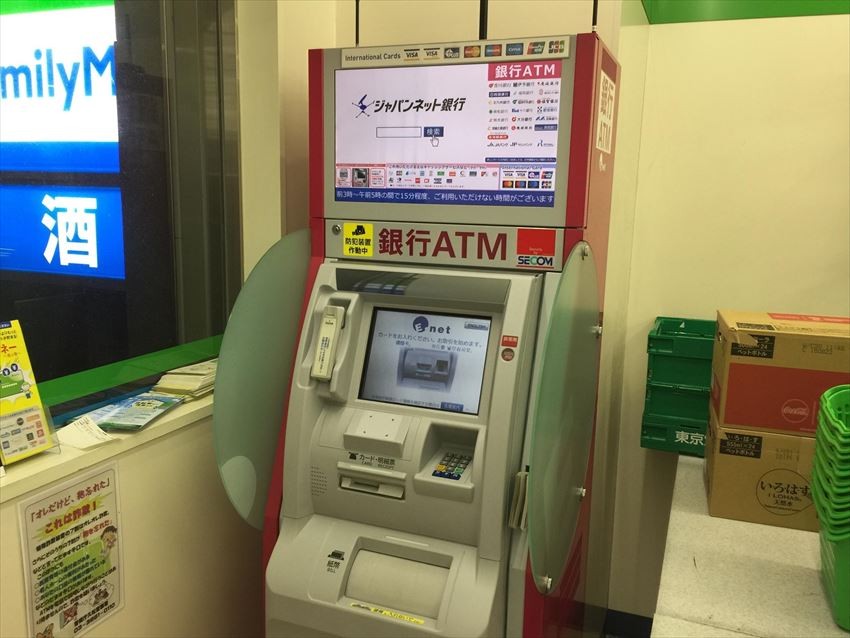 At almost every convenience store in Japan, you can find an ATM machine. Thus, if you have your card with you, you can withdraw money almost everywhere. It accepts almost all kinds of bank, so you don't have to worry about it. However, depending on your bank, there might be some commission fee (anywhere from around 108 Yen to 216 Yen). For all travellers with a credit card, you can withdraw money from any Seven Eleven ATM.
The All in one Machine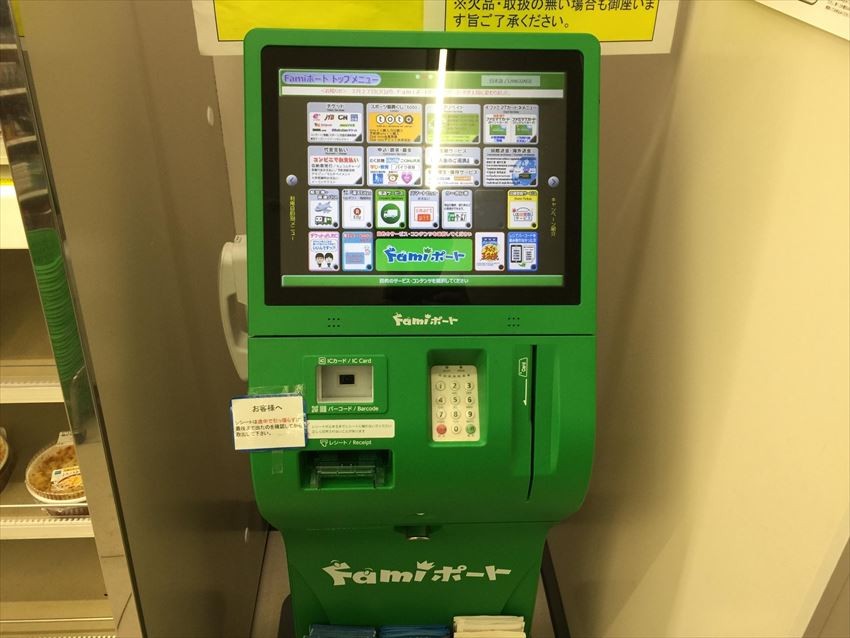 In every convenience store, there is also at least one of this machine and it could help you achieve a lot of different things. In Family Mart, they are called "Fami Port". For Lawson, it's "Loppi". While for Seven- Eleven, it's mostly a multifunction copy machine. You can purchase tickets for movies, sports matches, exhibitions, concerts, trains, flights,... etc. You can buy lottery. You can even buy the tickets for Disneyland or Ghibli Museum from this machine as well! Other than that, if you buy something on the internet, you can also pay with this machine!
Photocopy Machine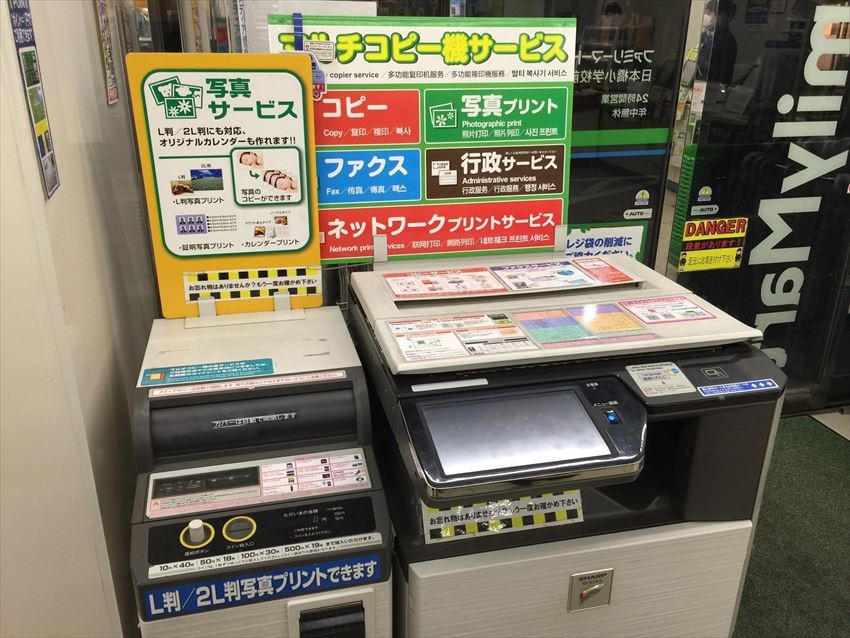 Since the needs for submitting documents in paper form are still very popular in Japan. Most convenience store are equipped with a copy machine. But don't underestimate these copy machines because they can do way more than just copying things. Most copy machine supports USB and SD card, so you can print out documents straight from your digital storage. Most machines allow supports photo printing, meaning you could print out photos with actual photo paper. Recently, you can even send print orders from your smartphone.
Things to Buy other than Food and Drinks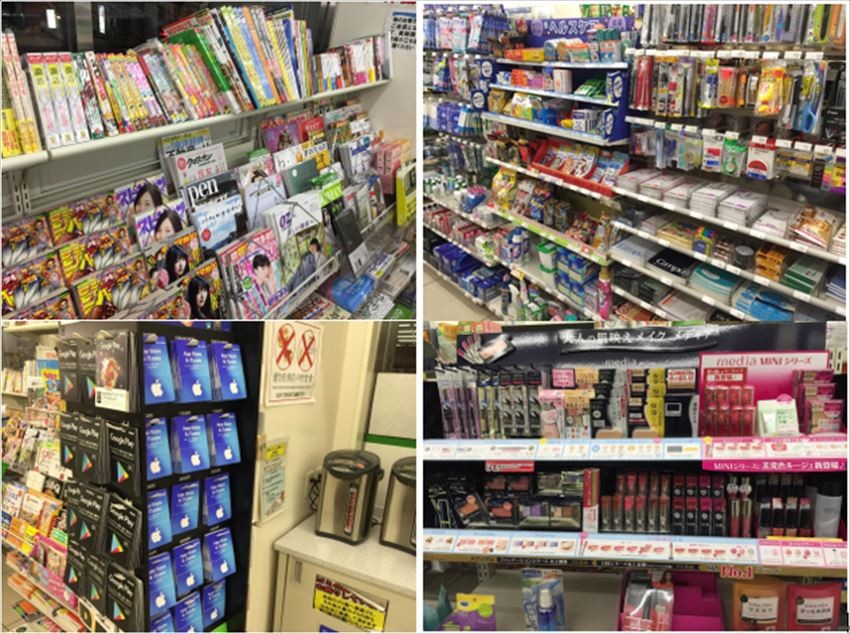 Other than food and drinks, there are a lot of other things that you can buy in convenience stores. You can buy books and magazines, several kinds of gift cards, and many kinds of daily necessities. Surprisingly, you can also get cosmetics too nowadays.
Café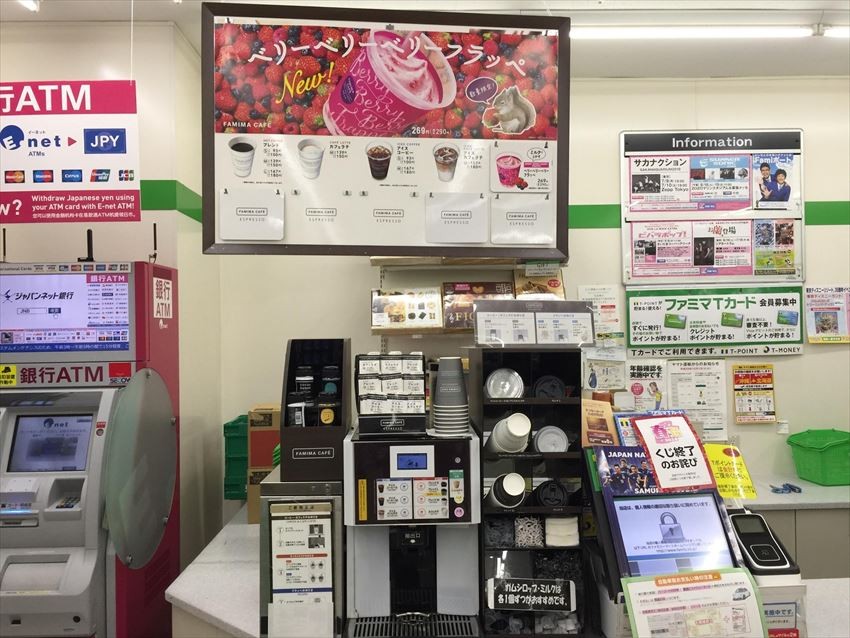 For Japanese people, when they just want a cup of coffee in the morning or during the break, they might just come to convenience store and get a cup of coffee, instead of lining up and paying fancy price at coffee shops. What so attractive about convenience store coffee is the fact that it's cheap (no more than 200 Yen) but the taste and quality of the coffee are still supremium. Sometimes, convenience stores offer special drinks as well. You can expect to see a lot of sakura or matcha-flavoured drinks during Spring.
MUJI Goods at Family Mart
Do you know that you can actually get MUJI products at Family Mart? Since these two companies have collaboration, you can pick up some MUJI products at its original price at Family Mart! It is absolutely amazing to be able to buy something that has good quality even when you are in emergency!
Services that you can find at the Cashier
Other than paying, you can also ask for a lot of other services at the cashier. Things like paying electricity fee, water fee, taxes, and many kinds of fee. You can also charge your transportation card such as SUICA and PASMO. Last but not least, some convenience store offer mailing service with allows you to mail letters or packages within or even outside Japan!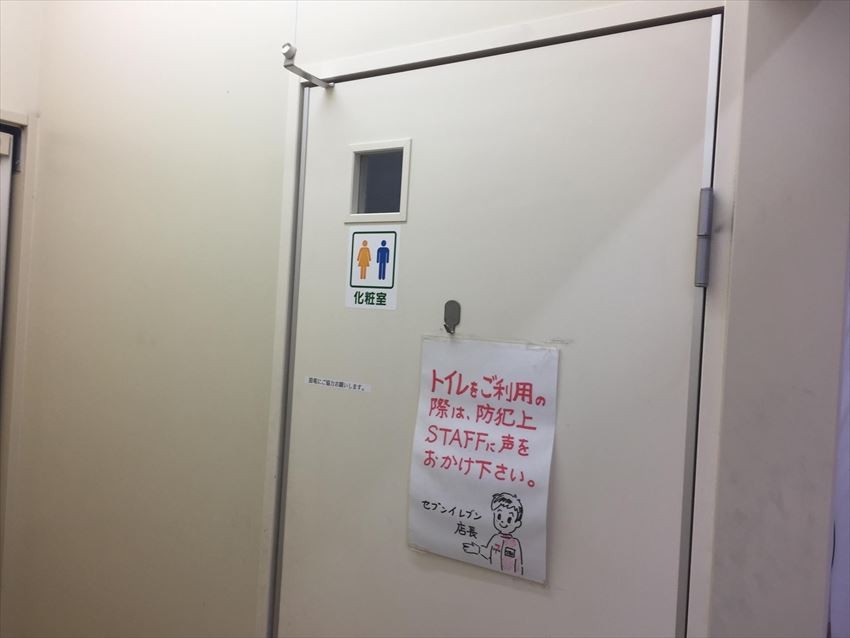 And last, but not least, you can use the toilet at convenience stores (for free). And that is also one of the most frequent reasons why people go to convenience stores. But before you use the toilet, please ask the staff first!
Recommend