Reiji Matsumoto (松本零士) Ukiyo-e (浮世絵) Collection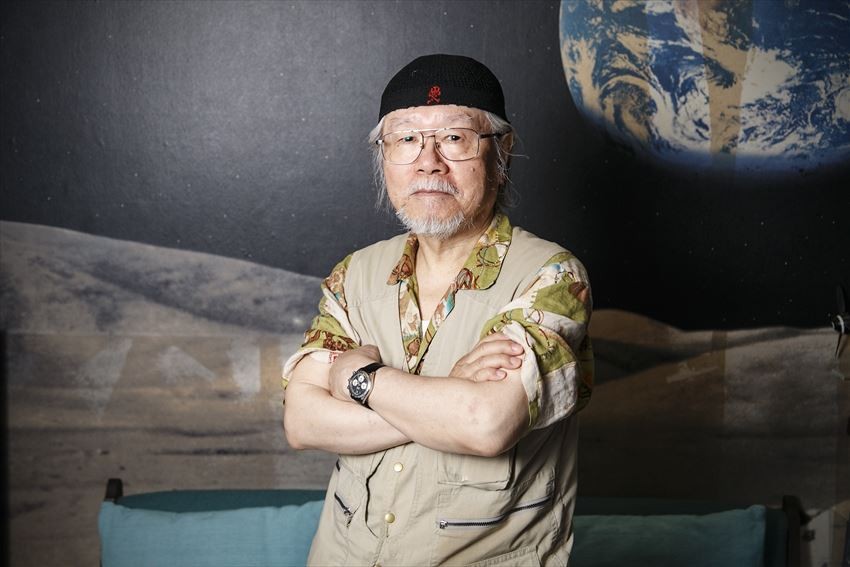 I talked to Mr. Takeshi Hiro, one of the artist, about the charm of the work who was working on this ukiyo-e series.
*ukiyo-e, is a kind of Japanese art paintings or prints with topics about everyday life and interest of people. 
Interview with the creator
"We will talk about 6 works in a single scoop with representative work of Professor Reiji Matsumoto whom I admired since childhood. Under the supervision of Professor Matsumoto, we completed a sketch with an outstanding creator and added flowers from a powerful book by Dr. Suzukaze Hana. Furthermore, it is 100% hand-carved by famous Takezasado in Kyoto, hand-printed woodblock prints are made from Echizen Japanese paper for more reliability by the human national treasure Iwano Ichibei Master. A collaboration that can be described as a wonder, a new Ukiyo-e was born beyond the moment as a result of keeping in mind the design that we think we wanted more than anything else. There is no other piece same as this, the one and only Ukiyo-e woodblock prints. Isn't it a luxurious masterpiece?"

Hirota's words are full of confidence and joy in the work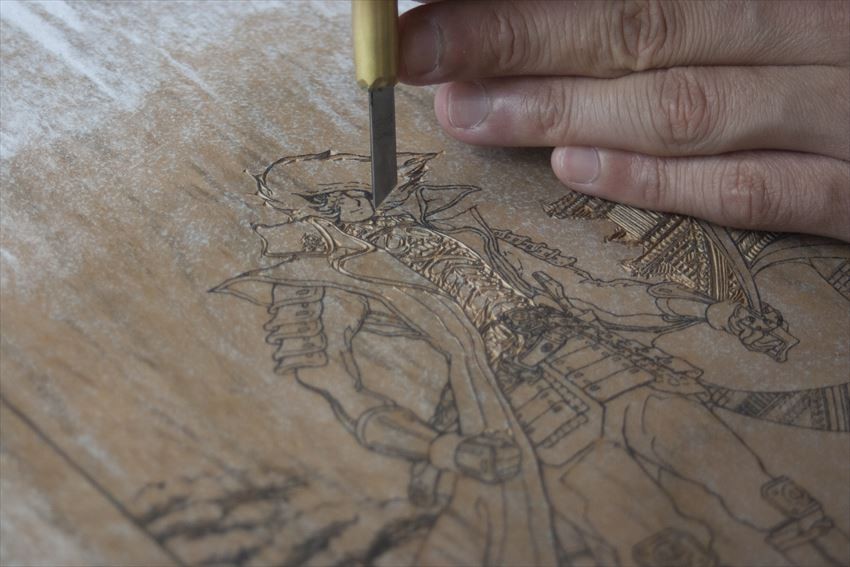 "Actually, my encounter with Mr. Matsumoto dates back to the event "Galaxy Express 999 "about 50 years ago. For me at the time, Professor was just a longing acquaintance. At that time, I was drawing sketches together with Professor of Ukiyo-e artist and thought definitely want to convey Professor's comic to the world as a traditional Japanese printing technique of ukiyoe prints, thus this is the 6 masterpieces that was born after repeated drawing over and over again while receiving supervision from Professor. Of course, I think that people of the same generation as well as those of various generations around the world are sure to take it with their hands and appreciate it. "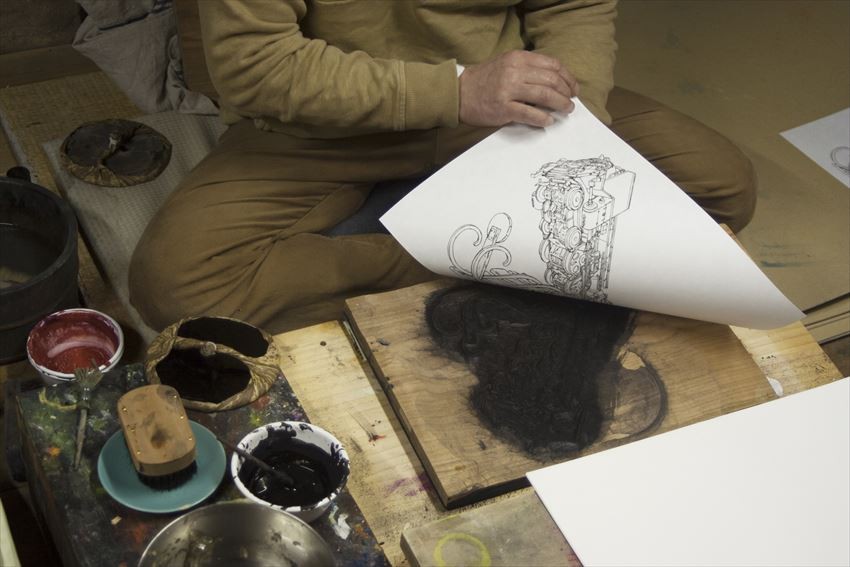 I would like you to enjoy this opportunity that you can get only by now of the completed masterpiece that is overlap with feeling and skilled technique, representing manga work and traditional culture in Japan.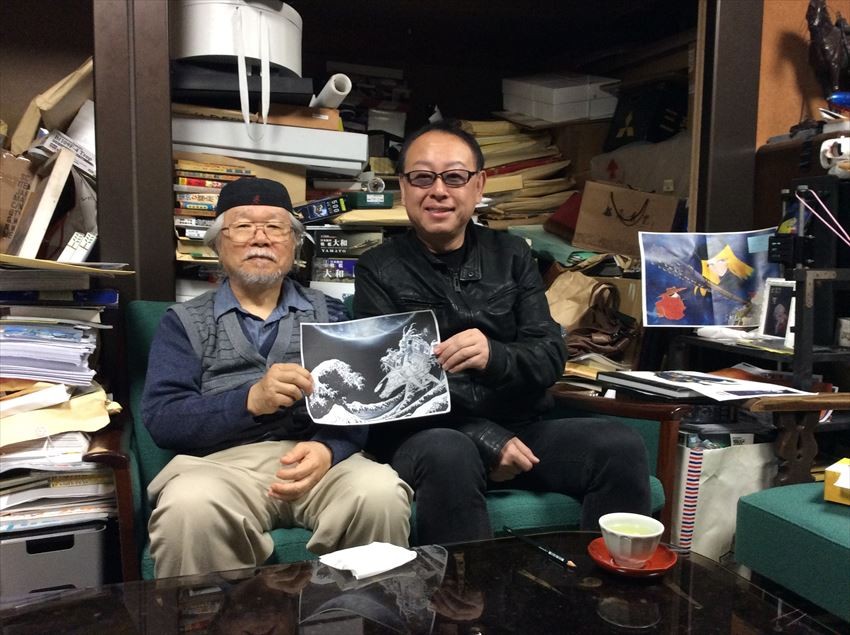 LM01 Galaxy Express Take-off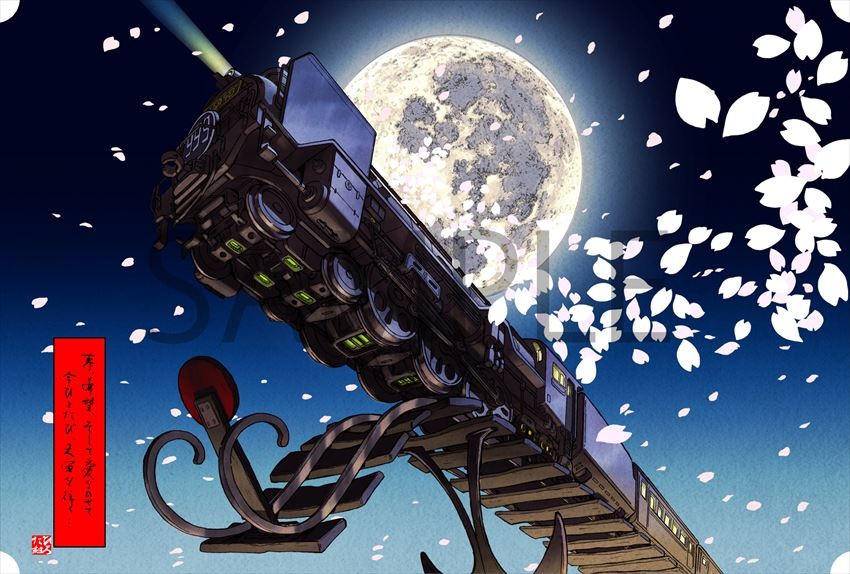 From the Galaxy Express 999 (Reiji Matsumoto original manga), 999 is the motif of woodblock print. It was capture at the moment when it flew out into the space and drew flower petal dancing instead of chimney smoke as a symbol of hope. The galaxy expresses with massive solid is a masterpiece, purposely without adding people.


LM02 Maetel Ancient City's Holiday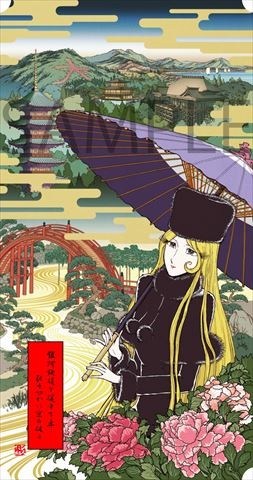 It exudes a unique world view matching the collage of symbolic Kyoto sight-seeing places and clean-look Maetel. Moreover, the scenery of Kyoto which is drawn precisely, is brilliant and makes the beautiful painting stands out.


LM03 Samurai Harlock and Kumamoto Castle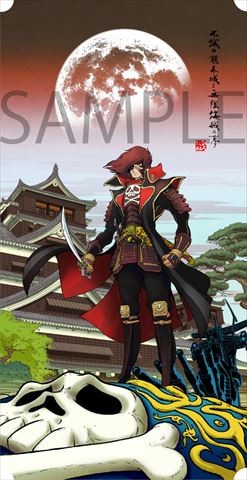 The picture depicts collaboration between Warrior Harlock and Kumamoto Castle. The armor is painted by a professional who design weapons and completed in an entirely original work. It is a premiere work that emphasized Japanese taste as the eye patch of Harlock looks like a samurai.


LM04 Arcadia on the wave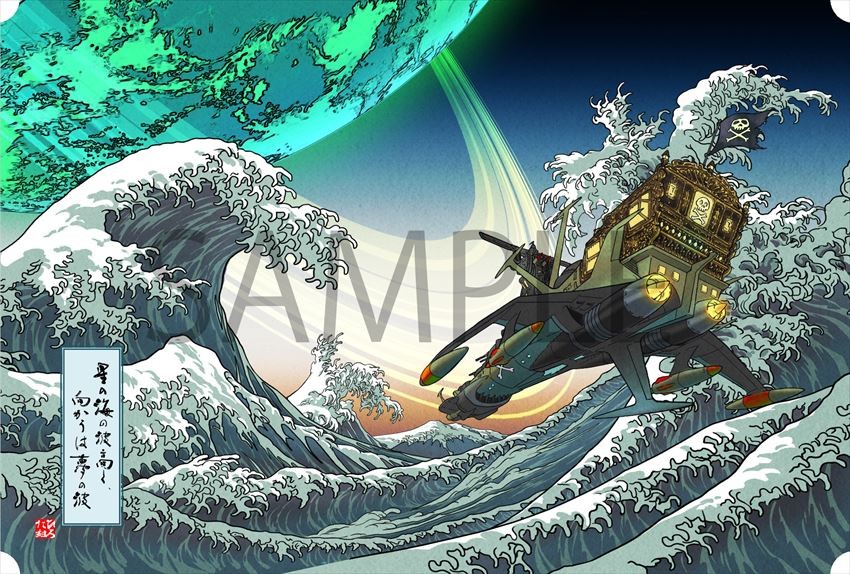 It is needless to say that this is a work which opened a new world by unveiling the Hokusai homage through universe beyond the waves. Arcadia is not a sperm whale type, it uses original version of an ongoing play comic at the time.
LM05 
Yamamoto Encounter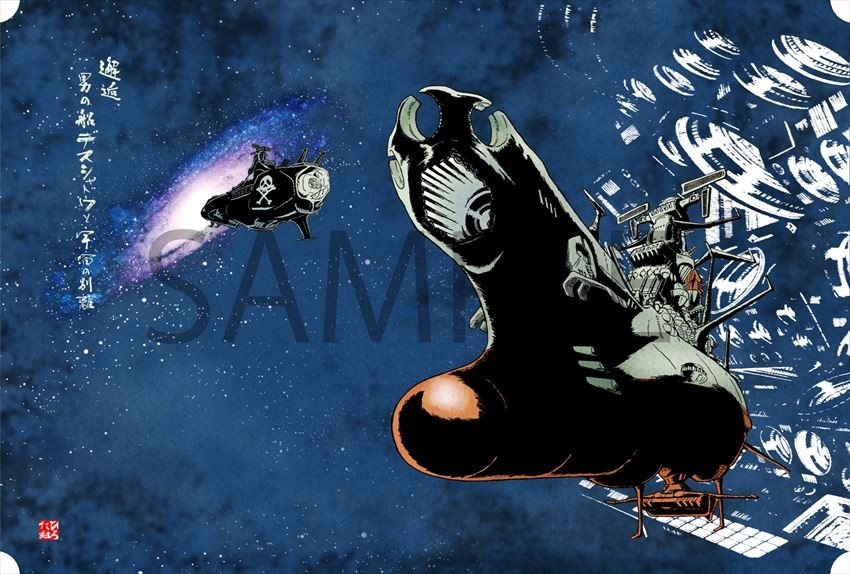 It is a unique work with straightforward approach to express the heaviness of Yamato in the vast universe using Professor Matsumoto original meter. Furthermore, in Reiji Matsumoto original comic "Space Battleship Yamato", because the living ancient guardian has appeared as Harlock, far away a "Death Shadow" is drawn.

LM06 
Yamato to the end of samurai period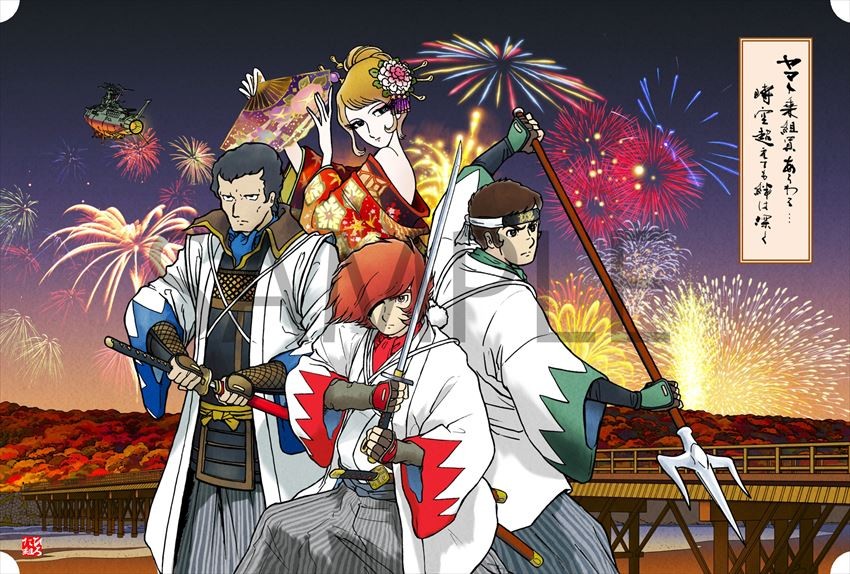 Normally, the uniform of Yamato crew uniform, which is colored according to the department, is arranged in the slender pattern of Shinsengumi. It is finished with a gorgeous design by adding fireworks and making them time travel back to the era of Shinsengumi. Please take note of the space battleship Yamato, which is floating in the distance.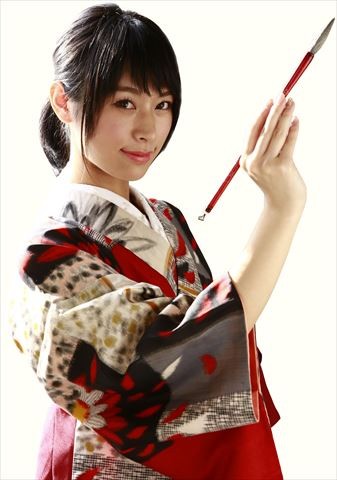 Title: Suzukaze Hana (涼風花)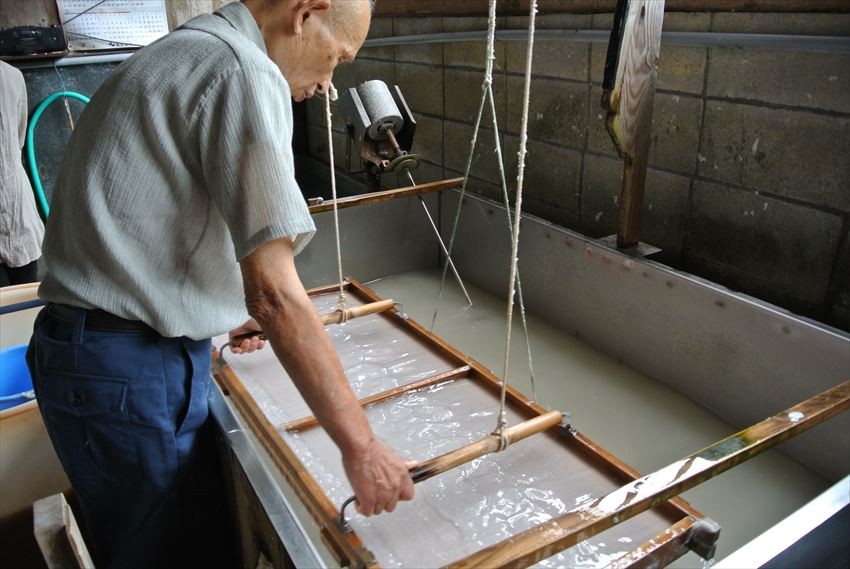 Iwano Ichibei (岩野市兵衛)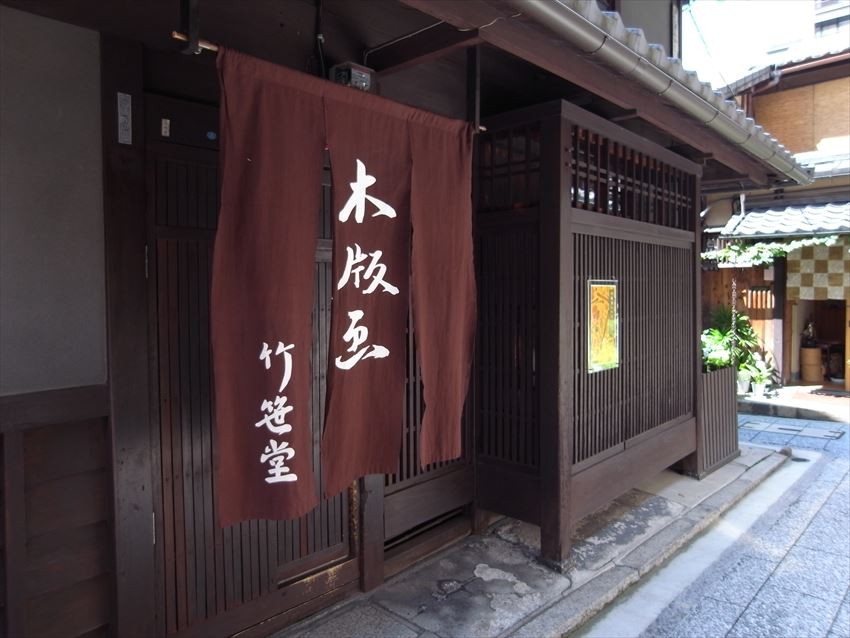 Takezasado (竹笹堂)

Original and supervisor: Reiji Matsumoto

Painter: Hirota team

Takeshi Hirota (Design, Draft, General Manager)

Yu Sakurai (original picture)

Jyun Okabe (background/ color setting)

Yoji Chuza (art editorial)
Title: Suzukaze Hana (涼風花)
Sculptor: Issei Nojima (野嶋一生)

Printer: Kenji Takenaka (竹中健司)

Co-Production: Takezasado (woodblock print production), SUDACCI (armor design), Odji Pictures Co., Ltd. (Copyright Management)

Production/Writing/Publisher :Broad Expert Limited Liability Company

© Reiji Matsumoto
© BROAD EXPERT/2017

Recommend