[Campaign] Win a 5,000 Yen (around RM195) Online Shopping Coupon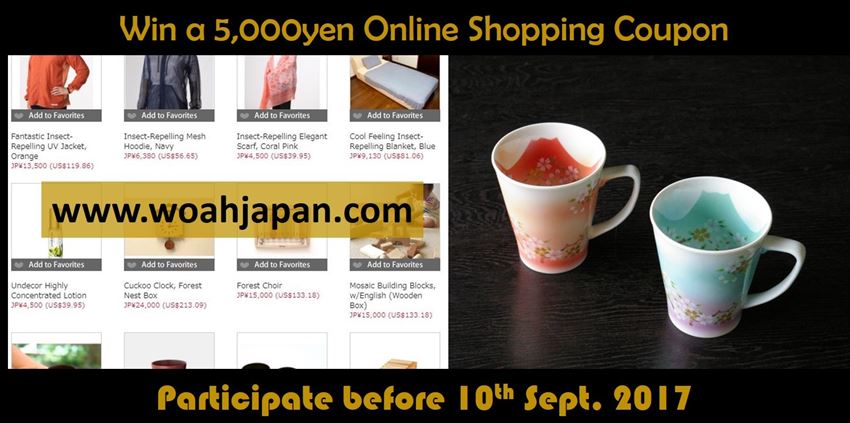 *Image and product price in this picture are just for reference purposes
We know you love online shopping! That is why we prepare you a campaign this month. Get a chance to win this coupon, and enjoy your shopping in this wonderful online shopping website.
This is not a normal campaign! Besides the winners, all other participants get 5% discount (with minimum purchase of 5,000yen) in this website!
So, if you join this campaign, you will either get a 5,000yen online shopping coupon, or get 5% discount if you buy for more than 5,000yen!
[Campaign details]
Campaign period: 15th August ~10th September 2017
Winner: 3 people
Prize: 5,000yen online shopping coupon (around RM195)
*You can use it at http://www.woahjapan.com/index.asp
*Coupon valid until 30th September 2017.
[How to win this coupon?]
[1] Apply to this campaign.
*You can apply only ONCE.
[2] Participate in this
Rewards Survey #18
Buy in Bulk
*The answer to this Survey will be considered when we choose the winner.
TERMS AND CONDITIONS
- This campaign is open to public.
- Participants should be a Japan lover with Malaysian nationality who live in Malaysia.
- The deadline to use this coupon is 30th September 2017
- Coupon should not be transferred, traded or shared to third party.
- The 5,000yen coupon or 5% discount coupon is only applicable to the product price and can be used only once. *Shipment price is not applicable.
- The 5,000 yen coupon winners are required to write a report about his/her shopping experience in
WOAH! JAPAN.
- Please share this page in your Facebook. The "like & comment & share" in your Facebook, will be one of the consideration when we choose the winners.
This campaign is now finished.