[Campaign] Win a 10,000 Yen (around RM385) Travel Coupon To Japan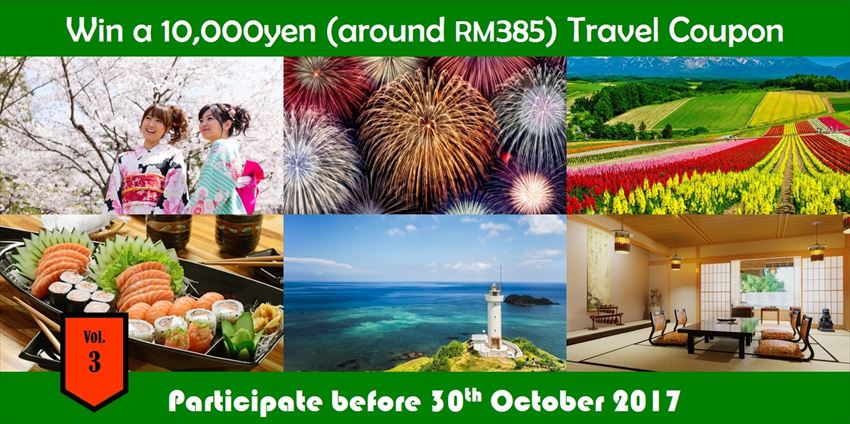 Fun! Japan has started a new campaign! The prize this time is a travel coupon worth 10,000yen (around RM385).
Don't forget to register for Fun! Japan JMB Card and apply to this campaign. The deadline is 30th September 2017. Why wait? Apply NOW!
[Campaign details]
Campaign period: 1st ~ 30th October 2017
Winner: 2 people
Prize: A travel coupon worth 10,000 yen (around RM385)
You can use this coupon when you book for hotels, Ryokan, tours, dinners, shows, transportation tickets etc. through this website. >>> JAPANiCAN.com
* For booking purpose, a special URL will be sent to the prize winners.
* Please read the TERMS AND CONDITIONS written below.
[How to win this coupon?]
1. Register to Fun! Japan Members and Get Fun! Japan JMB card.
◆Please register to FUN! JAPAN Member first from here and you can apply for JAL Mileage Bank (JMB) card in continuation.
◆If you are already a FJ member, log in first and click here to get a FJ JMB CARD.
◆If you already have FJ JMB CARD, please skip this process and go to No.2.

2. Apply to this Campaign
◆You can apply this Campaign only ONCE.
Step 1 Login to Fun! Japan website and click "Join Now" in the bottom of this page.
Step 2 Answer the survey and submit.
3. Participate in this Rewards Survey #1
[Winner notification]
Winner will be contacted after campaign finishes via Fun! Japan newsletter.
TERMS AND CONDITIONS
Participants
- This campaign is open to public.
- He/she should be Japan lover with Malaysian nationality who live in Malaysia.
- The age must be 20 years old or older.
- Participants have to fulfill all conditions to apply.
- Participants can apply the campaign only ONCE.
Prize
- You can use this travel coupon in this website >>> JAPANiCAN.com
(For booking purpose, a special URL will be sent to the prize winners.)
- Minimum room rate is 10,000yen per night, per person for this coupon to be valid.
- The deadline to use this coupon is 30th November, 2017
- The deadline for departure date of the booking tour/hotel/dinner is 30th April 2018
- Some of the products are not available for discount.
- Coupon should not be transferred, traded or shared to third party.
- Fun! Japan is not responsible for accident, food poising, theft and any other incidents that might occur during the trip.
Winner
- Winners of this campaign is 2 people.
- Winners will be selected with consideration to the number of times he/she participated in Fun! Japan Rewards and Fun! Japan Personality Test. Also, favorites, shares, comments and comments content in Fun! Japan website including this article, is important during consideration.


When Contacting The Winner
- If the winner does not reply within the deadline written in the winner notification email from Fun! Japan, then the prize shall be deemed invalid.
This campaign is now finished.