Other Article / Tradition
[Attractive with photos] Matsuri Mania vol.7
Matsuri Mania
Your guide to summer festivals
Yosakoi Matsuri
©Yosakoi Matsuri Promotion Association
Dancers wield naruko clappers as they dance at this spirited festival in Kochi. Festivities climax on August 10 and 11, when 18,000 dancers in 200 teams cut loose from 11 in the morning to 10 at night. Each team has its own distinctive costumes, music, and choreography, and the sight of these huge cohorts dancing in perfect sync has to be seen to be believed. The jikatasha moving turrets that serve as stages for the musicians further heighten the celebratory atmosphere.
August 9 to 12
Chuo Park (1-11 Obiya-machi) and 15 other locations in Kochi
www.cciweb.or.jp/kochi/yosakoiweb
Mihara Yassa Matsuri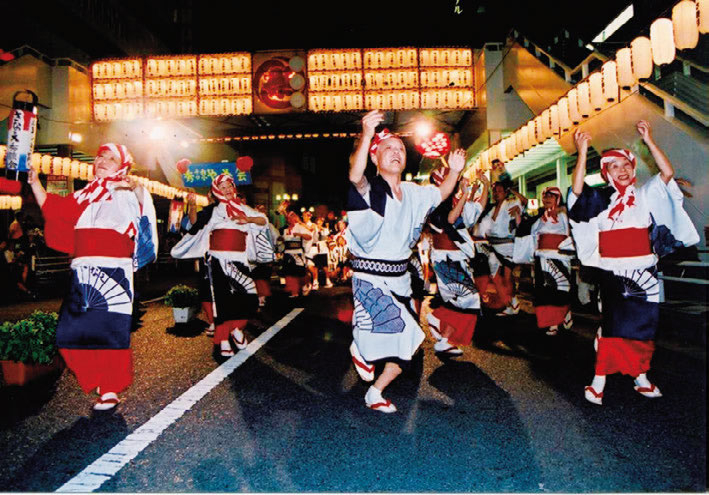 This festival is said to have originated in celebrations of the construction of Mihara Castle in 1567. Every August 11 and 12 it brings together some 7,000 dancers who parade past Mihara Station singing "Yassa! Yassa!" Dancers are free to improvise on the prescribed movements, so there is always a mass of merry onlookers stepping lively to festive tunes played on traditional instruments.
August 11 to 13
Mihara Station on the JR San-yo Line, Mihara, Hiroshima
www.yassa.net
Awa Odori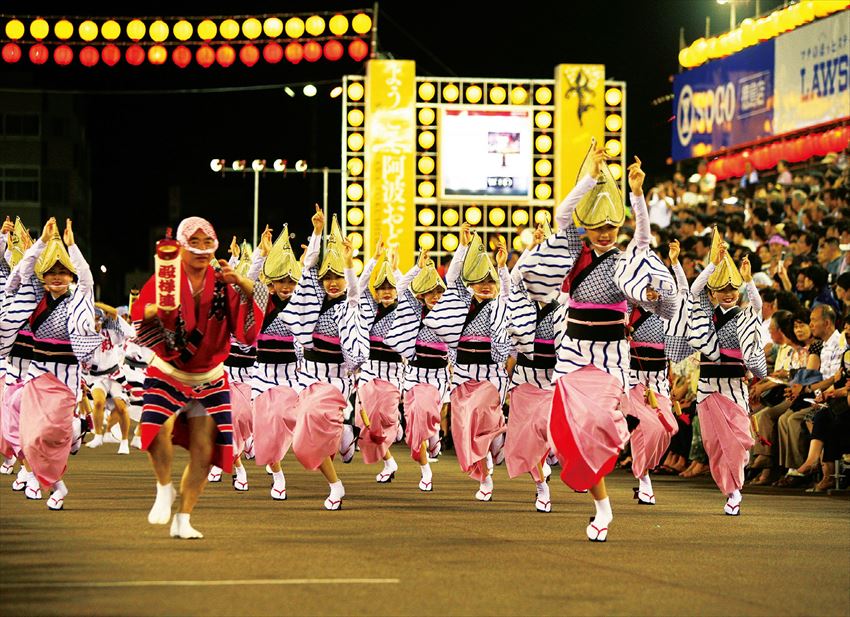 Legendary throughout Japan, Tokushima's Awa Odori features a dance that anyone can do. The festival attracts some 1.2 million people every year, many of them repeat visitors. The steps are simple: raise your arms, move your right arm and leg together, then your left arm and leg. There are two styles, the vigorous otoko-odori (men's dance) and the more fluid onna-odori (women's dance). Dancers form groups known as ren of 50 to 300 each who perform the steps and play festival music on traditional instruments in their own distinctive way. The dancing rises to a fever pitch between 6 and 10:30 PM, and spectators are cordially invited to jump in by joining the niwaka-ren or "impromptu group."
August 12 to 15
Around JR Tokushima Station, Tokushima
www.awanavi.jp/feature/awaodori.html
NOTE:
Dates listed are for 2017 only. Please also note that festival schedules may change due to weather conditions or unforeseen circumstances. Be sure to check relevant websites in advance.
Source " KATEIGAHO INTERNATIONAL Japan EDITION Spring / Summer 2017 vol.39 "
Illustrations by Hiroshi Fukui
Text by Chikako Shimizu and Rieko Numachi
Special thanks to Tetsuya Yamamoto
Translated by Pamela Miki and Julie Kuma
Copy editing by Alan Gleason