[Attractive with photos] Matcha Vol.14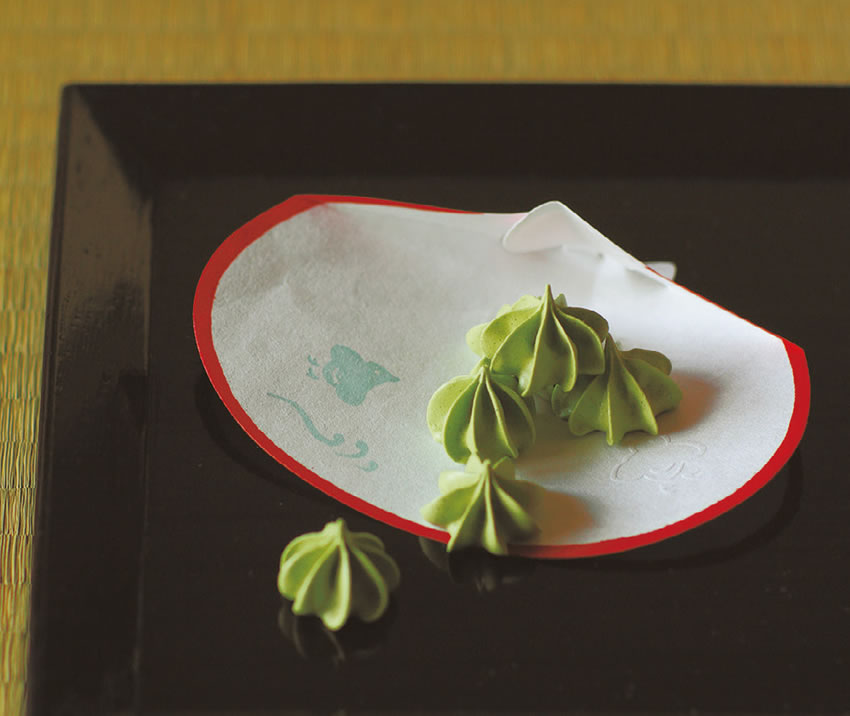 Can't wait for teatime to enjoy these tidbits
Spring-green meringues
Pale green is the color of fresh spring. These light meringues are infused with a hue reminiscent of young tea leaves. Whipping the egg whites into stiff peaks is the secret to the crunchy, melt-in-your-mouth texture of the treats. They are a great way to use up egg whites left over from other baking.

(Makes about 50, each 2 cm in diameter)
In advance: Line a baking pan with parchment paper, and preheat oven to 100°C (210°F).
1 Place 1 egg white in a bowl and whip with an electric mixer until foamy.
2 Measure 4 Tbsp sugar and add about one-third of it to the egg white, continuing to mix. (Egg white will not form stiff peaks if sugar is added all at once.) When egg white becomes glossy, add remaining sugar and whip into stiff peaks.
3 Add 1¼ Tbsp matcha powder and mix well.

4 Attach a star-shaped tip to a pastry bag and transfer meringue to bag. Squeeze out rounds about 2 cm in diameter onto parchment paper on baking pan.
5 Bake for about 1½ hours. Test doneness by lifting one meringue off the parchment. If it comes off cleanly and feels light, remove pan from oven and transfer meringues to a rack to cool, taking care not to break the peaks that have formed. Once cooled, store in an airtight container to keep them crisp.
Source " KATEIGAHO INTERNATIONAL Japan EDITION Spring / Summer 2017 vol.39 "
Special thanks to Marukyu Koyama-en
Photography by Sadaho Naito
Text contributions by Sang Mi Kang and Aki Hirayama
Food preparation by Kyoko Imai, Yuki Uenoyama, and Yuko Koyama
Styling by Yuko Magata