[Attractive with photos] Matcha Vol.12
Familiar sweets made special with matcha
Matcha-crumble pound cake
Moist pound cake with matcha crumble offers the double delight of crunchy topping and rich cake. Baked to a pale-brown finish in order to feature the green hue of the matcha, it tastes heavenly served with whipped cream.

(Makes 1 cake, 21 by 8 by 6 cm)
Crumble topping:
1¼ Tbsp matcha powder
2½ Tbsp cake flour
2 Tbsp almond flour
1½ Tbsp unsalted butter, cubed and chilled
1½ Tbsp sugar
Pound cake:
Unsalted butter, melted, for buttering pan
Bread flour, as needed for flouring pan
150 g unsalted butter, softened
135 g sugar
2 tsp honey
2 eggs
2½ Tbsp matcha powder
140 g cake flour
½ tsp baking powder
In advance: Brush a cake pan with melted butter and dust with bread flour. Tap out excess flour and chill pan. Preheat oven to 180°C (355°F).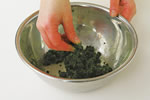 1 Make crumble topping. Sift matcha powder together with cake flour and almond flour in a bowl. Add cubed butter and sugar and combine with a pastry cutter. When ingredients are relatively blended, use fingertips to form a coarse crumble. Cover airtight and chill.
2 Make pound cake batter. Place softened butter in a bowl and whisk to the consistency of mayonnaise.
3 Add sugar and honey, beating with an electric mixer until mixture turns pale. Add eggs, one at a time, mixing well after each addition. Continue mixing until batter turns pale once more.
4 Sift matcha powder together with flour and baking powder, and add to batter in two or three stages, folding thoroughly with a rubber spatula after each addition.
5 Remove chilled cake pan from refrigerator. Pour batter and even out the surface with a spatula; make a shallow slit lengthwise down the middle.
6 Remove crumble from refrigerator and distribute evenly over batter. Bake for 40 to 50 minutes. When crumble begins to brown, tent cake with foil.
7 Test cake for doneness. When a toothpick comes out clean, take cake out of oven, place it on its side, and slide it carefully out of the pan to prevent crumble from falling off. Let cool on a wire rack. Wrap cake and let it sit for a day to help flavor mature.
Slice to serve.
Source " KATEIGAHO INTERNATIONAL Japan EDITION Spring / Summer 2017 vol.39 "
Special thanks to Marukyu Koyama-en
Photography by Nao Shimizu and Sadaho Naito
Text contributions by Sang Mi Kang and Aki Hirayama
Food preparation by Kyoko Imai, Yuki Uenoyama, and Yuko Koyama
Styling by Yuko Magata