[Attractive with photos] Matcha Vol.10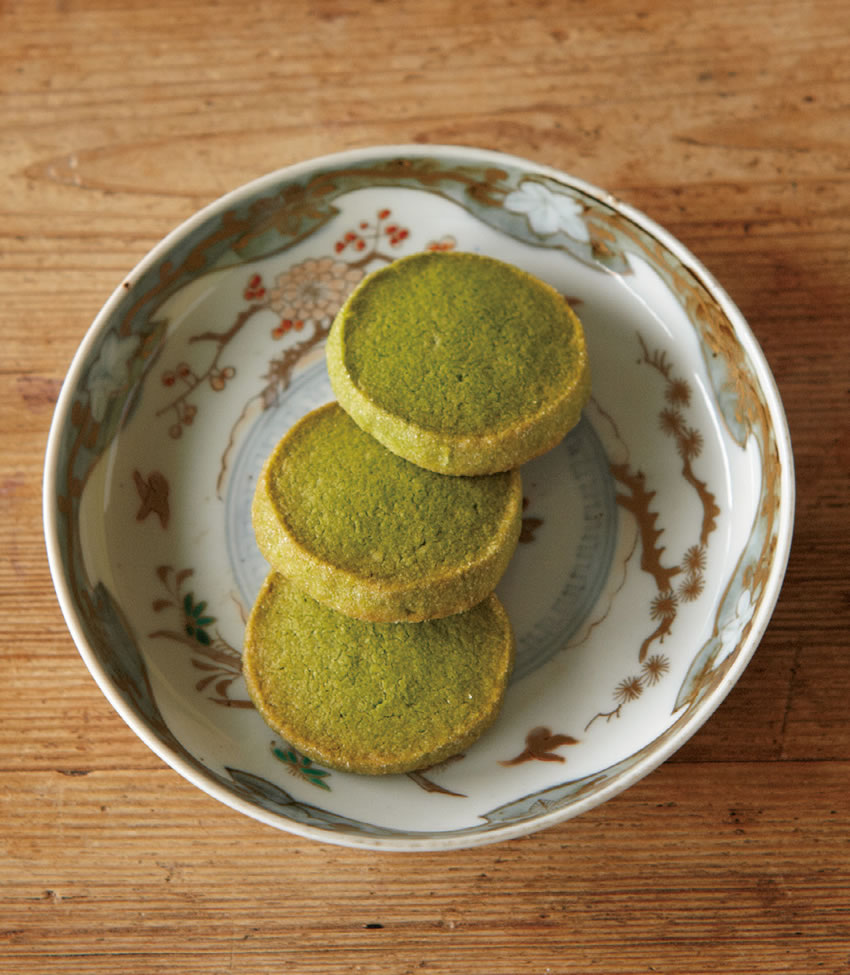 Familiar sweets made special with matcha
Bittersweet matcha sablés
These easy-to-make icebox cookies are irresistibly butter-rich and crunchy. Not overly sweet, they let the intriguing flavor of matcha and the simple goodness of the ingredients shine through.

(Makes about 12 cookies 4 cm in diameter)
4 Tbsp unsalted butter, softened
3¾ Tbsp confectioner's sugar
2 tsp beaten egg
2 tsp matcha powder
8 Tbsp cake flour
3½ Tbsp almond flour
Pinch of salt
Sugar as desired for finishing
In advance: Line a baking pan with parchment paper.
1 Place butter and confectioner's sugar in a bowl and whisk. When the mixture turns pale and becomes the consistency of mayonnaise, add beaten egg and combine thoroughly.
2 Sift together matcha powder, cake flour, almond flour, and salt. Fold into wet ingredients with a rubber spatula. Once they are well combined, gather up dough with your hands and roll into a log 4 cm in diameter. Wrap airtight and chill for 3 hours.
3 Remove dough from refrigerator and sprinkle with sugar if desired. Slice into rounds 1 cm thick.
4 Preheat oven to 170°C(340°F). Place cookies on the parchment-lined pan and bake for 13 to 15 minutes. Remove from oven when lightly browned, and let cool on pan.
Source " KATEIGAHO INTERNATIONAL Japan EDITION Spring / Summer 2017 vol.39 "
Special thanks to Marukyu Koyama-en
Photography by Nao Shimizu and Sadaho Naito
Text contributions by Sang Mi Kang and Aki Hirayama
Food preparation by Kyoko Imai, Yuki Uenoyama, and Yuko Koyama
Styling by Yuko Magata