[Attractive with photos] Matcha Vol.9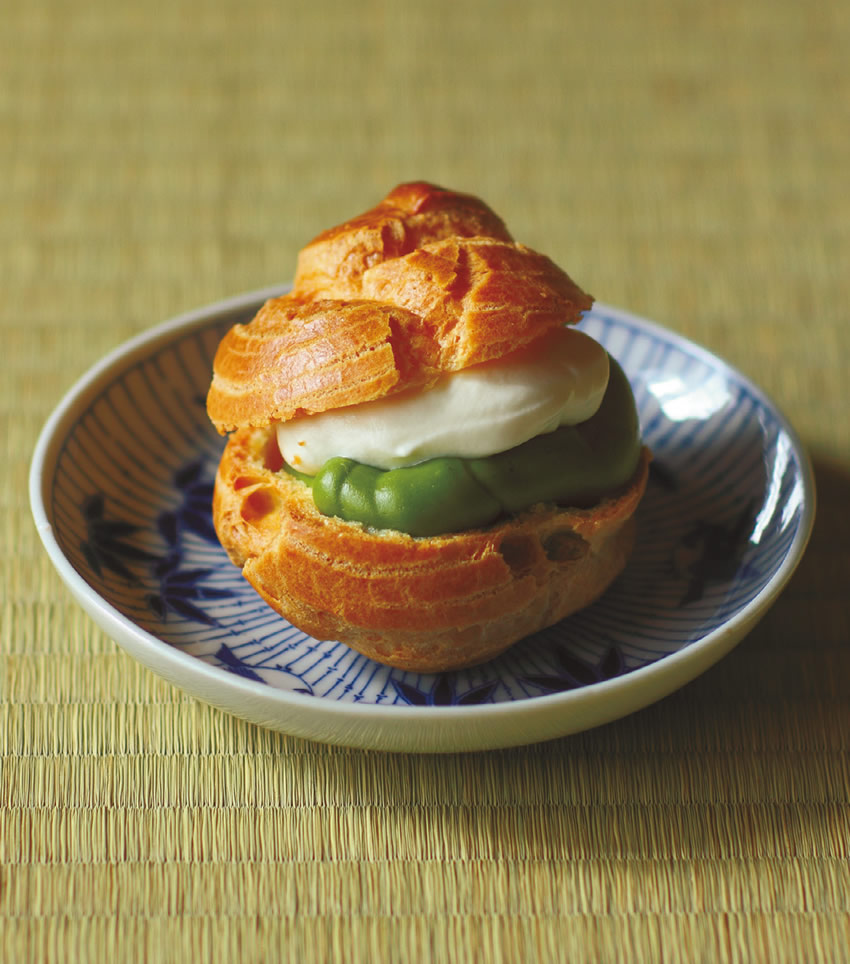 Familiar sweets made special with matcha
Matcha-custard cream puffs
Surprise! These delicate cream puffs are filled with matcha custard and whipped cream. The egg-rich pastry and matcha custard make a great taste combination, and a scrumptious indulgence to enjoy after a busy day.

(Makes 8, each 8 cm in diameter)
Pastry shells:
110 ml milk
110 ml water
1½ tsp sugar
Pinch of salt
100 g unsalted butter, cubed
120 g cake flour, sifted
4 eggs, beaten
Matcha custard cream:
500 ml milk
1 tsp sugar, plus 5 Tbsp
2½ Tbsp matcha powder
6 egg yolks, lightly whisked
4½ Tbsp cake flour, sifted
30 g unsalted butter, cubed
Whipped cream:
200 ml heavy cream
5 tsp sugar
In advance: Line a baking pan with parchment paper. Preheat oven to 200°C (390°F). Fill a large bowl with ice water.
1 Make pastry shells. Place milk, water, sugar, and salt in a pan and whisk lightly. Add cubed butter and set over high heat, melting butter while mixing with a wooden spatula. When mixture boils, remove from heat. Add flour and combine thoroughly.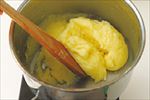 2 Return pan to high heat and continue stirring until moisture has evaporated and the mixture has the consistency of mashed potatoes. Remove from heat when the mixture comes away cleanly from the bottom of the pan.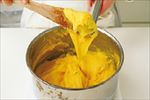 3 Add eggs gradually, mixing vigorously after each addition. When eggs are completely incorporated, continue working the dough until it has the consistency to drop off the spatula as shown in the photograph. (If mixture is too stiff, add a bit of water.)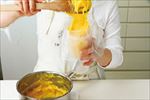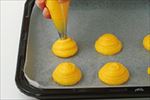 4 Attach a tip with a 1 cm round opening to a pastry bag. Fill the bag with the dough as pictured, using a glass or other container as an aid. Squeeze the mixture in circles about 5 cm across, working quickly while dough is still warm.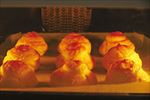 5 Bake for 15 to 18 minutes. Once pastry shells have risen as shown in the photograph, lower temperature to 150°C (300°F) and continue baking for another 25 to 30 minutes. Do not open the oven door until shells have risen to their maximum.
6 While pastry shells are baking, prepare matcha custard cream. Place milk and the 1 tsp sugar in a pan; warm over low heat.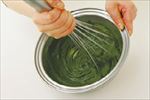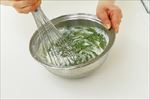 7 Sift together the 5 Tbsp sugar and the matcha powder. Add to the bowl of lightly whisked egg yolks; combine thoroughly. Add flour and mix until incorporated.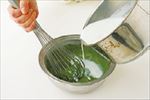 8 Just before the milk in step 6 reaches a boil, add half of it, in small amounts, to the egg mixture, blending well after each addition. Transfer to the pan with the remaining milk and continue mixing with a whisk.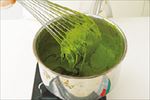 9 When the whisk starts to feel heavy and the mixture reaches the consistency of whipped heavy cream as pictured, switch the whisk for a heat-resistant rubber spatula and continue mixing, taking care not to scorch the custard.
10 When custard starts to bubble in the center, remove pan from heat. Add cubed butter and mix well to incorporate.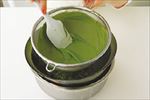 11 Place a bowl and a fine-mesh sieve over ice water and press custard through the sieve. Remove sieve and stir custard to cool all at once. If cream puffs are not to be eaten immediately, spread the custard in a shallow pan, cover airtight, and refrigerate.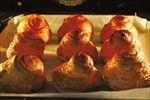 12 Check pastry shells in oven. Once they have browned, turn oven off and leave to bake in the residual heat for another 5 to 10 minutes. Remove to a rack and let cool.
13 Make whipped cream. Place cream and sugar in a bowl set over ice water and whip until soft peaks form.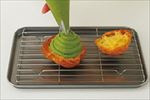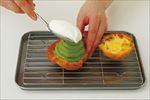 14 Using a serrated knife, slice pastry shells open horizontally. Attach a tip with a round opening to a pastry bag and fill bag with custard cream. Squeeze a generous amount of custard onto the bottom half of each pastry shell. With a warmed spoon, place a dollop of whipped cream over the custard. Cover with top halves of pastry shells.
Source " KATEIGAHO INTERNATIONAL Japan EDITION Spring / Summer 2017 vol.39 "
Special thanks to Marukyu Koyama-en
Photography by Sadaho Naito
Text contributions by Sang Mi Kang and Aki Hirayama
Food preparation by Kyoko Imai, Yuki Uenoyama, and Yuko Koyama
Styling by Yuko Magata