[Attractive with photos] Matcha Vol.8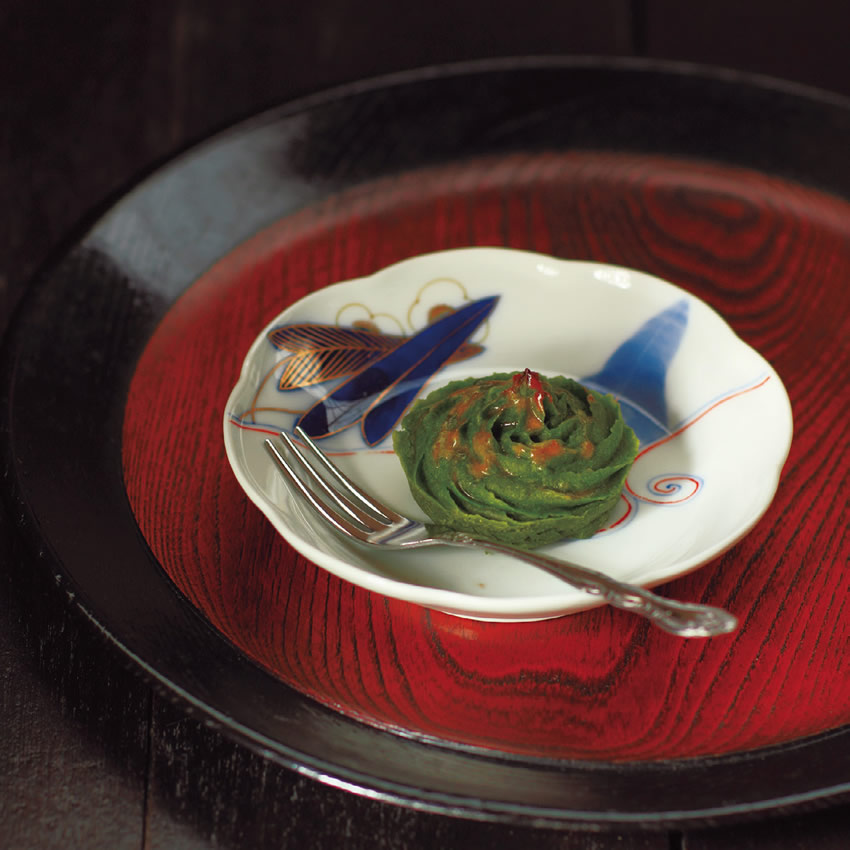 Inventive delights for an elegant teatime
Matcha sweet-potato cakes
This confection strikes a wonderful balance between the flavor of sweet potatoes and the bittersweetness of matcha. The sweeter the potato variety used, the better the result will taste. Making extra effort to press the cooked tuber through a fine-mesh sieve will ensure a velvety texture.

(Makes 10, in molds 5.5 cm diameter by 2 cm high)
About 340 g sweet potato (enough to yield 250 g strained sweet potato)
4½ Tbsp sugar
60 ml milk
60 ml heavy cream
2½ Tbsp unsalted butter
Pinch of salt
1½ Tbsp matcha powder
Yolk of 1 egg, plus extra for glazing
1 Preheat oven to 180°C (355°F). Wash sweet potatoes, wrap individually in foil, and bake for 30 minutes.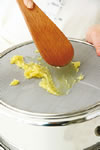 2 Test potatoes for doneness with a toothpick. When cooked through, peel them while still hot and strain flesh through a fine-mesh sieve, using a wooden spatula. The finer the mesh, the smoother the texture will be. Measure out 250 g sieved sweet potatoes and place in a bowl. Leave oven at the same temperature, as it will be used to bake the cakes.
3 Place sugar, milk, cream, butter, salt, and strained sweet potatoes in a pan and warm over medium heat, mixing well with a rubber spatula until butter has melted.
4 Once mixture has thickened, remove from heat. Add matcha powder and combine thoroughly. Add 1 egg yolk and mix well.
5 Place molds on a baking pan. Fit a pastry bag with a star-shaped tip, and transfer sweet potato mixture to bag. Squeeze into molds with a swirling motion.
6 Use a pastry brush to apply egg yolk for glazing. Bake 15 to 25 minutes.
7 Remove from oven when glaze has turned golden brown. Let cool before serving.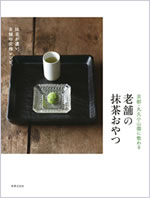 A sweet book
The recipes on these pages are just a few to be found in the book Shinise no matcha oyatsu (Matcha Sweets from Marukyu Koyama-en). This well-illustrated volume includes information on the enjoyment of matcha, a feature on the Koyama family's recipe for rice with tea leaves and kombu broth, and menus from establishments that are patrons of the company's products. The book is published in Japanese by Sekai Bunka Publishing; a Chinese edition is available in Taiwan.
Source " KATEIGAHO INTERNATIONAL Japan EDITION Spring / Summer 2017 vol.39 "
Special thanks to Marukyu Koyama-en
Photography by Sadaho Naito
Text contributions by Sang Mi Kang and Aki Hirayama
Food preparation by Kyoko Imai, Yuki Uenoyama, and Yuko Koyama
Styling by Yuko Magata