[What's new in Japan!] KAWAII!, A must visit for Instagram photos. A cafe where you can have cat shape marshmallow
"Cat Cafe MoCHA", an interior fashion café which has approximately 20 cats in the cafe, collaborates with "Yawahada" which is a specialty shop for cat shape marshmallow. "MoCHA Marchmallow" is redesigned to "Mokyamaro", and released at all outlets of "Cat Café MoCHA" starting from July 2017. All the celebrity cats in this café will be presented to you in Marshmallow form!

The new released "Mokyamaro" has its own characteristic as it can be eaten with few methods. You can either eat it directly or let it float on your drinks, such as coffee and red tea, and eat the marshmallow before it melts. The cat shape floating type Marshmallow is in vanilla flavour, while the meat ball shape marshmallow has two flavour, vanilla flavour and chocolate flavour.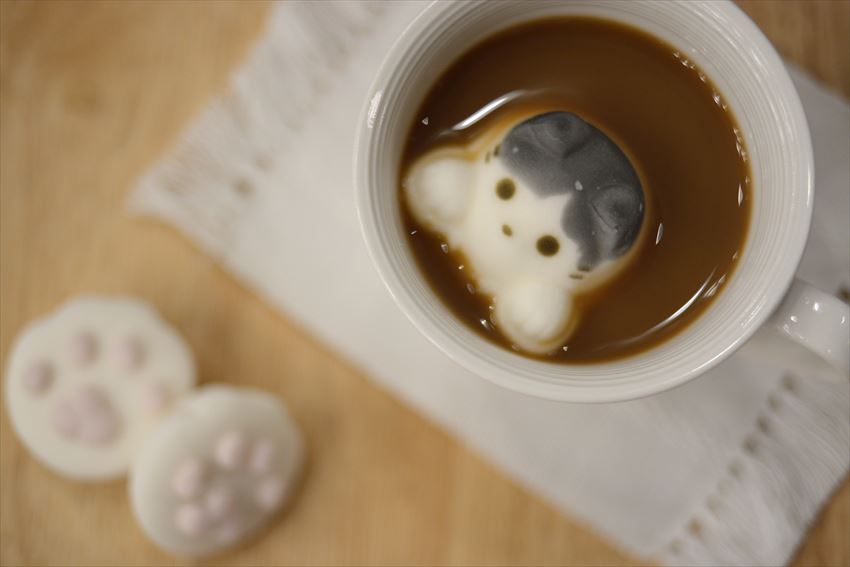 The celebrity cat for the "Cat Café MoCHA" are "Wasabi" and "Azuki" from Akihabara outlet, and "Kinako" from Shibuya outlet. You can enjoy a cat-shaped marshmallow with different cat expression. Let's take a photo together with the cat shape marshmallow and your favorite celebrity cat in the cafe to create your own photogenic photo.
Product Overview
"Mokyamaro"
Price: 480 yen (Tax Excluded)
Available Outlet: "Cat Cafe MoCHA" at Ikebukuro West Entrance outlet, Shibuya outlet, Harajuku outlet, Lounge Ikebukuro East Entrance outlet, Akihabara outlet, Harajuku Takeshita street outlet, Osaka Shinsaibashi Outlet
Contents: 3 piece. Cat shape marshmallow (choose 1 type from Wasabi, Azuki and Kinako) + Meatball shape marshmallow (choose 2 type from vanilla flovour and chocolate flavour)