Starbucks SAKURA Edition has finally come! Introduction of their Limited Products and Beverage
Starbucks in Japan launched "SAKURA series of Starbucks" today, February 15th, 2019. This time we will introduce the limited products of drinks, tumblers, mugs which always booming in Japan every year.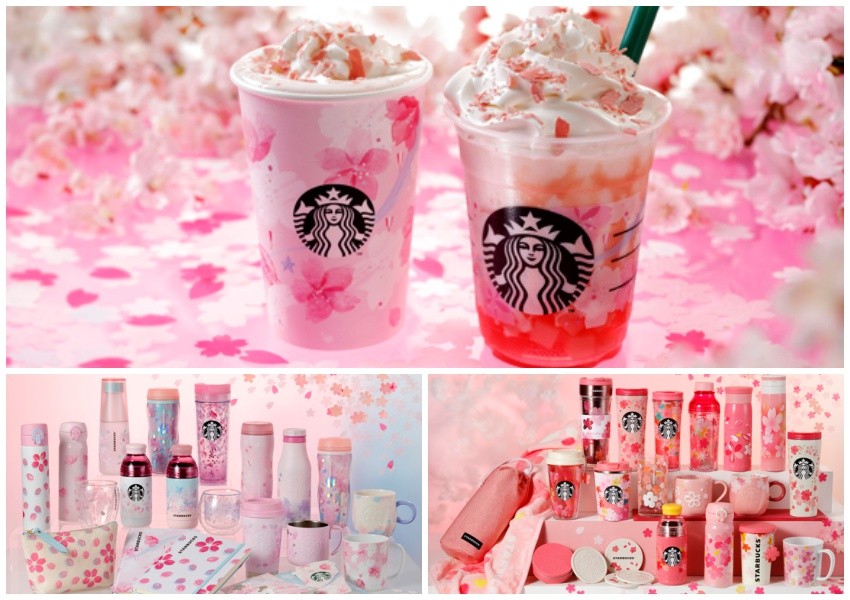 SAKURA"Mankai"Moments-Full blooming all around you-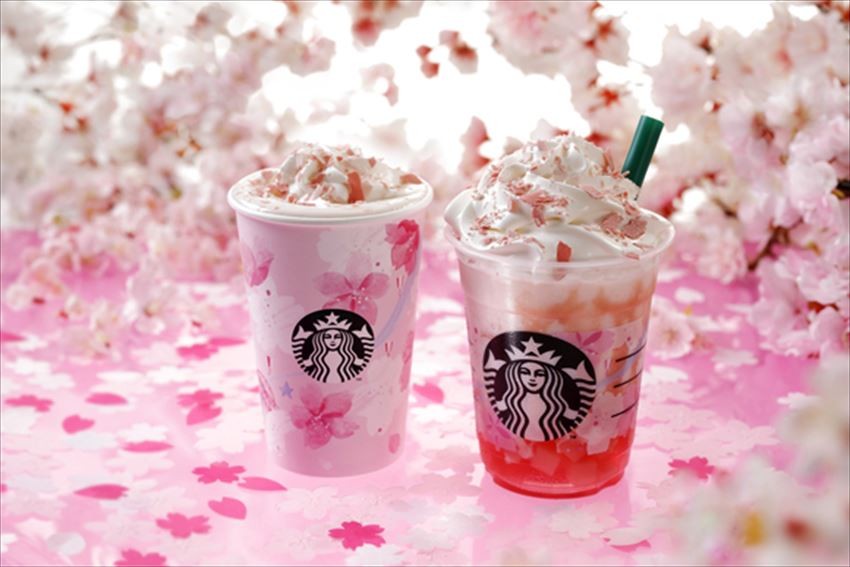 ■Product name & Price (from the left):
『Sakura Full Milk Latte』 Short ¥440/Tall ¥480/Grande ¥520/Venti® ¥560
『Sakura Full Frappuccino®』 Tall¥580
※The display price is the base price (excluding tax)
■ Selling period:
February 15th, 2019 (Friday) to February 27th (Wednesday) 2019
"Sakura Full Milk Latte" will be selling until March 19th (Tuesday) 2019
■ Stores:
Starbucks stores all around Japan (some stores might not sell)
※Will stop the selling when the products are sold out
You can enjoy the beauty of cherry blossoms at different times during with the theme of "Rin" and "Yo"

【1st periode : "Rin" will be released on February 15th, 2019 (Friday)】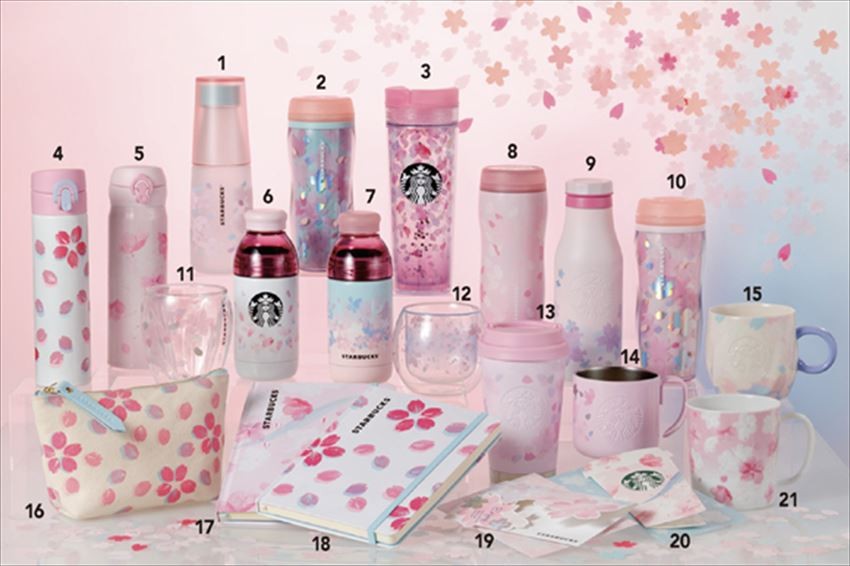 ■ Product Name & Price
『SAKURA 2019 Crave Bottle Blossom 500ml』 ¥2,100

『SAKURA 2019 bottle blue 355ml』 ¥2,000

『SAKURA 2019 Tumbler Petal 473ml』¥2,000

『SAKURA 2019 Slim Handy Stainless Bottle Petal 400ml』 ¥4,300

『SAKURA 2019 Handy Stainless Steel Bottle Brace 500ml』 ¥4,500

『SAKURA 2019 Double Wall Stainless Bottle Flying Petal 355ml』 ¥3,500

『SAKURA 2019 Double Wall Stainless Steel Bottle Grace 355ml』 ¥3,600(available only on online store)

『SAKURA 2019 Carved Stainless Steel Bottle Layered 355ml』 ¥3,900

『SAKURA 2019 Stainless Steel Logo Bottle Matte Pink 473ml』 ¥4,100

『SAKURA 2019 Bottle Pink 355ml』 ¥2,000(available only on online store)

『SAKURA 2019 Double Wall Glass Sakura Shape 237ml』 ¥2,400(available only on online store)

『SAKURA 2019 Double Wall Glass Clear Drop 237ml』 ¥2,400

『SAKURA 2019 Stainless Steel ToGo logo Tumbler Blossom 355ml』 ¥3,600

『SAKURA 2019 Stainless Steel Mug Blossom 355ml』 ¥2,800

『SAKURA 2019 Mug Grace 355ml』¥2,100

『SAKURA 2019 Stationery Pouch』 ¥2,000

『SAKURA 2019 Journal Book Nakameguro』 ¥1,900

『SAKURA 2019 Journal Book』 ¥1,900

『SAKURA 2019 Beverage Card Blossom』 ¥620

『SAKURA 2019 Beverage Card Nakameguro』 ¥620

『SAKURA 2019 Mug Nakameguro』 ¥1,500

【The 2nd periode : "Yo" will be released on February 25th, 2019 (Monday)】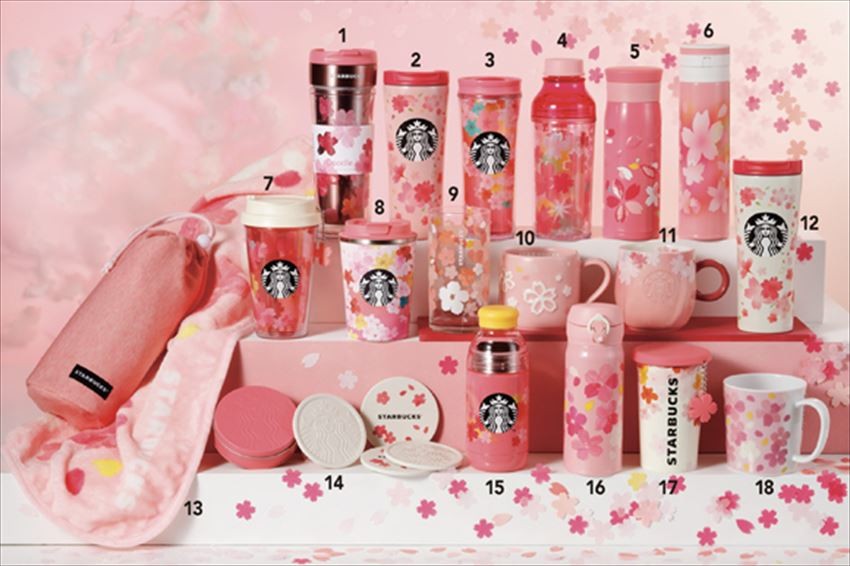 ■ Product Name & Price
『SAKURA 2019 Stainless Steel create your tumbler gloss 473ml』 ¥2,900

『SAKURA 2019 Stainless Steel Tumbler Breeze Pink 355ml』 ¥3,500

『SAKURA 2019 Tumbler Colorful 355ml』 ¥1,800

『SAKURA 2019 Double Wall Sunny Bottle Dancing 473mll』 ¥2,500

『SAKURA 2019 Stainless Steel Bottle Lively 480ml』¥4,600

『SAKURA 2019 One Touch Stainless Bottle Bright 450ml』 ¥4,400

『SAKURA 2019 Charm Tumbler Vivid Pink 355ml』 ¥1,900

『SAKURA 2019 Stainless Steel Tumbler Colorful 355ml』 ¥3,500

『SAKURA 2019 Glass Nakameguro 384ml』 ¥1,300

『SAKURA 2019 Mug line emboss 355ml』¥2,000(available only on online store)

『SAKURA 2019 Mag Bright Pink 355ml』 ¥2,100

『SAKURA 2019 stainless steel tumbler breeze ivory 355ml』 ¥3,500(available only on online store)

『SAKURA 2019 Blanket & Case』 ¥2,300

『SAKURA 2019 Coaster Set』 ¥1,900

『SAKURA 2019 Double wall stainless steel bottle dancing 355ml』 ¥3,500(available only on online store))

『SAKURA 2019 Handy Stainless Bottle Bloomy  400ml』 ¥4,300

『SAKURA 2019 Silicone Lid Stainless Steel Cup Charm 355ml』 ¥3,100

『SAKURA 2019 Mag Petals 355ml』 ¥1,500

■ Stores:
Starbucks stores all around Japan (some stores might not sell)
※Will stop the selling when the products are sold out

[Survey] Traveling to Japan