Length of Japan from Fukuoka for Tokyo Vol.9 (Nagano-Nikko)
1930km!? What can you imagine this figure. It's a distance which one traveler moved by bike between Fukuoka and Tokyo of Japan. Let me share the routes guide and attractions between Fukuoka and Tokyo several times. Today let me share the routes between Takayama - Nagano.
Takayama - Nagano Route
The route which we introduce is open only after July when the authorities remove snow from the eastern side of Mt.Norikura. Before July you could be snowed in at the top of the mountain.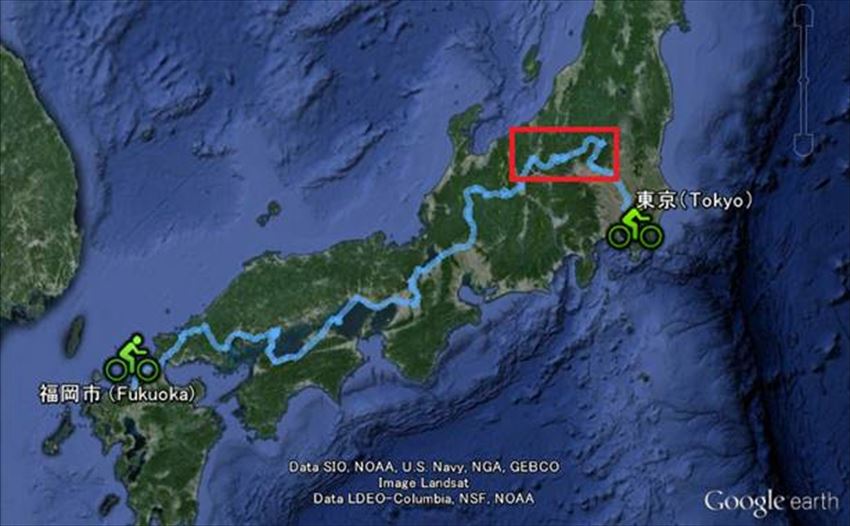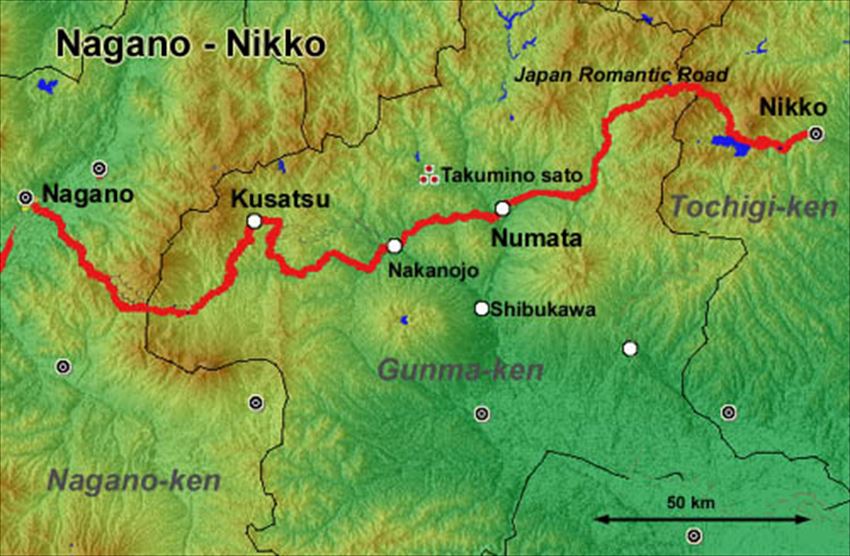 【Summary】
Route: Nagano-Kusatsu-Numata-Nikko

Total distance : 221km

Best Season: May-Oct

Available Season: May-Nov

Steepness : ★★★★(hard)

Natural Beauty : ★★★★(plenty)

History : ★★(sometime)

Traffic : ★★(normal)
Kusatsu Onsen
■The most famous hot spring, Kusatsu Onsen
Beyond the mountains located to the east of Olympic City Nagano is one of Japan's best known onsen areas – Kusatsu Onsen. Beyond one more mountain from Kusatsu there is the final World Heritage site along the "Length of Japan" Part 1. This is Nikko. Go south on the Kanto Plain, and with no more mountains the goal, Tokyo, is in front of you.
From Nagano station's east side, take Prefecture road 34. Ride this flat road about 10 km then the road goes into a valley via Hoshina Onsen. From Hoshina it becomes hilly. Climb 900 m to the Sugadaira Highland. The climate of this highland is very different from Nagano city. Nagano city is surrounded by mountains so the climate in summer is hot and humid. But this highland is cooler making it popular as a summer resort and training ground for many sporting activities. You will see many highland flowers from spring to fall. Enjoy cycling surrounded by flowers. This route is closed during in winter.
Take the R406 then R144 to the east from Sugadaira highland until you arrive at Torii Pass at a height of 1400 m. This is the gateway to the Kanto district. Crossing the pass the road descends through gentle winding bends. You will see the larger farms identified by lush green vegetables. Farm vehicles will be working. Continue down the R144 for about 20 km and turn left at Manza Kazawa Guchi Station of the JR line. Then take the prefecture road 59. This road leads you to Kusatsu Onsen.

Kusatsu town 
Kusatsu town is small city with a population of just 8,500 but also one of the biggest towns at an Onsen tourists spot. About 3 million of tourists visit here annually. There are a center square, a park, accommodations and some other facilities in the Kusatsu village centre. Tourists enjoy taking a walk around Kusatsu before or after soaking in the onsen. There are 18 public onsen spas in Kusatus village.

Hot spring
Kusatus' onsen is famous for some of the best quality, and quantity, of spring water in Japan, flowing over 35 kl per minute. Kusatus's hot spring has a high acid level offering sterilizing power and many other health benefits. Kusatus is also a highland area where it is cool in summer and you can ski in winter.

Freshen up by taking Onsen and resting weary limbs. Next stop is Nikko.

Nikko
■Japan Romantic Road
When you heading to When you are heading to World Heritage Nikko from Kusatus, a good idea is to ride along Japan's Romantic Road. This road starts from Komoro City in Nagano prefecture and goes to Nikko via Kusatsu and Numata. The distance is 230 km. It was named from Romantic Road in Germany. This road connects two Japanese national parks. Volcanoes, highlands, lakes and many historical towns are found along this road.

After the downhill along R292 from Kusatsu, Romantic Road forks. One fork is the mountain road via Kuresaka Pass (prefecture road 55) which was loved by the romantic poet Bokusui Wakayama. The other is R145 which goes along the Azuma River. We have selected the R145 route.
The reason we recommend this route is that a historical onsen village will soon be disappearing before our eyes. The intention to build a dam here was mooted in 1950 but a citizen's movement has been successfully against this project, until 2004. But the historic village, and others, will be flooded by 2010. The name of the onsen area is Kawarayu. It can still be seen as it always has been when looking along streets and the quiet valley. One more of Japan's traditional places will sadly disappear. For a very short time you can see it as it was. To go to Kawarayu, turn right just 50 m before the JR Kawarayu Onsen Station. The station is small so be careful not to miss seeing it.

■Road to World heritage Nikko
Numata City is a castle town on a cliff, surrounded by mountains. After riding along the R145, take the R125 to get to the center of Numata city. There is a hill climb but not a strenuous one. After leaving the Numata central district, take the R120 for Nikko. The road gains altitude along the cliff. At its summit, Shiizaka Pass, you will see and interesting roadside restaurant – a Germanic house. It may be a symbol of the original Romantic Road?

From the pass ride down the R120 to the Katashina River. On the way pause at the beautiful Fukiwari Falls. This waterfall was created from the stream eroding the soft monolith rock. The water appears to be springing from the rock at high pressure. "Fukiwari" in Japanese has such a meaning. The waterfall is 7 m high and 30 m wide and is said to be the miniature "Niagara Falls of Asia". There are other falls and beautiful rocks and trees around here.

Keep riding on the R120 for about 10 km after the Fukiwari Falls, until the R120 forks with the R 401. Our route to Nikko is still on the R120. The R401 leads to Oze where is there is a preserved area of highland swamp. Motor vehicles are prohibited. But you can go by bicycle as far as the entry gate. Beyond the entrance to the Oze preserved area there are many tracks and huts for hikers (but no camping ground). It is worth taking a side trip.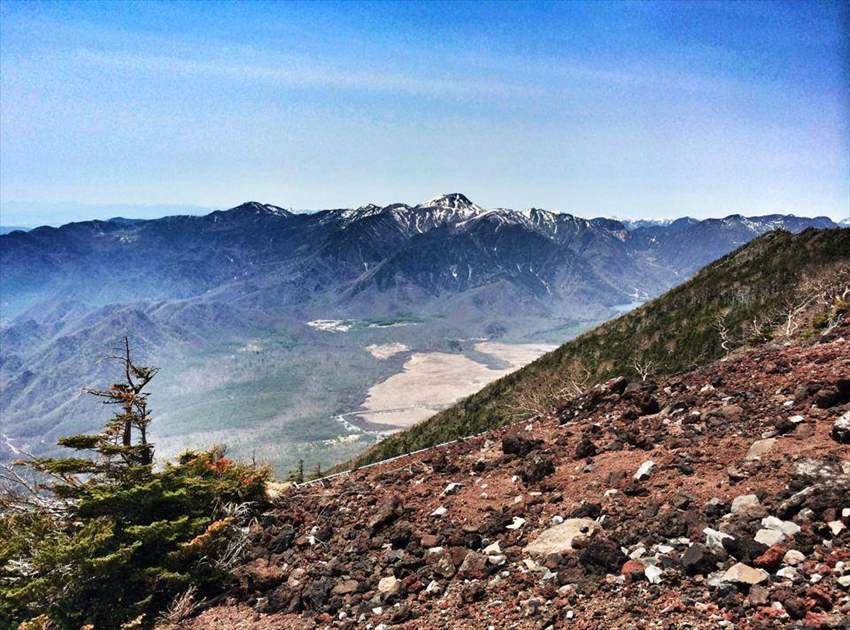 Come back to our route to Nikko. Keep your ride along the R120 from the fork. Here comes the final challenge, Konsei Pass. It must be a good experience because few people to approach Nikko from this route. You will see many more special views than regular tourists.
As descending Konsei Pass, Lake Yuno-ko comes into view. A hot spring named Nikko-yumoto-onsen is on the lakeside. It is a white spring emitting a strong smell of sulfur. The camping ground is near here. Also nearby is the vast marshland, Senjo-gahara where alpine plants bloom during early summer. Go down to the lakeside of Chuzenji-ko. Here is the Shoubu-gahama-camping ground, one of our recommended campsites. A good atmosphere is endowed with nature. Thanks to not allowing the entry of motor vehicles a pleasant quiet time can be spent here.

From here, the route descends from Chuzenji-ko lake to Nikko city. Pass by the famous falls Kegon-no-taki(華厳の滝), then descend the road called Dai-ichi-iroha-zaka (第一いろは坂). This is one way traffic and a really dynamic downhill ride.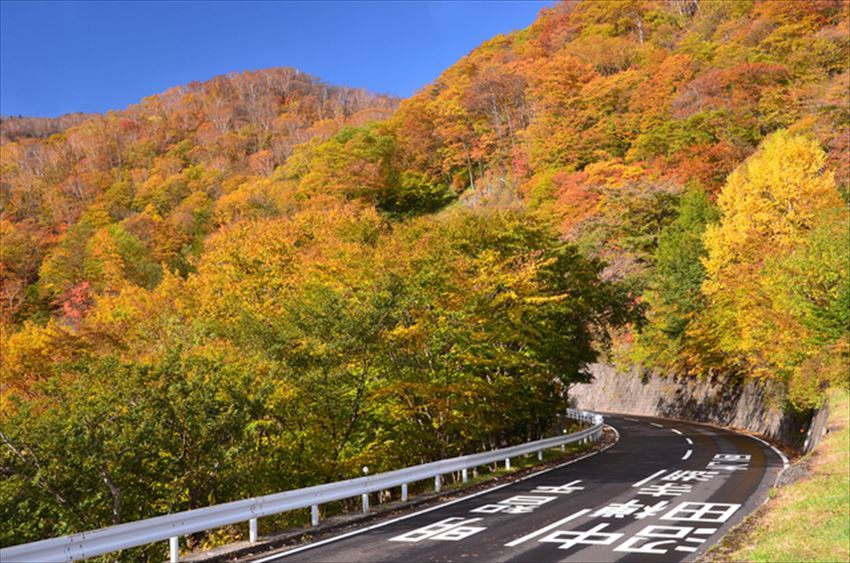 Before long, arrive at Toshogu (東照宮). An all too famous tourist attraction, but it's worth visiting at any cost. Both the size and the quality of the shrine are appropriate for a leader who was a cornerstone for a peaceful Japan extending across 300 years.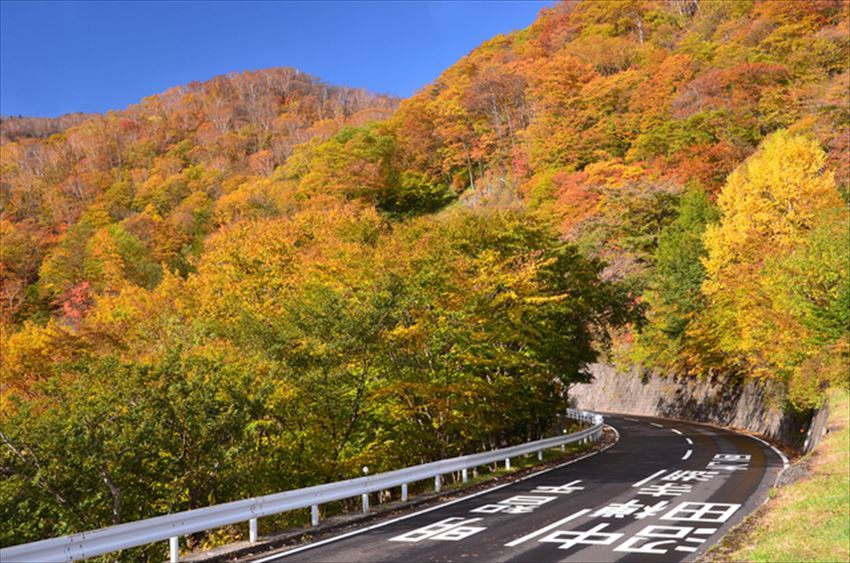 Route: Nagano - Nikko
■Nagano(長野)
↓Prefectural Road #34(25km)

↓Route #406(31km)through Torii pass

↓Prefectural Road #59,Route #292(14km)

↓(70km)

■Kusatsu(草津)
↓Route #292(15km)

↓Route #145(24km)

↓(39km)

■Nakanojo(中之条)
↓Route #145

↓(22km)

■Numata(沼田)
↓Route #120

↓through Konsei pass (90km)
■Nikko(日光)
[Survey] Traveling to Japan