Get a chance to win luxurious prizes! Fukuoka Prefecture Ambassador Campaign is currently underway!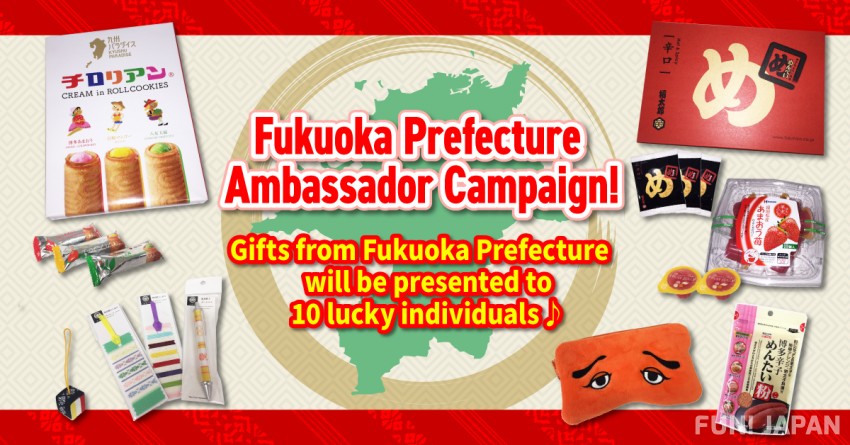 Fukuoka Prefecture is brimming with delights, from gourmet cuisine and sightseeing to shopping.We are currently recruiting Fukuoka Prefecture Ambassadors to promote its charm!
Those selected as Ambassadors will be tasked with promoting Fukuoka Prefecture♪
In addition, we will present a combination gift box of desserts and souvenirs produced in Fukuoka Prefecture♪ If you love Fukuoka, please feel free to participate!
■Ambassador Prizes
We will select 10 individuals who have submitted captivating posts.
Fukuoka Prefecture Assortment Gift Box (valued at 5000 yen)
It includes luxurious items unique to Fukuoka Prefecture, such as strawberry sweets!
■How to participate
1.Join the 'Fukuoka FAN CLUB Singapore' and 'Like' the Facebook page.
https://www.facebook.com/groups/843284720107137

2.Write about 'The Charm of Fukuoka As I Know It' in this thread. If you've been to Fukuoka Prefecture, feel free to share photos too!
■Participation Requirements
・Currently, for those residing in Singapore
・For those who love Fukuoka Prefecture (even if you haven't been there yet!)
・Those who want to actively promote the charm of Fukuoka Prefecture
・Those who have completed all the steps for 'How to Participate'
■Recruitment Period
Until mid-October (Further details will be communicated through the community group.)
■Important Notes
・The selected individuals will be contacted via Facebook DM. Those who do not meet the participation requirements at the time of selection will not be eligible.
・Please note that we may not be able to respond to inquiries about the campaign results.
・The prizes shown in the photos are for illustration purposes only. The actual prizes may differ.