The charms of the popular Japanese TV anime "Tokyo Revengers" explained in FUN! JAPAN-style!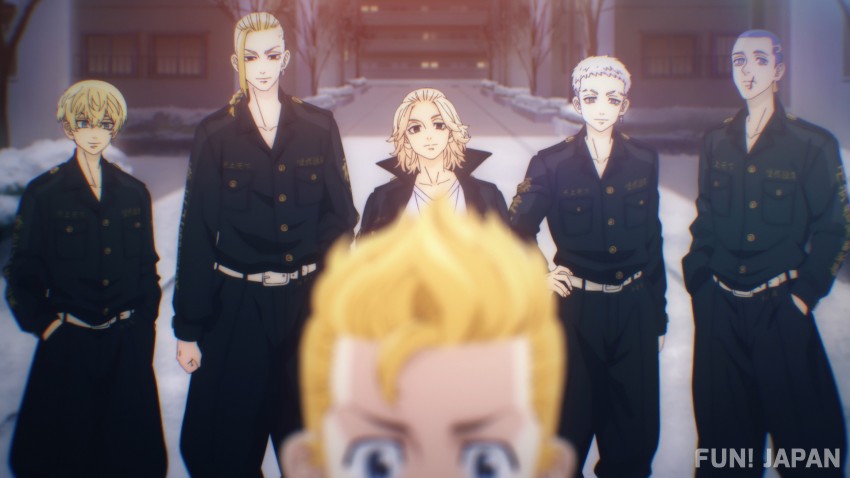 The popular Japanese anime, "Tokyo Revengers". Based on the popular comic "Tokyo 卍 Revengers", which has surpassed a total of 70 million copies issued, the TV anime broadcast started in 2021. In January 2023, the sequel "Holy Night Battle Arc" was broadcasted, and it has caused a social phenomenon involving multiple media, including live-action movies and stage adaptations.
From October 2023, the "Tenjiku Arc", which depicts the "final" conflict in the history of Tokyo Manji-kai, is scheduled to be broadcasted. In addition, from November 27, the "Tokyo Revengers Exhibition: The Final World Line" is also planned. The momentum is not contained domestically, as the number of fans is also increasing overseas.
In this article, the FUN! JAPAN editorial team will thoroughly explain the recommended points of "Tokyo Revengers", focusing on the charm of its Japanese anime-like settings.
What is the Synopsis and Charm of the TV Anime "Tokyo Revengers"?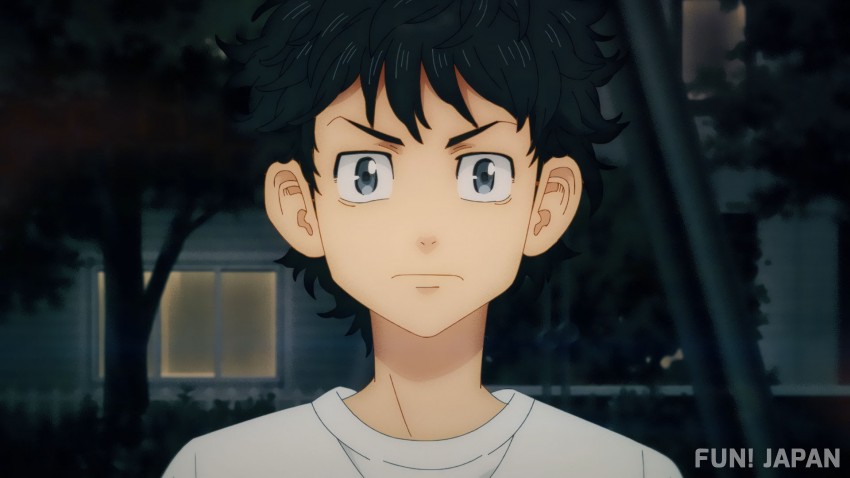 The protagonist of this series is Takemichi Hanagaki, a part-time worker at the bottom of his life. Takemichi learns that his only girlfriend from his junior high school days, Hinata Tachibana, was killed by the worst villainous group, "Tokyo Manji-kai". The day after learning about the incident, Takemichi, who was on the platform of the station, was pushed from behind by someone and fell onto the tracks, prepared for death. However, when he opened his eyes, his consciousness had somehow travel back in time 12 years before. He time-leaps back to his junior high school days, the peak of his life, and starts his life's revenge to save his girlfriend and change his constant running away personality!
The greatest charm of this series is the passionate drama played out by the characters. The "Delinquent" genre is popular in Japanese anime and manga culture, but this series has added the element of "time-leap" (mental-only time travel) to it, creating a novel setting and new emotions.
One of the points that has made it popular among overseas users is the ability to experience Japanese Delinquent (known in Japanese as 'Yankee') culture from the characters dressed in biker gang uniforms running wild. Many overseas cosplayers can be seen cosplaying this series at events and the like.
The main setting of the story is in Tokyo's Shibuya, with familiar place names such as Shinjuku and Roppongi appearing throughout the work. "Tokyo Revengers" is an anime packed with exciting moments not only for anime fans but also for those who love Japan.
The setting of "Tokyo Revengers" is in Tokyo's Shibuya!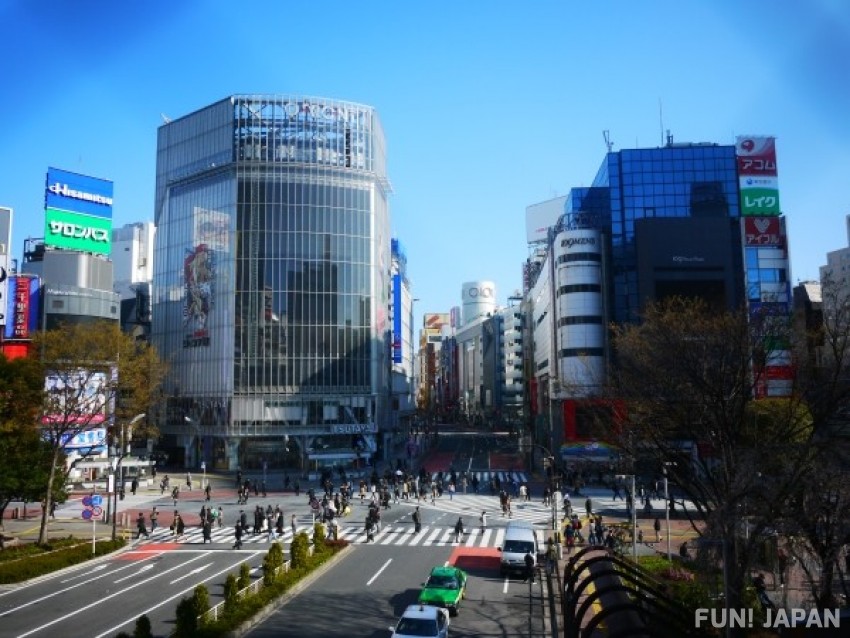 The main pillar of the story is the growth story of the protagonist, Takemichi, who tries to unravel the mystery of the "Tokyo Manji-kai" to save Hinata. In the play, Takemichi explores the behind-the-scenes of the formation of the "Tokyo Manji-kai" and why a team with strong camaraderie transformed into the worst villainous organization, with famous place names in Tokyo and Kanagawa appearing throughout the story.

Among them, a symbolic place is Shibuya, Tokyo, where the "Tokyo Manji-kai", led by Sano Manjiro (Mikey), who is an absolute charisma, was formed.
The scene where the founding members, Mikey, Ryuguji Ken (Draken), Baji Keisuke, Mitsuya Takashi, Hayashida Haruki (Pa-chin), and Hahamiya Kazutora, gather at a shrine and hold amulets with the desire to make a team where each person can risk their lives for everyone, is a memorable scene that makes you feel the bond of the members.
Photos were taken at the Shibuya Scramble Crossing where the founding members lined up to celebrate their formation, and the lively street where Draken was born and raised appeared, and Shibuya is depicted as a place deeply associated with "Tokyo Manji-kai" in various episodes in the play.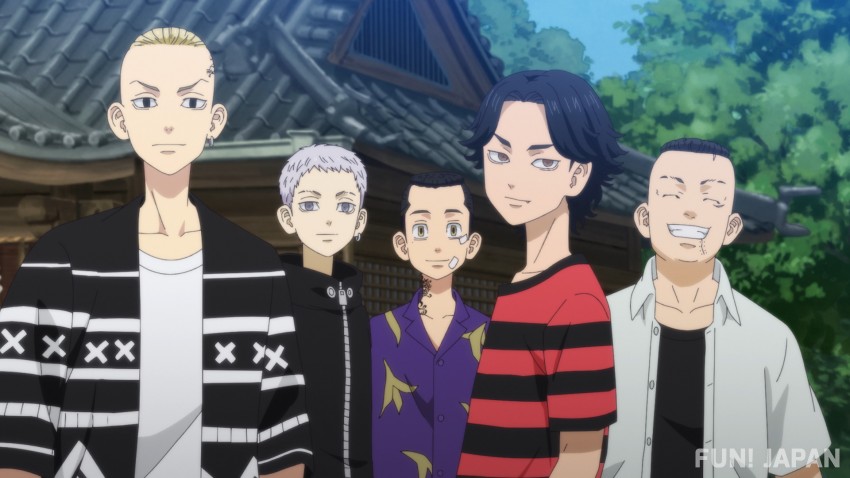 And then, Shinjuku Station, the origin of the time-leap where Takemichi has an accident. Shinjuku also appears as the territory of "Moebius" and "Valhalla", gangs that fight against "Tokyo Manji-kai".
In addition, teams such as "Tenjiku" that are active mainly in Yokohama, and the charismatic Haitani brothers from Roppongi, a famous delinquent area, also make their presence felt. The appearance of familiar place names for tourists also raises the tension.

There are also many places where you can imagine, such as the park where Takemichi goes on a date with Hinata, and many people are making a pilgrimage to the locations depicted in the TV anime. The characters are so attractive that it's understandable that people want to visit the actual places to feel the scenery that Takemichi and Mikey saw.
Kids Meal, Harajuku pancakes, Peyoung sauce yakisoba and various other Japanese gourmet foods are key points in the work!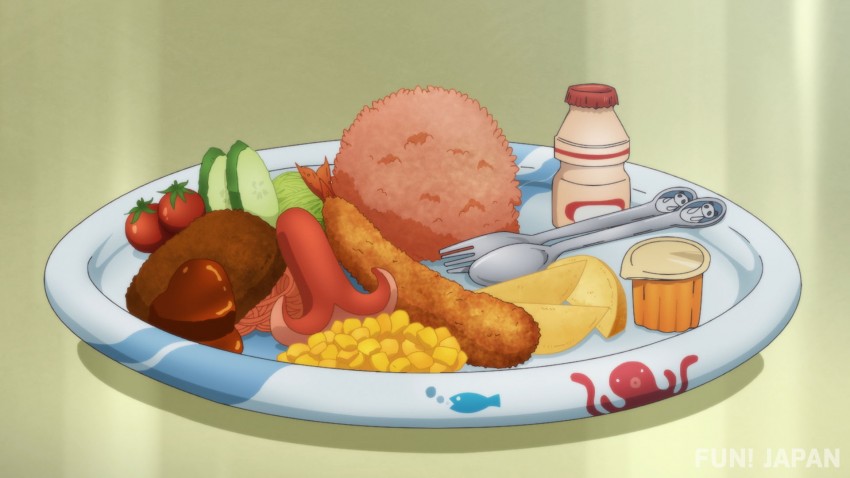 A major highlight is the delicious Japanese gourmet food that appears as a symbolic item in each episode, representing key points and character relationships.

While Mikey, who boasts overwhelming strength, is a shining presence among the characters, his popularity lies in his cute side, contrary to his coolness. His fondness for eating Dorayaki and the adorable sight of him being fed pancakes by his sister Emma are also endearing.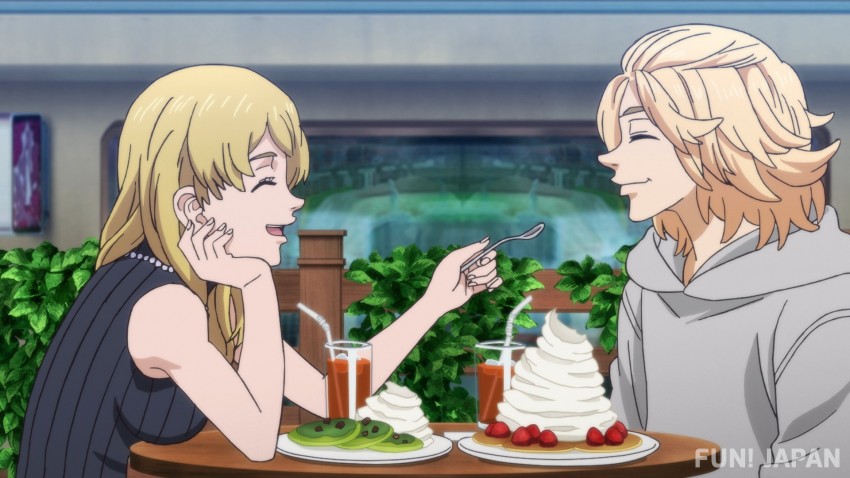 It's also impressive to see Mikey ordering a "Kids Meal" at a family restaurant. The "Kids Meal", also known as "Oko-sama lunch" (お子様ランチ) in Japanese, is a menu item that generously combines children's favorites such as hamburgers, ketchup rice, and bite-sized jelly on one plate. It's a common sight in Japan for a child to spot a "Kids Meal" when going to a restaurant with their family and choose it.
Often, there is a flag as a decoration on the rice, but in the anime, there was no flag on the "Kids Meal" that was brought to Mikey. Seeing Mikey sulk, Draken says, "Look, Mikey. Here's a flag," and presents a flag that he pulls out from his chest. This makes Mikey's eyes sparkle with joy. While it's a scene that makes you laugh, it strongly conveys that Draken is there to fill in what Mikey lacks.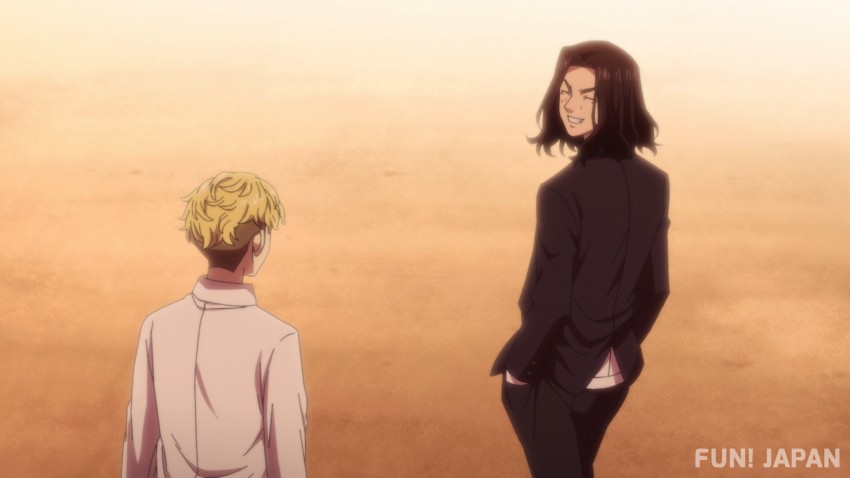 "Peyoung" is also an important item in this series. "Peyoung" is a square cup yakisoba that was born in the 1970s, and it is said that the name "Peyoung" was given by combining "pair" and "young" with the wish that "young couples would like to eat one thing together".
In Japan, it is a product that is loved by a wide range of generations, so much so that many people immediately think of it when asked "What comes to your mind when talking about cup noodles...". In the drama, it appears as the favorite food of Baji, a founding member of the "Tokyo Manji-kai". Baji, who had a chance encounter with Chifuyu Matsuno, invited him to his house, but there was only one "Peyoung". The day they shared and ate "half for each person" becomes a treasured memory for Chifuyu, who would come to revere Baji afterwards. The "Peyoung" becomes a tear-jerking item as he recalls Baji fighting for Mikey and his friends.
Pay attention to the settings and culture of manga and anime unique to Japan, such as Delinquent culture and time-leap!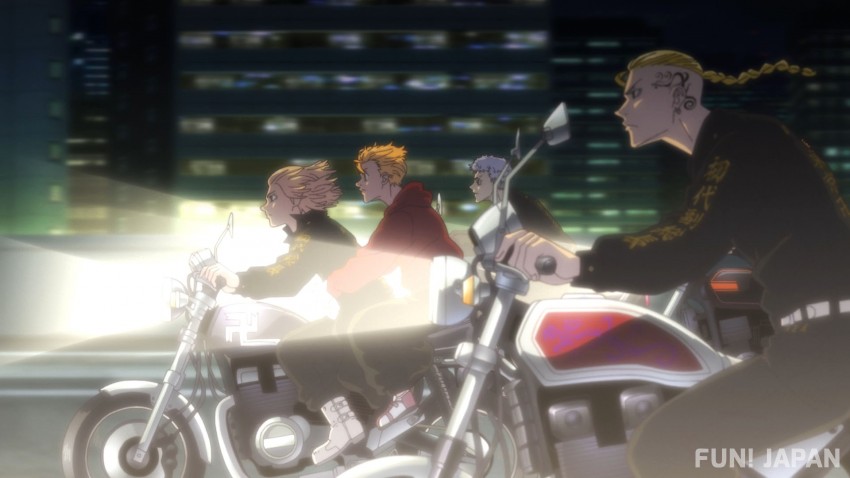 The "Yankee genre", which depicts the activities of delinquent youths, is a genre that has been consistently supported in Japanese anime and manga, with numerous masterpieces such as "Crows" and "Be-Bop High School" being born. Yankees in Japanese term, or delinquent youths, are often portrayed as figures who love their hometowns and friends, and the essence of the "Yankee genre" is the enjoyment of a classic youth story where they aim for the top through flashy fights and build friendships along the way.
The characters in "Tokyo Revengers" not only have unique personalities, but also stand out with their fashion and hairstyles. Their style, which could be described as "delinquent formal", is particularly eye-catching with their biker gang uniforms (特攻服 / Tokkofuku - special attack uniforms). These uniforms are jackets embroidered with the team name, favorite words, and patterns, serving as a symbol of recognition as a team member and adding to the narrative.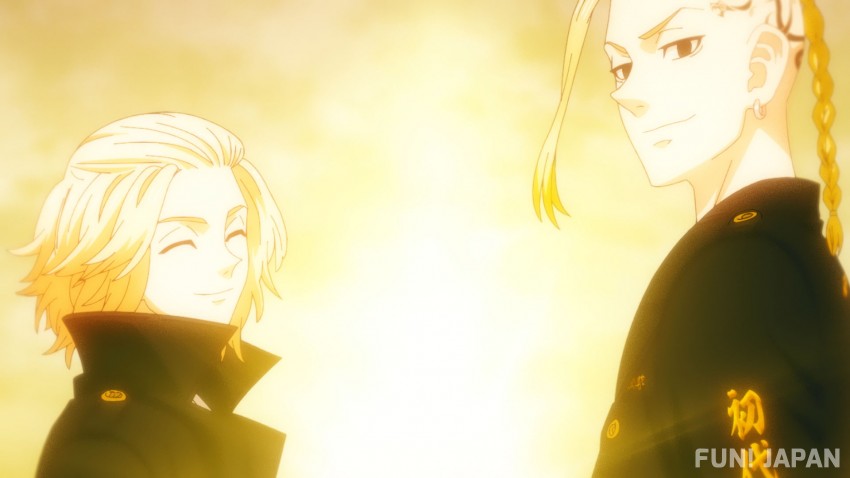 What makes this series special is the addition of a "time-leap" element to the "Yankee" theme, fulfilling the desire that everyone must have at least once, "I want to redo my life." "Time-leap" is a Japanese-made English term. If "time travel" often involves moving through time using a machine, "time-leap" is all about moving through time with one's own ability. The term "time-leap" is differentiated from "time-slip", another Japanese-made English term, by only time-travel with consciousness, while time-slip is going there physically and can meet with younger/older self. One day, Takemichi suddenly acquires this ability and goes back to the past 12 years ago.

No matter how many times he time leaps, he always ends up in the worst future for some reason, and the viewers, along with Takemichi, want to collect the puzzle pieces scattered in the past to avoid the worst future. The development that can only be depicted because it is a "time-leap" is really interesting. With its addictive nature of "I can't help but worry about what's going to happen next!", you can also enjoy Japanese culture and food in the world of "Tokyo Revengers". We highly recommend you to dive into it at least once.
TV Anime "Tokyo Revengers" Original Collaboration Products Now on Sale!
"Tokyo Revengers" follows the story of Takemichi, a man leading a disappointing life, as he embarks on revenge on life to save Hinata, his only love in life, and his friends.
Despite being beaten down, Takemichi's courage to stand up time and time again gives viewers courage. The series is full of highlights, including the strong bonds developed by the charming characters, the unraveling of mysteries, and flashy action scenes. The "Tenchiku Arc", which is the biggest and "last" conflict in the history of Tokyo Manji, is set to start broadcasting from October. From November 27, the "Tokyo Revengers Exhibition: The Final World Line" will also be held, continuing to expand its fan base worldwide even after the end of the original series.
Currently, FUN! JAPAN SELECTSHOP is selling original collaboration products from the TV anime "Tokyo Revengers". The shop offers a wide range of meticulously crafted items, including pair of color-changing glasses, mame-zara plates, and special juices, all featuring the main characters.
Watching this series, it's inevitable that you'll find your favorite characters and interactions, such as "I like this character" or "I like the exchange between these two". The pair glasses come in four different designs: "Sano Manjiro x Ryuguji Ken", "Hanagaki Takemichi x Tachibana Hinata", "Baji Keisuke x Matsuno Chifuyu", and "Mitsuya Takashi x Shiba Hakkai". You can bring home items featuring the best combinations from the show. The special juices even reflect the theme colors of each character, making every item a delight for fans! Enjoy the anime "Tokyo Revengers" to the fullest with these original collaboration goods.
[Survey] Traveling to Japan
Recommend