FUN! JAPAN PR
A new amusement park in Tokyo, perfect for adults and children alike! Step into RED° TOKYO TOWER, an interactive entertainment facility inside the capital's iconic Tokyo Tower!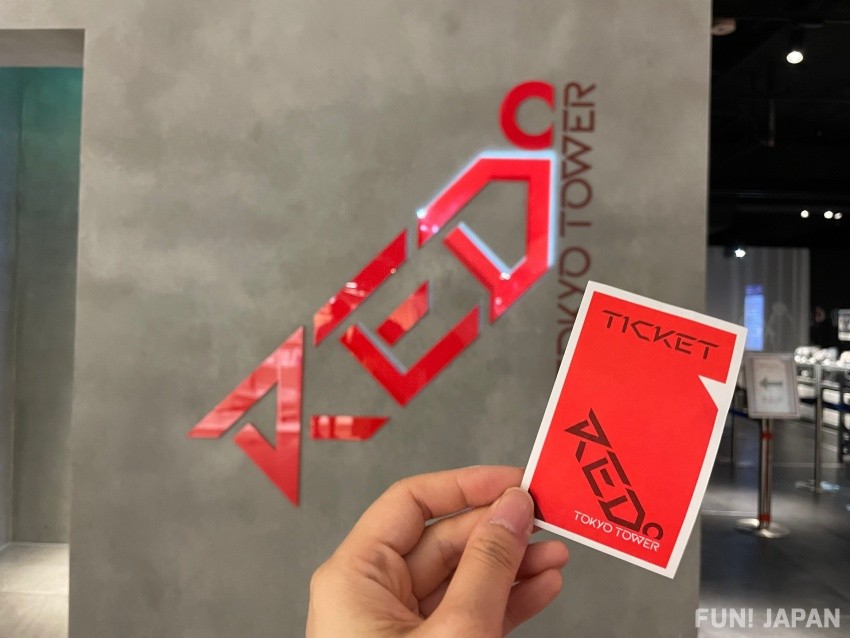 Completed in 1958, Tokyo Tower was the world's tallest freestanding steel tower at the time of its opening and an exciting symbol of a new era for Japan. Even now, this iconic red landmark is regarded as a must-see for tourists visiting the buzzing city of Tokyo. In 2022, a brand-new entertainment facility, RED° TOKYO TOWER, opened inside the tower, bringing even more joy to visitors by combining the world's latest technology with VR experiences, e-sports, board games, and other fun activities! We visited RED° TOKYO TOWER to see what it was all about!
RED° TOKYO TOWER, the cool new facility inside Tokyo Tower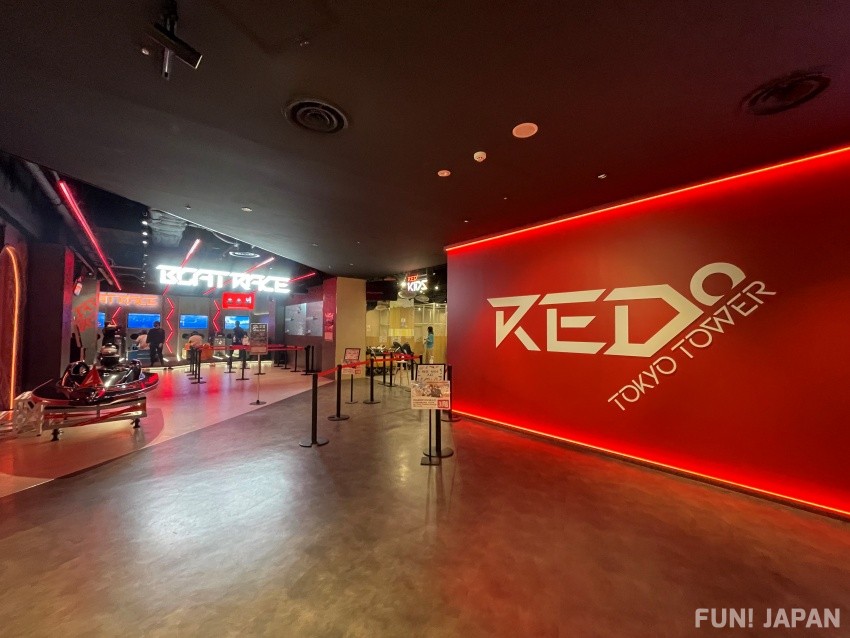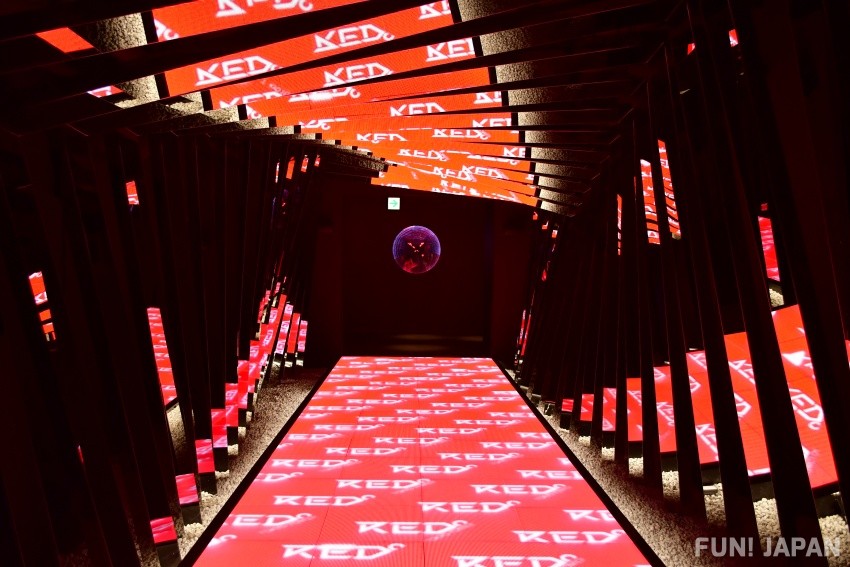 RED° TOKYO TOWER is a fully immersive entertainment facility that opened in 2022 inside FOOT TOWN in Tokyo Tower, a popular tourist spot in Tokyo. The first floor is home to RED° SHOKUDO, while the third to fifth floors feature a variety of themed spaces, including VR and AR games, racing games, and e-sports, all of which will test your stamina and brain power. The entrance to the third floor features traditional Japanese 'noren' curtains and a 'torii' gate. With the futuristic game center elements all around it, this flash of tradition creates the perfect juxtaposition of old and new. It's an ideal place to snap a photo that sums up your trip to Tokyo!
Fun at RED° TOKYO TOWER ①: Brain training and full-body exercise with an endless variety of games!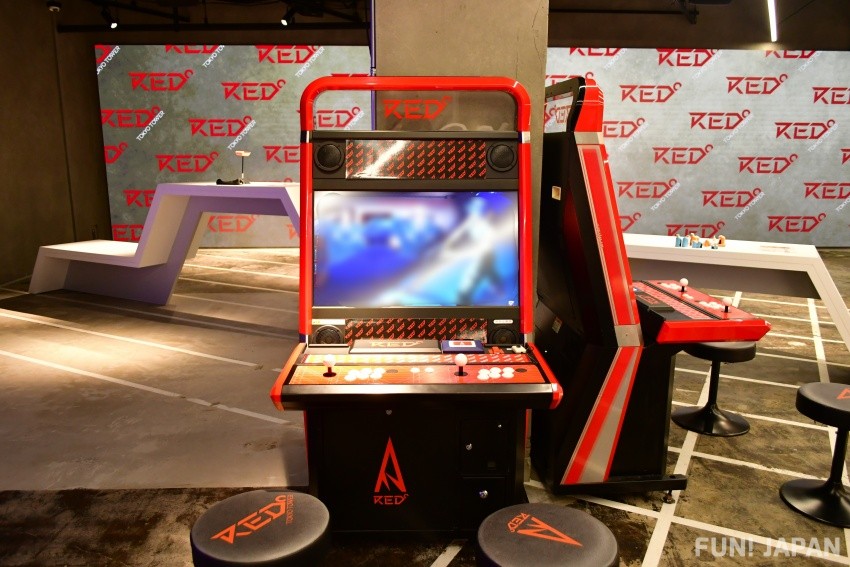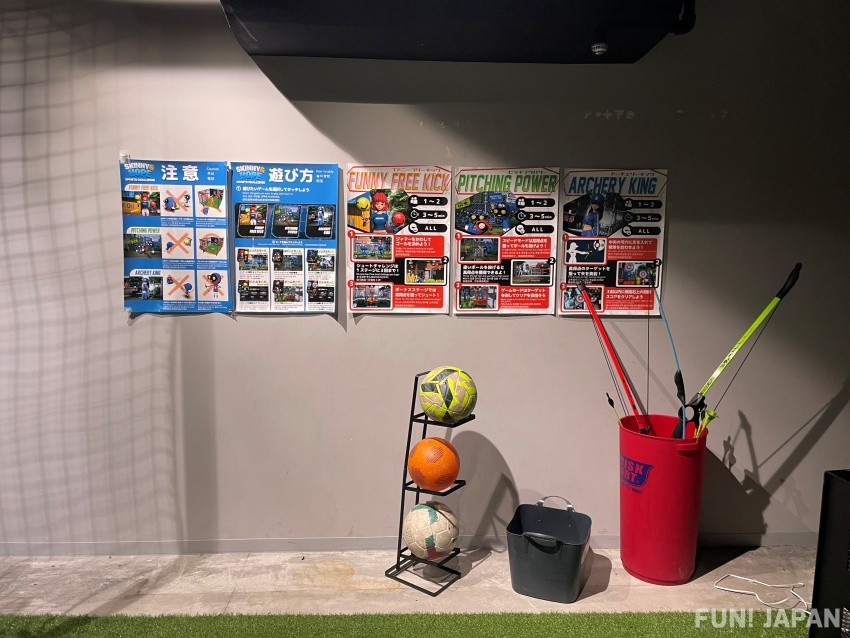 One of the greatest features of RED° TOKYO TOWER is the vast array of game types and styles. You can play with your eyes, ears, legs, and sometimes your whole body!
Third floor: INSPIRATION ZONE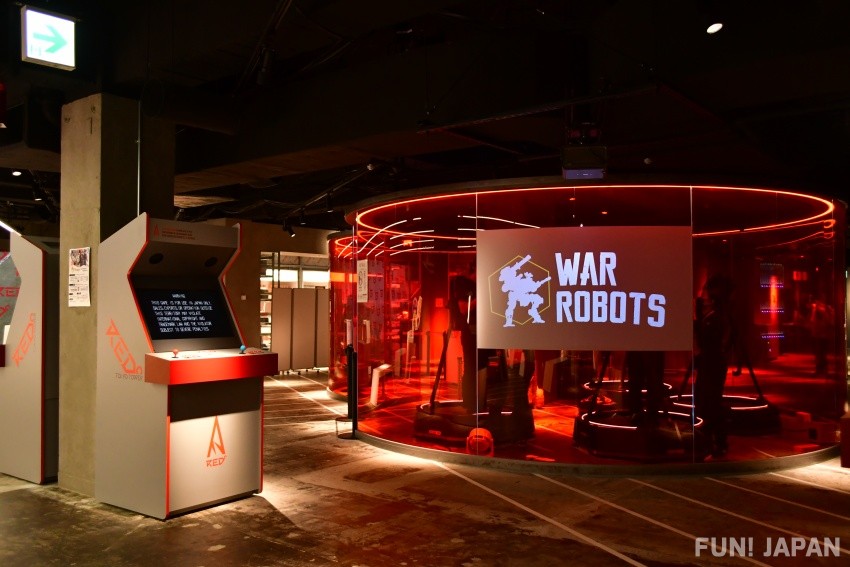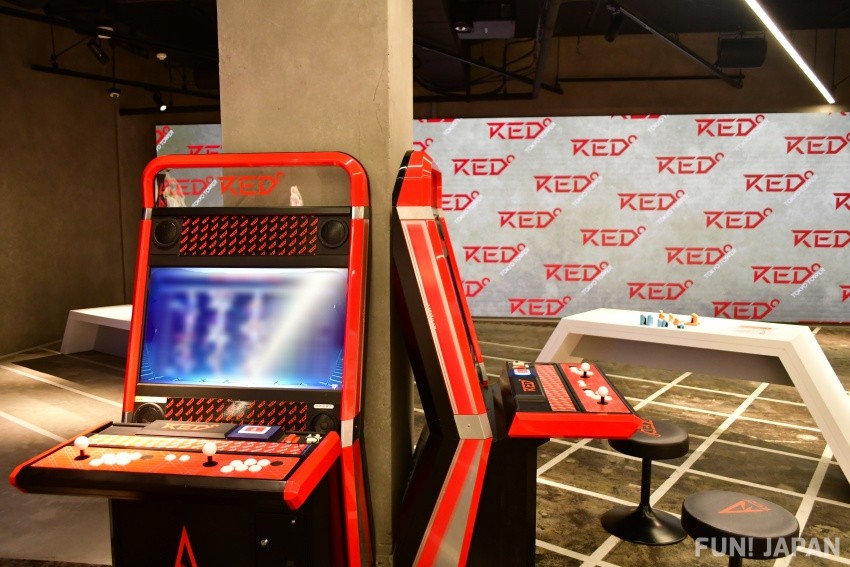 The RED° LOUNGE, located in the center of the INSPIRATION ZONE, features a huge 15-meter-wide LED lighting system that leads visitors unknowingly into another mystical world. In addition to retro games, the RED° LOUNGE is also home to KAT WALK, a system that immerses players in an incredible VR metaverse, with options to experience nostalgic landscapes, get lost in a fantasy space, or simply have fun wandering around.
Fourth floor: ATTRACTION ZONE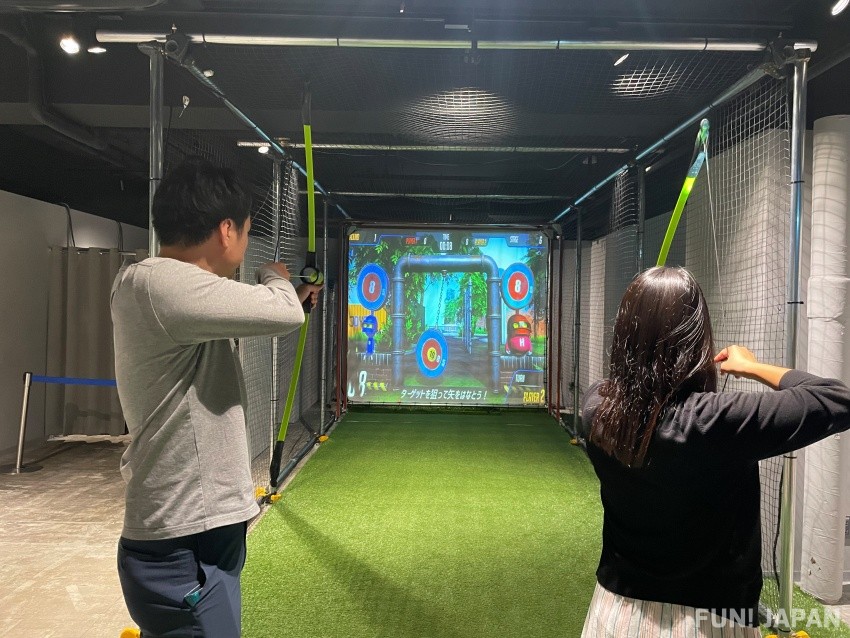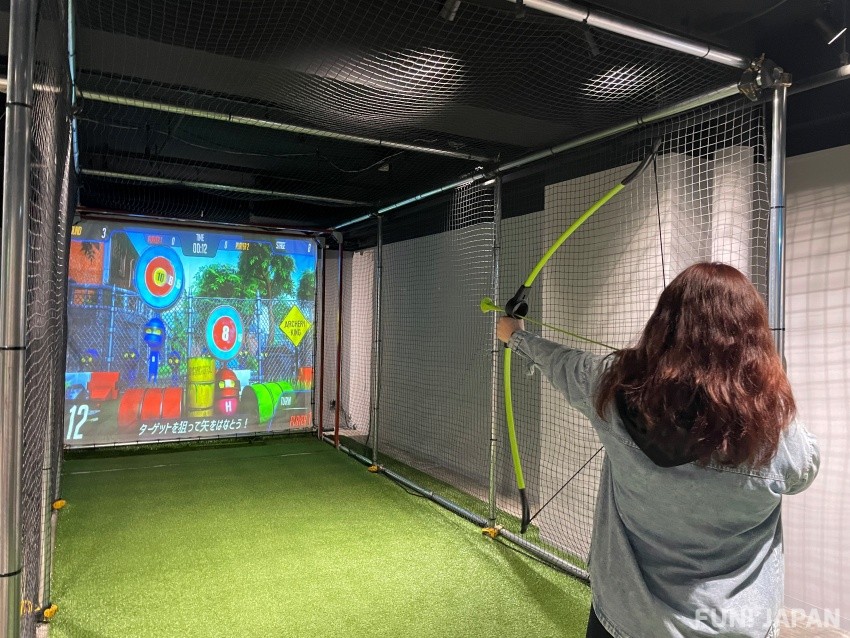 The ATTRACTION ZONE on the fourth floor has a total of eighteen different attractions, ranging from solo games to multiplayer experiences perfect for family and friends. There are plenty of fun challenges, including extreme versions of traditional childhood games. Try the 'Darumasan ga Koronda' ('Red Light, Green Light') game that involves various hilarious obstacles along the path to victory. Get ready for epic laughs and a big workout for both your body and brain!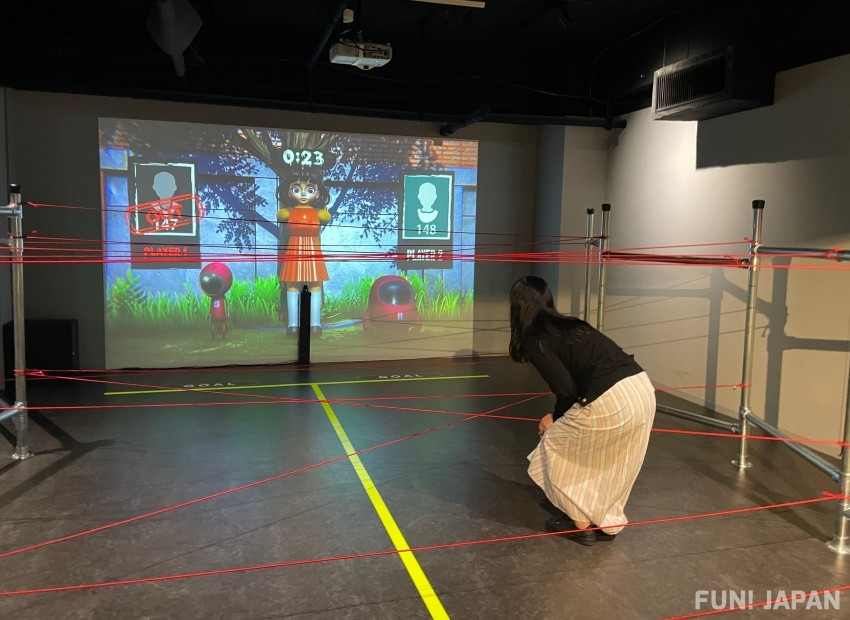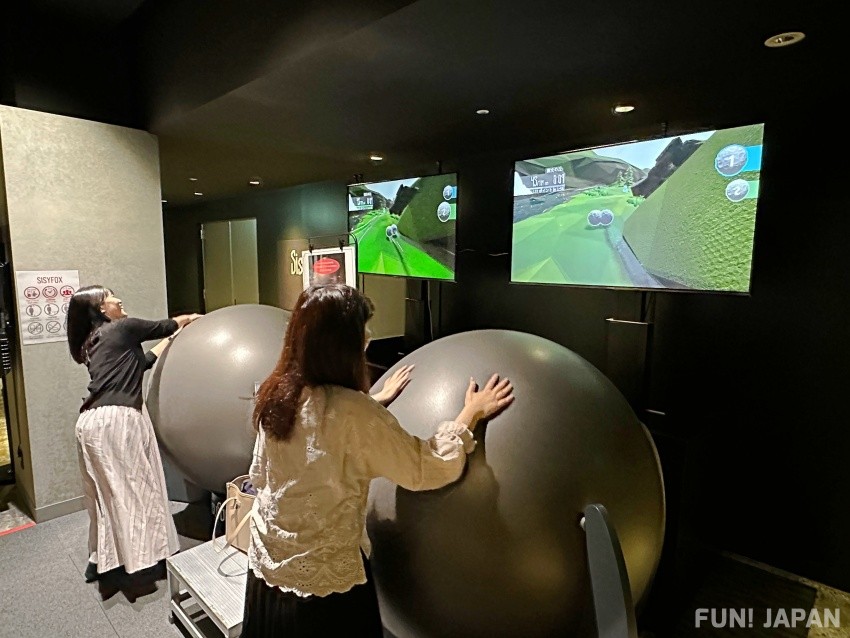 If you are confident in your strength and fitness levels, try your hand at games like 'MULTI SPORTS' and 'SISYFOX'. The former uses a bow and arrow, bat, and soccer ball, while the latter uses the challenger's hands to control a giant ball. We guarantee you will feel an endorphin rush after these killer workouts!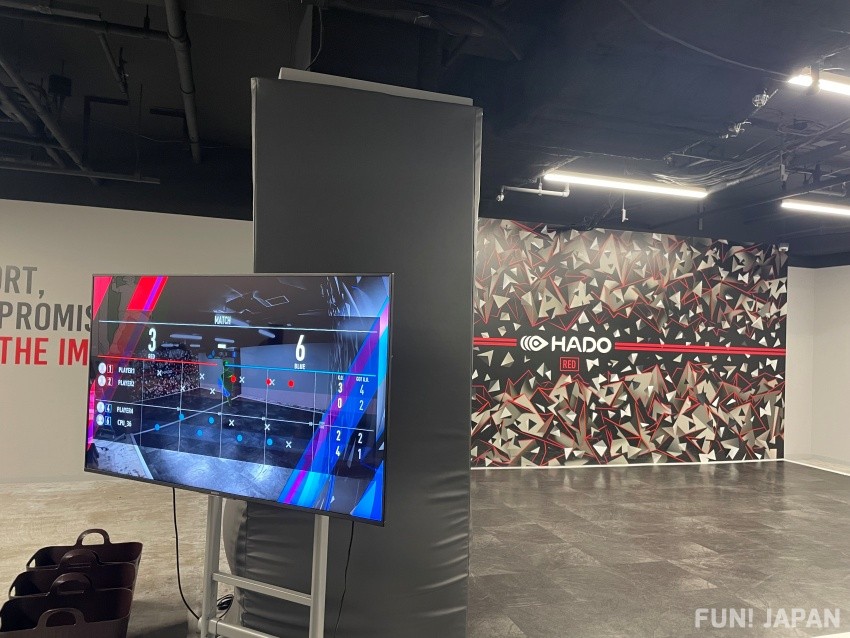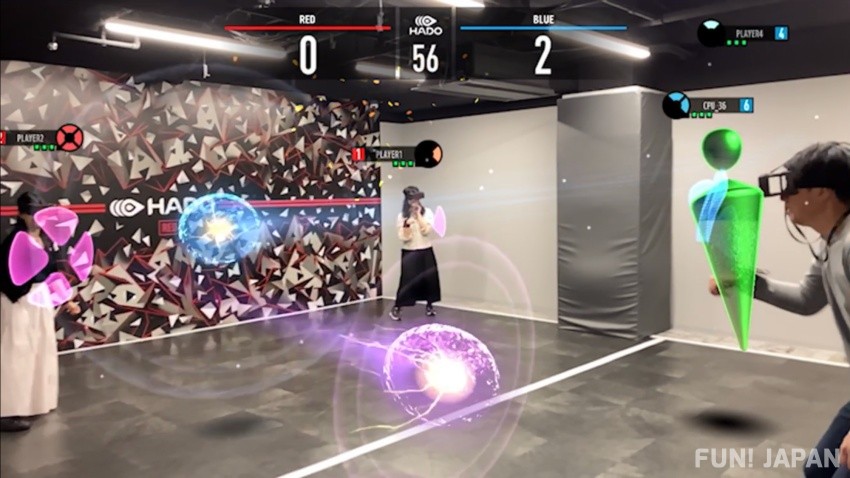 There are other unique gaming experiences, such as 'HADO' dodgeball using AR technology, and 'RED° DRONE', a drone piloting experience. Have fun working out your body and mind in this exhilarating environment!
Fifth floor: ULTIMATE ZONE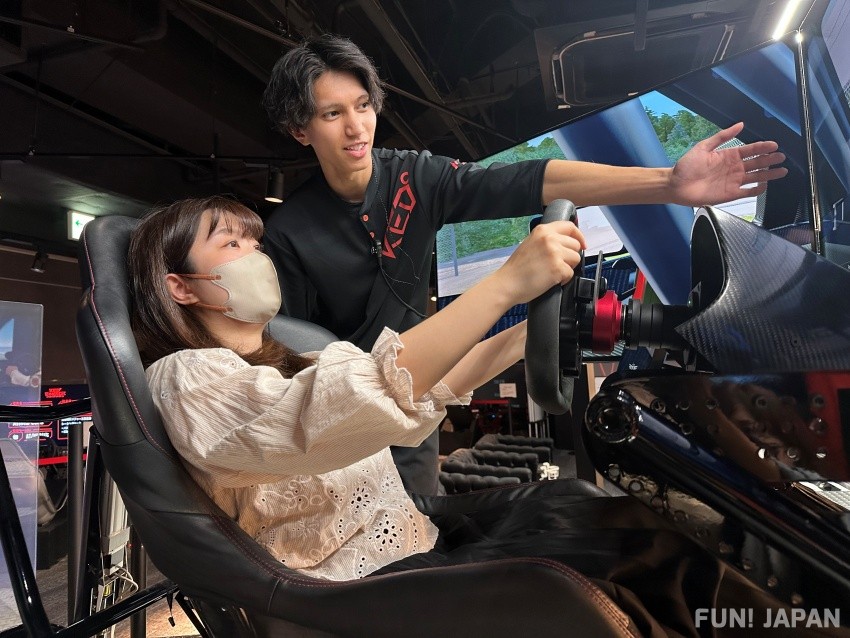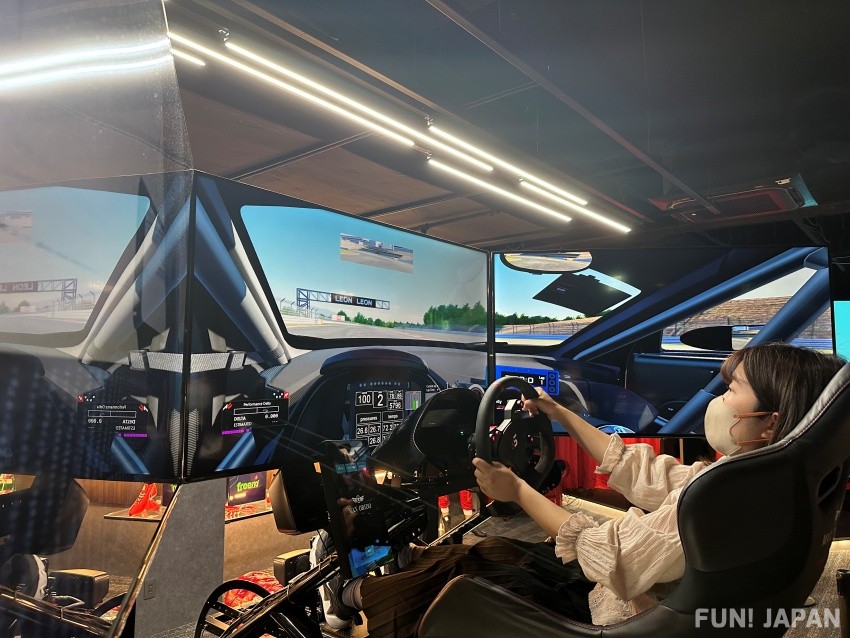 RED° E-MOTOR, located on the fifth floor, is the ultimate racing game venue that uses the latest simulators. Here, it is possible for players to truly experience the thrill of being on the racetrack.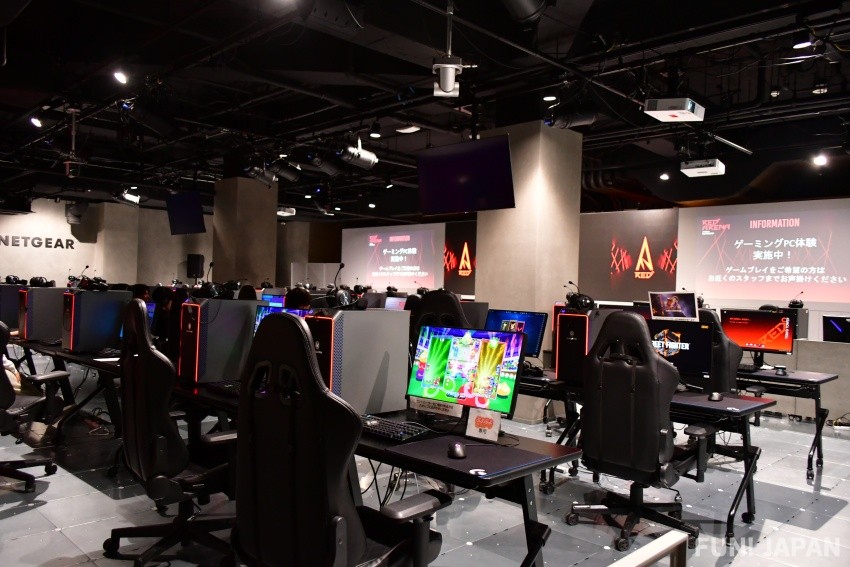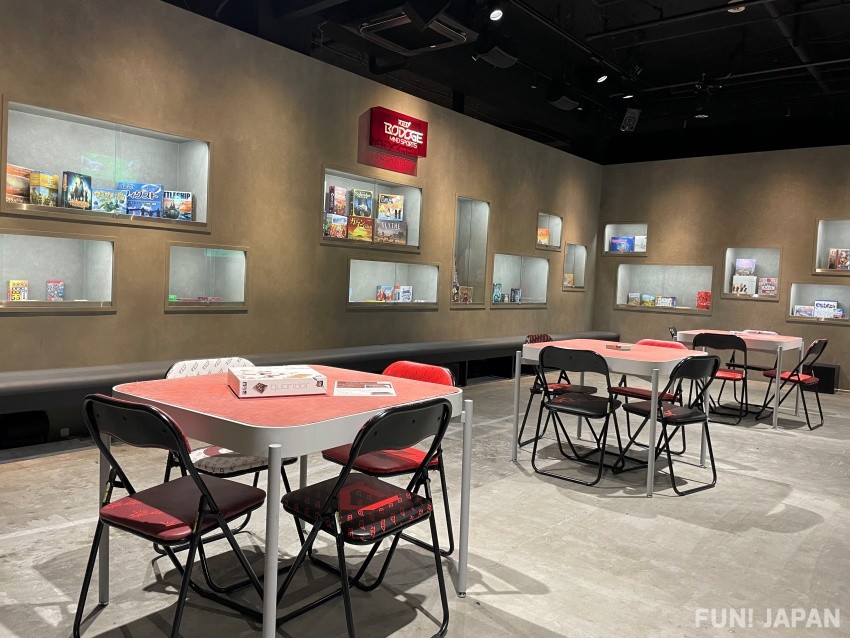 The NETGEAR RED° ARENA hosts 32 of the latest high-performance e-sports competition computers, making it an irresistible environment for gaming enthusiasts. However, for those who prefer playing games that use their brains rather than their bodies, there is a collection of more than 100 board games at RED° BODOGE on the fifth floor – ideal for a competetive board game match between friends.
Fun at RED° TOKYO TOWER ②: Games, fine dining and shopping all in one place!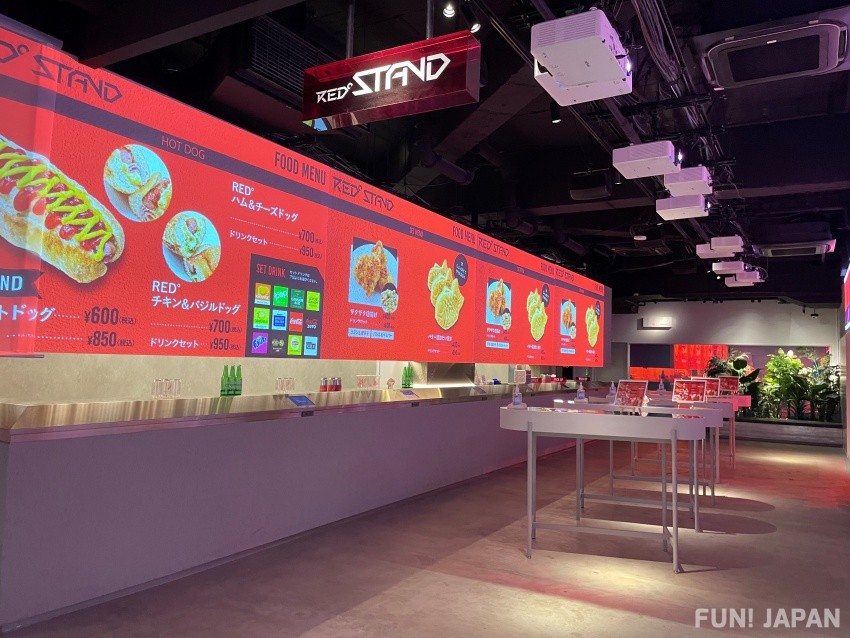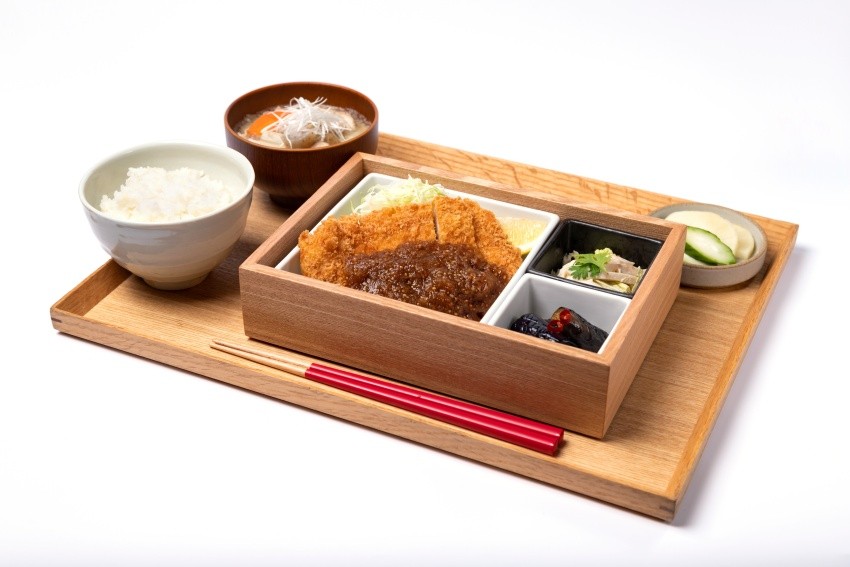 RED° TOKYO TOWER is not only the location of a futuristic gaming playground, but it also boasts a gourmet restaurant and merch store! If you are looking for a tasty bite, we recommend the Japanese diner RED° SHOKUDO on the first floor. The menu offers a wide variety of dishes such as tonkatsu (pork cutlet) and karaage (fried chicken) set menus, which will no doubt satisfy the tastebuds of both children and adults alike!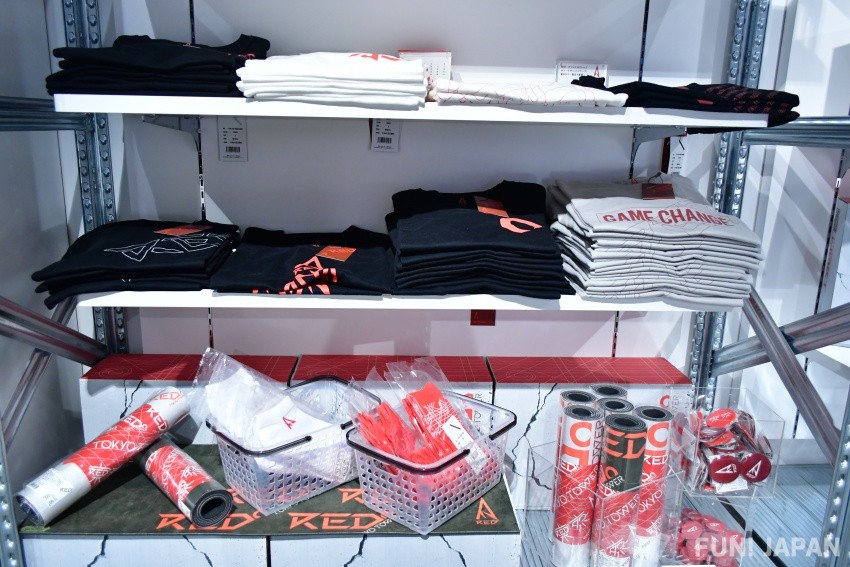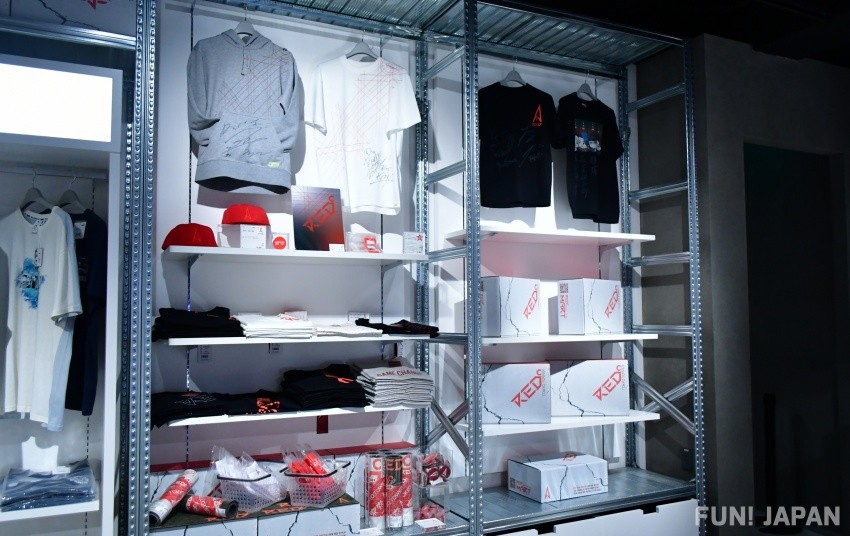 To get your hands on original RED° items, visit RED° MART on the third floor. Be sure to also check out the special edition items created in collaboration with RED° TOKYO TOWER!
In addition to the attractions introduced in this article, RED° TOKYO TOWER has so many more surprises and fun-filled activities that would be impossible to cover in just one day! If you are planning to visit Tokyo Tower, stop by RED° TOKYO TOWER to add an extra layer of fun and wander to your trip.
Spot Information
Spot name: RED° TOKYO TOWER

Address: 1F, 3F-5F, TOKYO TOWER FOOT TOWN, 4-2-8 Shiba-Koen, Minato-ku, Tokyo
Business hours:
RED° TOKYO TOWER:10am - 10pm
RED° SHOKUDO:11am - 10pm
Open year-round
Access: 5 min. walk from Akabanebashi Sta. on the Toei Subway Oedo Line
Tickets:
RED° PASSPORT:
Adults 3,000 - 4,700 yen
16 – 18-year-olds 2,400 - 3,900 yen
6 – 16-year-olds 1,500 - 2,500 yen
Night Passport (5 - 10pm):
Adults 1,800 - 4,200 yen
16 – 18-year-olds 1,500 - 3,500 yen
6 – 16-year-olds 1,100 - 2,300 yen
*Prices vary depending on the day.
*500 yen discount for registered members

Official Website:

https://tokyotower.red-brand.jp/