Discover the Hidden Gems of Himeji: A Guide to the City's Local Products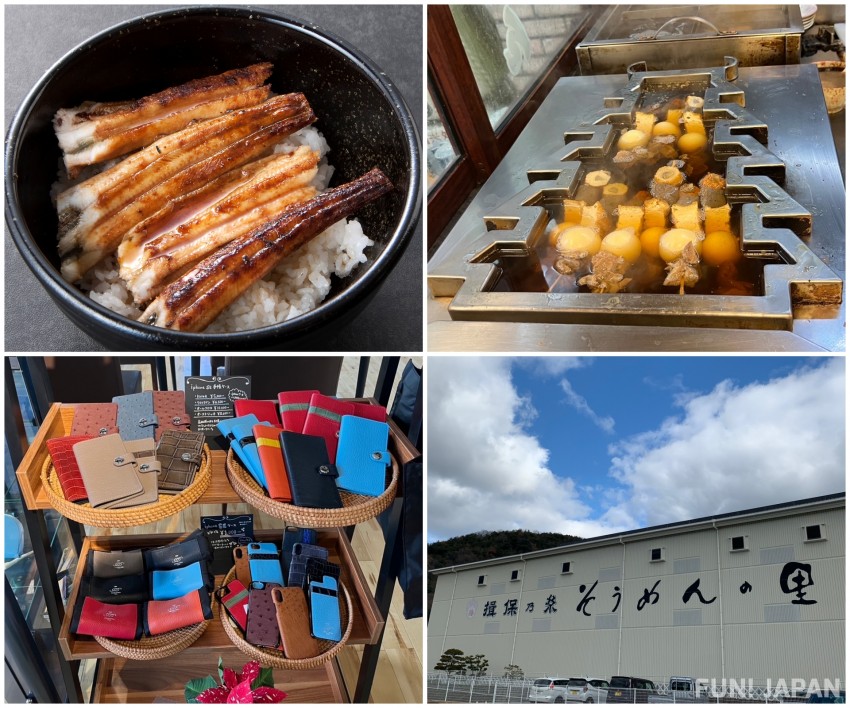 Himeji city, is located in Hyogo prefecture, It is home to a population of approximately 530,000 people. This thriving city boasts diverse nature and culture, with land spanning from the inside sea to the hills mountains. The northern part is a natural, fertile area with a rural landscape. The southern part is teeming with fishing and shipping industries, and the center of the city is home to Himeji Castle, which celebrates its 30th anniversary of World Heritage registration in December 2023.

Cities formed around castles like Himeji city are referred to as castle towns. Castle towns have streetscapes reminiscent of the Sengoku period and the Edo period, retaining the flavor of the old days. The city center of Himeji was devastated by air raids during the end of Word War Ⅱ, but the present city structure, which was reconstructed after World War Ⅱ, inherited the urban framework from the castle town era. In addition to the urban structure, Himeji also inherited the unique castle town 'souvenir culture'. In English, 'souvenirs' often refer to goods purchased for personal memories, while in Japanese, they are seen as gifts for someone else. For Japanese people, souvenirs typically acted as proof of travel before the era of photographs, and a way to let their friends and family enjoy local specialities that couldn't be found back home. For this reason, Japanese souvenir shoppers tend to search for unique local products – the rarer the better. Read on to find out all about the many interesting souvenirs and one-of-a-kind local products available in the old castle town of Himeji!

Blooming Delights in the Edo Era: The Treats of Castle Town Himeji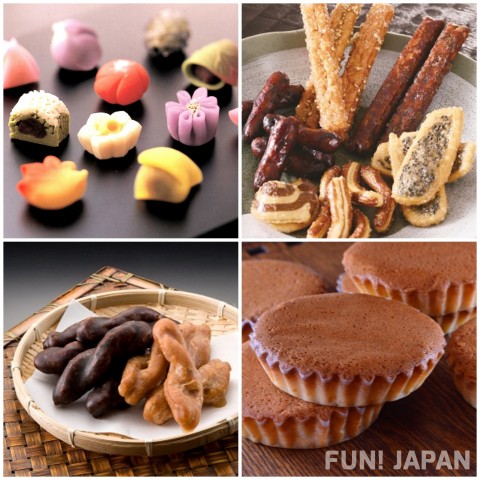 It is said that Himeji's famous snacks became known throughout the country during the late Edo period. The cultured and well-educated Sakai lords of the ruling Himeji Domain loved tea ceremonies, inspiring the development of traditional sweets culture in the city. The popularity of these delicious sweets grew as the practice of tea ceremony spread across the Harima Province. Meanwhile in Ako, buns were made using local salt as a secret ingredient, and in Nagasaki, a Dutch-style deep-fried snack known as 'karinto' was created, becoming popular throughout the country due to its high-quality ingredients. Recently, many Western-style sweets have also been created using local ingredients.

From elegant traditional Japanese sweets similar to those offered to the emperor, to delicious 'monaka' wafers featuring Himeji Castle as a motif, Himeji's sweets reflect the city's rich history and are loved by people of all ages. These sweet delights make for great gifts or for simply treating yourself.
'Karinto' is a deep-fried pastry lightly coated with a mixture of sugar and molasses. The decadent combination of subtle sugary sweetness creates an irresistible taste. With its nostalgic flavor, it's hard to stop at just one bite! Visit the website below to learn more about the history of sweets in Himeji.

http://himeji.jibasan.jp/en/confectionery/index.html
Savor the traditional taste: A journey into Japan's Sake
The main ingredients of Japanese sake are rice and water – the quality of which is crucial for making a delicious brew. Thankfully, Himeji's surrounding Harima region is blessed with the Ibo, Kako, Ichi, Yumesaki, and Chikusa rivers - collectively referred to as thefive rivers - which produce spring water low in iron content. The Harima region was already well known for rice cultivation during the Edo period – this area is home to the famous Yamadanishiki , known as the "king of sake rice." Local Harima-grown Yamadanishiki is of high quality, with large grains, a white center, and low protein content, making it the perfect match for sake brewing. With its high-quality water and rice, Harima is an ideal place for brewing good sake.

With the region's long history of sake brewing, the breweries here have gained an extremely high level of expertise. Along the five rivers, there are still twenty-one sake breweries operating today. Each one strives to produce amazing sake through skill and effort , preserving sake-brewing traditions through unique management strategies. Here, we introduce three sake breweries that are easily accessible from Himeji.
Tanaka Shuzojo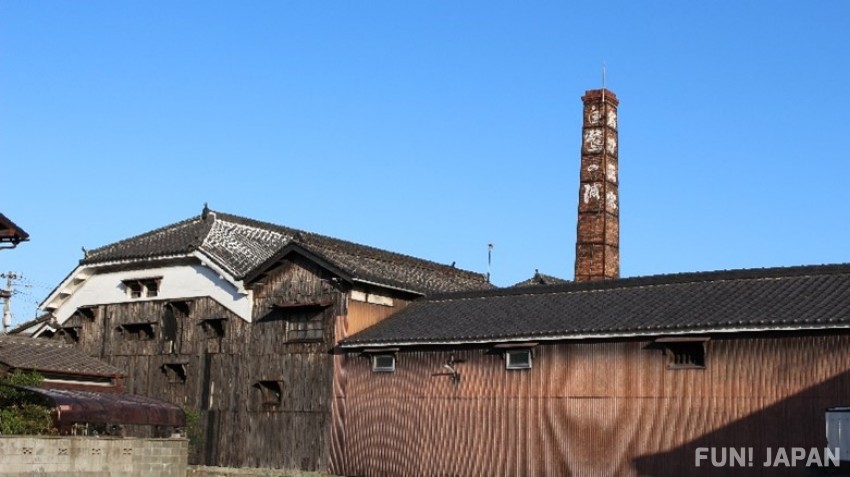 Tanaka Shuzojo has been making sake in Himeji for over 180 years since 1835, with the motto of "Make from the past." Its famous Daiginjo, 'Shirasagi no Shiro' has been a best-seller since winning its first gold award at the National New Sake Review Assembly in 1988. Additionally, the brewery has revived the traditional method of sake pressing called "Ishigake Tenbin Shibori," which dates back to the Edo period. This technique is carbon neutral, utilizing only manual labor without electricity. It is one of the few sake pressing methods in Japan that aligns with the Sustainable Development Goals.

URL: http://english.harima-sake.jp/introduction/tanaka/

Nadagiku Shuzo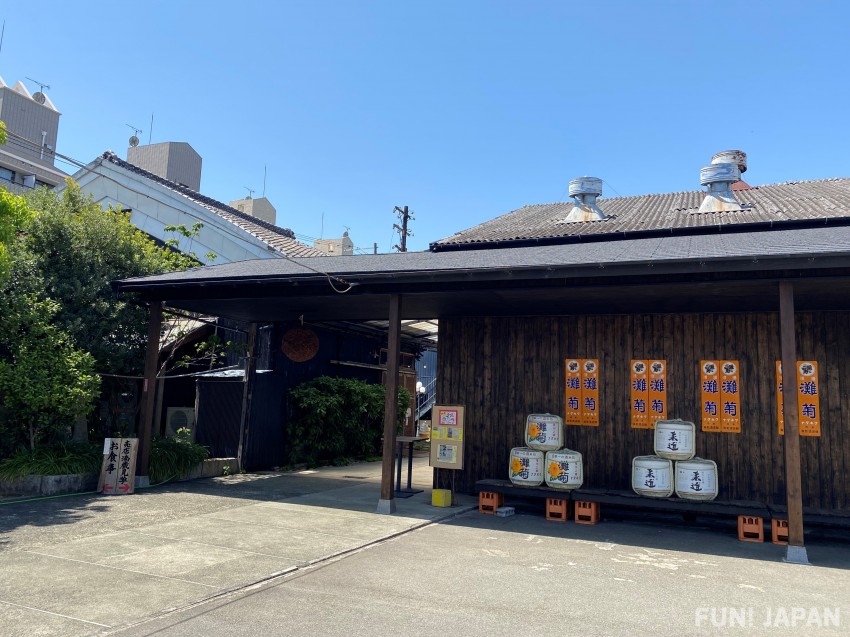 Nadagiku Shuzo pays close attention to the quality of the rice used in its brewing process, selecting mainly local grains, such as Yamadanishiki . The average rice polishing ratio used by this high-class brewery is 58%, which is close to ginjo sake levels. 'Kiku no Shizuku' is the signature sake of the brewery. This luxurious sake uses 40% polished Yamadanishiki from Hyogo Prefecture and is characterized by its fruity aroma and crisp, well-balanced flavor.
URL: http://english.harima-sake.jp/introduction/nadagiku/

Tsubosaka Shuzo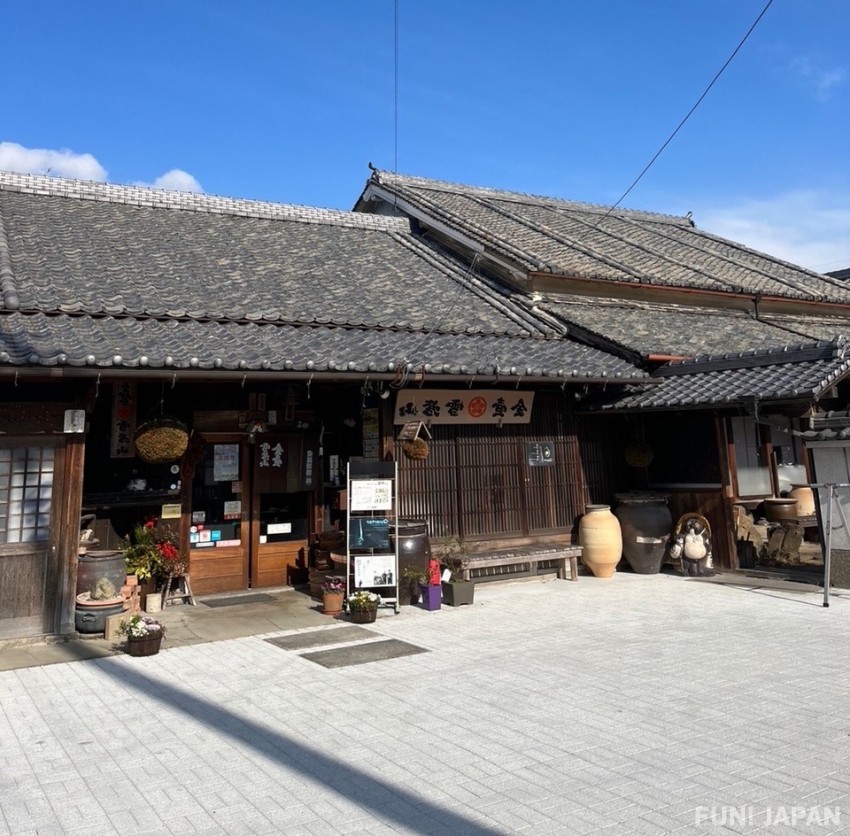 Tsubosaka Shuzo practices traditional, all-natural fermentation by entrusting their sake to the climate and soil of Yumesaki Town. No temperature control equipment is present in the brewery - instead, they rely on the large temperature differences between day and night and regulate the temperature and humidity inside the brewery through opening and closing the doors. Their signature product, 'Junmai Ginjo Seppikosan Murokagenshu' is characterized by its round, rich flavor without any sharp acidity.

URL: http://english.harima-sake.jp/introduction/tsubosaka/
There are many other incredible sake breweries in Himeji city!
*[ ] represents each breweries signature products
Kanzaki Shuzo [Ryuou No Mai] 

http://english.harima-sake.jp/introduction/kanzaki/
Meijou Shuzo [Kanbei]
http://english.harima-sake.jp/introduction/meijou/ 

Yaegaki Shuzo [BLUE LABEL "MU"]

https://www.yaegaki.co.jp/sake/en/ 

Honda Shoten [Tatsuriki Komenosasayaki]

http://english.harima-sake.jp/introduction/honda/
Shimomura ShuzoTen [Okuharima ]

http://english.harima-sake.jp/introduction/shimomura/ 

On March 16, 2020, Harima was designated as a geographical indication (GI) by the government to protect local brands of agricultural products and food. Only Japanese sake brewed in the Harima region using only Hyogo Prefecture-grown Yamadanishiki can carry the 'Harima' label. The designation of GI and other activities are aimed at promoting Japanese sake culture in the Harima region and raising awareness of locally produced Harima Japanese sake both domestically and internationally.

Discover sake breweries of interest around Himeji city by using the map below!

http://english.harima-sake.jp/introduction/ 

Savor the Slurp-Worthy Delights of Himeji's Somen and Banshu Dried Noodles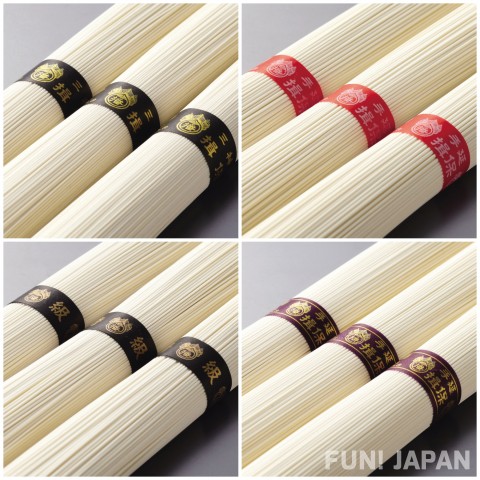 The excellent climate conditions in the Harima region are not only ideal for sake brewing, but also for noodle-making. High-quality wheat flour with high gluten content, natural salt from Ako, and clear spring water from the Ibo river create the perfect base for delicious noodles.

Hand-pulled noodles, also known as 'somen' in Japan, are widely produced throughout Japan and beloved by many - especially the famous 'Ibonoito'. These hand-pulled somen are created by skilled craftsmen who have been using traditional hand-rolling and noodle maturation methods that have been handed down throughout the generations for over six-hundred years. The color of the somen band is a marker to indicate the grade of ingredients and fineness of the noodles. There are 'Sanshin' - the highest grade of Ibonoito hand-pulled somen; 'Tokkyu', which is made from carefully selected flour and can only be produced by several designated expert manufacturers; 'Joukyu', which has a unique taste and continues to follow traditional production methods; and 'Yoritsumugi, made only from domestic wheat to create a delicious, chewy texture. Additionally, somen noodles matured for over one year in a dedicated climate-controlled warehouse are called 'hine'.

In 'Somen no Sato', located in Himeji's neighboring Tatsuno City, it is possible to learn about the history of Ibonoito and enjoy authentic noodle dishes arranged in a variety of cuisine styles, from Italian to Chinese. There is also a shop that sells various types of Ibonoito products.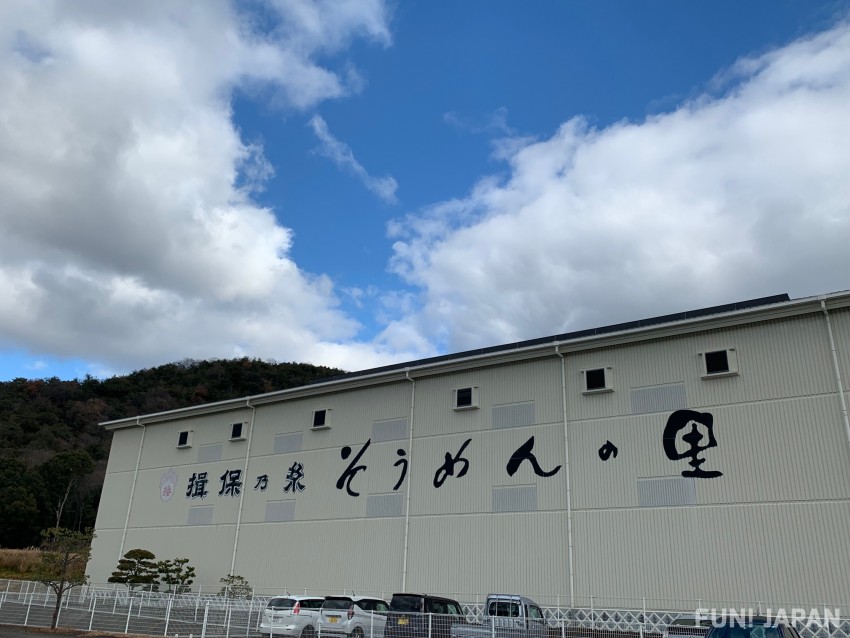 Ibonoito Official Website

https://www.ibonoito.or.jp/en/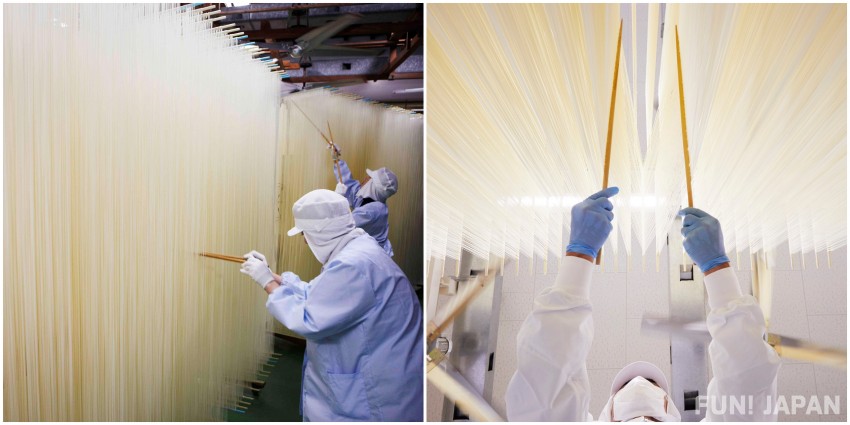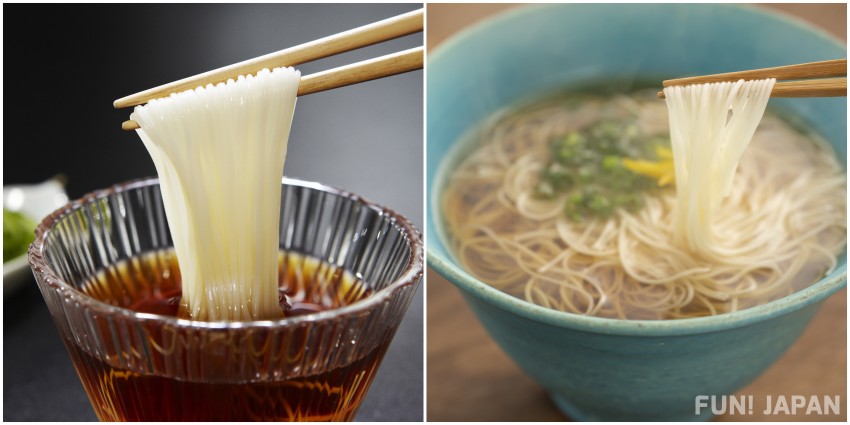 Additionally, Banshu, a famous region for producing dried noodles, is home to many producers of Japan's beloved udon, soba, and ramen. There are many local noodle specialties to enjoy, such as 'Mochi Mugi Noodles', 'Yume Soba', 'Himeji Ramen', and soba made from Matcha tea. Several of these dishes carry Halal or Kosher certification, are gluten-free, vegan, or made exclusively from Japanese ingredients. The region continues to pioneer new delicious noodle dishes aimed at the international market.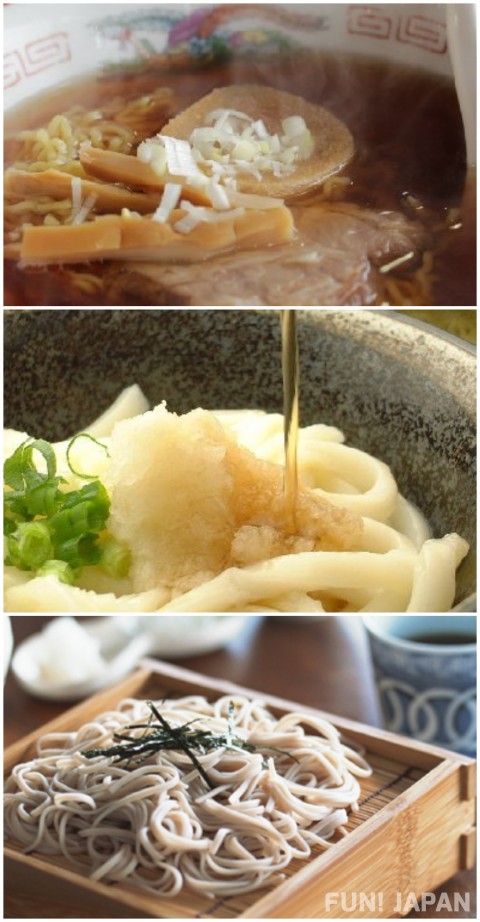 The products made in Banshu are continuously researched and not only sold domestically, but exported to other countries, so you might be able to find these tasty noodles in a supermarket near you!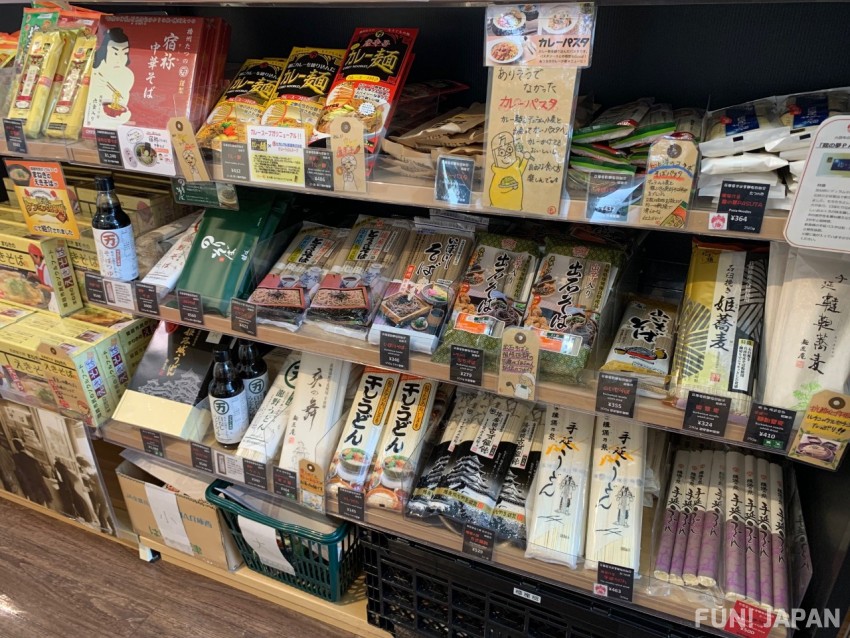 Takao Seifun-Seimen Co.,lTD.

Tanabiki-Seimen Co.Ltd.

https://www.tanabiki-seimen.com/en/

Toa Food Industrial Co.,Ltd. 

Treasure Trove of Seafood Delicacies
The Harima-nada Bay that spreads out in front of Himeji City is a rich fishing ground nestled in the calm waters of the Seto Inland Sea. A variety of fish such as sea bream, flounder, conger eel, rockfish and oyster can be caught throughout the year, as well as plenty of edible seaweed. On Sunday mornings, the 'Ieshima Toretore Noon Market' featuring freshly caught seasonal seafood is held at the loading area of the Boze and Ieshima Fishermen's Cooperatives. Although the market is held in the morning, the name of the market is 'Noon Market'. It is said that the market was originally held from morning to early noon, but as the products grew in demand and started to sell out earlier and earlier, it became a morning market.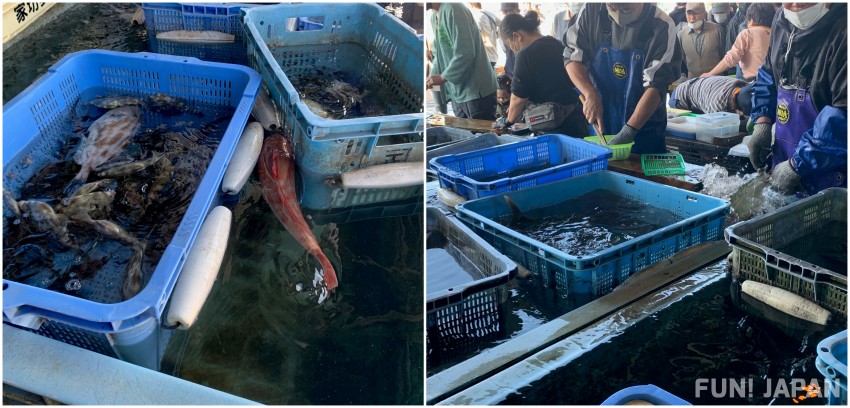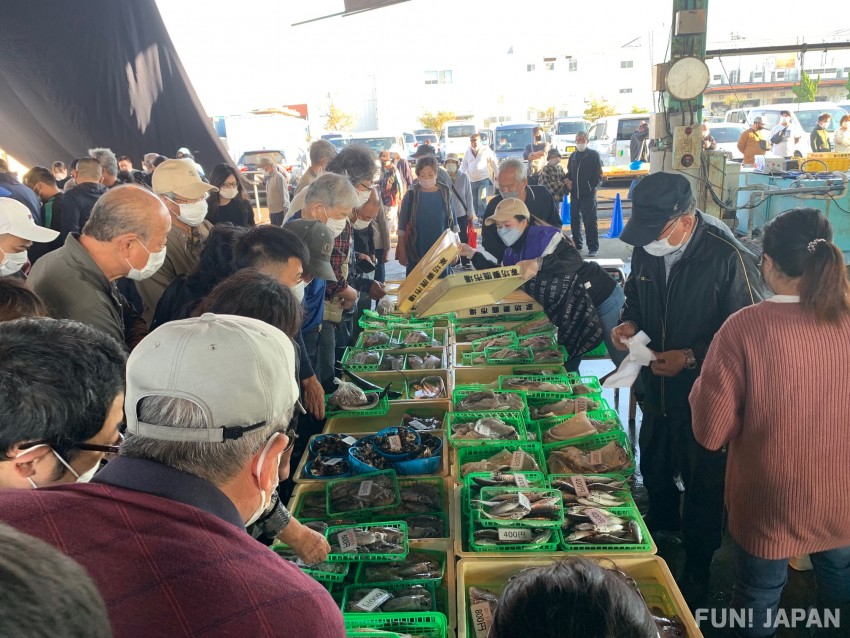 After shopping at the morning market, you can also enjoy fresh seafood at the fishing port's restaurants. In addition to fresh seafood bowls and sashimi, there is also a barbecue corner where fresh seafood can be barbecued. Depending on the time of year, local caught fish such as 'Boze' mackerel and conger eel can be enjoyed fresh from the sea. There are not many areas in Japan where mackerel is consumed as sashimi, however Himeji's 'Boze' mackerel is so fresh that it can be enjoyed in any dish. 'Boze' mackerel is in season from autumn to winter, so if you come to Himeji, be sure to try it! It's deliciously rich flavor and subtle taste is well worth the trip.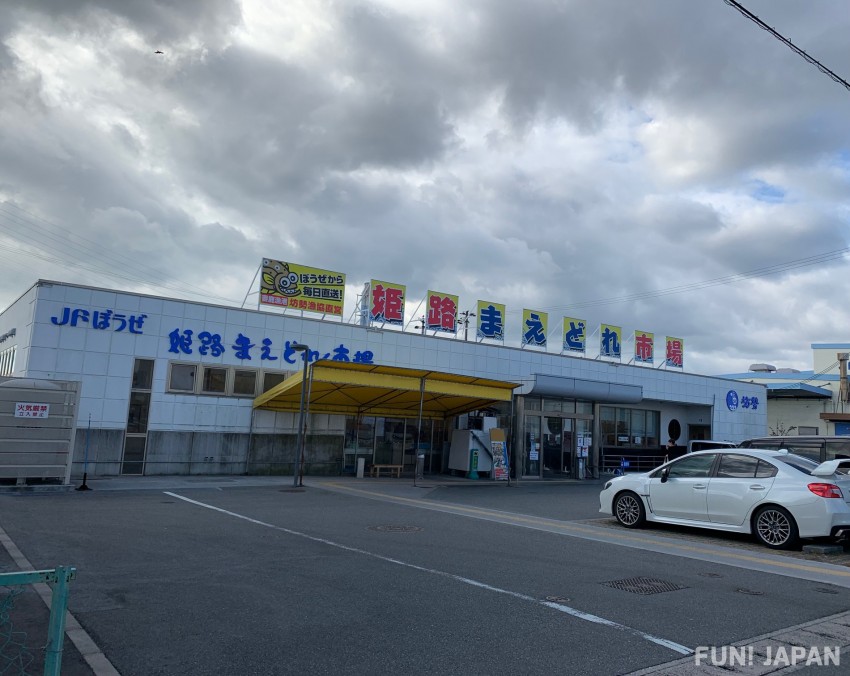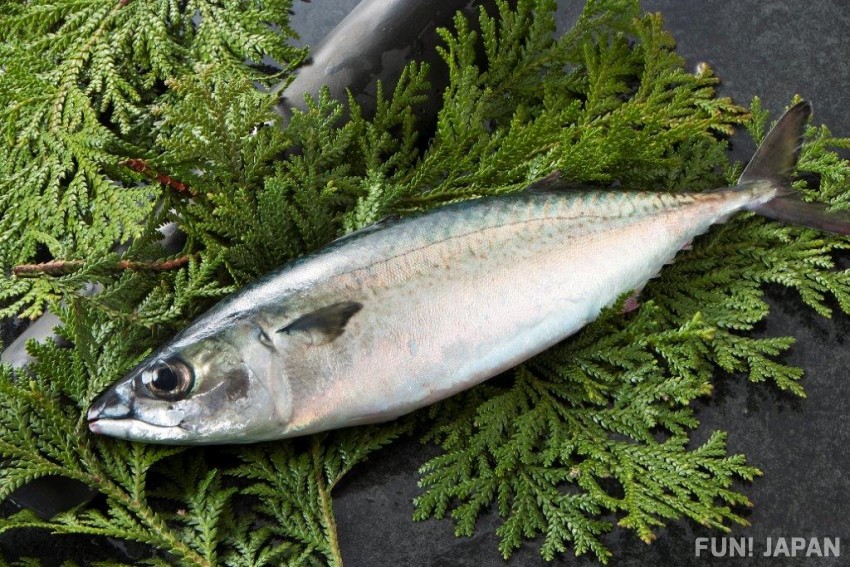 Of course, there is also a local produce corner, which attracts not only tourists, but also local people visiting to find ingredients for their everyday meals.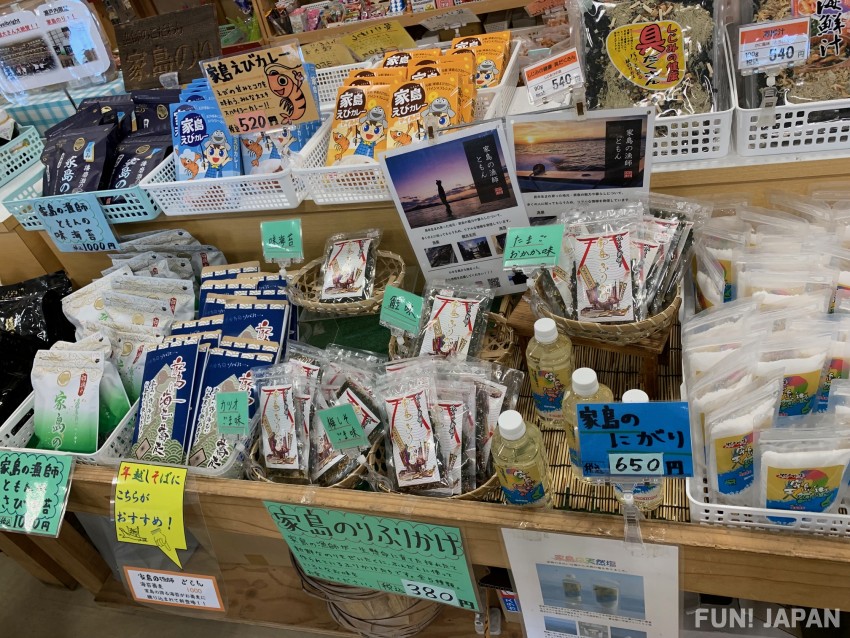 Since Himeji is close to the Seto Inland Sea and fresh seafood is easily available, the area has long been known for its tradition of seafood processing. Kamaboko is a type of processed seafood product unique to Japan that has a long history and comes in a variety of flavors and shapes. It is said that Hyogo Prefecture is the birthplace of Kamaboko, as the empress ate "fish meat ground and spread over the tip of a skewer, then baked" at the Ikuta shrine in Hyogo Prefecture in 201 AD. Furthermore, in the Kansai region, which also has strong links to the history of Kamaboko, there is a culture of consuming Kamaboko which is baked on the surface.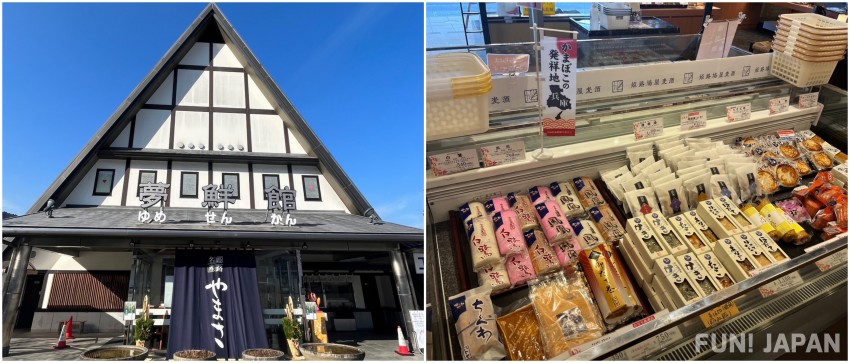 Kamaboko can be enjoyed on its own, but recently there has been an increase in creative serving methods. As the flavor of kamaboko and the spiciness of wasabi complement Japanese sake well, the most popular way of eating kamaboko is when paired with Japanese sake. As a treat for yourself or as a souvenir, you can also enjoy high-end kamaboko such as anago kamaboko (conger eel kamaboko) and hamo kamaboko (kamaboko wrapped with hamo skin). Himeji Oden, a local delicacy of Himeji City, is also made with chikuwa fishcake and other fish paste. Himeji Oden is characterized by its use of ginger soy sauce, and its light flavor means that it is decadent and moreish.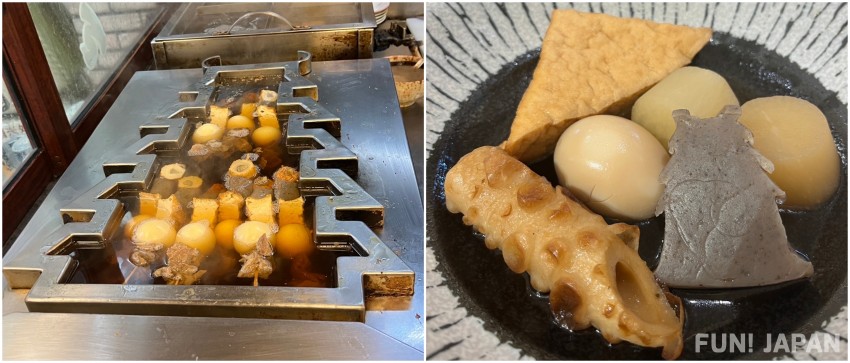 Recently, 100 year old Japanese company YAMASA KAMABOKO CO.,LTD. has also developed a new kamaboko sensation, the 'Castle Town Dog', which can be eaten with one hand. This local speciality looks like an American hotdog, but has cheese kamaboko inside. The tantilizing saltiness of the cheese kamaboko contrast the sweet dough to create a mouthwatering taste. There are so many ways to enjoy the tasty Japanese dish of kamaboko, so choose according to your preference and try it out.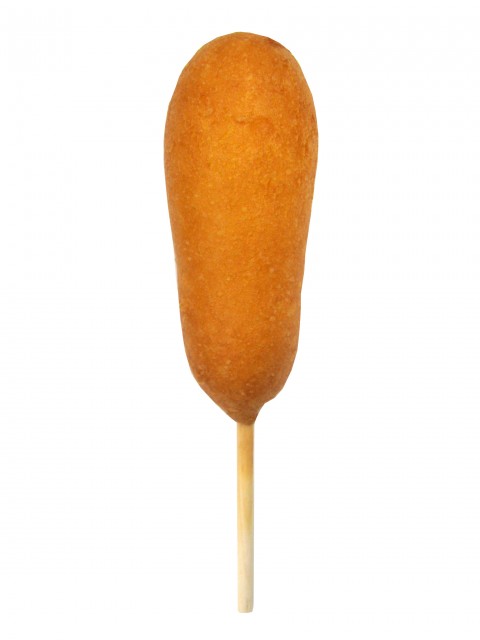 Another famous product is the 'Ippon Anago Maki' from HATOYA Co., Ltd. which was founded in 1946 and has won numerous awards. The 'Ippon Anago Maki' is made by hand-rolling whole roasted eel and kombu with fishpaste, steaming it, and then frying it. Another popular product is the 'Kamaboko-ya's Cheesecake', which is a unique-looking cheesecake on a kamaboko board and is filled with fish paste. Both are popular as souvenirs, so don't miss out!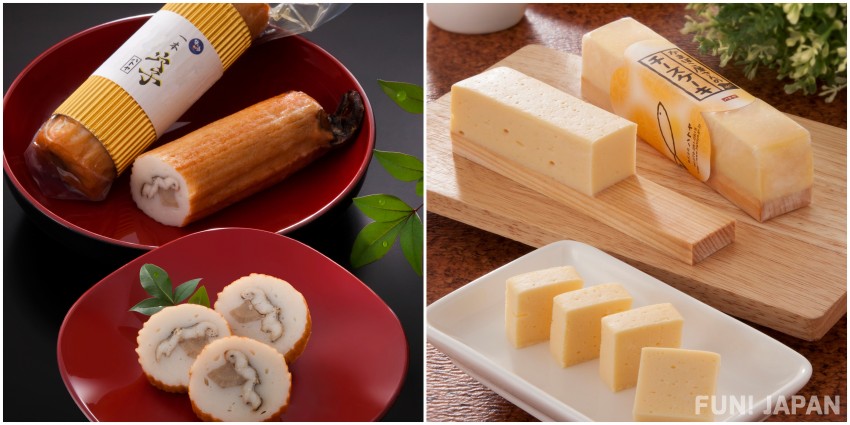 The Pride of Himeji: World-Renowned Leather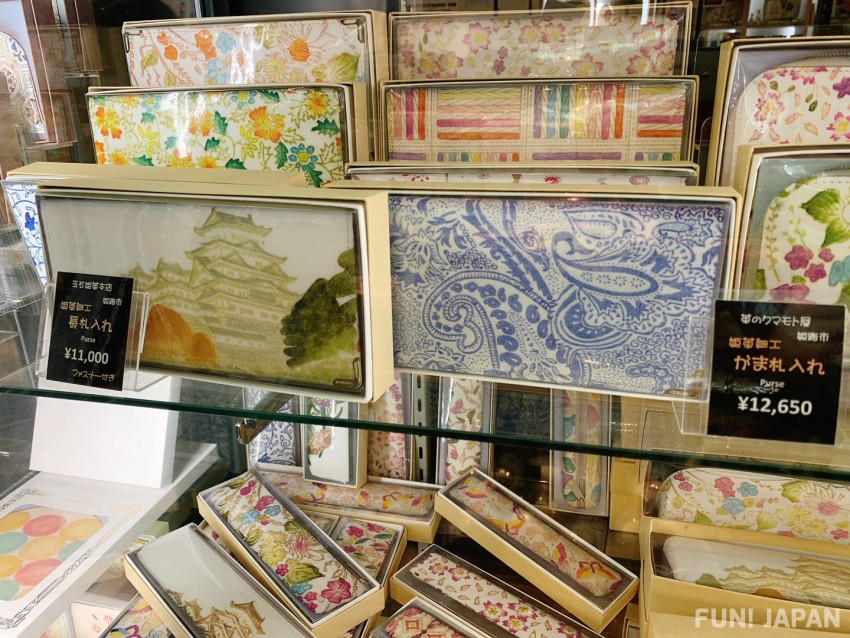 Himeji's world-famous leather industry is said to have originated from the mainland during the Yayoi period. In the Takagi area of Himeji, tobacco cases and other delicate crafts were made in the Edo period, when white-tanned leather began to be widely produced. Today, Himeji's leather crafts still use Himeji-produced white-tanned leather that is colored using a unique method. The traditional method of rubbing fine cowhide with rapeseed oil to form patterns, then painting each piece with a brush and applying transparent lacquer, is combined with modern tanning methods and techniques. This creates a glossy whiteness that is often enhanced with beautiful Japanese patterns. This way, the color becomes deeper and more expressive the more it is used.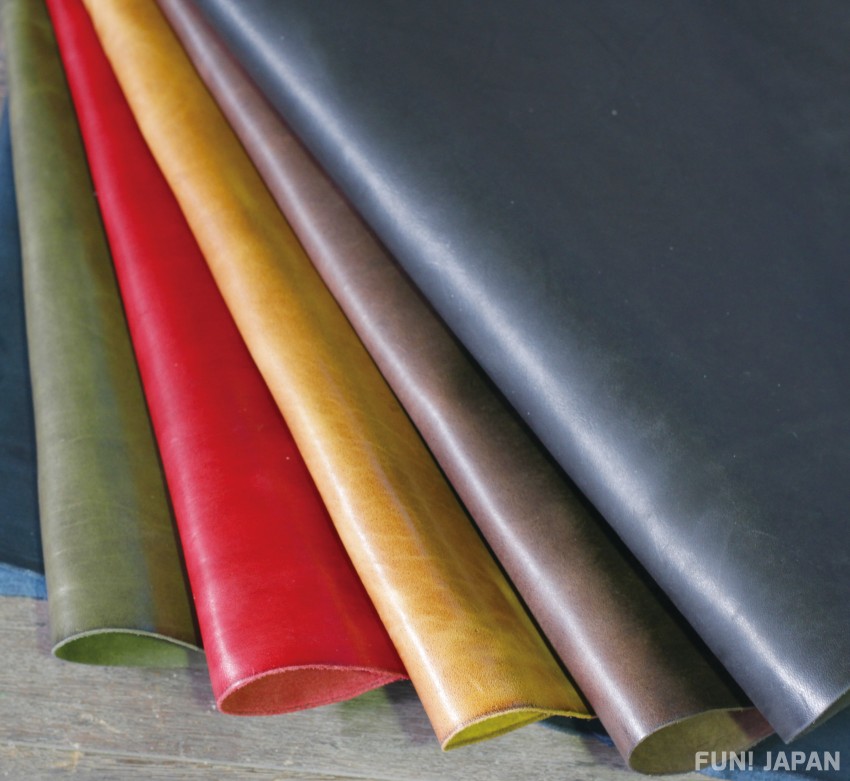 In the past, it was mostly wholesale dealers who sold leather to leather product factories, but recently there are also places where the public can try their hand at making leather products using Himeji leather. Pelletteria has a workshop where even beginners can safely make original leather goods such as backpacks, wallets, and accessories. This leather producer doesn't only carry out leather product manufacturing, but also offers aftercare services such as leather cleaning and repair.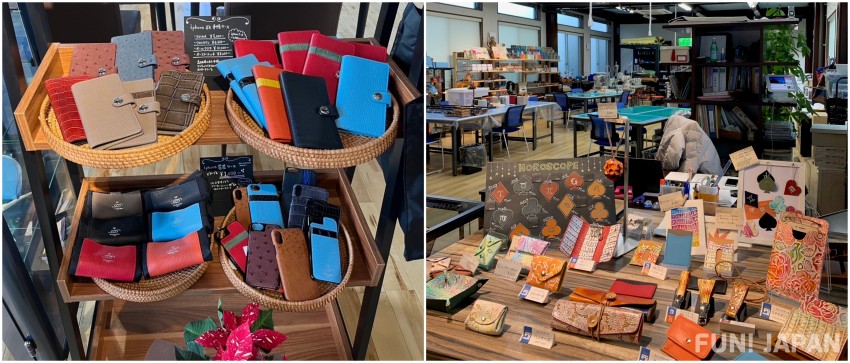 Find out more about the history of Himeji leather:

http://himeji.jibasan.jp/en/leather/index.html

There you have it – an introduction to some of the best local products from Himeji City! However, the best way to experience Himeji's charm is of course in person! Please be sure to stop by Himeji City on your next trip to Japan, and see for yourself all the amazing local products this charming castle town has to offer.

URL:

・Introduction of local products from Himeji

http://himeji.jibasan.jp/en/index.html

・Visit Himeji