How to enjoy Shiga's "Lake Biwa", Japan's largest lake, and its surrounding sightseeing spots?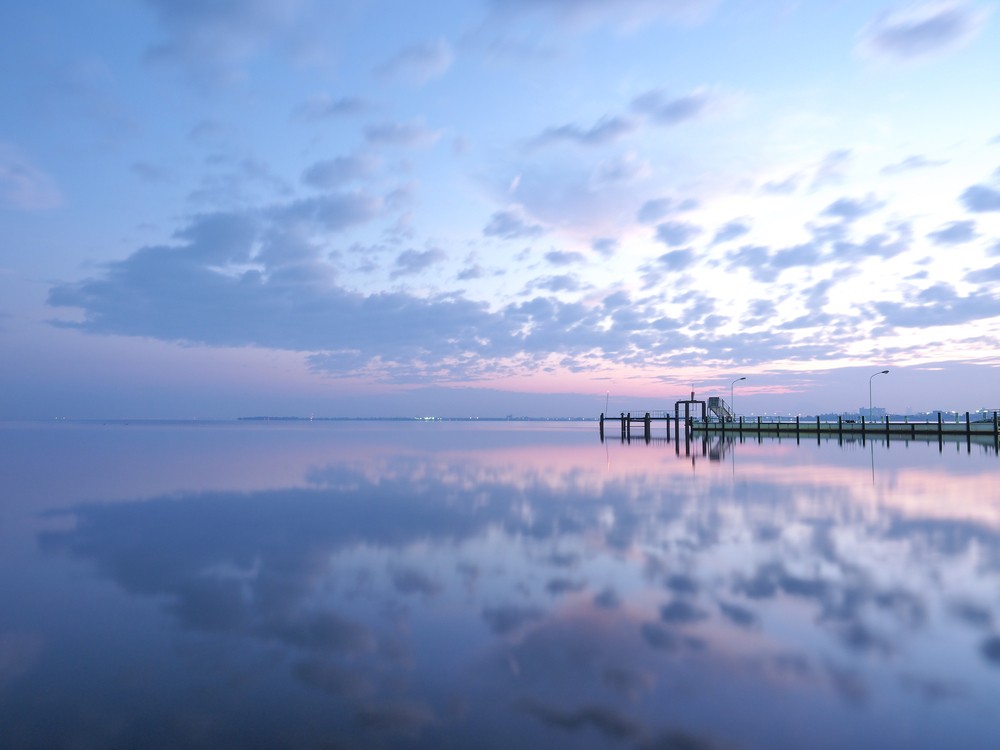 "Lake Biwa" (琵琶湖 / Biwako), the largest freshwater lake in Japan, is located in Shiga Prefecture and occupies one-sixth of the prefecture's area.
"Eight Views of Lake Biwa" have been selected as a tourist destination where visitors can enjoy the various and beautiful scenery of Lake Biwa (琵琶湖八景 / Biwako Hakkei). They are a selection of 8 superb views from the entire landscape of Lake Biwa in accordance with the style of "Hakkei" (八景 - Eight Views).
On the other hand, the "Eight Views of Omi" (近江八景 / Omi Hakkei), which were selected about 500 years ago, are eight locations in the southern part of Lake Biwa. Their superb views are even depicted in ukiyo-e!
If you visit Shiga Prefecture, be sure to enjoy the beautiful Lake Biwa to your heart's content! This time, we will introduce 7 ways to enjoy Lake Biwa.
Cruise around Lake Biwa on a sightseeing boat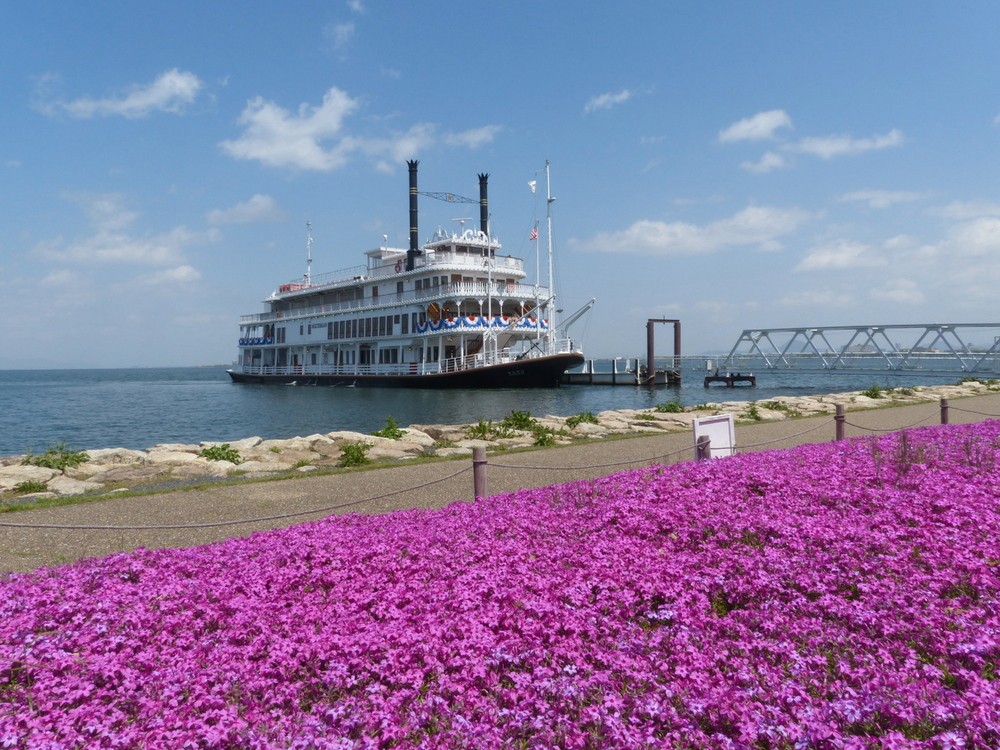 At Lake Biwa, you can enjoy a cruise on a sightseeing boat. One of them is the "Michigan Sightseeing Cruise" (ミシガンクルーズ), where you can enjoy a panoramic view of Lake Biwa from the sky deck on the 4th floor of the ship. It is also a cruise that serves meals, drinks, and plays live music onboard. It departs from "Otsu Port" and operates on a route returning to "Otsu Port" via "Yanagasaki Lakeside Park Port" or "Niono-hama Sightseeing Port".

The "Chikubushima Cruise" (竹生島クルーズ) that takes its passengers to Chikubushima, one of the Eight Views of Lake Biwa, is also popular. You can recharge yourself by visiting temples and shrines that are power spots. In addition, the "Biwako Tour of Islands" (ぐるっとびわ湖島めぐり), which tours around the four islands of Lake Biwa in one day, is also highly recommended. Plus, there is a liner that departs from Hikone Port and goes around Chikubushima and Takeshima as well.
Enjoy the view of Lake Biwa at a cafe or restaurant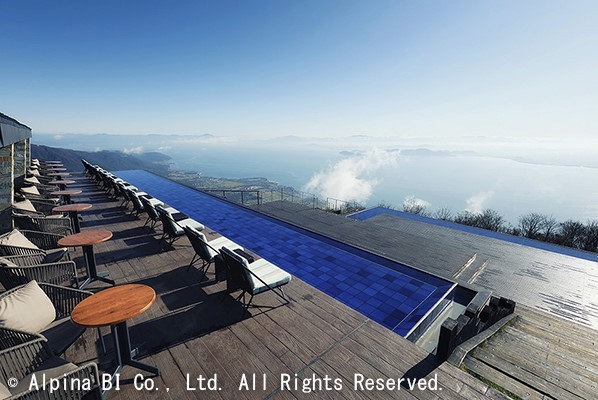 The shores of Lake Biwa are full of wonderful lake-view cafes and restaurants. Among them, "Biwako Terrace" (びわ湖テラス) is where you can enjoy the view from the sky. Enjoy exquisite gourmet food at the cafe and dining room. At the artistic bar counter, photogenic cocktails are served.

On the Lake Biwa beach side, there is a cafe that makes you feel like you are on a Hawaiian sandy beach. At "R cafe", you can enjoy Hawaiian menus such as Loco Moco and pancakes while listening to the sound of the waves.
Another spot that you can feel like you're right above the lake is the "Charle Mizugahama" built on the lakeside cliff. At the terrace seats, you can enjoy homemade beef curry and coffee made with groundwater while enjoying the scenic view.
Enjoy marine sports at Lake Biwa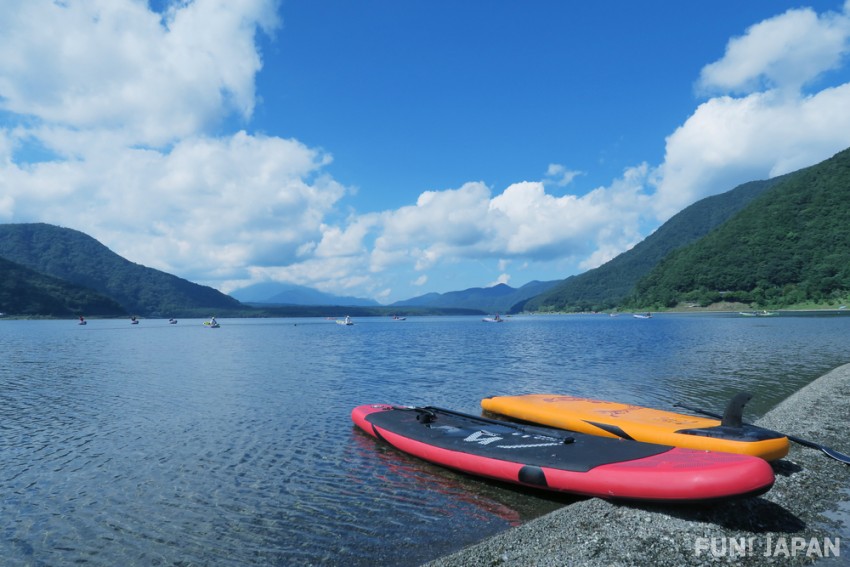 Is this Hawaii? At Lake Biwa, you can enjoy marine sports such as electric surfing eFoil, SUP, rowing SUP, wakeboard, banana boat, and etc. The water with high transparency is just similar to that of Hawaii. There are plenty of activities that even people who have no experience with marine sports can try.

Other than that, we also recommend the hands-free BBQ experience with ingredients fully available as well as the lakeside camp. The sunset reflected on the surface of the lake in the evening is also a must-see. It is such a romantic atmosphere here.
Variety of activities overlooking Lake Biwa from a high position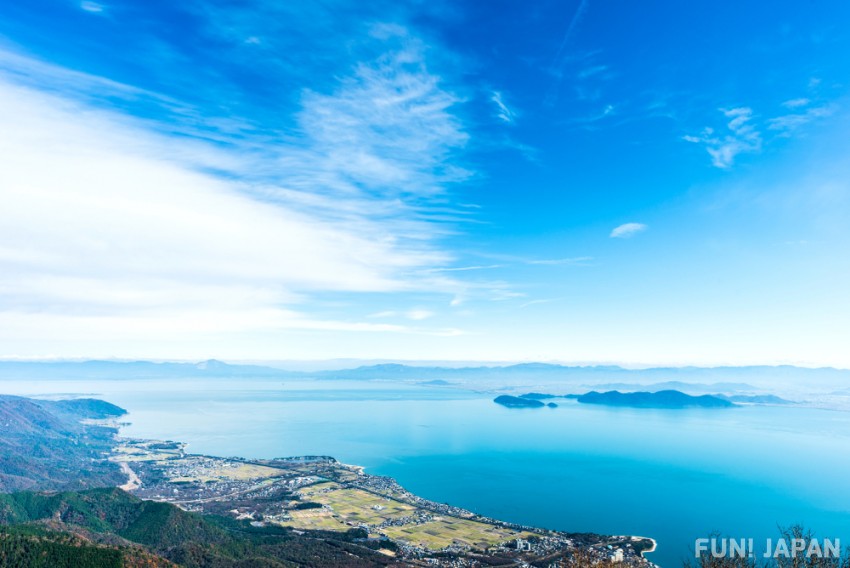 There are many courses where you can enjoy mountain climbing and hiking around Lake Biwa. Especially recommended is Mt. Horai, which has an altitude of 1,174m and can be climbed at your own pace even by beginners. The recommended route is take the course passes through Mt. Uchimi, where the ropeway summit station is located. It is also possible to climb the slopes using the ropeway to the summit station. The summit of Mt. Horai offers a 360-degree panoramic view. There you can enjoy a majestic scenery of Lake Biwa spreading below along with the ridgelines of the mountains and other sights.

Also, if you want to enjoy the view of Lake Biwa from the sky, we recommend paragliding. Even beginners can feel at ease as they can fly with professional instructors. Let's flap your wings like a bird over Lake Biwa!
Cycling course & driving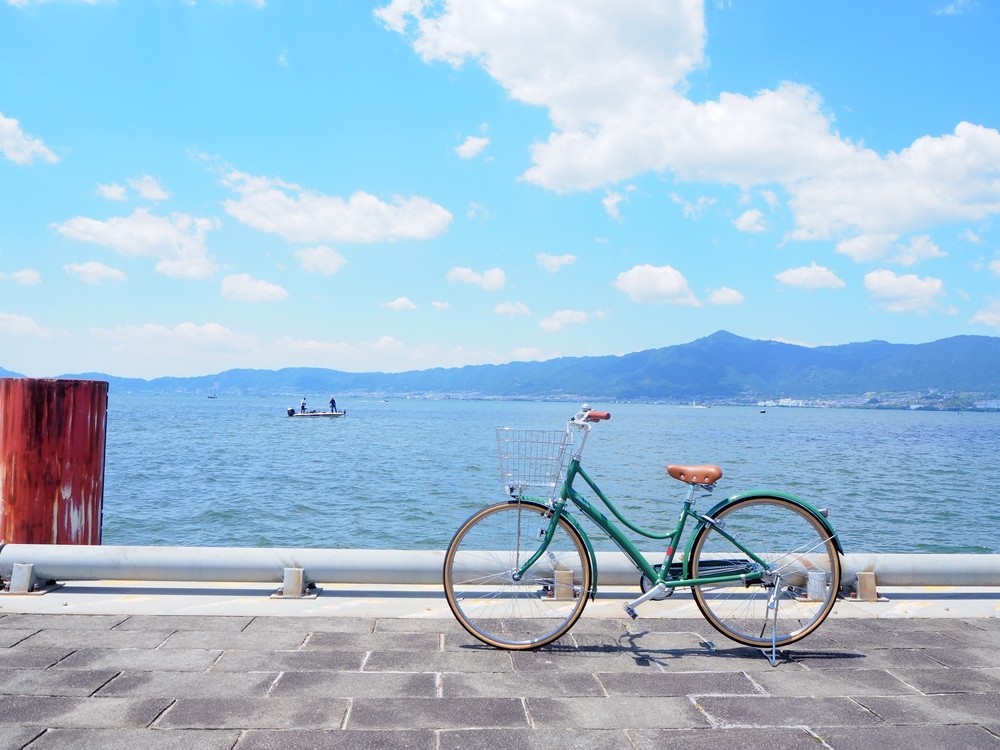 The recommended cycling course is the "Moriyama-Omihachiman-Hikone Course". It is a comfortable course that runs along the shores of Lake Biwa from "Daini Nagisa Park" with a rental cycle shop nearby to Hikone Castle. The best part about this course is that even beginners can enjoy!
On the other hand, we also recommend a course that let you enjoy the shores of Lake Biwa by driving. Start around Otsu Station, where there are many car rental offices, then go along the west side of the lake, cross the "Biwako Ohashi Bridge", and drive through the beautiful scenery of Lake Biwa. It is a course to Hikone Castle just like the cycling course. 
There are many spots along the course for both cycling and driving. If there is something that interests you, you can stop and drop by at your own leisure. In particular, Mii-dera Temple (Onjo-ji Temple) and Ukimido (Mangetsuji Temple) on the driving course are must-see sights.

BBQ at camping & glamping sites around Lake Biwa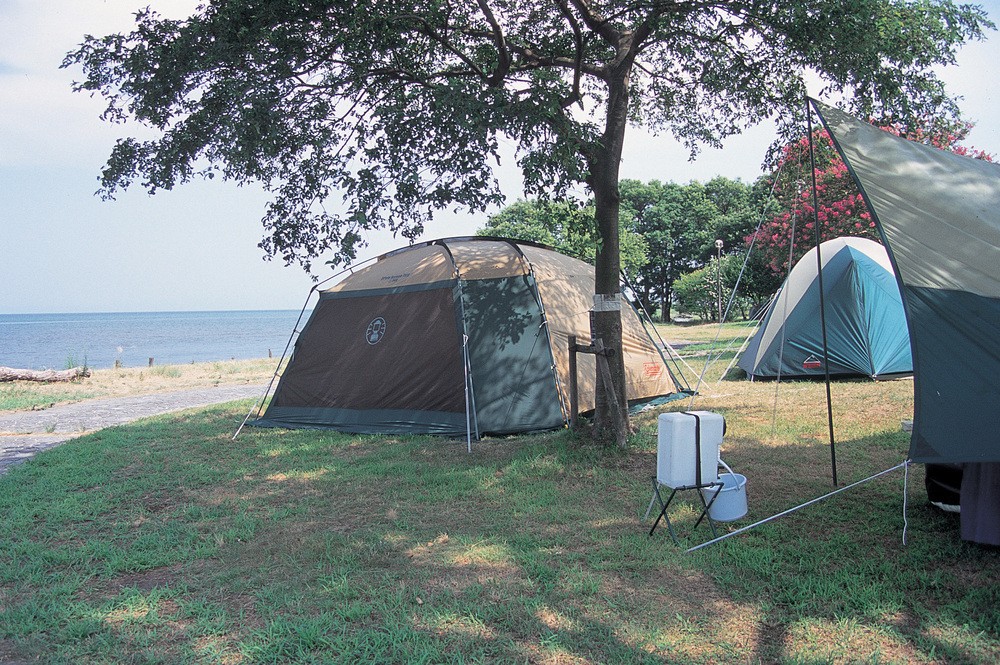 There are many campgrounds and glamping facilities around Lake Biwa in the westcoast area, such as Takashima City and northern Otsu City. Many of them are scattered along the shores of Lake Biwa with a great view. The types of facilities are diverse, think campsites where you can bring your own ingredients and tools and enjoy camping and BBQ, or luxury glamping that is very particular about the interior.
Among them is the "Glamping Village Shiga-Imazuhama", a glamping facility with a pool and a self-service night bar inside a transparent dome. There are some facilities where you can choose a plan where you can enjoy a BBQ with roast beef steak, seafood from Lake Biwa, and fresh local vegetables as well. You are sure to find a glamping facility that you like.

Enjoy Lake Biwa in the lake view rooms of hotels and inns!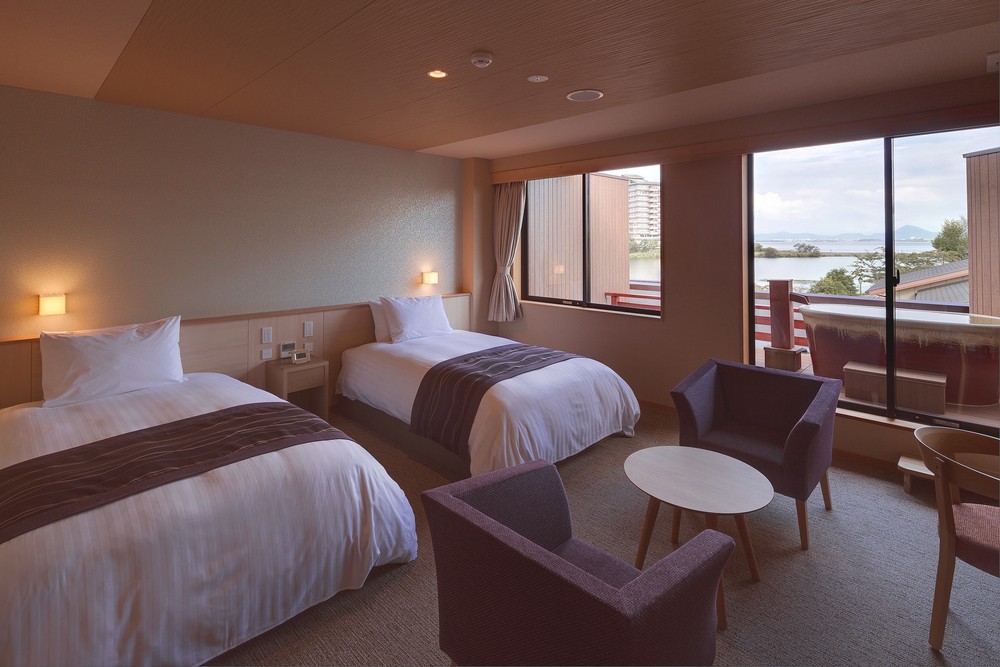 Lake Biwa is visited by many tourists, so it is no surprise that there are many accommodation facilities around. Among them, we would like to recommend  accomodations with lake-view rooms. For example, at "Lake Biwa Marriott Hotel", there are guest rooms with hot spring baths where you can enjoy the view of Lake Biwa in front of you. There is even a planetarium in this hotel!

Our another favoyrite is the "Biwako Ryokusuitei", which boasts delicious cuisine and all rooms facing Lake Biwa. We especially recommend a room with an open-air bath where you can enjoy a view of Lake Biwa while bathing. This accomodation serves "Certified Omi Beef," which only high-quality Omi Beef that meets certain standards is certified. You can taste wagyu beef unique to this area here.
[Survey] Traveling to Japan