Explore Japan like a local! Shibuya's tourist information and art center: shibuya-san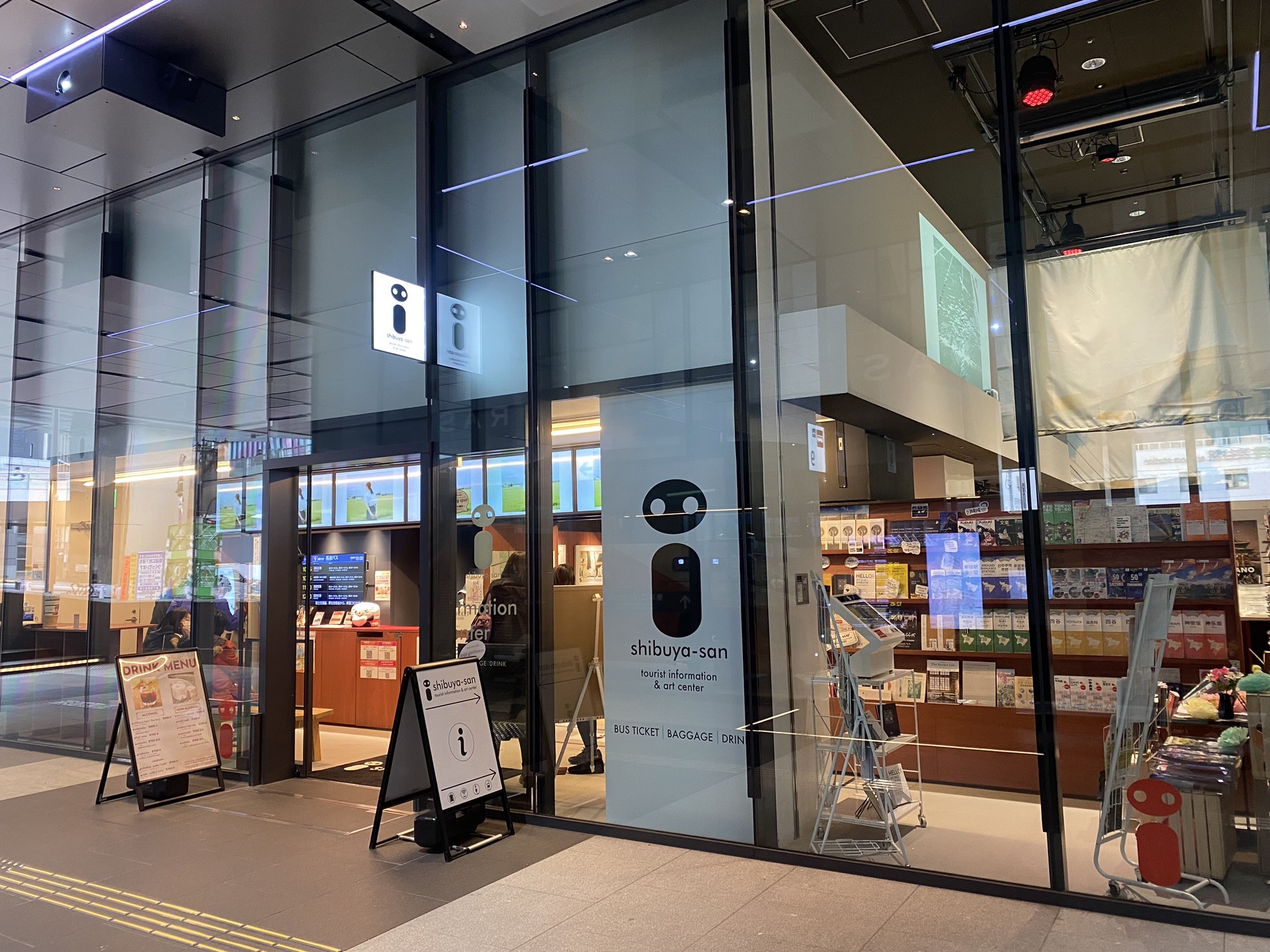 Shibuya's bustling scramble crossing and 109 department store are so well-known globally that many deem this iconic district to be the ultimate symbol of Tokyo. Shibuya is a must-see for anyone visiting Japan, and now a hot new tourist information center has opened just one minute from Shibuya Station to provide tourists with the latest local insider information that goes far beyond the scope of online reviews and guides. Foreign resident staff are on hand there to provide useful tourist information on Shibuya, as well as other cool services. It's safe to say that shibuya-san is not your average tourist information center.
More than a simple tourist information center: what is shibuya-san?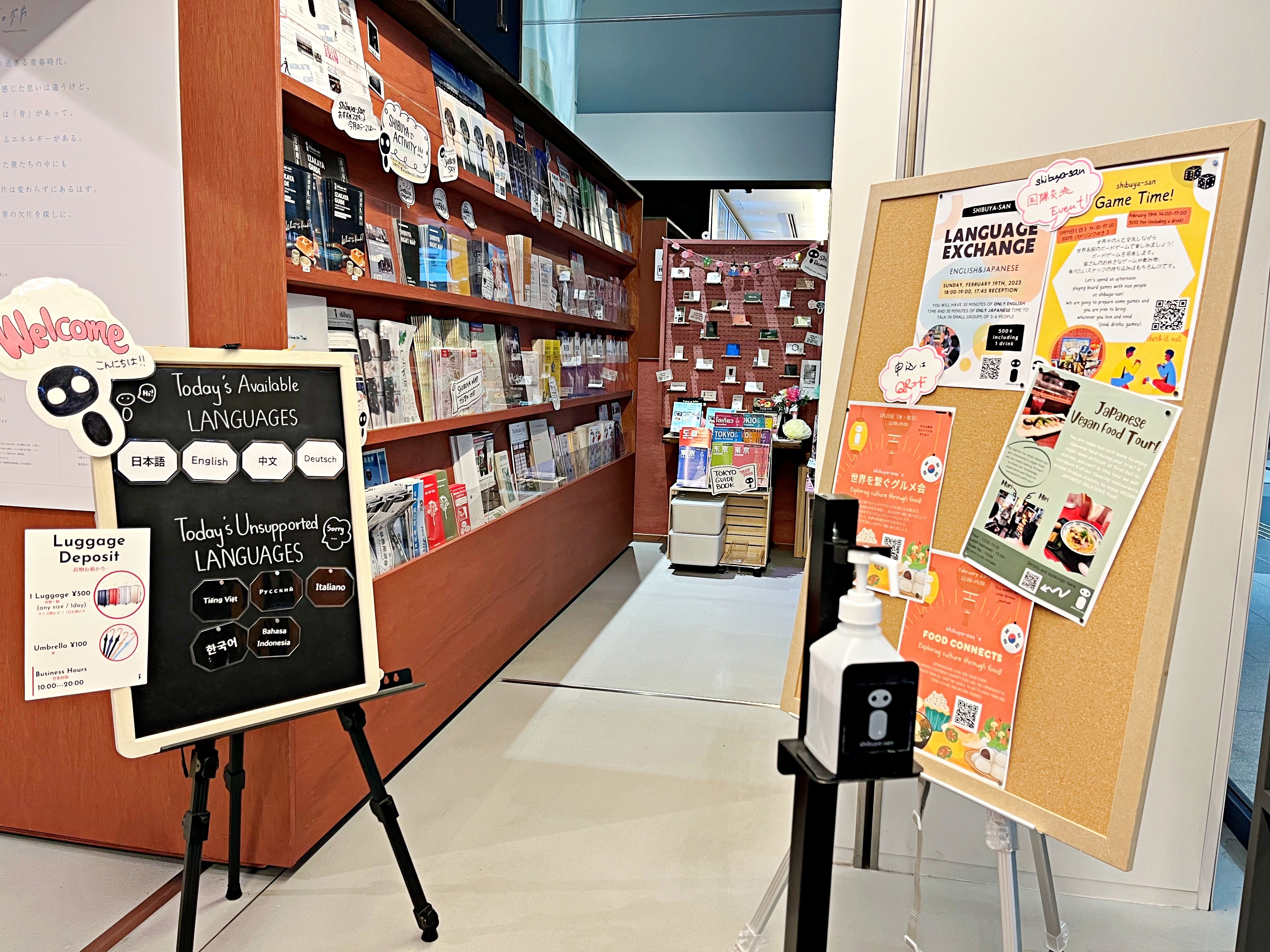 shibuya-san tourist information & art center (shibuya-san) is a brand new tourist information center located on the first floor of the Shibuya Fukuras Building, just a one-minute walk away from Shibuya Station. A bus terminal for limousine buses from Narita and Haneda airports is conveniently located right next door to the center, offering perfect access for international tourists arriving in Japan. At shibuya-san, foreign staff of various nationalities act as 'tourist concierges', introducing visitors to the many attractions of Shibuya. In addition to providing handy tourist pamphlets and information, art exhibitions and events are occasionally held at the center. shibuya-san is much more than just a tourist information office - it is a place where people from around the world can interact with locals and actively engage with everything Shibuya has to offer.
 Read on to learn about the broad-ranging services shibuya-san has available for international tourists.

Foreign staff on hand to share the best insider information in your native language.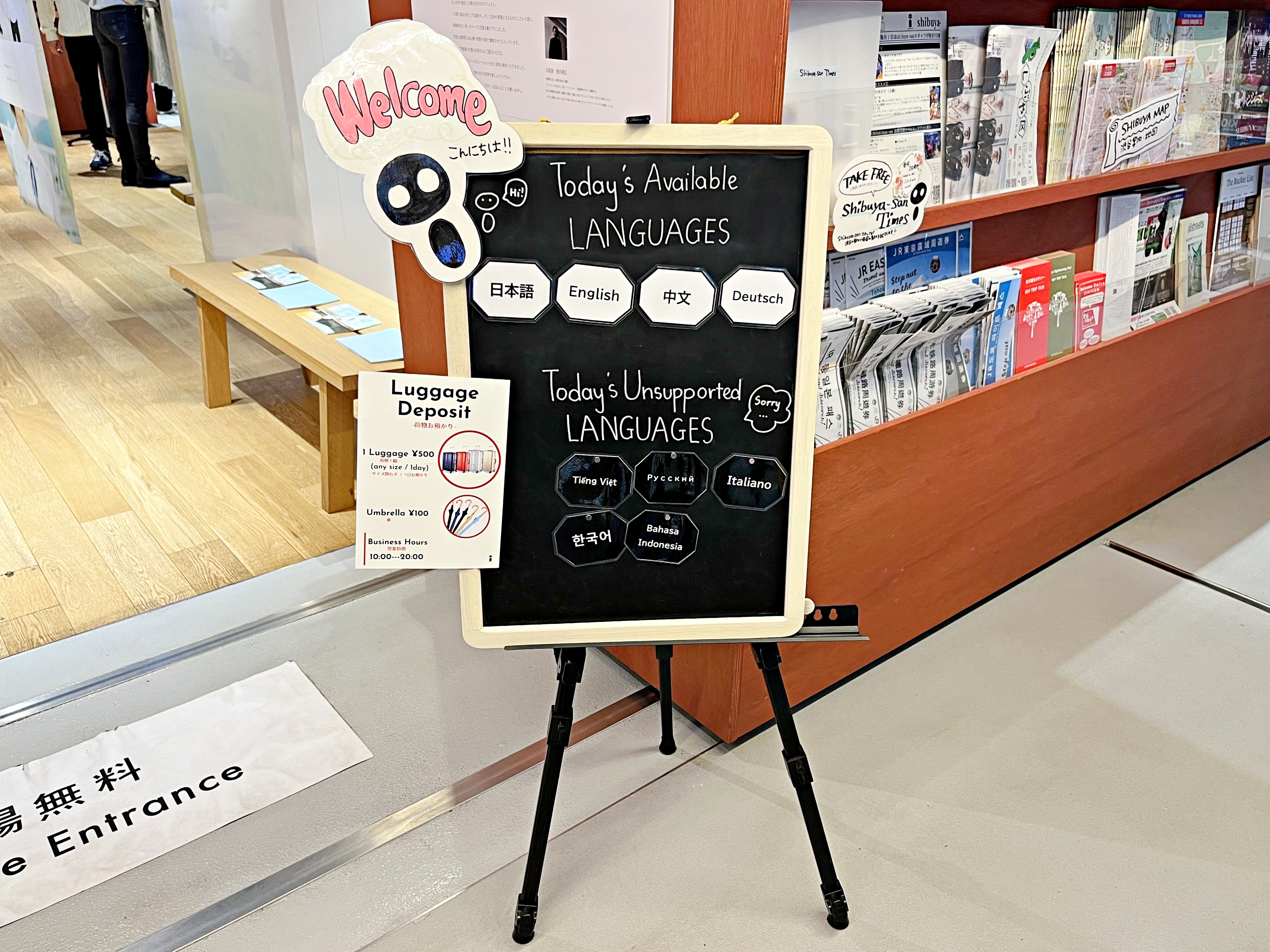 At shibuya-san, English and Japanese staff are always available, and other languages are available depending on the day, including Chinese, Vietnamese, Indonesian, Korean, German, Italian, and more. Since the staff are all foreigners living in Japan, they can provide sightseeing information from a foreigner's point of view and can even recommend sightseeing spots and restaurants that they themselves have experienced in Japan. Now that's real insider information that you can't find online! Having a fellow native of your own country show you the ropes is an ideal way to ease into your vacation in Japan.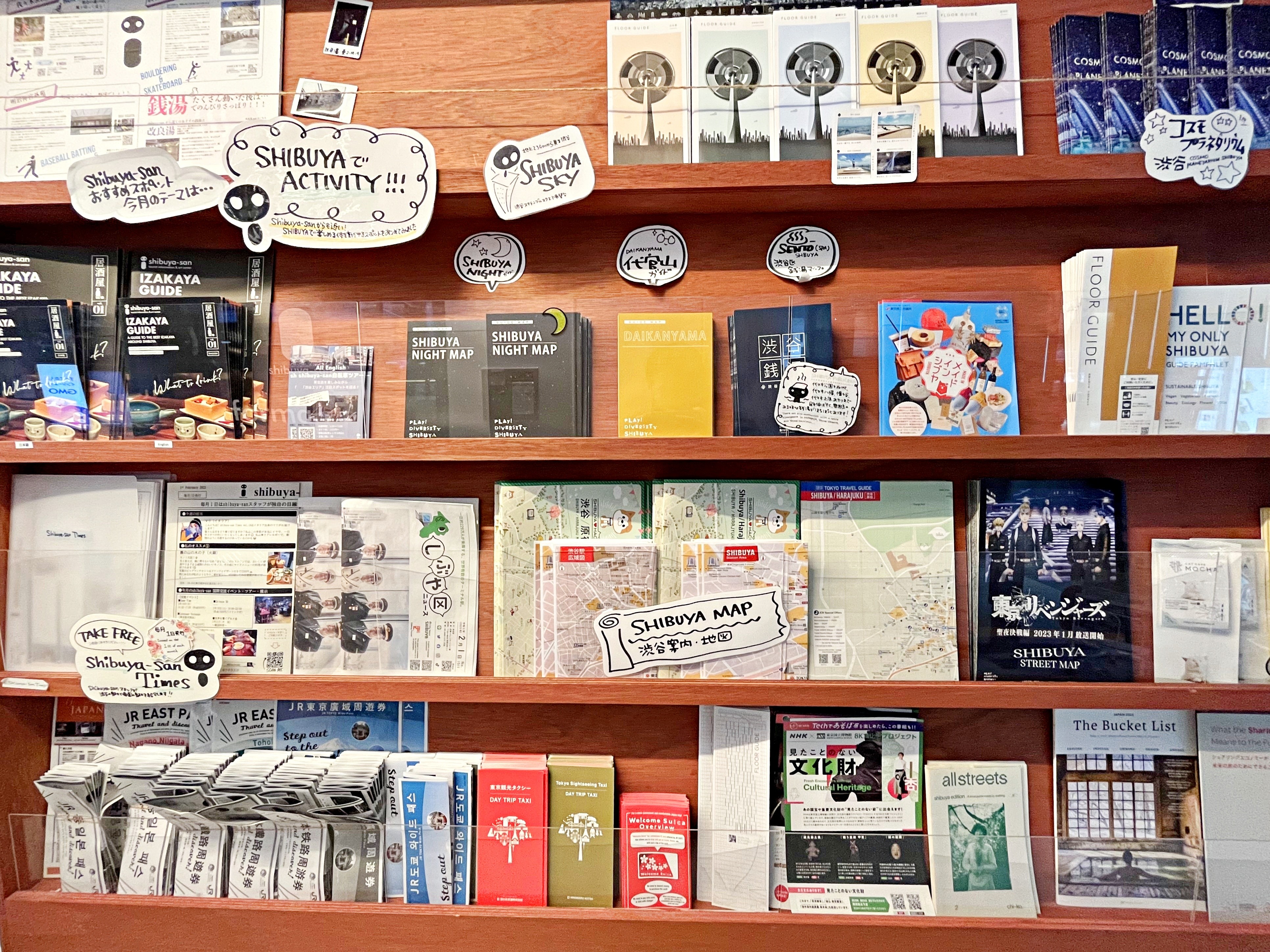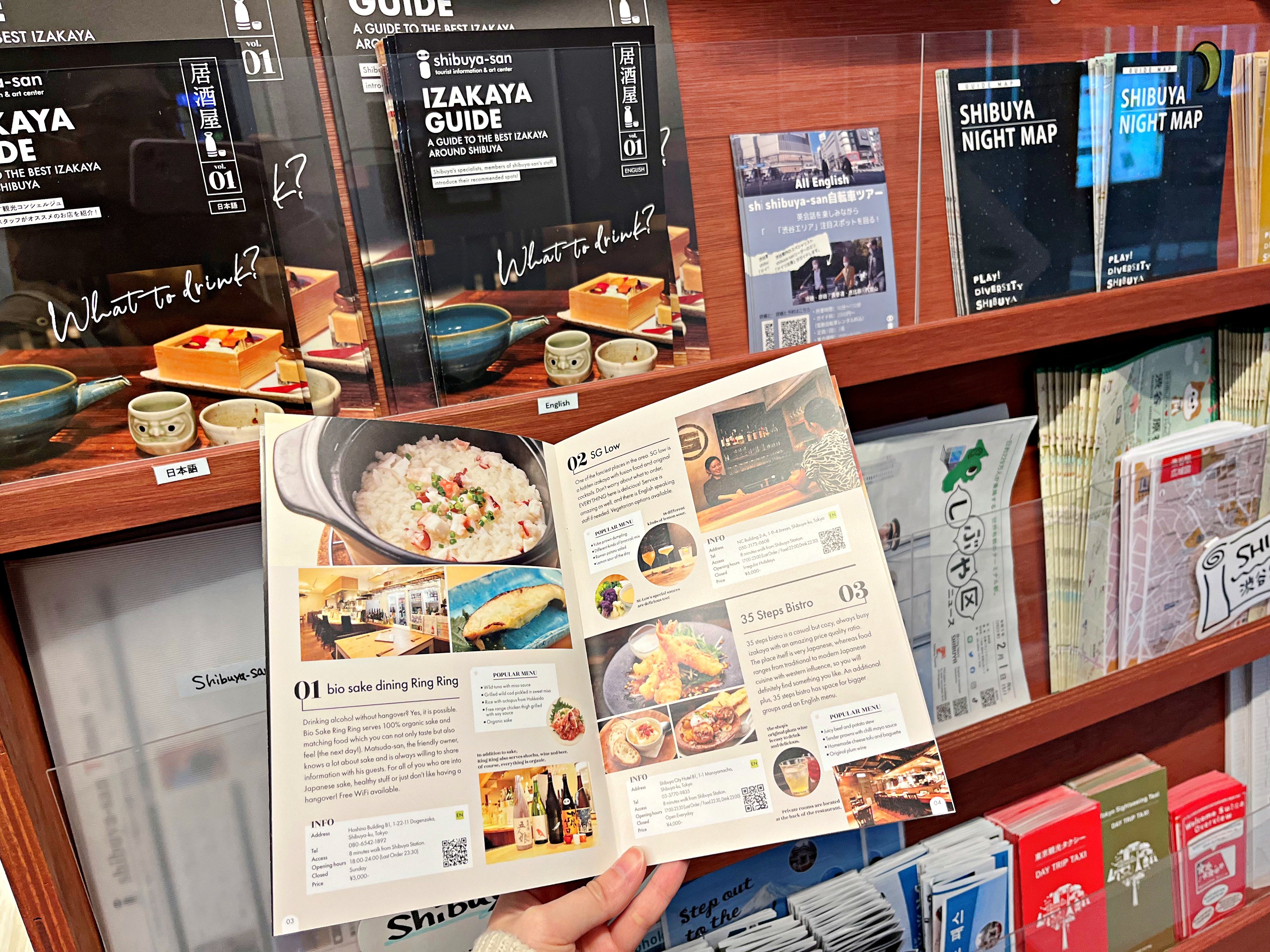 shibuya-san contains all the travel guides you could ever need during your trip. There are pamphlets not only for Shibuya, but also for other popular Tokyo tourist destinations and more. One pamphlet of particular interest is the 'Izakaya Guidebook', which introduces izakaya (Japanese style pubs) in Shibuya that have been carefully researched and selected by shibuya-san's foreign staff.
Luggage storage, drinks service and more - the perfect stop for busy tourists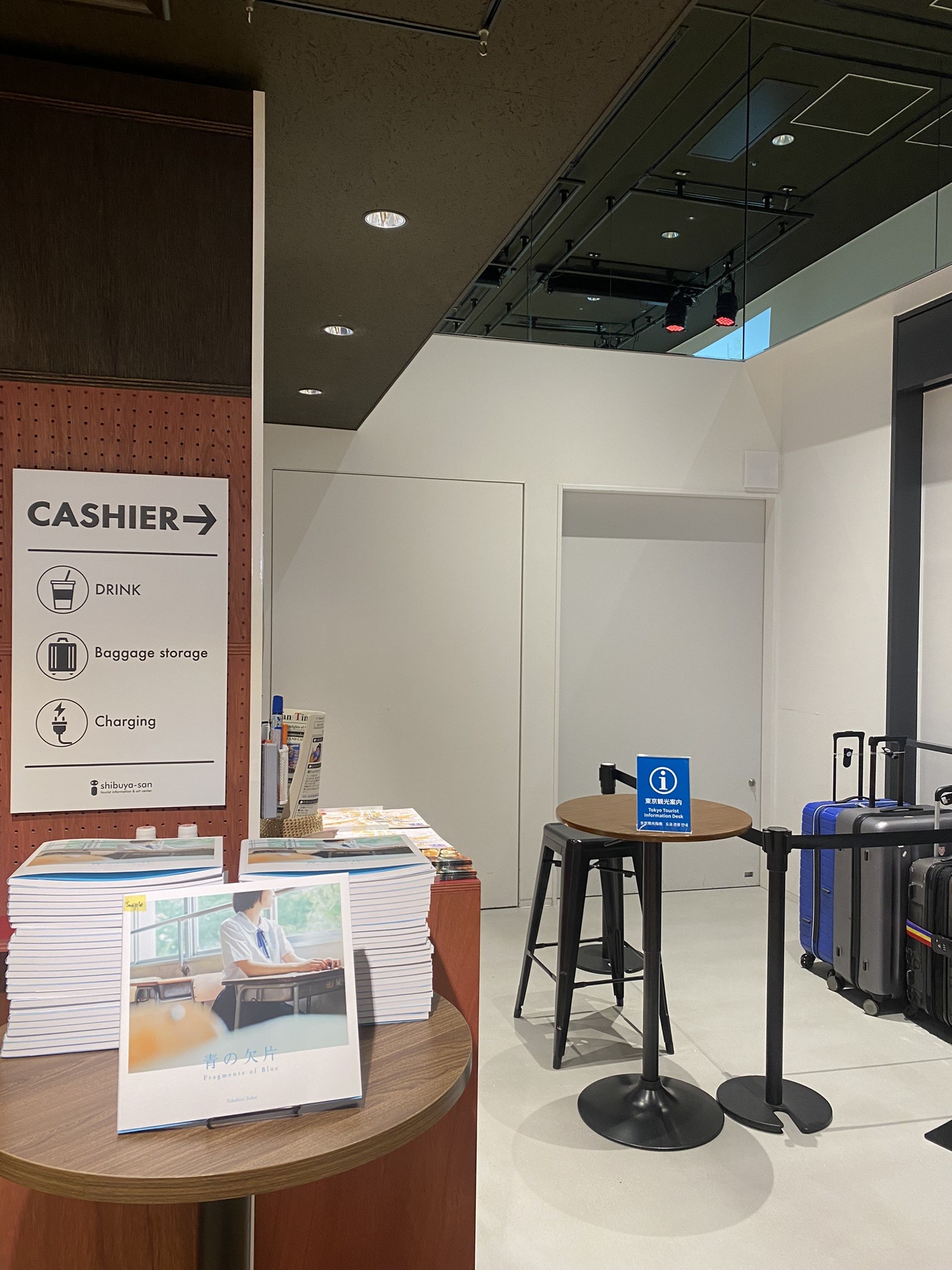 Travelling can be tiring and hectic. Luckily for tourists, shibuya-san offers luggage storage, cell phone chargers, and Wi-Fi. It's the perfect way to sightsee – after stepping off the airport bus at Shibuya, simply drop your cases and head off to explore the city! shibuya-san can hold luggage from 10am to 8pm – ideal for a day of sightseeing. However, the number of luggage they can accept is limited, so be sure to get in early to grab a spot!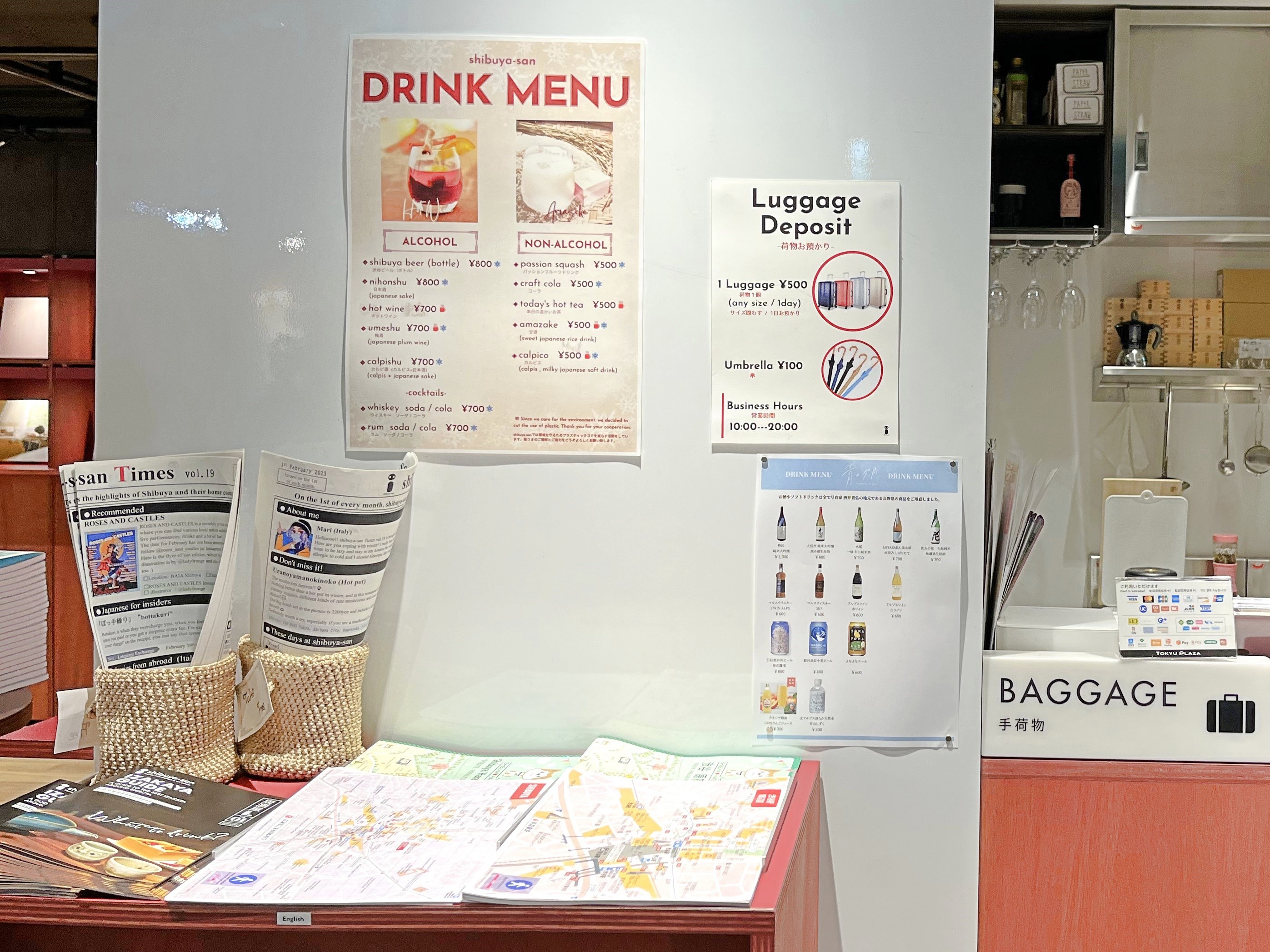 Delicious original drinks are also available. The menu changes with the seasons, and the staff expertly select beverages that are uniquely Japanese, including warm Japanese tea, calpis, amazake, sake, plum wine, and more. After a long plane ride, enjoy a refresh and reset with a delicious Japanese drink at shibuya-san.
JCB members only! Free Luggage Storage & Free Drinks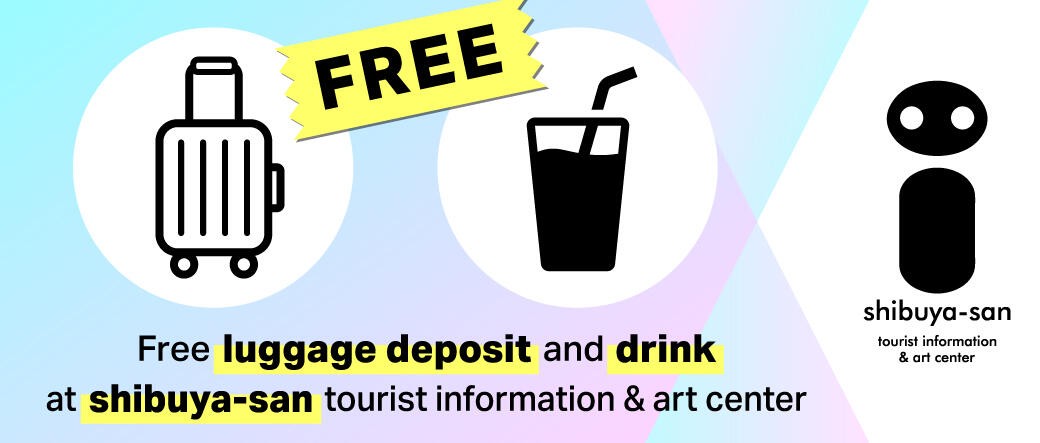 Luggage storage and drinks usually incur a fee, but by showing an overseas-issued JCB card to staff members, JCB card members can take advantage of free luggage storage and drinks! (Non-alcoholic beverages only). For more information, please see the website below.
https://www.specialoffers.jcb/en/campaign/detail/shibuyasan/60022/
A thriving interactive art center for cultural exchange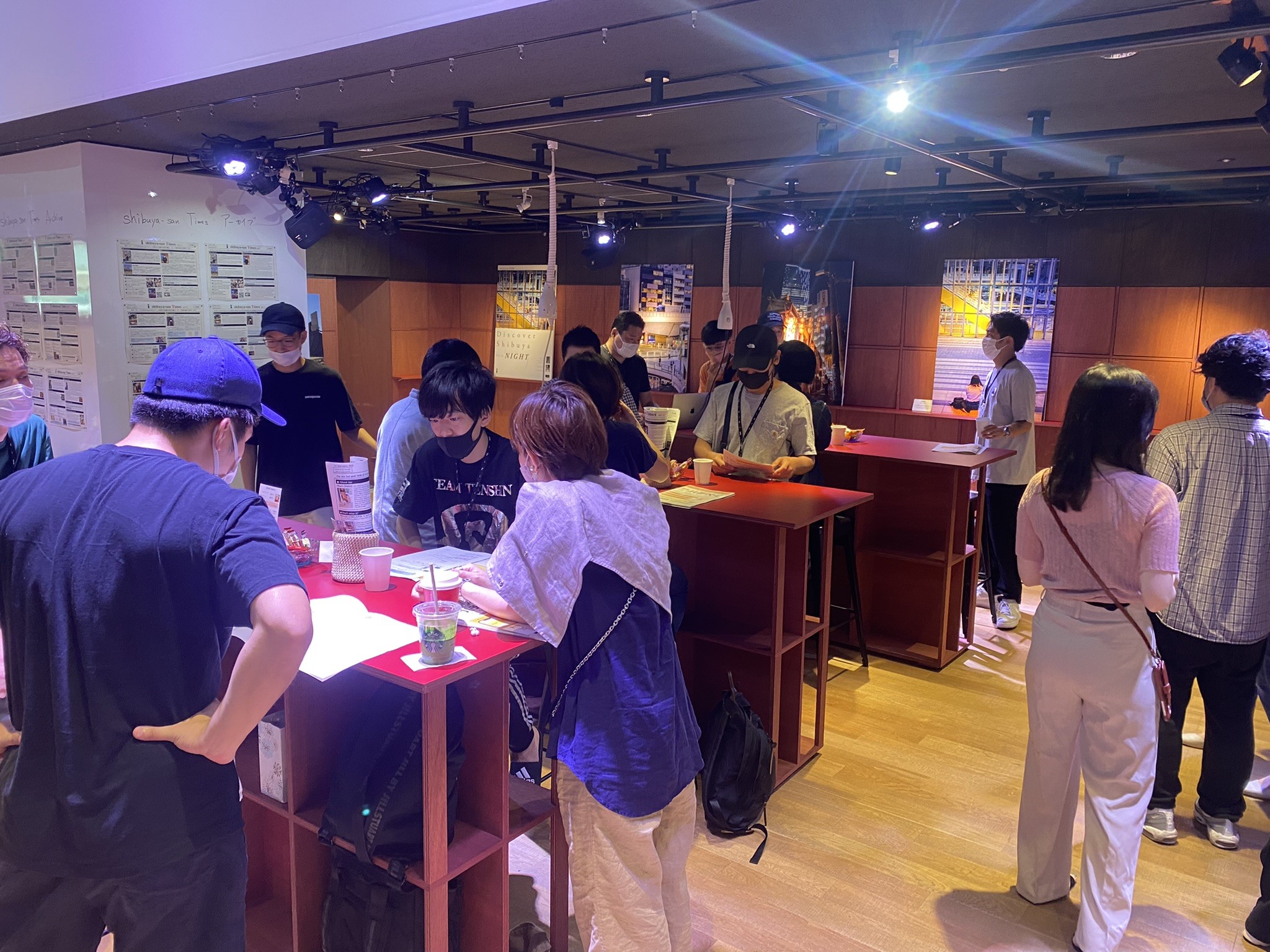 shibuya-san is Japan's first tourism information facility with an art center attached, which is utilized for its many exciting events such as art exhibitions, workshops, and cultural exchange meetings. It's also a welcoming space where foreign residents and visitors to Japan can chat comfortably, share information on art and tourism in Japan and their home countries, and interact and make friends with people from all over the world.
Conveniently situated by direct bus from Haneda and Narita airports!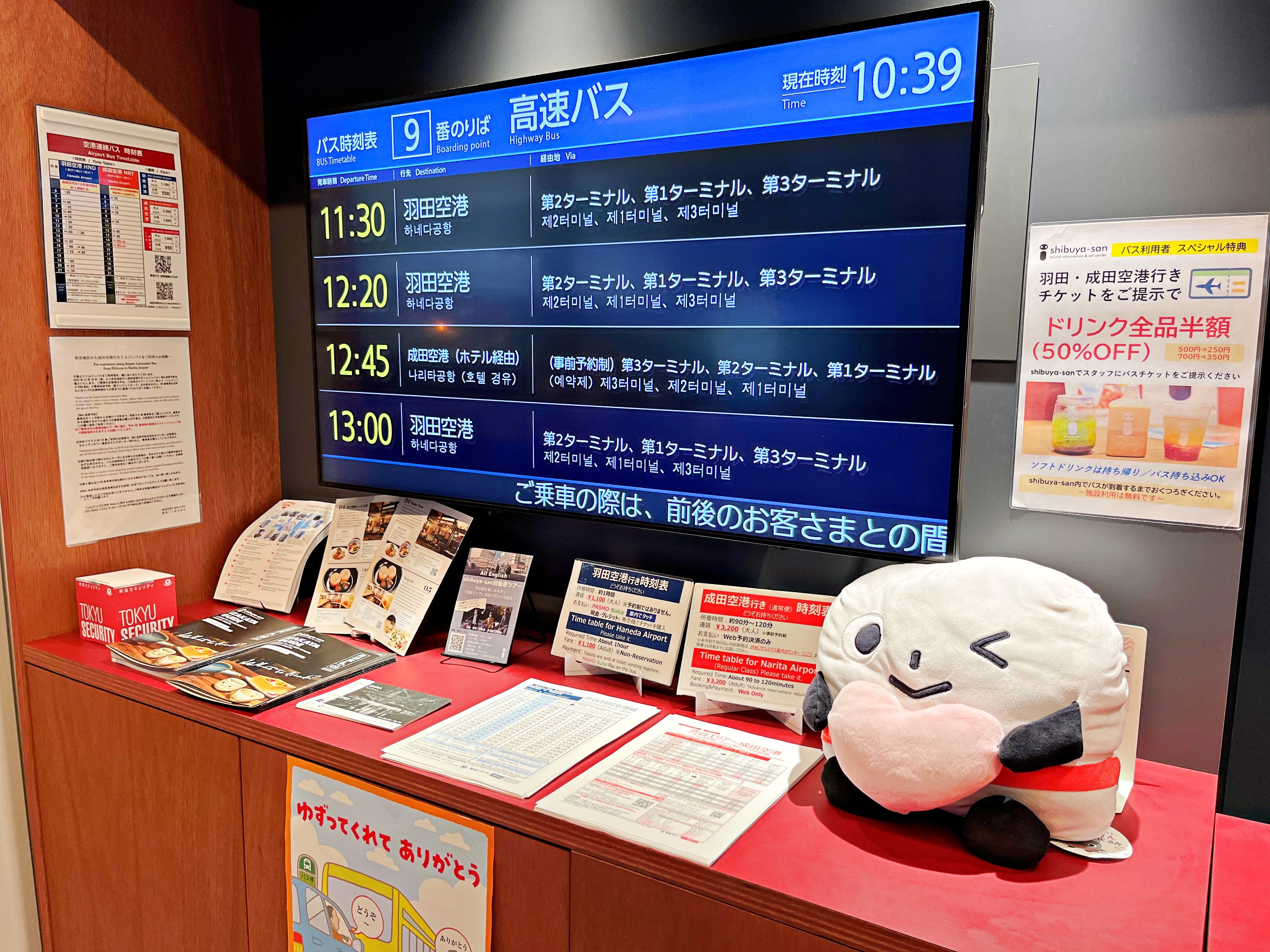 shibuya-san is conveniently located right next to the Shibuya Fukuras first floor airport bus terminal, just in front of Shibuya Station. Tickets for direct buses to Haneda and Narita Airports are easily available, and with Shibuya Station right next door, it's an ideal stopping point on any Tokyo trip.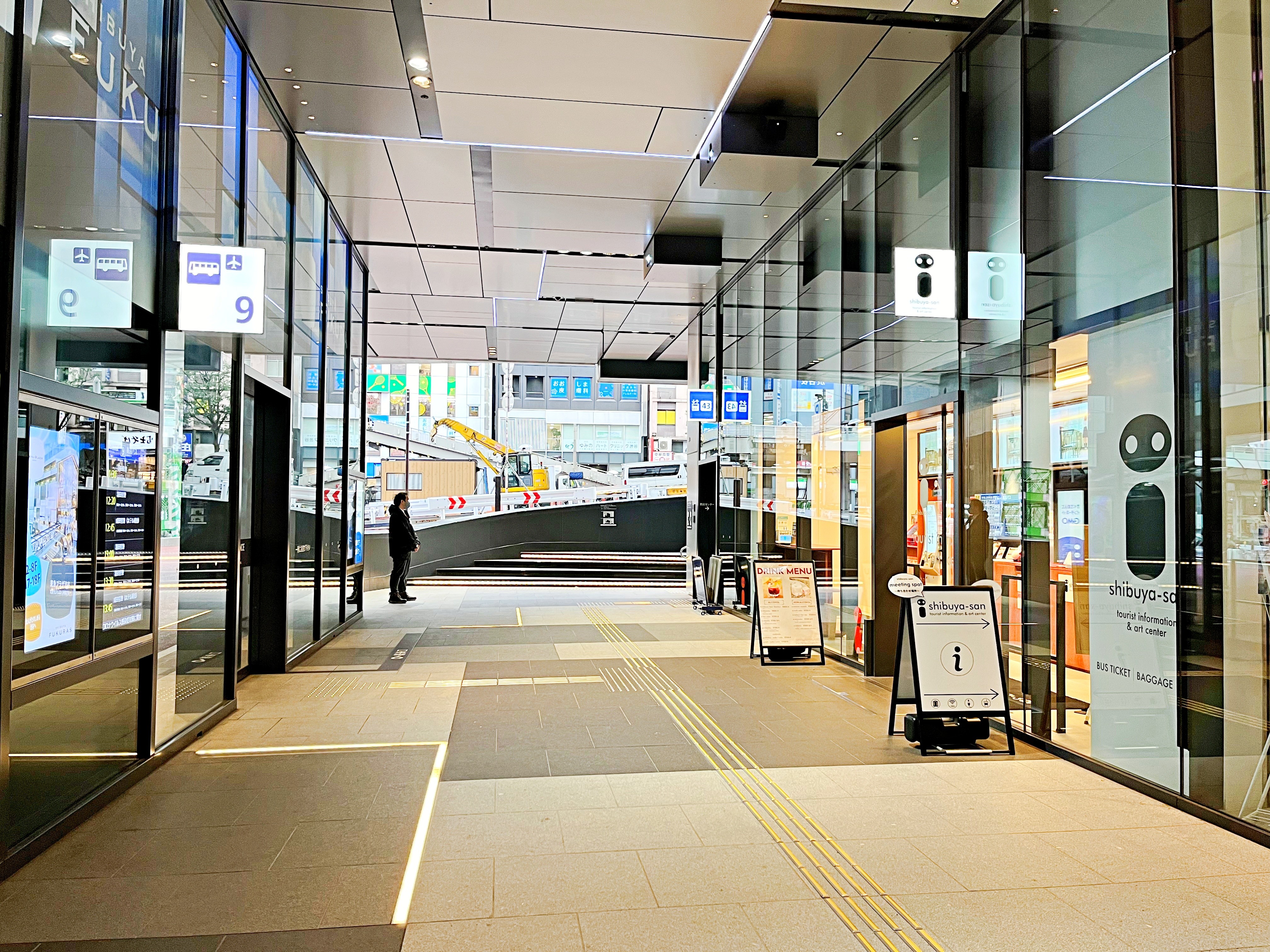 shibuya-san tourist information & art center(shibuya-san)

Address: Shibuya Fukuras 1F, 1-2-3 Dogenzaka, Shibuya-ku, Tokyo

Access: 1 minute walk from JR Shibuya Station West Exit and Keio Inokashira Line Shibuya Station
Opening hours: 10:00-20:00