FUN! JAPAN PR
Enjoy snow activities and experience Ainu Culture in Hokkaido: the winter wonderland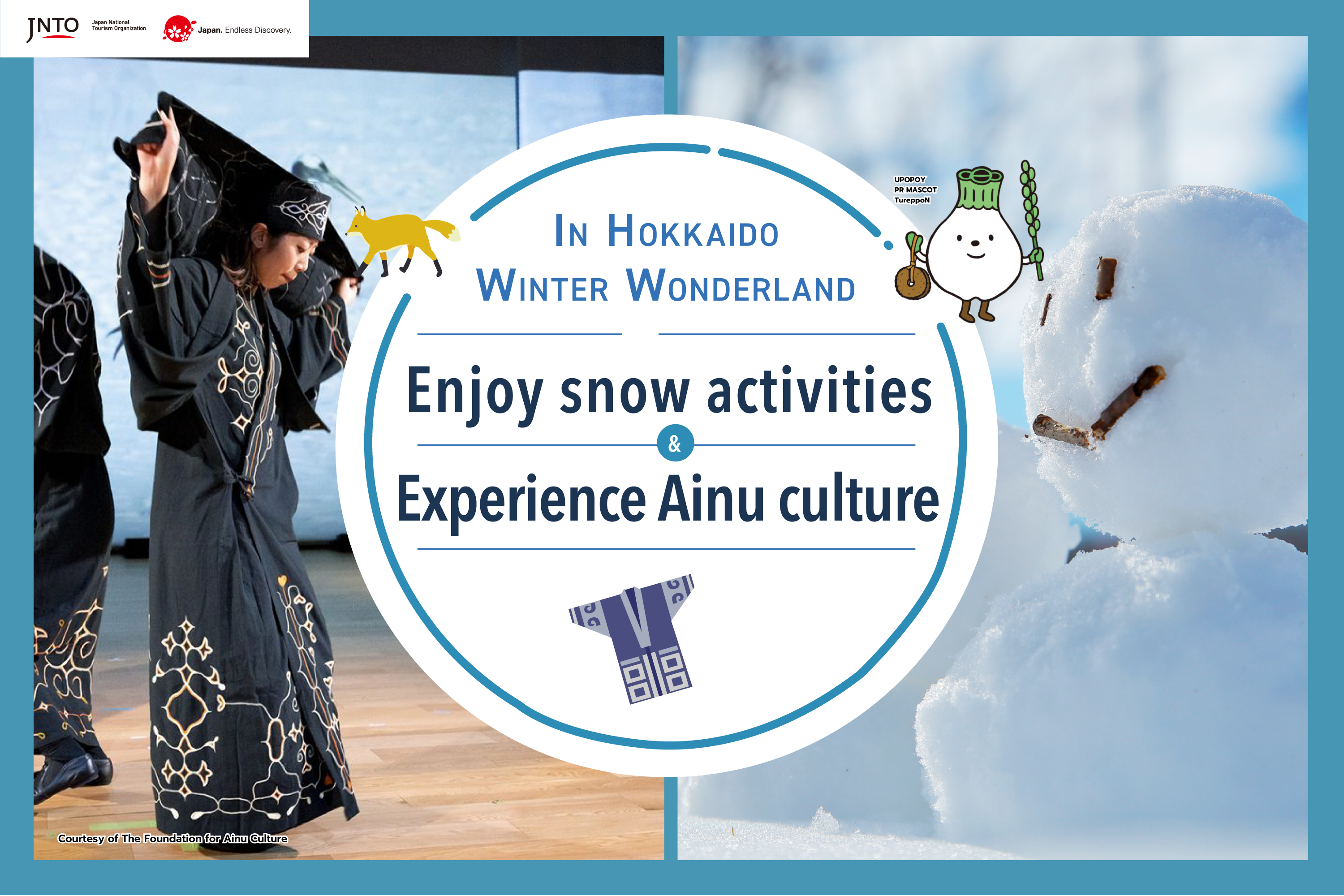 An introduction to Ainu culture and the winter activities in Hokkaido
The Snow Festival isn't the only winter attraction in Hokkaido! Come and join us on an online tour organized by the Japan National Tourism Organization (JNTO). On this amazing tour, you will discover some undiscovered attractions in Japan's northernmost prefecture: Hokkaido, the winter wonderland! Streamed live from Upopoy (National Ainu Museum and Park), you'll get to learn about and experience the culture of the Ainu, an indigenous people of northern Japan, and enjoy traditional food and crafts on this virtual tour. And, since we're in beautiful snowy Hokkaido, we'll be introducing some great winter-themed activities and sightseeing spots around Shiraoi Town, home to Upopoy, and Akan area. So, wrap up warm in your winter clothes and head to Hokkaido!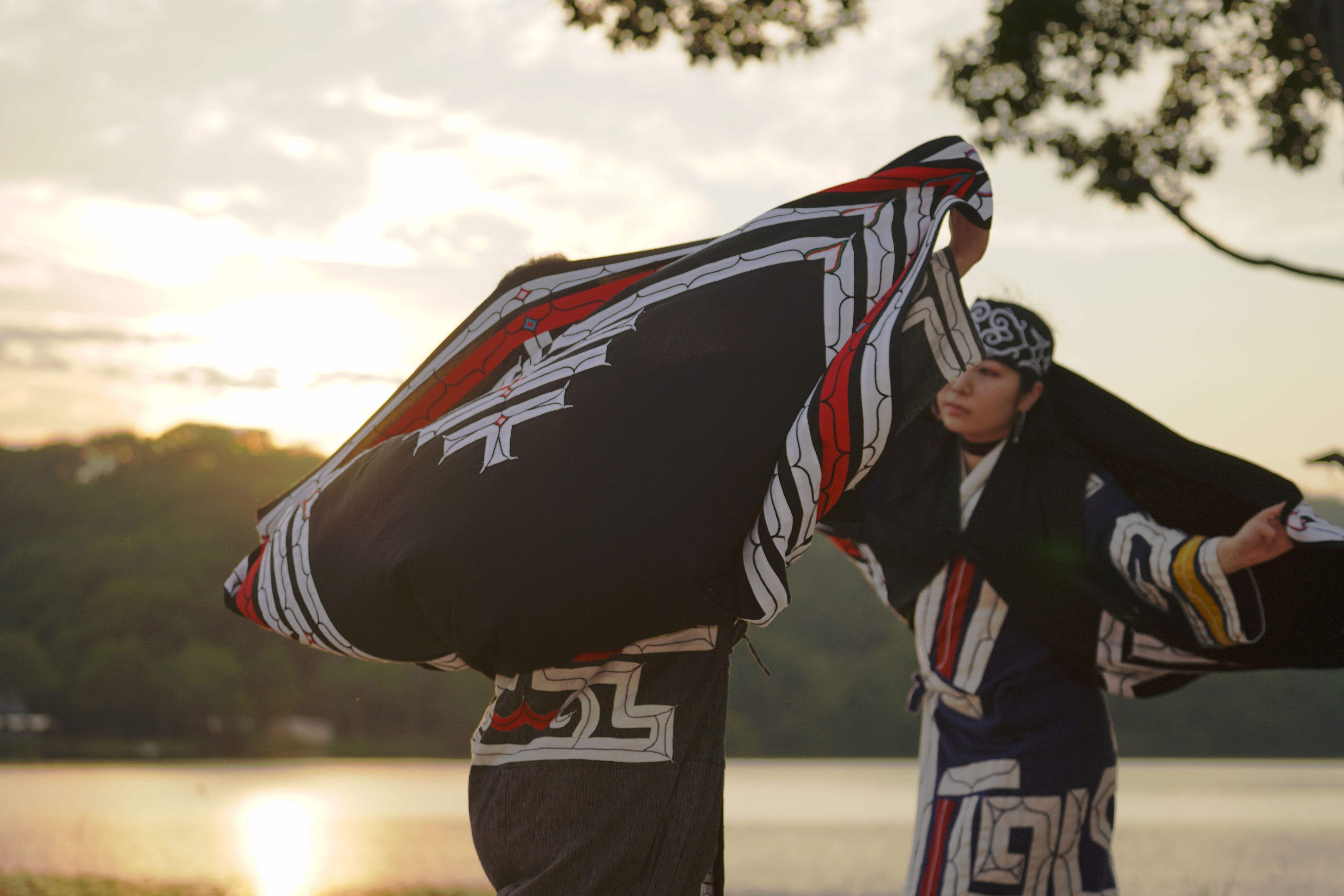 Let's learn about the Ainu
But, first of all, you may be wondering, what does 'Ainu' mean? For those of you who are unfamiliar with Ainu, the Ainu are an indigenous people of the northern part of the Japanese archipelago. They mainly live in Hokkaido but also in the surrounding areas and islands. The word "Ainu" itself means "human" in the Ainu language. Yes, that's right! The Ainu have their own unique language. Many of the names of places in Hokkaido come from the Ainu language. The Ainu also have their own unique culture and belief system that evolved separately from those in mainland Japan. You can learn more about their history and culture at today's tour destination, Upopoy (National Ainu Museum and Park).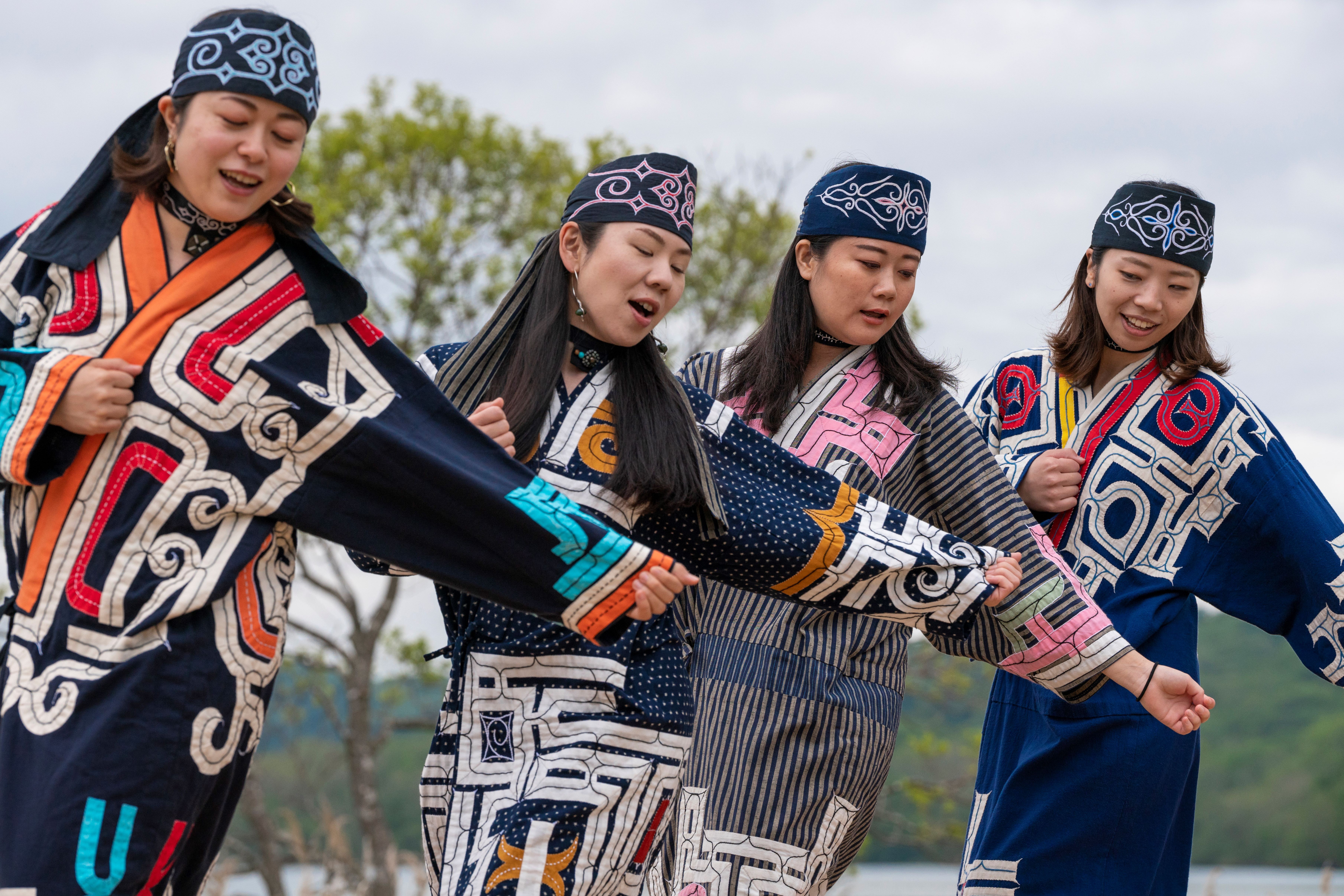 Upopoy (National Ainu Museum and Park)
Upopoy (National Ainu Museum and Park) is a must-see on the list of things to do in Hokkaido. For our readers that may not know, Hokkaido is the northernmost (and the biggest!) of Japan's 47 prefectures. Just a short journey from the city of Sapporo, the facility opened in July 2020 in Shiraoi Town, and it gives visitors the opportunity to get a taste of the culture and perspectives of an indigenous Ainu people.
"Upopoy" is the nickname for the National Ainu Museum and Park, and in the Ainu language, it means "singing together in a large group". The facility is a national center that is acting as a hub for reviving and developing Ainu culture.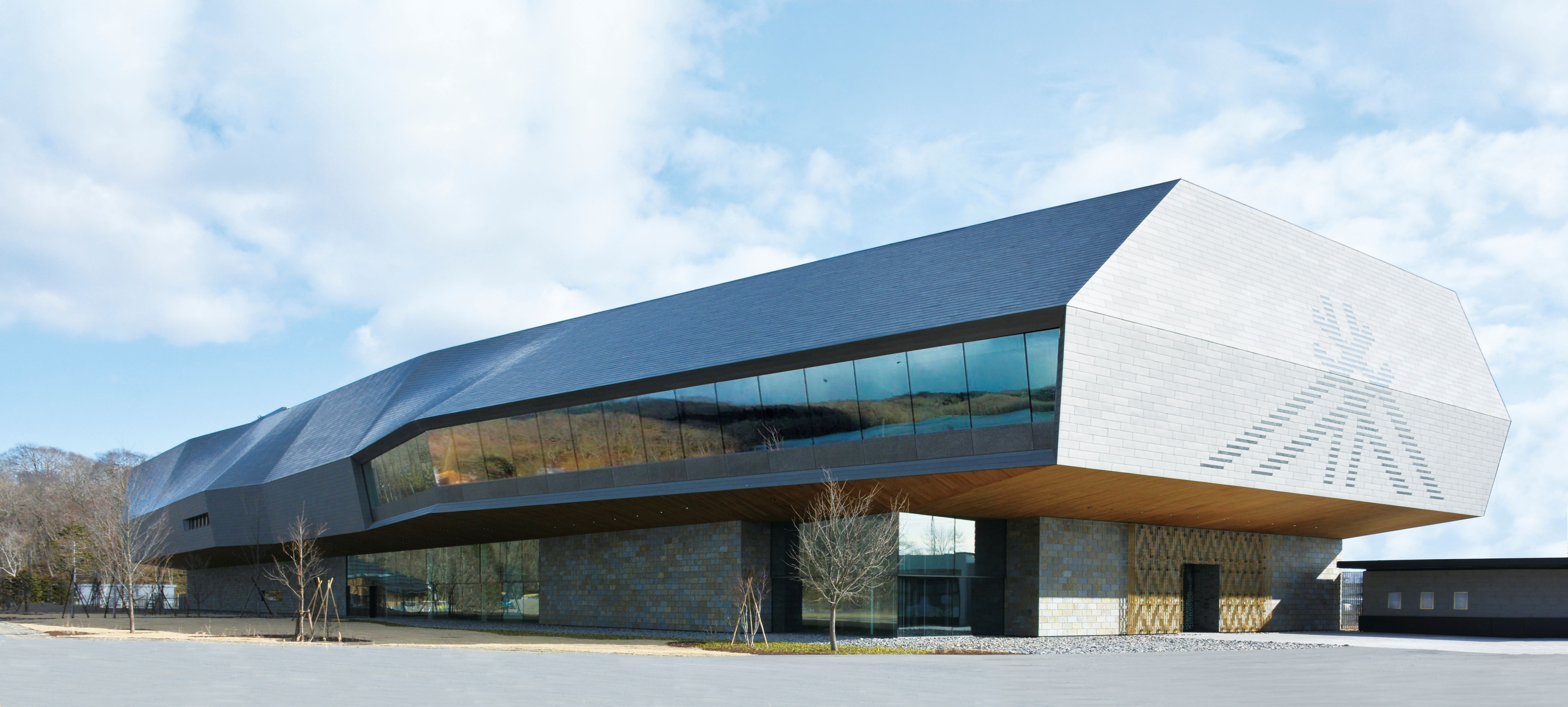 Access to the facility
You can easily get to Upopoy from any of the major cities in Japan. If travelling from the capital Tokyo, it takes just 1 hour and 40 minutes to get to Hokkaido's New Chitose Airport. From Osaka, it takes around 2 hours, and from Fukuoka, you can be there in as little as 2 hours and 15 minutes. This gives you plenty of options when flying into Japan from Singapore or Malaysia.
Hop on the express train at New Chitose Airport, and you can be at Shiraoi in about 40 minutes. Or, if you're already in Hokkaido, it takes about 65 minutes to reach Shiraoi Town from the prefectural capital of Sapporo. From Shiraoi Station, it takes just 10 minutes on foot to get to Upopoy. Now you know how to get there, let's check out what's at the facility!
Access
There's plenty to do!
Upopoy is a big place! It's home to many facilities including National Ainu Museum, Japan's first national museum dedicated to the culture and history of the indigenous Ainu, and National Ainu Park, so there's no shortage of things to do.
There is actually a free area in Upopoy with the Path to the Ainu Spirit, Gateway Square and the Entrance Center. In the free zone, there is a restaurant and a food court in the Entrance Centers and a café in Gateway Square. So, if you're in the Shiraoi area, it's also great to stop by for a bite to eat or relax and take in the scenery.
The other facilities are in the ticketed area, but it's worth mentioning that admission is free for children up to 15 years old! Tickets for adults aged 19 and over cost just ¥1,200 and children aged 16 to 18 just ¥600. This is an excellent opportunity for visitors travelling as a family to add an educational stop to your travel plans as well.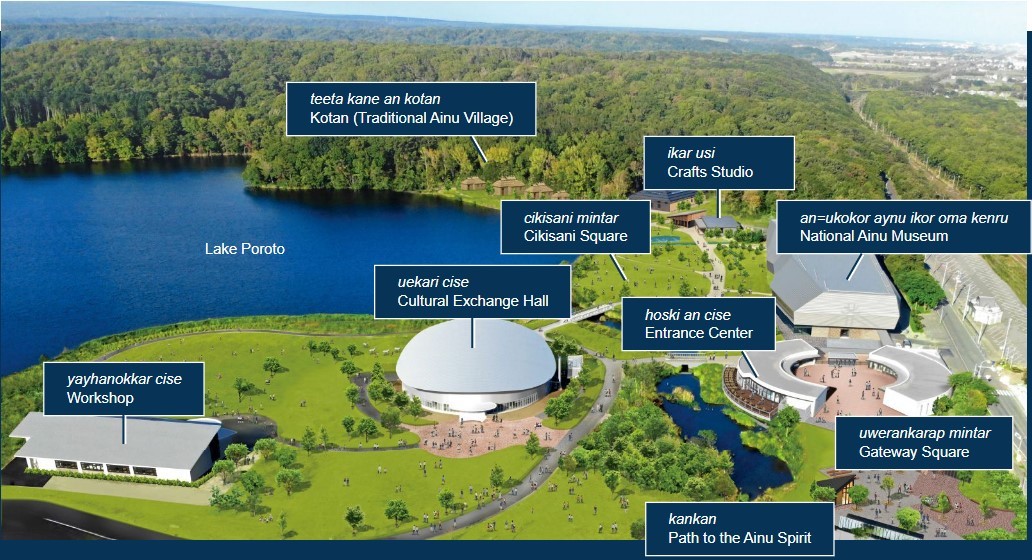 Experiencing Ainu Culture at Upopoy
While you are in Upopoy, you will have the opportunity to experience so many aspects of Ainu culture, including their delicious cuisine. As we mentioned before, there are restaurants and a café on site where you can taste the fantastic flavors of Ainu cuisine made using traditional methods and ingredients. We recommend HARU RAN NA, the open flame dining restaurant and café. HARU RAN NA is named after the Ainu tradition of saying, "Haru Ran Na !" which literally means "food will fall!" This is said at events to celebrate people, Ainu, and spirit-deities, known as kamuy, coming together. Unfortunately, food won't be falling from the sky when you go into the restaurant, but a fantastic feast made of local ingredients will be brought to your table.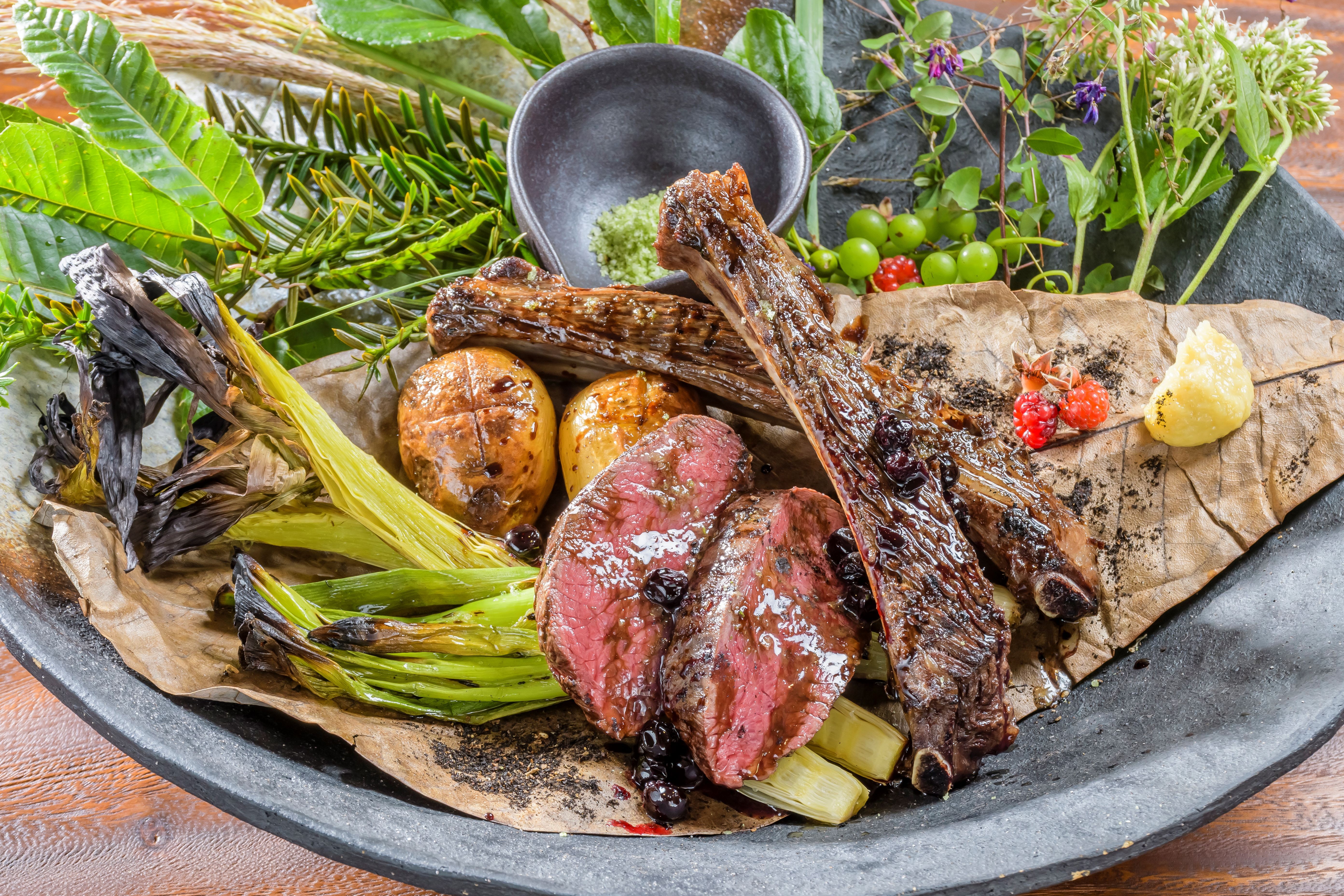 The restaurant serves food using traditional Ainu ingredients and also locally sourced Shiraoi beef, a regional delicacy that is sure to satisfy the hungriest of customers. Our recommendation, though, is to try the Ainu food platter made up of venison, a traditional Ainu staple. The tender and gamy meat just melts in your mouth and is complimented by delicious local vegetables and a mouthwatering sauce. The platter comes with soup and a number of sides, too, so you won't be leaving hungry! Trying out Ainu food in this way is a great chance to experience the traditional way of life, as Ainu would hunt deer, bear and other game as well as salmon, so this is an excellent way to taste the flavors of Ainu culture. You'll also get a chance to see traditional Ainu designs on the cups and plates.
And best of all, the restaurant's cozy wooden interior is complimented by the large panoramic window that offers gorgeous views of the landscape outside. Not only can you enjoy delicious gourmet food, but you can fill up on the "delicious" views too.
After eating your fill of Ainu delights, we recommend you take in a performance of Traditional Ainu dancing and music. The dances performed here at Upopoy are actually registered as a UNESCO Intangible Cultural Heritage and are performed at ceremonies and banquets.
The traditional dances involve a large circle of dancers, sometimes with people singing along without musical accompaniment. Some dances imitate the sounds and movements of animals; others, like the sword and bow dances, are rituals.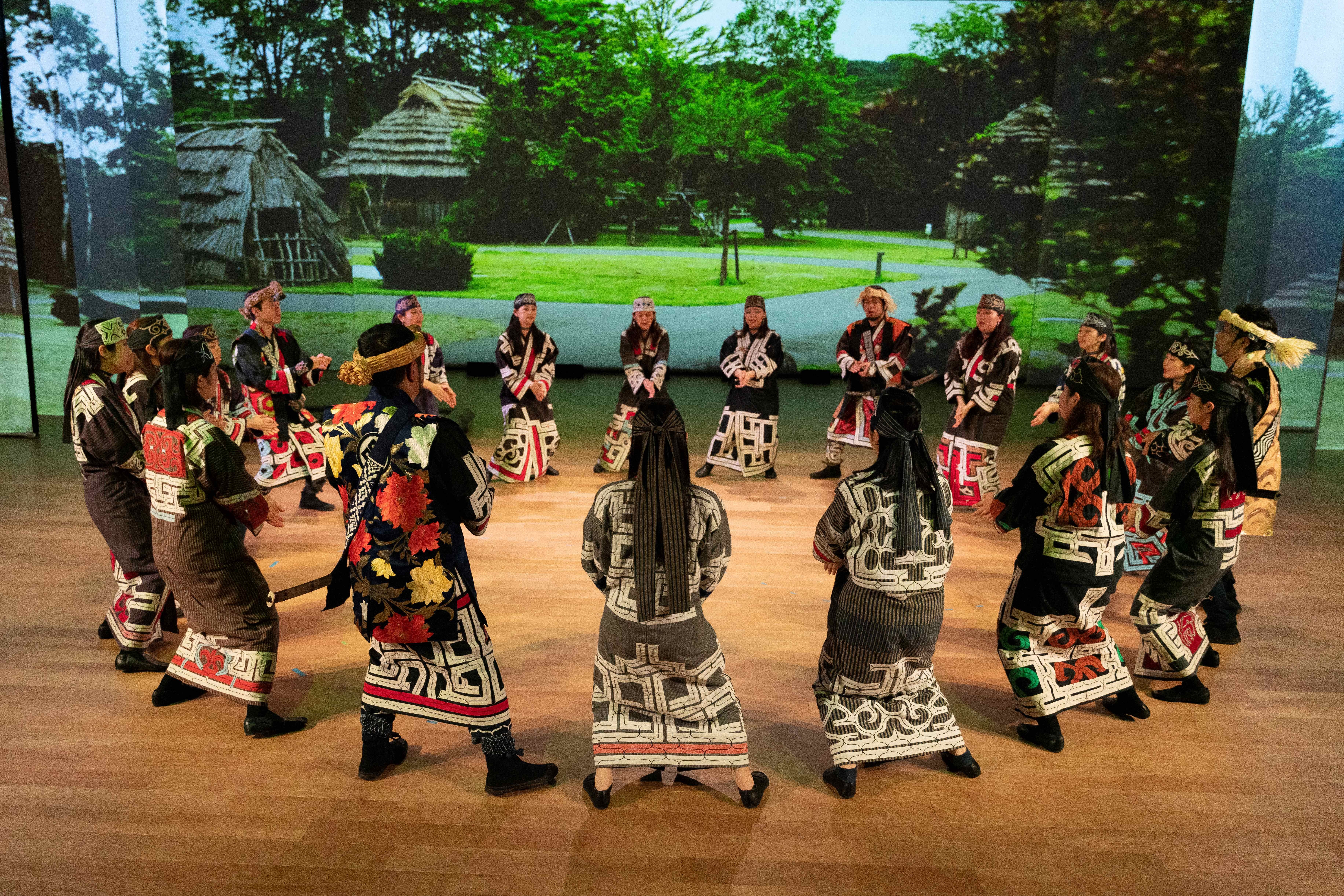 Don't forget to check out the permanent exhibition room in the museum for an in-depth look at Ainu culture through six main themes: Language, Universe, Lives, History, Work and Exchange. In the language exhibition, you can familiarize yourself with the unique features of the Ainu language.
The Universe section tells you about the spiritual beliefs of the Ainu. The Lives section helps you learn about the traditional everyday life of the Ainu through tools and clothing, and more. There is plenty of history, too, in the History, Work and Exchanges section. With artifacts found in the surrounding areas, the exhibits show the relationship between the Ainu and other people around them , and also how they lived in the past and present. You can enjoy exhibits, videos, dioramas, models and also the hands-on Tempatempa, an interactive station that both children and adults love. Don't forget to check out the theatre and the library too! Please be aware that as of February 20, due to the COVID-19 pandemic, there may be some restrictions in place at Tempatempa depending on the time and number of visitors.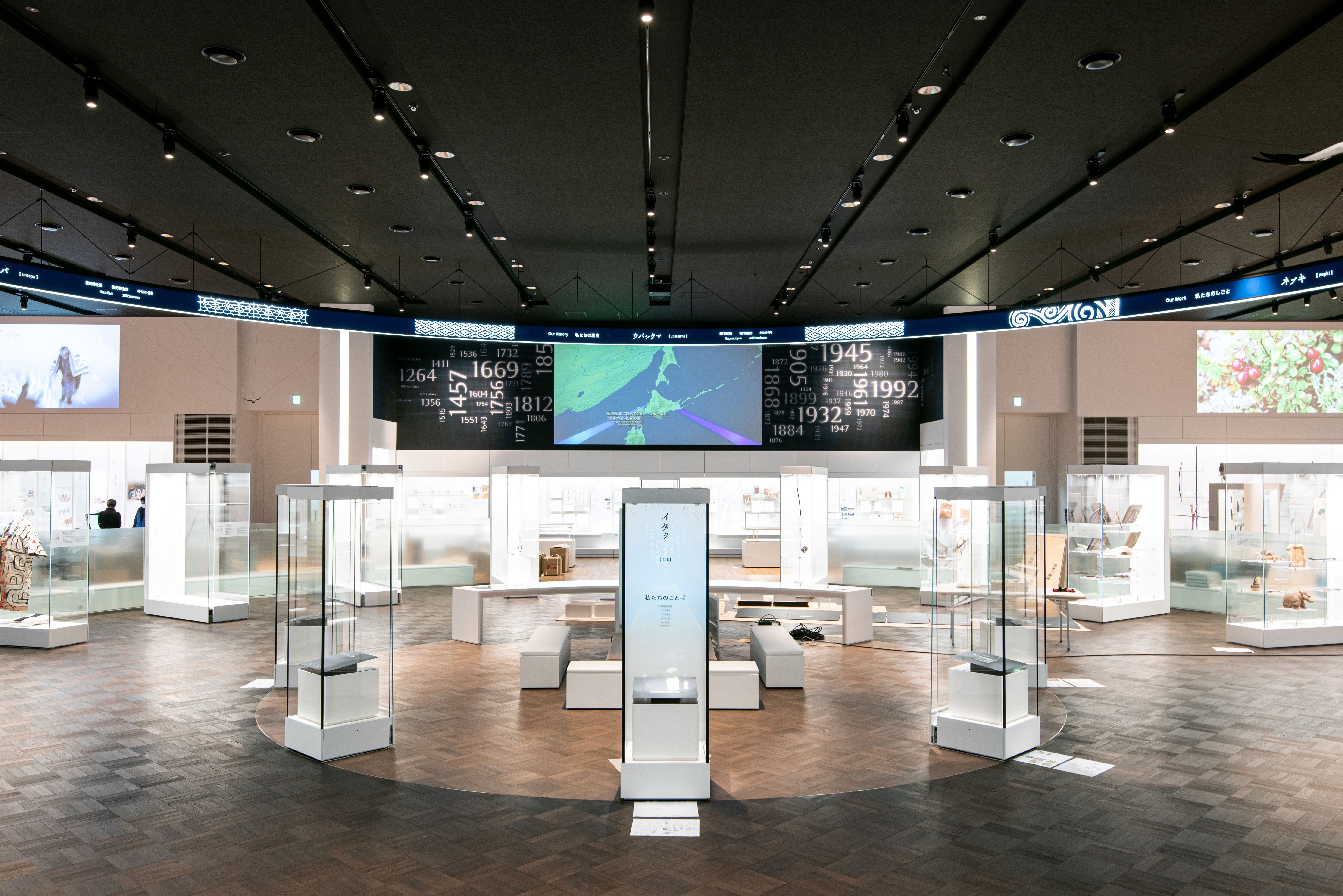 Be sure to check out the Kotan traditional Ainu village while you're in Upopoy for an authentic experience of Ainu living. In this area, you can find five traditional Ainu houses, known as chise in the Ainu language. The chise were actually built by the Upopoy staff, and three of them are accessible! These types of house were traditionally kept warm , even in summertime! This practice helps us imagine how cozy Ainu families were as they gathered around the fireplaces in their houses.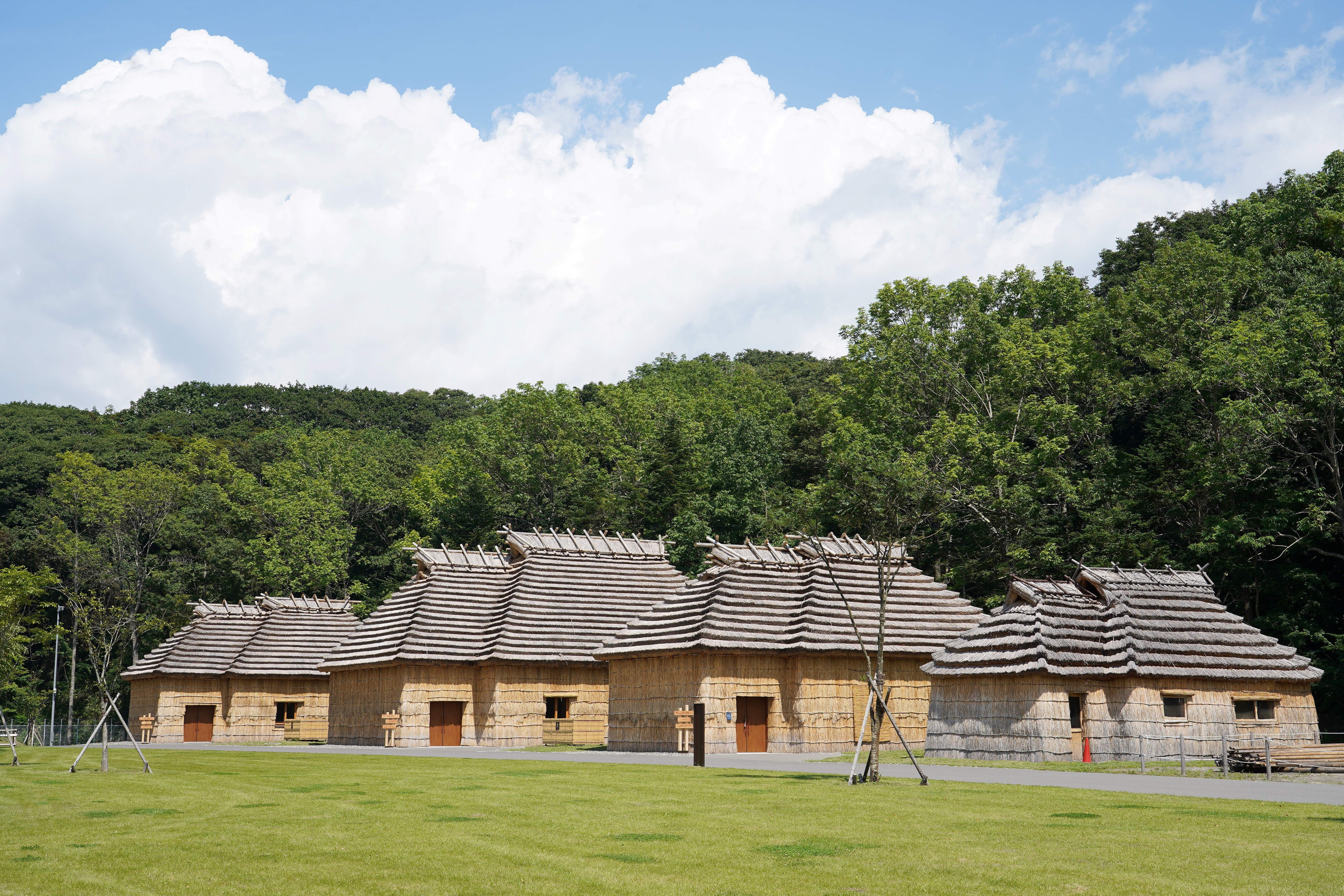 The area features programs explaining Ainu culture and oral literature demonstrations, and exhibits on Ainu clothing and items used in daily life. There are also activities for small children, so all of the family can enjoy the kotan. You can also take a lesson on how to play the mukkuri in one of the kotan! The mukkuri is a traditional Ainu instrument made of bamboo, usually 10 cm long and 1.5 cm wide. You're sure to be fascinated by its unique low sounds resonate in the performers mouth, produced by pulling hard on the string while blowing into the harp.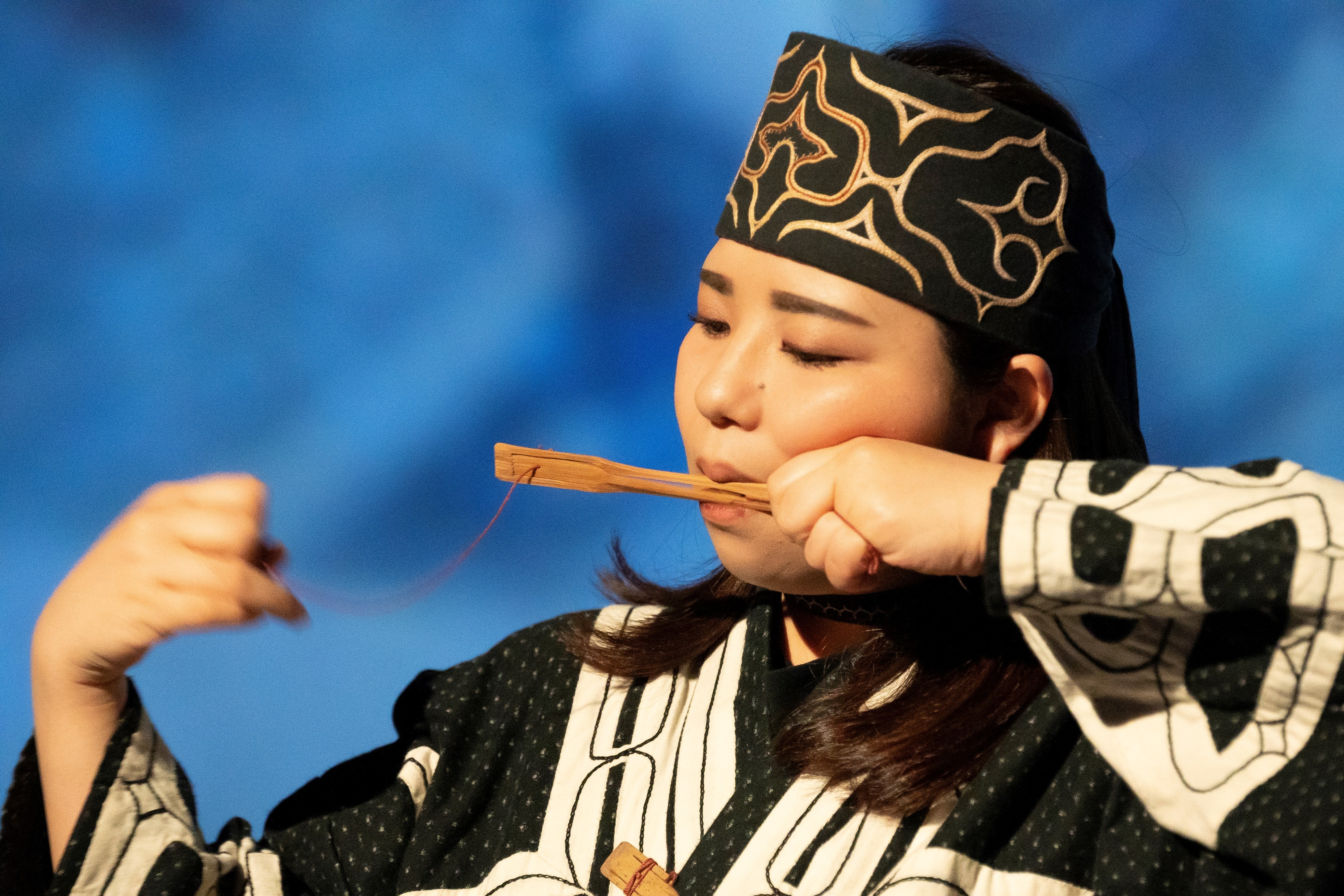 What to do in the surrounding area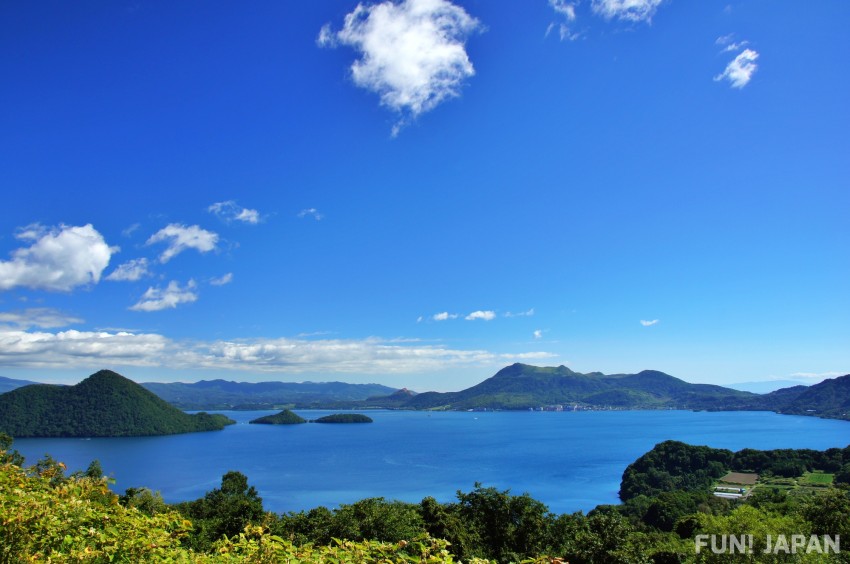 After taking in the amazing experiences of Ainu culture at Upopoy, there is a wealth of places to visit in Shiraoi Town and the surrounding area that will not only help you gain a deeper understanding of the Ainu culture but also a chance to experience a different side to Hokkaido.
Lake Toya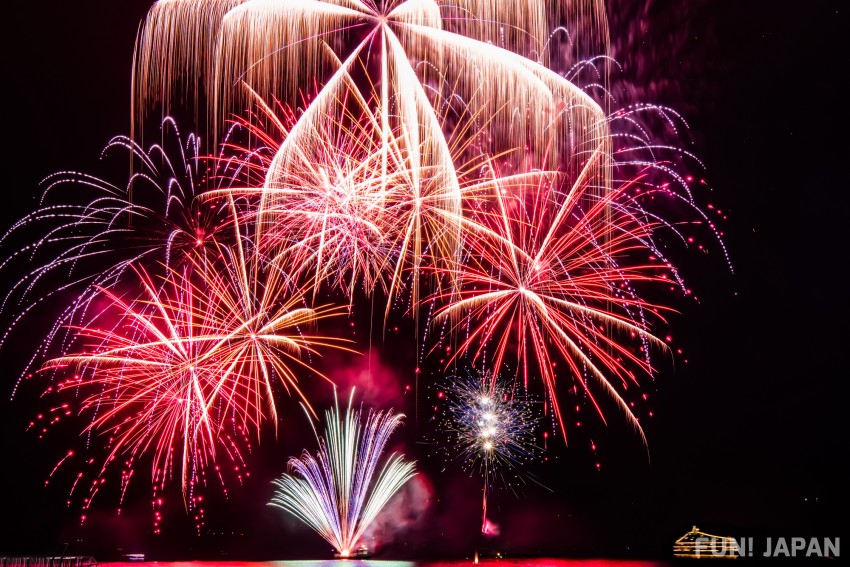 This circular lake is actually a caldera formed after a volcano erupted around 110,000 years ago! This volcanic activity means the surrounding area is a great place to enjoy Japanese onsen hot springs, and you can enjoy night-time firework shows every night from late April to October.

Access:

Mount Usu Ropeway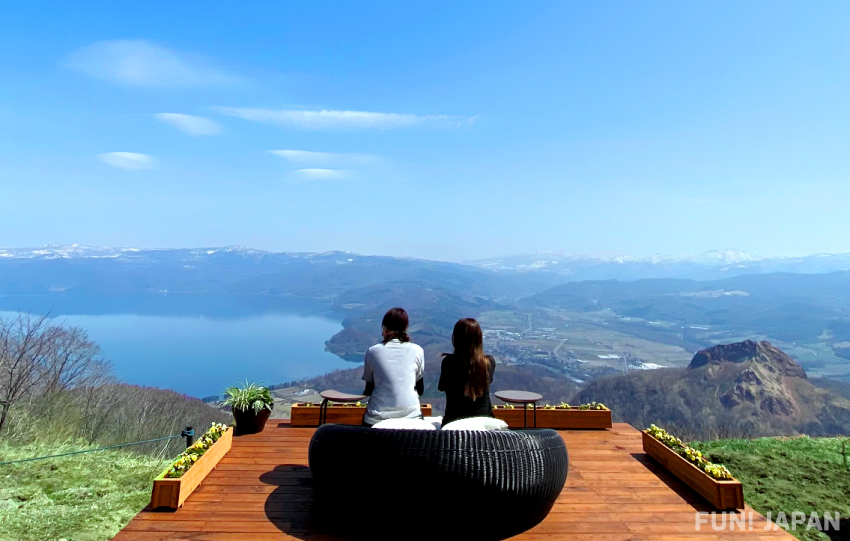 The Mount Usu Ropeway is a fast and fun way to get to the summit of Mount Usu in just six minutes! Last year, a new observation deck was opened, and it provides stunning views of the surrounding mountains and Lake Toya. Why not stop off for a coffee and enjoy a hot drink while taking in the vast winter scenery?

Access:

Noribetsu Jigokudani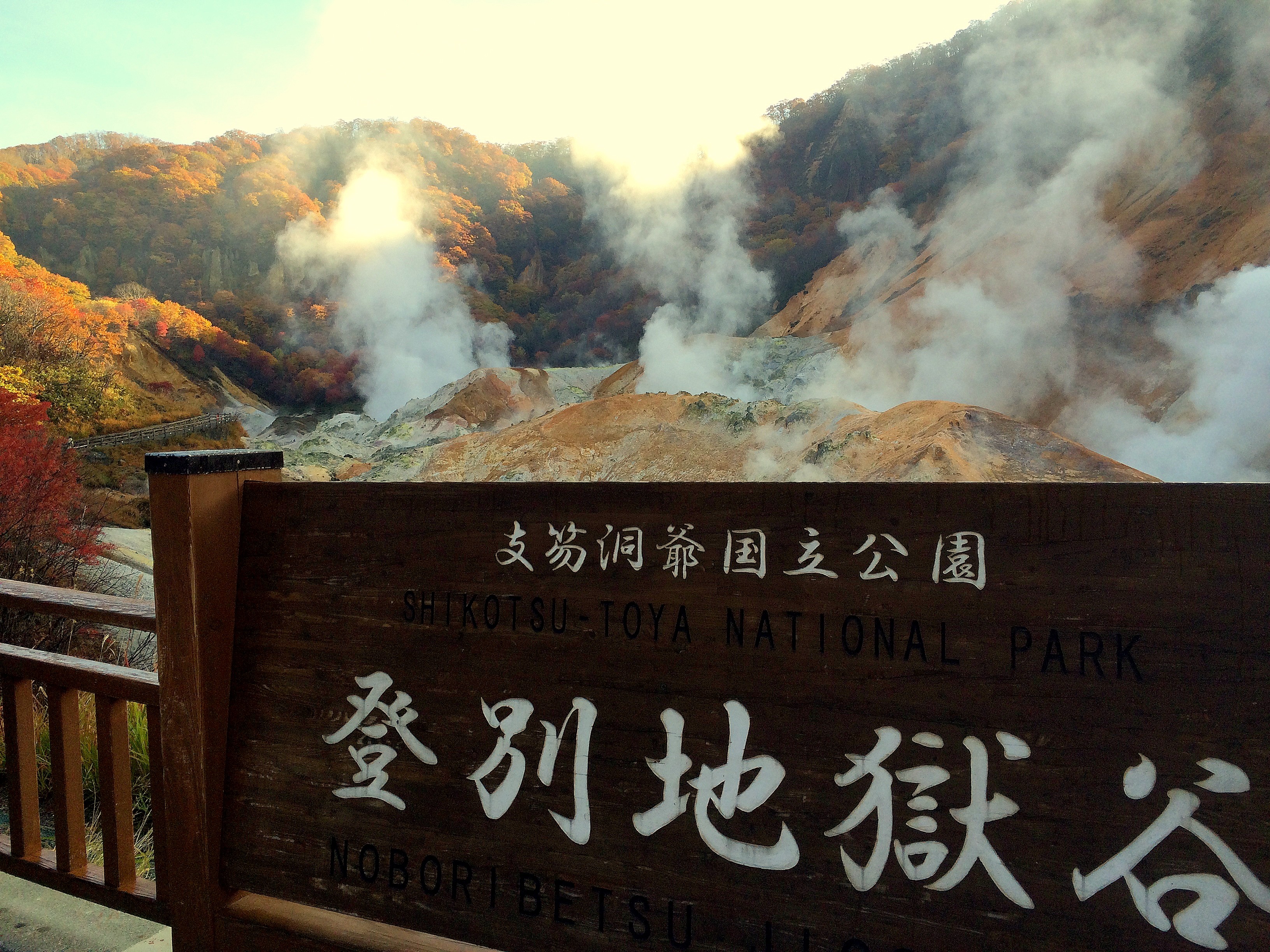 Literally translated as Noribetsu's "Valley of Hell", you will see clouds of steam billowing out of thermal springs and lakes around the area. Reminiscent of the River Styx, you can easily see how it got its interesting name! This spot is a must-see attraction where you can feel the power of nature on your way to the Noribetsu onsen area.
Access:

Hoshino Resorts KAI Poroto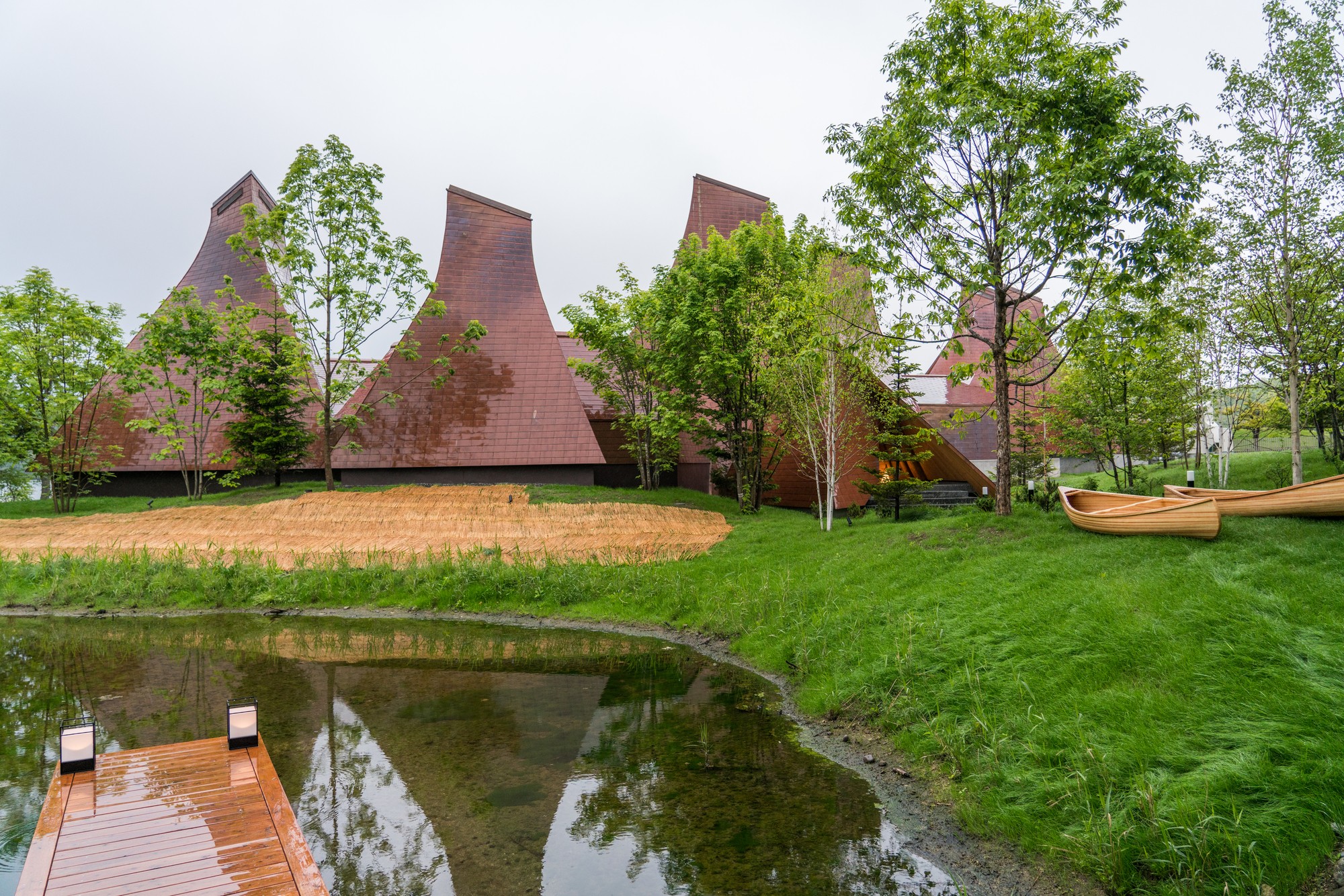 This is no ordinary Japanese inn; this ryokan is actually a hot spring inn where all rooms offer a spectacular panoramic view of Lake Poroto. The inn's interior has been designed with Ainu culture in mind, and you can enjoy a dip in the onsen before eating your fill of amazing food cooked with local ingredients. What's best is it's just a stone's throw away from Upopoy— a fantastic way to spend the night. At KAI Poroto, you can also experience a Sachet Amulet Workshop where you can make traditional Ainu amulets to ward off evil; this is a fantastic opportunity to further understand and experience Ainu traditions and culture through KAI Cultural Discovery activities.
Access:

For visitors that want to step further afield
For visitors that want to learn even more about the Ainu culture while in Hokkaido, look no further than the Akan area in eastern Hokkaido.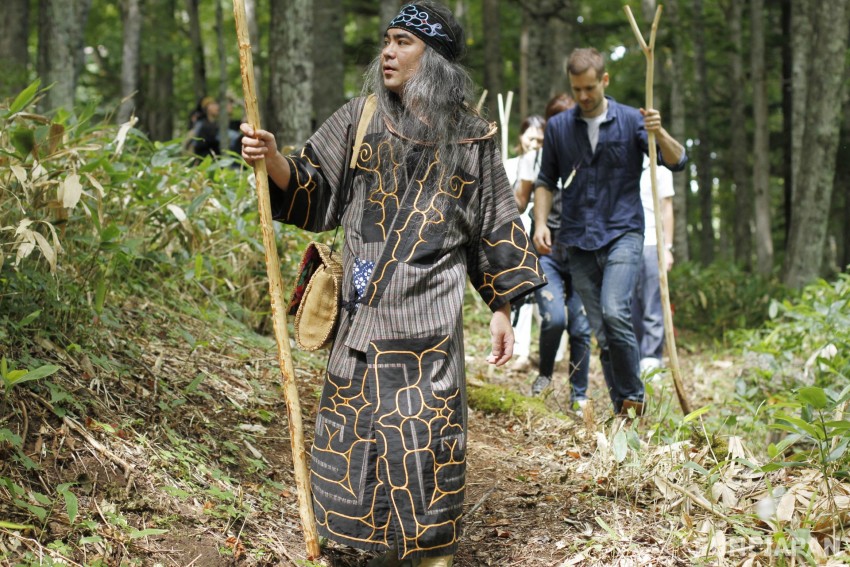 Akan-Mashu National Park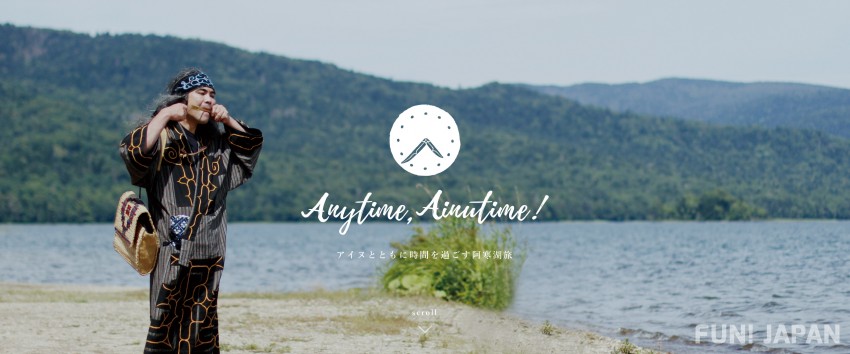 The entire area is part of the Akan-Mashu National Park, which is known for its beautiful lakes that offer some of the clearest waters in the world. When visiting the park, make sure to take advantage of "Anytime, Ainutime!" a fantastic initiative that offers guided tours led by local Ainu guides. You can enjoy nature walks, traditional handicrafts and learning firsthand about living in harmony with nature.
Access:

Lake Akan Ainu Kotan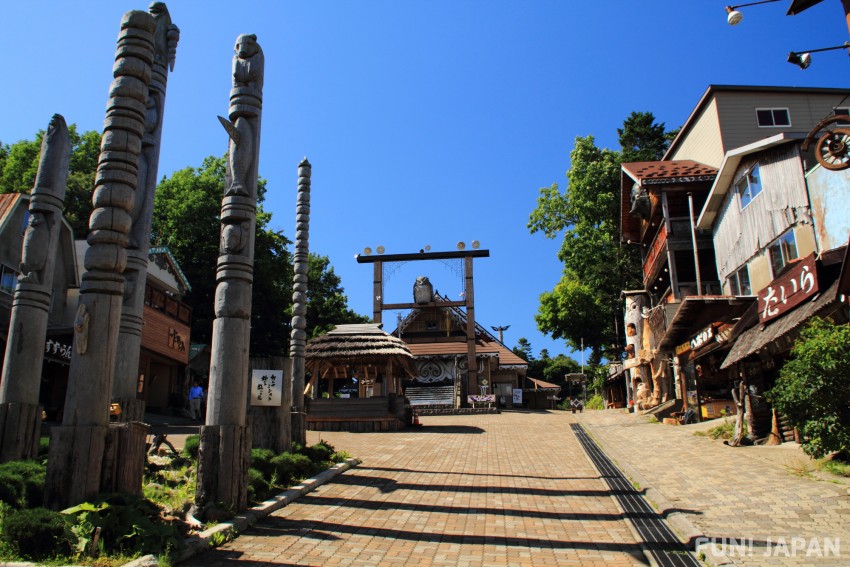 This traditional Ainu-style village is located along Lake Akan. The Ainu people who live in this village continue the traditions that they have inherited from their ancestors. Take a step further into Ainu culture through the multiple programs available and enjoy shopping for traditional crafts and other souvenirs.
Access:

Kamuy Lumina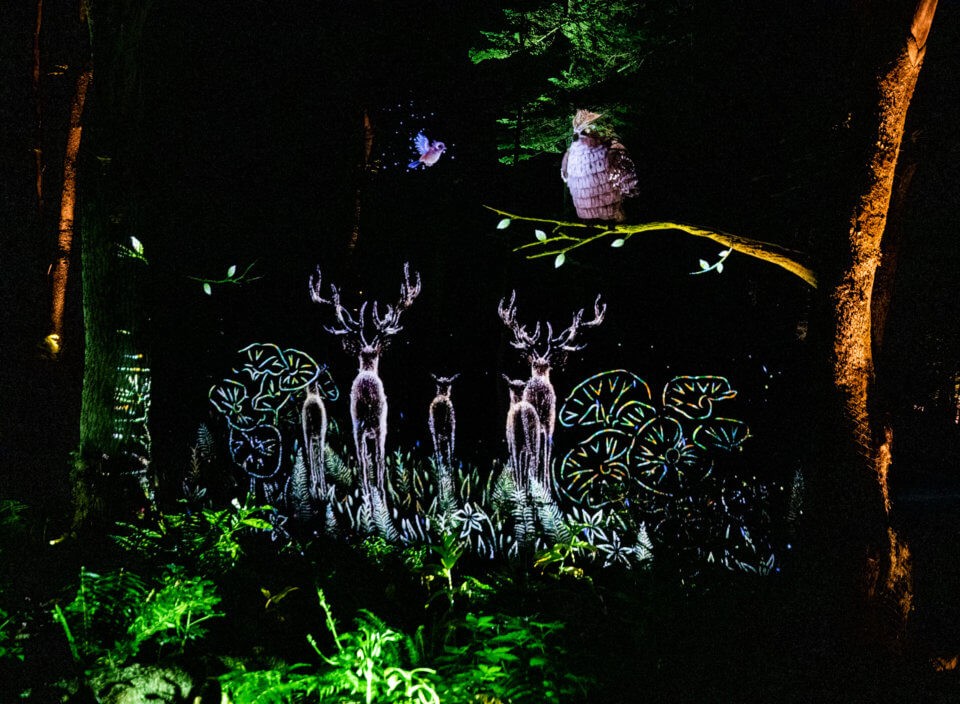 Kamuy Lumina is a night walk around the Akan area that will take you on an interactive journey of lights, sounds and images to retell traditional Ainu songs.
Access:

If you didn't get the chance to check out our live online tour, then click the link below! You can come and join Cheeserland Cheesie, one of the top Malaysian bloggers based in Japan, as she takes us a live tour of the sites mentioned in this article. Check it out!
So, what are you waiting for? Set your sights on beautiful Hokkaido for your next trip to Japan, and come and enjoy the winter wonders. It really is a fantastic place to experience winter in Japan, and Upopoy (National Ainu Museum and Park) is the perfect place to learn about the wonderful culture of the Ainu.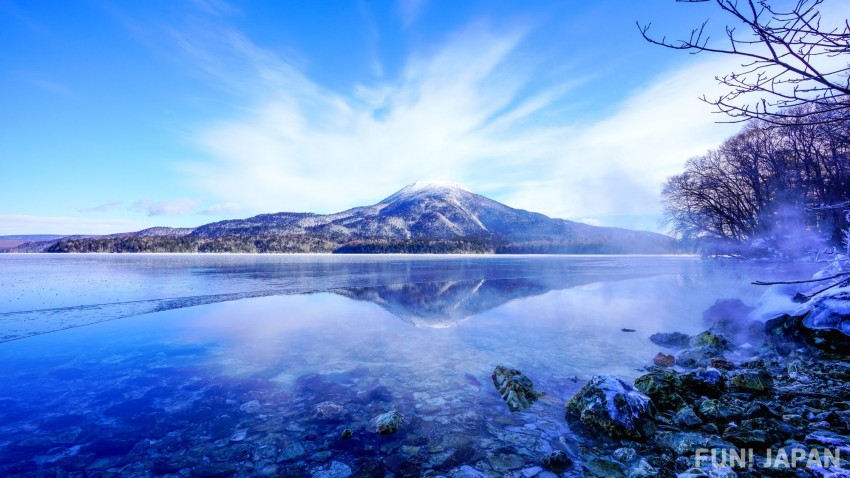 This article is supported by the Japan National Tourism Organization (JNTO). You can find more information on this, and many other phenomenal tours on their website below.

JNTO: https://www.japan.travel/en/sg/