Delicious! Fun! Enjoy the atmosphere of a Japanese festival at the "Kura Sushi" global flagship store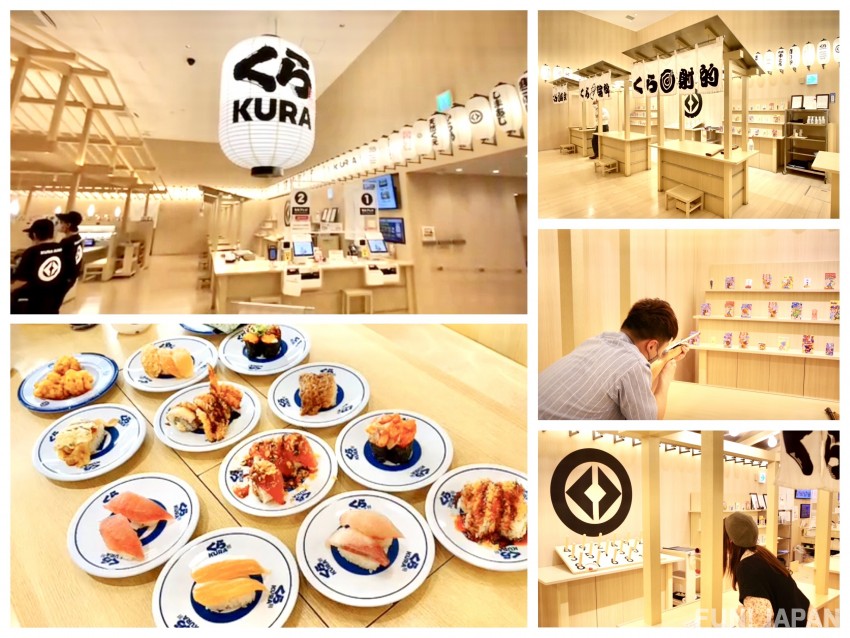 Let's enjoy budget and delicious sushi in a space where you can feel the warmth of Japanese atmosphere! For those who want to enjoy shooting games and quoits in the festive atmosphere, "Kura Sushi Asakusa ROX Store", the first Kura Sushi Global flagship store, is recommended! This time, the FUN! JAPAN editorial department will introduce various charms of "Kura Sushi Asakusa ROX Store" for you.

About "Kura Sushi Asakusa ROX Store"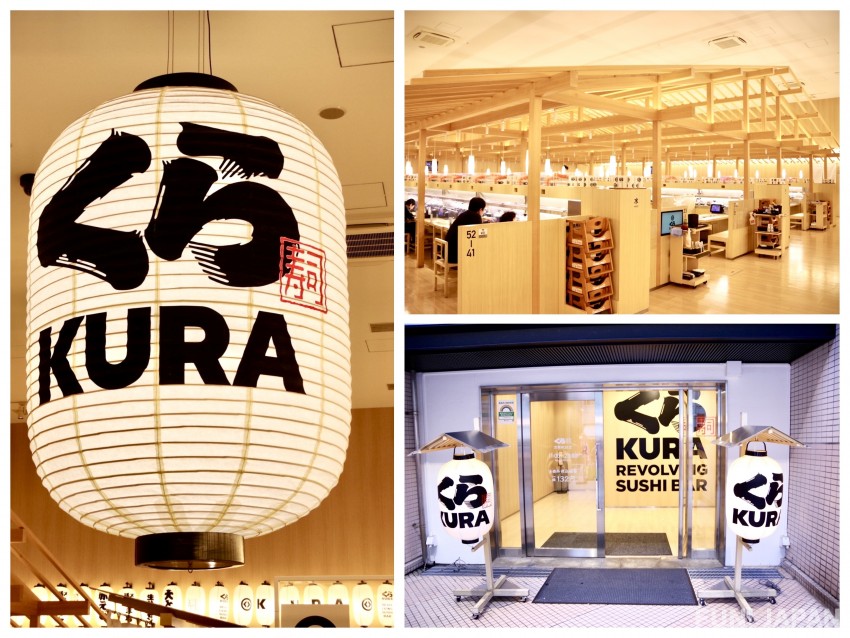 The first Kura Sushi global flagship store, which opened in Asakusa, Tokyo in late January 2020, has a site area of 225 tsubo (approximately 740 square meters) and seating capacity of 272 seats. Under the supervision of Kashiwa Sato, a creative director who is active around the globe, the interior is based on the concept of "SightEating" where you can experience "sightseeing" and "eating" at the same time. From now on, we will explain the charm of "Kura Sushi Asakusa ROX" for our readers!

A healing Japanese space with photo spots everywhere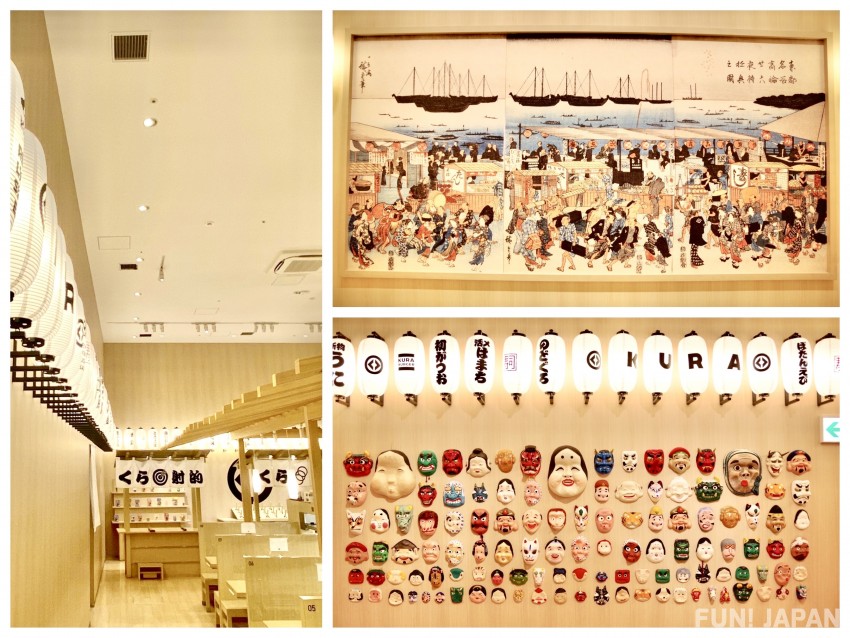 Unlike ordinary conveyor belt sushi restaurants, the interior of "Kura Sushi Asakusa ROX Store" uses elements of Japanese festive culture and sushi stalls. The pillars and tables are decorated with white wood, and the walls are decorated with Ukiyo-e "Toto Meisho Takanawa Nijuroku Ya Machi Yugyou no Zu" (東都名所高輪廿六夜 待遊興之図: Amusements While Waiting for the Moon on the Night of the Twenty-sixth in Takanawa, a Famous Place in the Eastern Capital) by Hiroshige Utagawa, masks, lanterns, etc. The moment you enter the store, it feels like you have traveled back in time to the Edo period!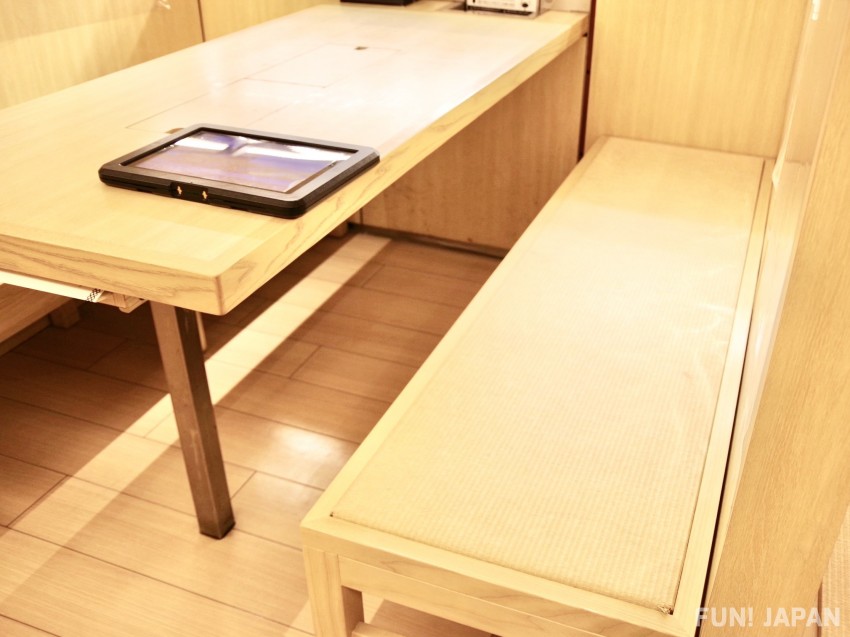 Tatami sheets are used for each seat. You can experience a Japanese mood just by sitting.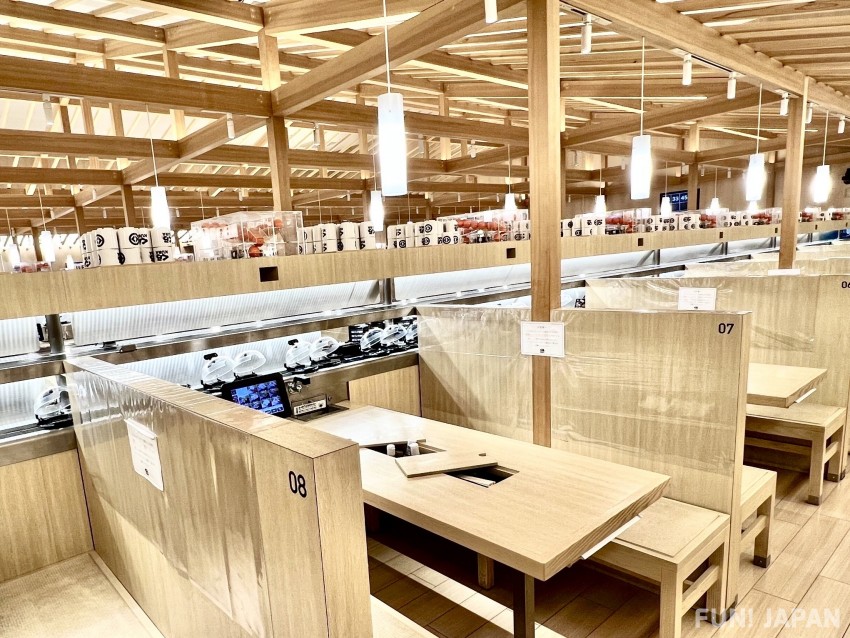 The special thing about this restaurant is that you can store soy sauce plates, teacups, seasonings, etc. inside the table, so you can enjoy delicious sushi in a larger space.

Overturn the image of a conveyor belt sushi restaurant! Enjoy the festival stalls by shooting games and quoits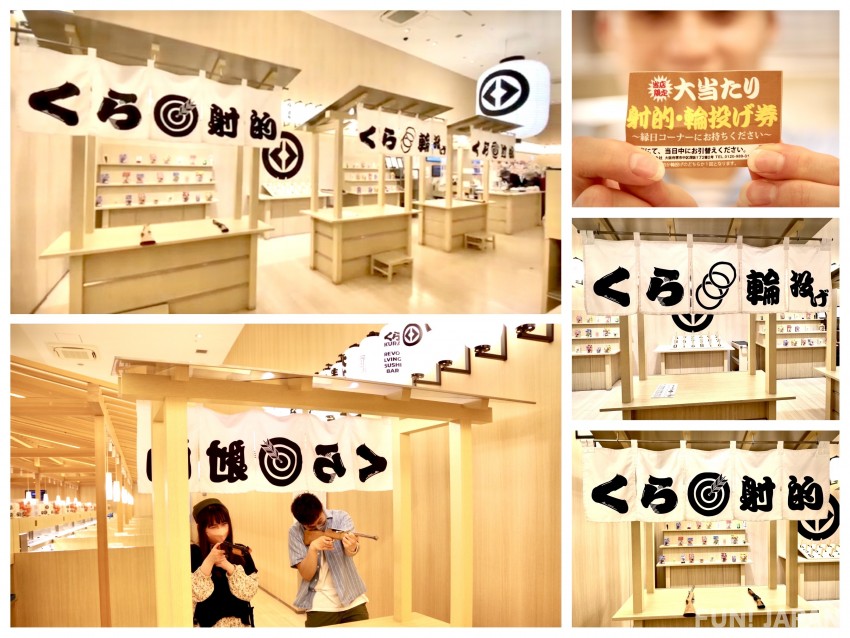 The feature of "Kura Sushi Asakusa ROX Store" is the "Ennichi Space" (festive stalls area) where you can enjoy shooting and quoits in the festival stall area of Japan. For every 5 plates of sushi you can play "Bikkurapon!" game once, and among the capsules you can get from the game, there is one that contains a ticket for "Ennichi Space". If you win big prize, you can exchange the reward ticket and play shooting or quoits!

You don't have to understand Japanese! Ordering at "Kura Sushi" is super easy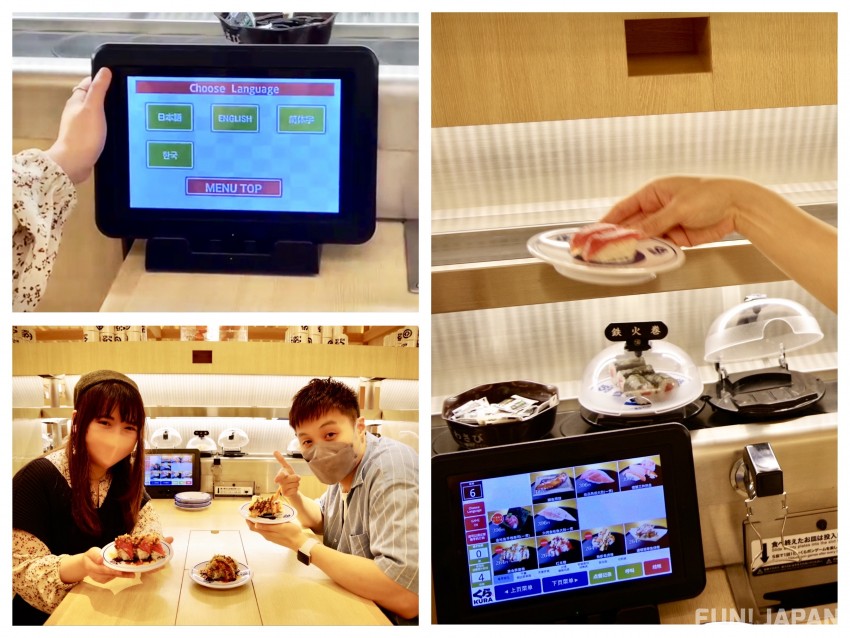 Many people are worried that they can't communicate when ordering because they don't understand Japanese. "Kura Sushi Asakusa ROX Store" has a touch panel for ordering available in 4 languages.You can keep order more and more of the sushi you want to eat, no problem at all!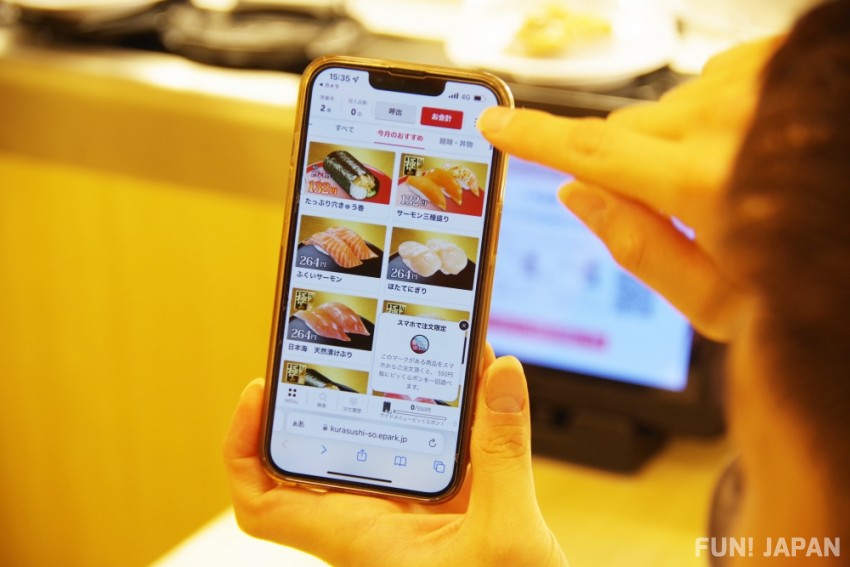 Not just the touch panel, but you can also order on your own smartphone. Simply scan the QR code on the touch panel and place an order directly while referring to the menu.

There are also days when "Kura Sushi Asakusa ROX" has staff who can speak foreign languages. If you don't know how to oder, just ask the restaurant staff.
If you don't eat these, it is your loss! Staff's recommended & popular store-exclusive menus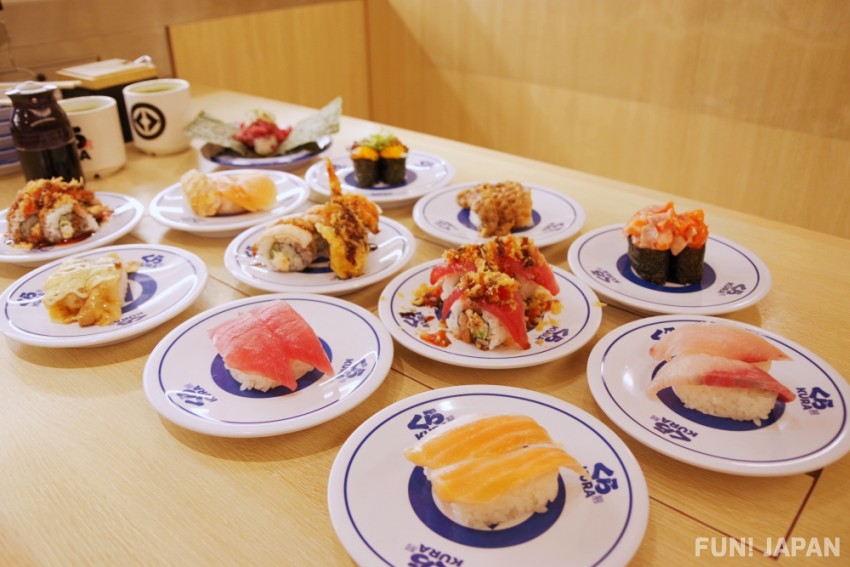 Next, we would like to introduce the "Kura Sushi Asakusa ROX" restaurant staff's recommended and the popular store-exclusive dishes. Make sure to jot them down and eat them the next time you visit Japan!

"Kura Sushi Asakusa ROX Store" Exclusive Menus
At the "Kura Sushi" global flagship store, there are many dishes that you can't taste at other stores, so be sure to give it a try. Here are the store-exclusive ones.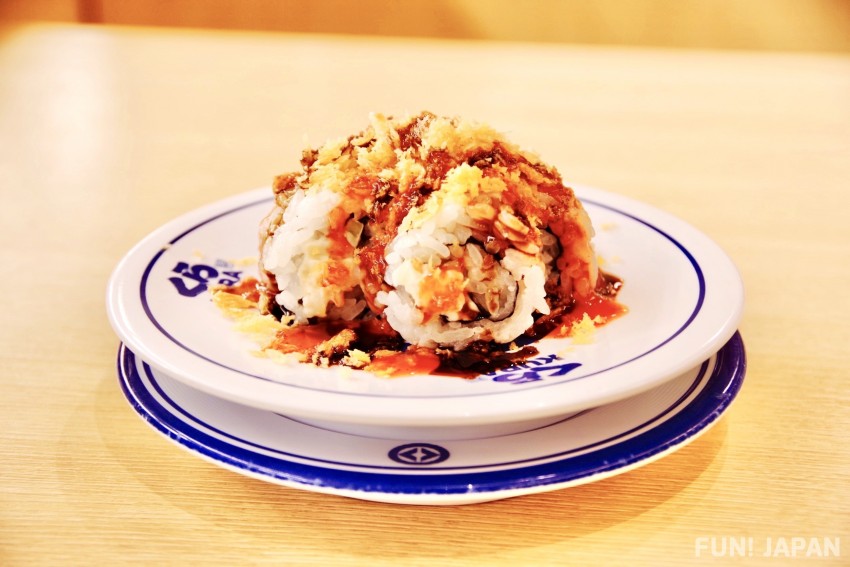 Golden Crunchyroll (264 yen)
Sushi rolls with shrimp mayo and cucumber, sprinkled with flavor and sweet sauce and topped with fried bread crumbs.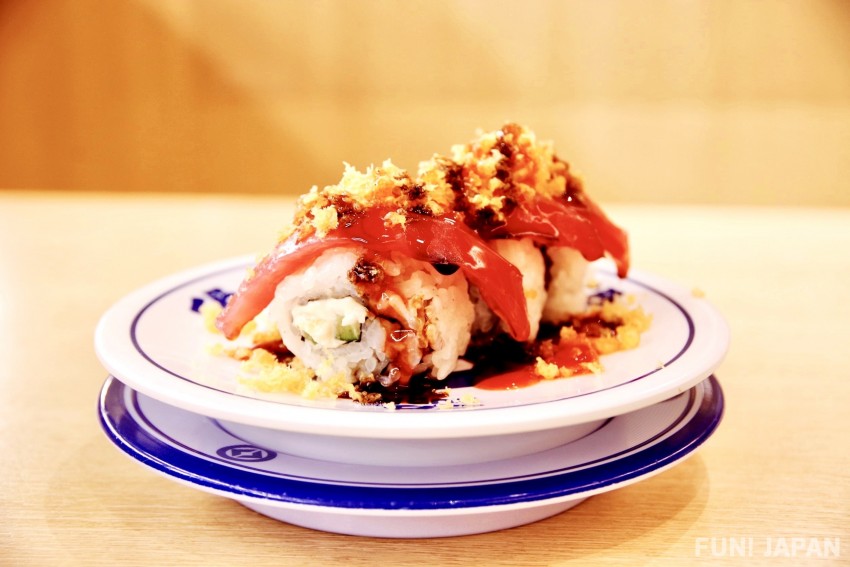 Red dragon roll (264 yen)
A dish of shrimp mayonnaise and cucumber sushi roll, topped with tuna, followed by tempura bits, sweet sauce, and flavor sauce.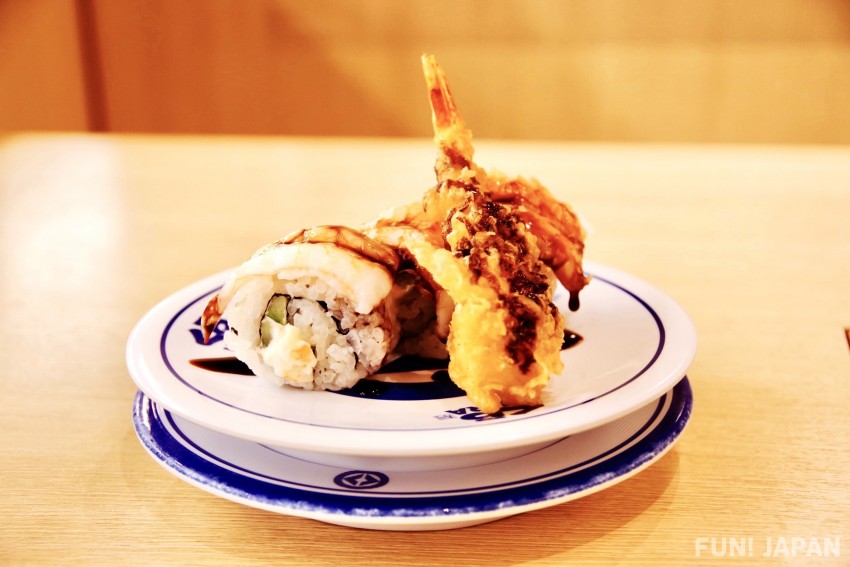 Ebi tiger roll (264 yen)
A dish with a whole piece of freshly fried crispy shrimp tempura.
The FUN! JAPAN editorial department also asked Tsuji-san, the public relations officer of Kura Sushi, not just the top 3 menu rankings for "Kura Sushi" but also the top 3 favorites of Tsuji-san. If you don't know what to order, try ordering these!

"Kura Sushi" Menu Ranking Top 3
Kiwami Jukusei Makuro (Aged Tuna)



Toro salmon (Salmon Belly)
Hamachi (Yellowtail)
Top 3 Favorites of Tsuji-san, a veteran employee with 25 years of experience in "Kura Sushi"
Hamachi

(Yellowtail)

Kiwami Jukusei Tsuke Makuro (Aged Marinated Tuna)
Nama Salmon (Raw Salmon)
There are more of Tsuji-san's Recommendations!
Tokusei Chawanmushi (Steamed Egg Custard)



Koma Kaoru Tantan Men (Dandan Noodles with Sesame)
Tomorokoshi Kakiage (Fried Corn)
Italian Tiramisu
At "Kura Sushi Asakusa ROX", you can enjoy the lively atmosphere of Japanese festivals while enjoying sushi in a Japanese space. If you have a chance, be sure to visit "Kura Sushi Asakusa ROX" and make your trip the best!

Spot Information
Store name: Kura Sushi Asakusa ROX store (くら寿司 浅草ROX店)



Address: 4F of Asakusa ROX, 1-25-15 Asakusa, Taito Ward, Tokyo
Access: 2 minutes walk from Asakusa Station on the Tsukuba Express, 6 minutes walk from Tawaramachi Station on the Tokyo Metro Ginza Line
Business hours: 11:00-23:00
[Survey] Traveling to Japan