Exploring Kochi's Crystal Clear Shimanto River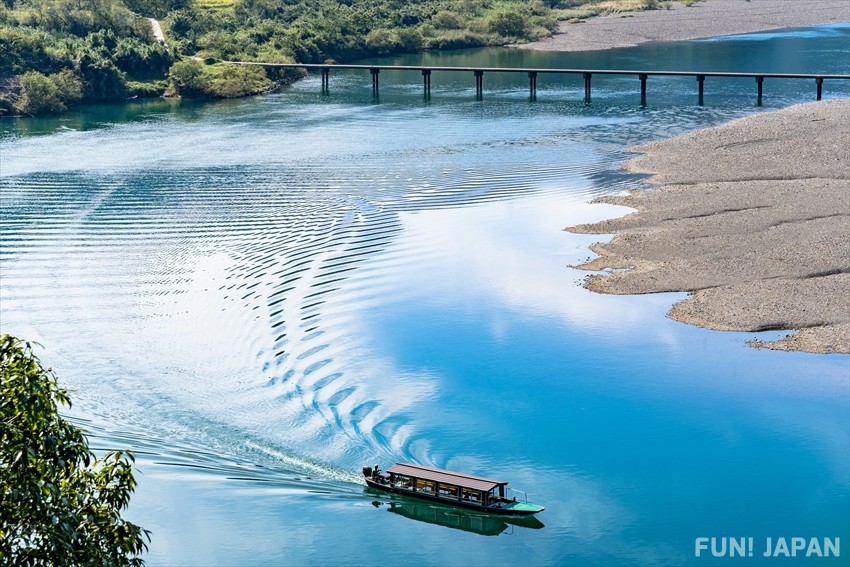 Believed to be Japan's last free-flowing crystal-clear river, the Shimanto Rover is a picturesque scene of natural beauty. A must-visit destination for those seeking riverside walks, kayaking adventures and local traditions, the Shikoku waters are perfect for stepping out into the unseen countryside of Japan.

What and Where is the Shimanto River?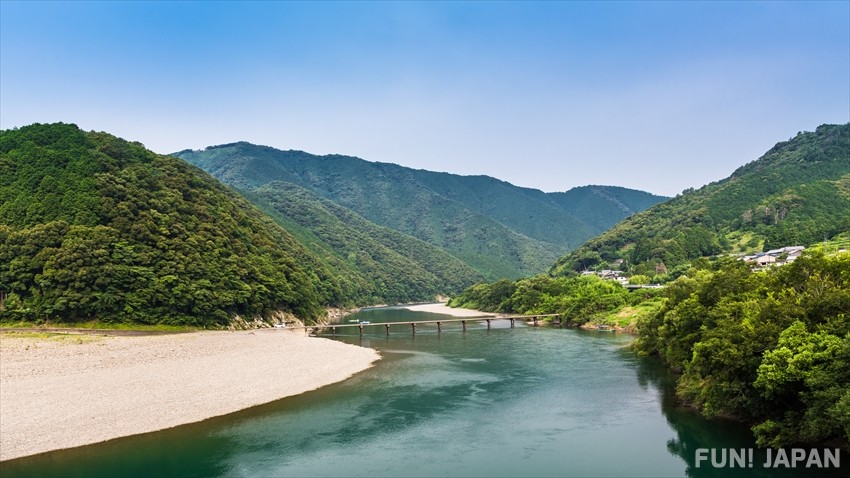 The Shimanto River (四万十川 / Shimantogawa) is the longest river in Shikoku, a large island consists of four prefectures, and runs through western Kochi Prefecture. It originates from Mt. Irazuyama (不入山) whose highest peak has an altitude of 1,336 meters, part of the Shikoku Karst Prefectural Park (四国カルスト県立自然公園). The river gathers many tributaries along its journey toward the ocean. From upstream, it flows south toward the nearest shore, but turns west for quite a distance as it runs into a plateau, then continues southward again toward the Pacific Ocean. With such a winding journey, the river reaches 196km in length and earned its title as the longest river in Shikoku.
Why is the Shimanto River Famous?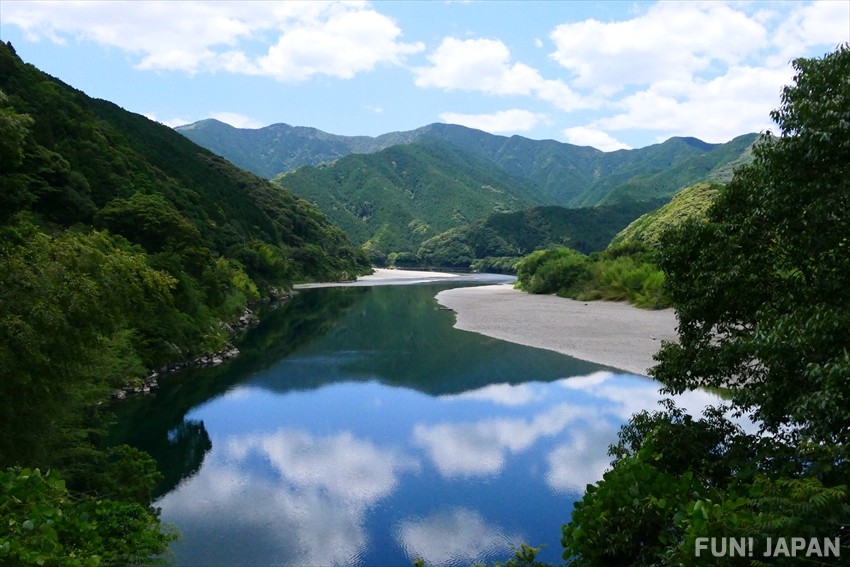 The Shimanto River's official name was originally "Watarigawa" (渡川), but it was commonly called Shimanto River by the locals of Nakamura (in Shimanto City). There are various theories about the origin of the name, but the prominent ones theorized that there are forty thousand (四万 / Shima) rivers flow into one big stream, and that the word originated from Ainu language 'Si Mamuta' (シ・マムタ which means very beautiful). In 1983 it was then introduced on a television program as "Japan's last free-flowing crystal-clear river" under the name of Shimanto River (四万十川) and became well-known nation-wide, and in 1994 the official name was changed by the requested of the locals.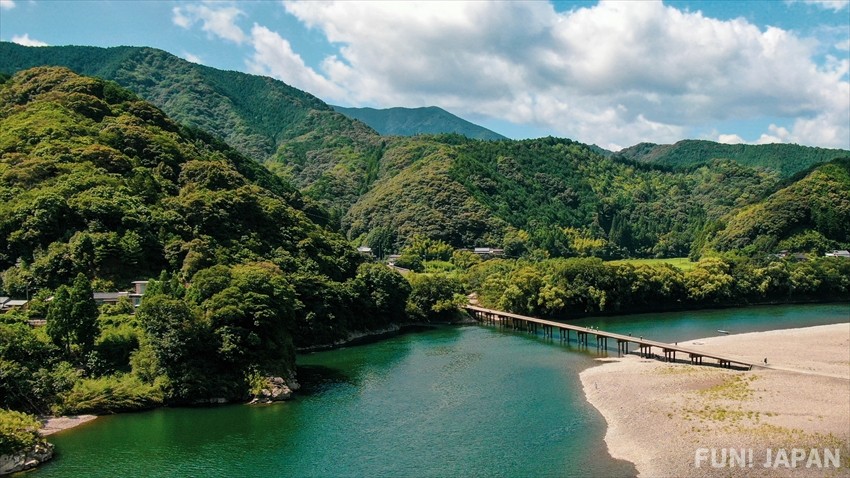 The reason it is introduced as the "Japan's last free-flowing crystal-clear river" is because it is the only one in Japan with no dams on the mainstream and therefore considered to be the sole 'free-flowing' river, with unusual chinkabashi bridges designed to keep the water flow as natural as possible. The river's natural beauty is paired with the fact that there are only small villages and the occasional town dotted along it, so human influence on the river, especially in term of industrial and chemical pollution, is very low. This means lovers of nature often visit for water sports, riverside walking or to admire the view.

Trivia: There is a dam in Shimanto River?
According to Japan's River Law (河川法 / Kasenho), a dam is defined with 15m height or more from the foundation ground to the top of the dam. Along the main stream of Shimanto River, there is a power generator called the Saga Intake Weir (佐賀取水堰 / Saga Shusuiseki), commonly known as Iejigawa Dam (家地川ダム). But since the so-called dam has a height of 8m only, it is not considered a dam by the law, and that makes the Shimanto River legally a river without any dams on its mainstream.

Highlights of the Shimanto River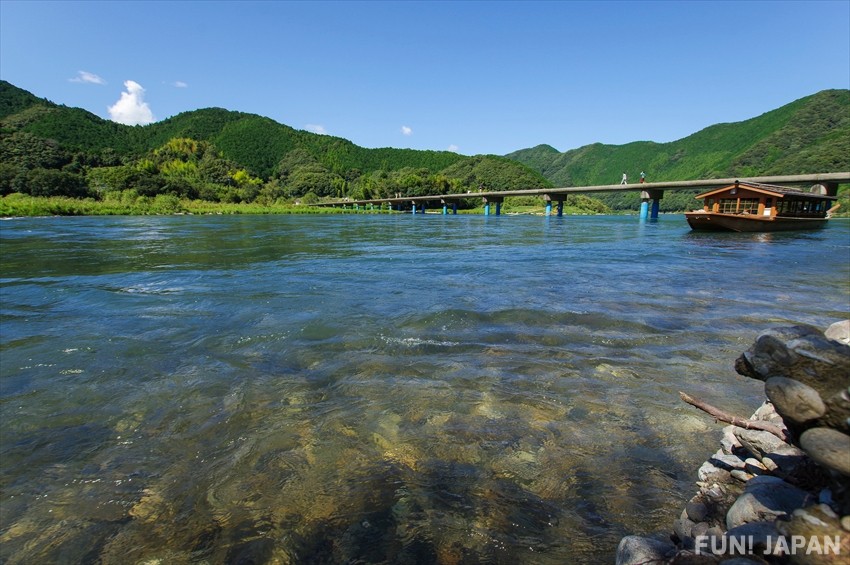 The river can be explored in many different ways and is home to plenty of local traditions as well. From kayaking to hiking to cycling and even the production of seaweed, there's an activity for everyone. Be sure to try some local specialties such as wild eel or ayu - a freshwater sweetfish - as well as the nori (seaweed) produced here.
Kayaking, Canoeing and Stand-Up Paddle Boarding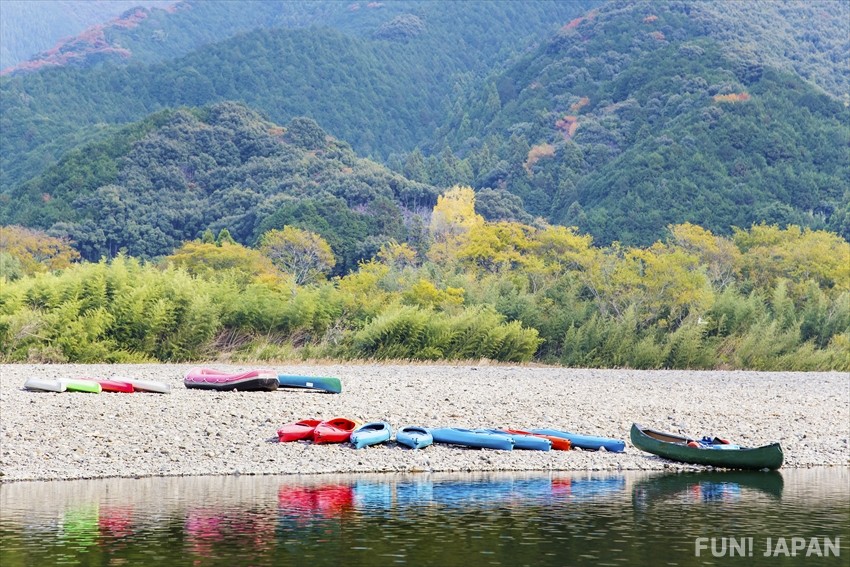 There are plenty of different kayak, canoe and SUP companies along the river, and visitors can choose depending on which part they are visiting. The Shimanto Canoe and Camp Village Kawarakko combines a great campsite with all the amenities needed with a canoeing option. Allowing you to spend a night beneath the stars, the site offers rental camping equipment for those without, including sleeping bags and tables alongside tents and mats.
Spot Information
Name: Shimanto Canoe and Camp Village Kawarakko (四万十カヌーとキャンプの里 かわらっこ)
Address: 24 Tadenokawa, Shimanto City, Kochi
Location: The campsite is located around 13km from Shimanto City, close to the Takase Chinka Bridge.
Access:

About 1 hour 15 min drive from Mima Interchange
About 1 hour 30 min drive from Tsushima-Iwamatsu Interchange
About 20 min drive from Shimanto City Hall
About 34 min by bus from Nakamura Station in Shimanto City, get off at "Kawarakko-mae" bus stop.

Hours: Reservation counter: 08:00 - 18:00, Accommodation check in: 15:00, check out: 13:00, short-term use: 10:00 - 16:00.
Opening Season: Open every day between July and September, otherwise closed on Mondays and during New Year holidays.
Boat Rides: Yakatabune and More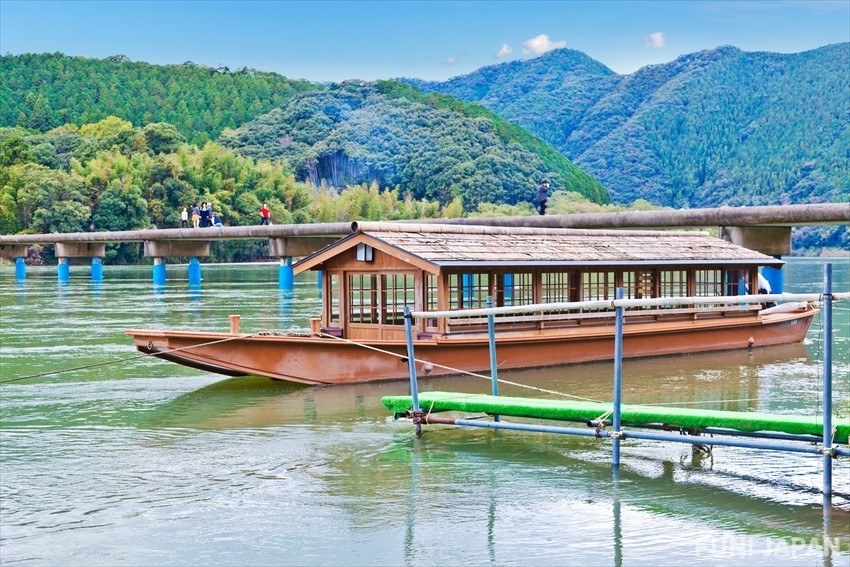 Called yakatabune (屋形船) or Yakata boat, these traditional houseboats can be seen floating along the river as if from times gone by. A popular option for visitors is to ride the Shimanto no Ao's YAKATA boat and enjoy the views of the river from the calm boat. They serve traditional bento lunchboxes (reservation required, charged separately from the cruising course) with seasonal local delicacies, often caught from the river it sails on. A highlight is to book during firefly season, with thousands of bright creatures floating above the water at dusk (reservations required for this course). Regular-season boats run eight times a day with the journey taking an hour, with reservations only recommended for busy times such as weekends.
Alternatively, the Senbaroman is a smaller sailing boat with impressive white sails and was a popular way to travel along the river in past times. Originally carrying goods as well as people, the boats would ferry coal from Kansai and Kanto regions and return with lighter goods to sell. Now, visitors can enjoy the fresh air and river views as they relax on the water. Tours last between 45-50 minutes and run eight times a day within season.
Spot Information
Name: Shimanto no Ao (屋形船 四万十の碧) Misato boarding site (三里乗船場)
Address: 1446, Misato, Shimanto City, Kochi
Location: The boat tours run from Misato boarding area just outside Shimanto City, inland from Nakamura Station.
Access: The boarding site is a 20-minute drive (rental car or taxi) from Nakamura Station, with bus services running from the station to Okanomae Bus Stop, a few minutes' walk from the boarding site.
Hours: Boat journeys begin at 09:00 and run until 16:00, with evening services for fireflies running at 19:00.
Season: Open all year round, Fireflies from May 20th - June 15th
Cost: Regular 1-hour boatrides are 2,000 yen for adults, firefly rides are 3,000 yen with children's fares set at half price.
Spot Information
Name: Senbaroman Sailing Boats (四万十川観光遊覧船 舟母浪漫・松廣屋)
Address: 16 Nyuta, Shimanto City, Kochi
Location: The boat tours run from the boarding site in Nyuta, northwest from Nakamura Station on the opposite side of the Shimanto River.
Access: The boarding site is about 6km from Nakamura Station and takes 10 minutes by car.
Hours: Tours run from 09:15 to 16:15, with the final service finishing at 17:00.
Season: The tours run by the schedule above between March 20th to November 30th, with reservations required otherwise.
Cost: It costs 2,500 yen for adults and 1,200 yen for elementary school children.
Cross the Chinkabashi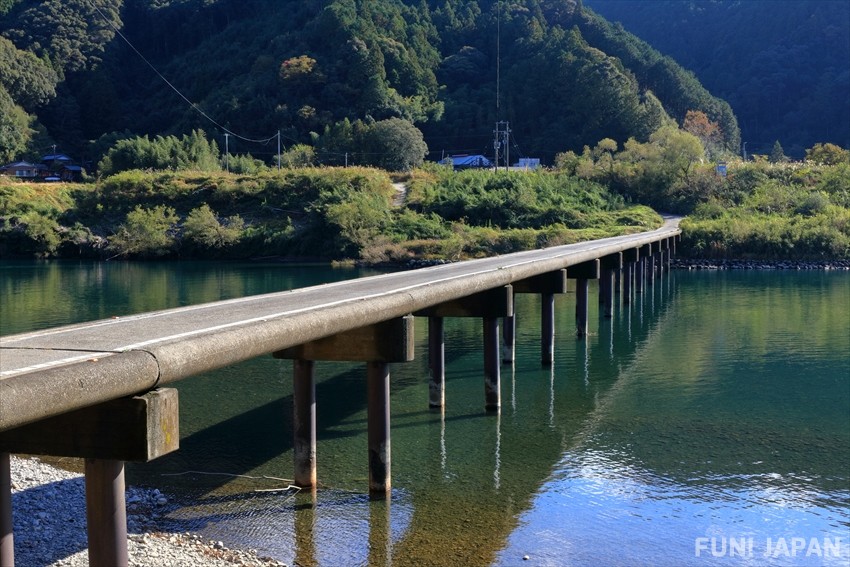 Designed to allow water to flow freely, the unusual 'chinkabashi' (沈下橋), meaning 'sinking bridges' (submersible bridges) are a unique feature to the Shimanto River. As the bridges don't obstruct waterflow, they help prevent flooding and the lack of balustrades means any storm-debris like trees will flow through them. Lasting much longer than other bridge forms thanks to their design, the chinkabashi are a key element for those living in the small villages that are dotted along the riverside. Whether you paddle beneath one or walk across, they are an unusual but impressive sight – and give you an almost panoramic view from above the river too!
Cycling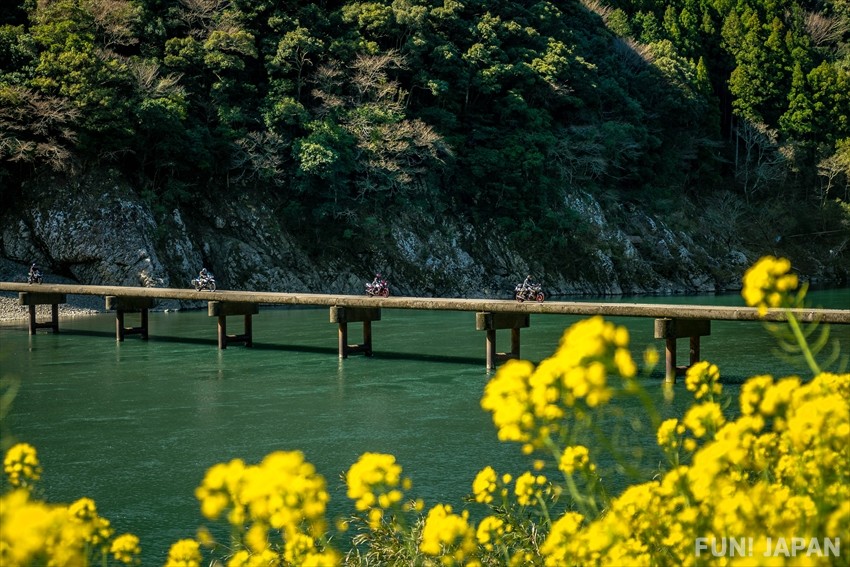 With a range of tandems, electric-assist bikes and regular road and city bikes to choose from, the cycle rental spot is perfect for visitors. Shimanto River Rental Cycles is located at the city train station, it makes an effortless transition to begin exploring the river. Rentals last for up to five hours, with 24-hour rental available for city and road bikes (costing just 1,500 yen). This would be enough time to cycle out to a riverside inn in a nearby town and spend the night, before cycling back the following day.
Spot Information
Name: Shimanto River Rental Cycles (四万十川レンタサイクル)
Address: 8-3 Ekimae Cho, Shimanto City, Kochi
Location: The cycle spot is located at the Nakamura Train Station in Shimanto City.
Access: The rental shop is inside the Shimanto Tourist Information Center
Hours: 08:30 - 17:30
Cost: Tandem bikes: 2,500 yen, Electric bikes: 2,000 yen, City and Road Bikes: 1,000 yen (prices listed are for 5 hours, must be returned before 17:30 on the same day). 
[Survey] Traveling to Japan
Recommend