Yakitori Donburi Rice Bowl Recipe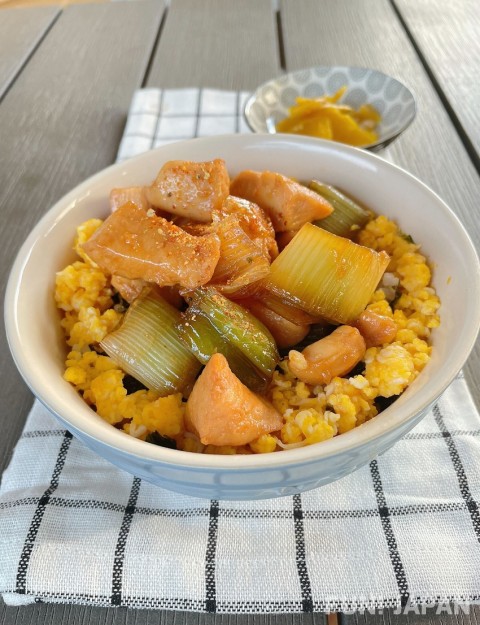 Yakitori is one of Japan's izakaya's (bars) most popular items, loved by both children and adults alike. Normally, it would be grilled on a skewer, however, this time we're going to be putting it over some rice and trying it as a donburi! (Rice Bowl)

Yakitori Donburi Rice Bowl (1 Serving)
Rice (Warm) 200g
Chicken Breast 250g
Spring Onion 1/2
Sauce:
Sugar Tablespoon x3
Mirin Tablespoon x3
Soy Sauce Tablespoon x3
Seaweed (Sliced for use over rice) to taste
Egg x1
Yakitori Donburi Rice Bowl Recipe
Prep.
Cut the chicken breast into bite-size pieces. Slice the spring onion into 4cm-wide slices.
Make scrambled egg.
Place the chicken breast and spring onion into a frying pan, and heat over medium heat.
Once everything has color, add in the ingredients for the sauce and continue to heat on medium.
Once the chicken breast is cooked, and the sauce is nice and thick, lower the heat.
Place warm rice into a ball, pour some sauce over the top, then sprinkle some seaweed. Place the scrambled egg over the seaweed, and finally place the remaining ingredients over the top, then eat!
[Survey] Traveling to Japan